London's Steven Julien, previously known as FunkinEven, is a skilled DJ and producer who fell in love with synthesizers after starting out in music as a dancer, MC, and beatmaker. Today, his Apron Records has become an incubator for artists who create honest electronic music, nestled somewhere between jazz, house, soul, boogie, and techno. The label's authentic releases are housed in equally authentic-looking record sleeves, with Julien paying close attention to the art direction. During lockdown he also started making visual art of his own, collage art inspiring him to take a situation and make it into whatever he likes.
Julien's musical ideas are often triggered by his visual imagination, so it wasn't very hard for him to talk about his favorite record covers for the first article in Patta's "Cover Story" series in Wax Poetics Issue 01, Volume 2, print magazine. He was most drawn to Soft Machine's Land of Cockayne because of the way the composition creates a surreal scene, reminiscent of his own creative endeavors. He also felt a "crazy connection" between the music and the cover art, which he couldn't really pinpoint, because it stemmed from a feeling without really reasoning about ends and means. The track "Panoramania" on the album "sounds like something is about to happen," he adds. When we ask him how he listens to music, he explains, "It's visual. I sometimes see colors, movie scenes, or pictures." 
Intrigued as we were by his artistic approach during our first chat, we gave him a buzz for a second interview, where we asked him about his own musical life, and art direction for Apron Records. 
How did you get into breaking and beatmaking?
Not to sound cheesy, but I guess music kind of found me. As a Caribbean, music is very strong in our heritage. Growing up, I looked up to three uncles—a dancer, a DJ, and a rapper—who inspired me with bashment reggae, hip-hop, house, and other electronic music in the '90s. As a kid, I used to go to both my grandmas, where I watched and recorded Yo! MTV Raps or The Box on cable. My first record was a gift from one of those uncles, who had a record shop. I remember it was an NWA record. In school, we used to win competitions with our dance group, and I also formed a rap group with some close friends, which kind of led on to me being a rapper. But that never really worked out for me; I thought I wasn't good. [laughs] At that time, I was heavily into A Tribe Called Quest and Gang Starr. I wondered how they made those beats, and I learned about the music through the samples used on these records. 
So, I've had this synth since I was eleven years old, a Yamaha PSS-380. I would mess around with the programmed drums and just play on top. Recording it on cassette tape, I kept going until it became good.
Does your current approach in music production still stem from your days as a hip-hop beatmaker?
I guess hip-hop had an effect on how I program my drums. Because the number one thing with hip-hop is the drums. They need to smash. Yeah, even if it's with a sweet pad in the background, my drums still hit hard. I guess the drum programming and the mixdown are kind of my trade from being a hip-hop producer. 
When we spoke for Patta's "Cover Story," you said you are drawn to collage art because it offers you a way to give visual scenes a new context. Can you elaborate on that?
I think I always knew I would love doing collages, but during lockdown I discovered it's my new passion. In the process of learning it myself, I looked up loads of collage artists, on Instagram and elsewhere. Following collage artists around the world, I picked up loads of ideas, influences and references. For example, I was always into old '90s hip-hop and soul covers, where you see all sorts of imagery like cars, and they use bling-type fonts and such and such. 
So it started with imposing an image of myself, or some other image onto a double background. You know, I could cut out an image of me standing by my records and paste it onto a sky. It's kind of how I listen to music as well. It's visual. I see colors, movie scenes, pictures… So the collage stuff works just perfect for me. I started using collages for my NTS radio shows, and then my Apron record covers. There are loads of cool covers, but I guess Land of Cockayne inspires me towards where I would like to be musically and visually at some point in my career.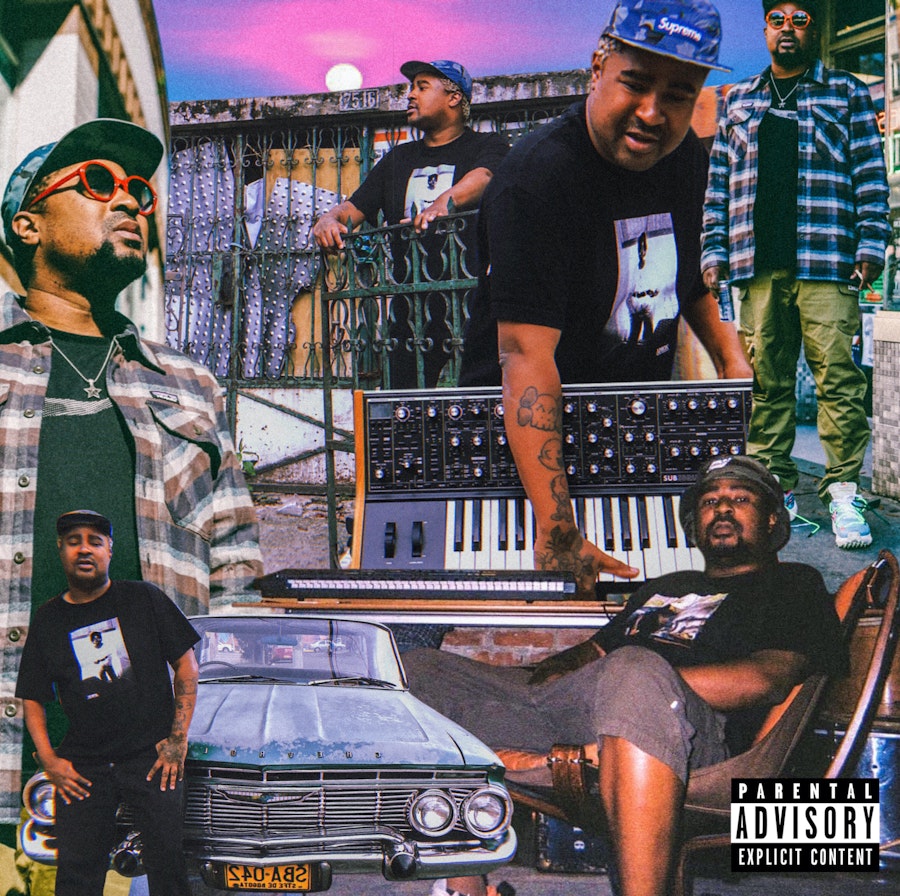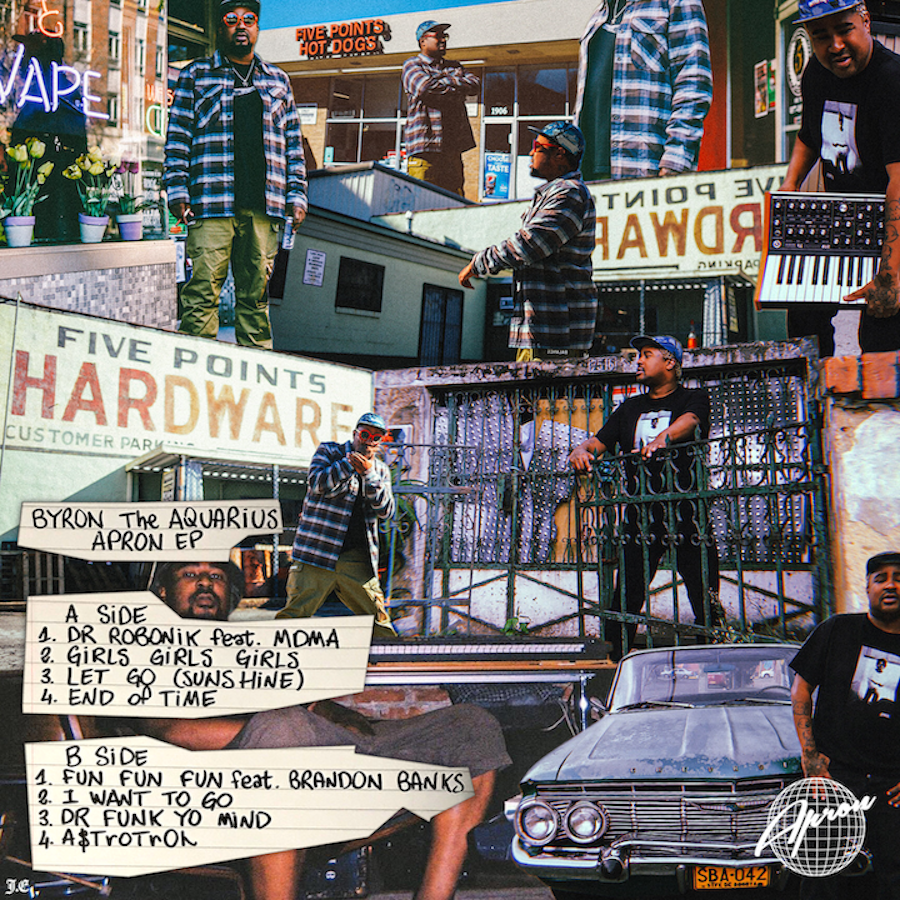 Next to Soft Machine's Land of Cockayne, you also selected Gang Starr's Daily Operation when we spoke for the first "Cover Story." 
I originally bought that album on cassette. I must have been thirteen years old, or even under, when I went to Our Price, which was a huge record outlet in the '80s and '90s. The record had a parental advisory sticker, so they refused to let me buy it, because I was too young! It kind of broke my heart. I got a friend of mine to go in after me, and that worked. The album stuck with me all through my life, until I was an adult. Both the music, and the cover art because there was so much detail to look at, all meticulously aligned. 
And you selected Phil Asher's Focus, on Versatile. You mentioned that Asher was your mentor for a decade. How did you guys meet?
I found out about Phil through this nighttime show called R Solution in the early naughties, that ran on London's Kiss FM. The show would rotate between him, Dego or Marc Mac, and Kirk Degiorgio. I religiously recorded these shows on cassette. I think it was quite rare to be doing that for people around my age, because I guess everyone was into what was popular at the time. So we researched this new movement of electronic music, intrigued by the show's take on futuristic house and techno, combined with soul, boogie, and other styles. Phil Asher used to talk about his weekly night called Inspiration Information, which he co-ran with Patrick Forge at Notting Hill Arts club for many years. One night, me and my friend were like…we need to go to this place. So we went, and Phil Asher noticed us straight away. He was like, okay, this is fresh! I've never seen these kids before. I'm going to pull them in, you know, and mentor them in a way. Which was quite special. He introduced us to the scene, and told us about certain records. In the club, he was like an uncle to us. Oh, and he always asked me: "Where's the music? Where's your beats?" Every single week. But I was way too shy to share it. 
We talked about your Carribean heritage, and the artists that influenced you musically. Who had a big impact in the development of your own sound?
There are many influences, and, yeah, also my Caribbean heritage subconsciously played a part. Still, Warren Harris aka Hanna's first album, Severance, basically laid the blueprint for my sound. I heard about it because 4Hero's Dego played tracks from the album on that same radio show. I was like…that's me. I need to get to this point of artistry as a producer. It was because of that album, I started using one Roland synth in particular. If you listen to that record, you'd understand my Apron label a lot better. You'd see it clearly.
Years later, Hanna released an EP on Apron, in 2017. That was a super massive dream come true. Also, Hanna brought me and Kyle Hall together; we both had the same passion for him. But obviously both in our own way. 
How did the pinky-red cover for Hanna's The Never End EP on Apron come about?
The Hanna cover turned out amazing! And believe it or not, that's not Photoshop. Photographer India Rose used infra-red film.
The release was called The Never End, so the steps on the back of the cover are leading up to the hill you see on the front, as if it's kind of a never-ending way. India shot the photos at Greenwich Hill, a location where I go often for walks, to smoke and unwind.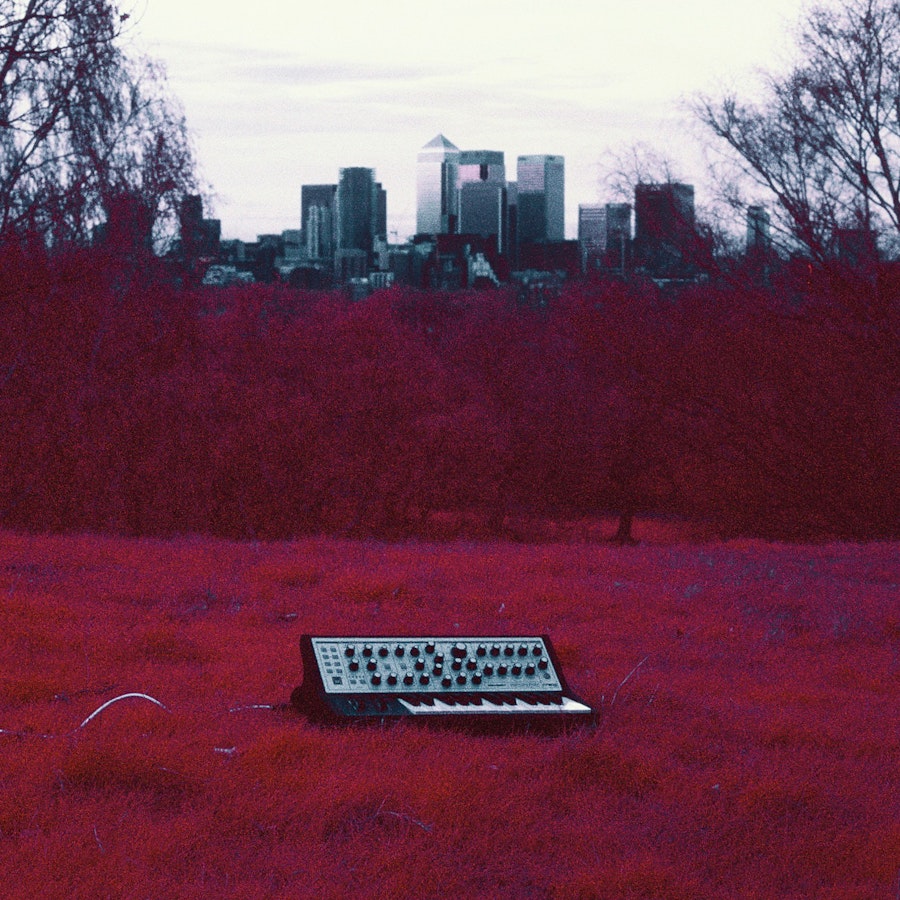 Your musical and visual world seem to overlap. Does that make sense?
I think that's just something kind of subconscious again. But I remember, going back to school, I was a top art student. But I was so stupid to never pursue it in school. In the final years, we had to pick a direction like art, or electronic, and such and such. So all my friends went to electronic, and I followed them. When one of my art teachers saw that, she literally saw me in the corridor and started shouting at me. That's when I realized I made the wrong choice, but it worked out okay in the end.
Would there be an example where the music and the artwork deliberately comes together?
I think I've got an obsession with skies. Especially from, like, my Fallen album and onwards. Fallen is a good example here. The inlay is all about the texture of the sky and the clouds, which I see as a visual representation of how the music sounds. Heavenly or open. The sleeve depicts an open space, and it's all about the texture. I mean, anyone could shoot clouds, but it's about the way it's shot here, about how it came out on film. It has this beautiful texture and aesthetic. Like, it's almost tangible.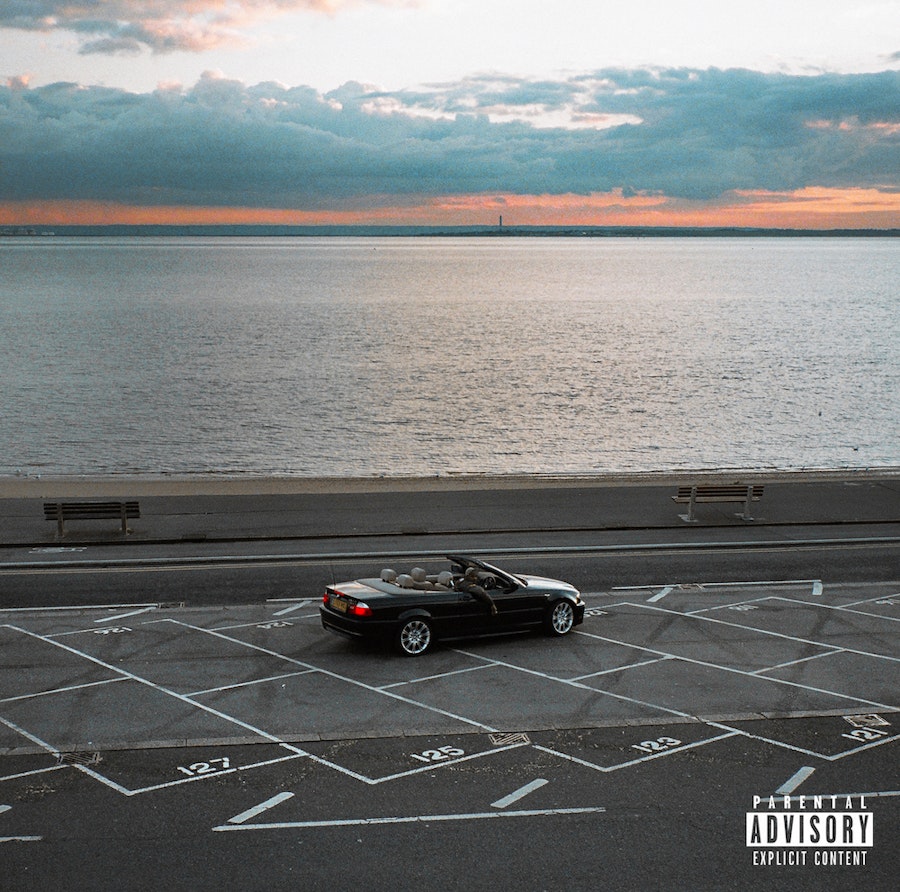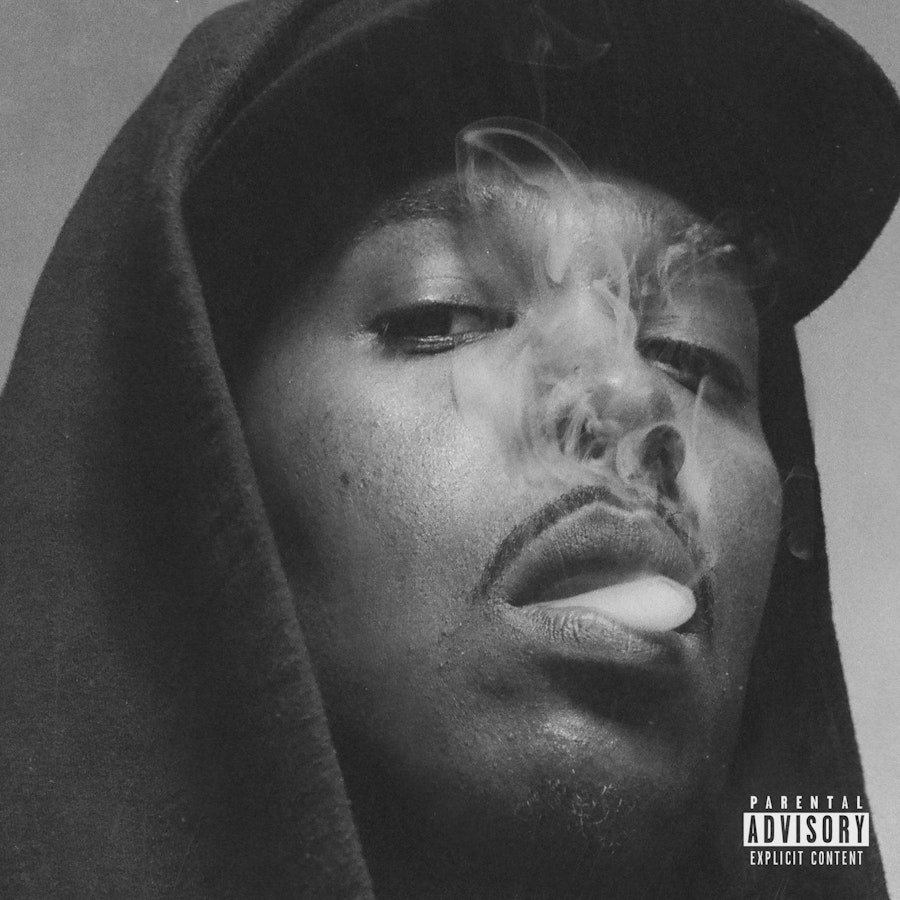 What's the story behind the artwork for your Fallen LP?
In the process of making that album, I knew I needed to find a scene by the water. I needed to find a location where I could park my car right next to the water, as open as possible. It had to be the sea. It took me about a month to find that location. I'd be searching every day, using Google street view, asking around for a less busy spot. Until I found it! A car park, right by the sea. I picked up photographer India Rose, who did a few of the covers. We raced there just an hour before sunset. The way she captured the clouds and the sun with her 35mm camera...everything was just like how I envisioned the music. If you look closely at the cover, you'll find that the numbers on the tarmac of the parking lot almost coincide with the track's BPMs.
Tell me about the photos that were used for J M S Khosah's Still Human EP.
When I heard J M S Khosah's tracks for his Still Human EP, I immediately had a visual idea. I asked him to go on the train, stand in the back of the carrier, and get someone to shoot the carrier on film with him in the back. You won't see him immediately, but he's there. The flash in the back is from the camera. On the back cover you see the artist clearly; he's the guy next to the guy who's looking in the camera. I cropped the photos and that was it. J M S Khosah lives in Japan, where the tubes are always crazy busy. So I knew it was gonna capture a nice moment. And it worked.