If you enjoy this article, go deeper into our pages with a Wax Poetics subscription by subscribing here.
Arthur Verocai doesn't have any time to waste. Not because his life's masterpiece was released more than thirty five years ago and only recently got any kind of recognition, but because he knows that what matters is to get to what's really interesting as soon as possible. Cut the crap, as he says, and let's get to the good part once and for all.
That's what Verocai did in 1972, when the shining originality of his arrangements for people like Ivan Lins, Célia, and Anamaria & Mauricio led to the opportunity of Verocai doing his own record, in any way he thought best. This was a dream for arrangers with a taste for the daring—Deodato and Axelrod, to name only two, were doing the same kind of thing at about the same time.
Verocai was not to miss that opportunity and gave all of himself in creating amazingly rich arrangements for an intense, wonderful, and weird self-titled album. Heavy on beats, strings, and synth, the twenty-nine-minute sound picture was everything that music was (and wasn't but could have been) in Brazil at the time: jazz solos, funk beats, bossa nova harmonic richness, experimental rock and fusion, tropicália, and Minas music—it's all there, through his own thing.
But Verocai doesn't have any time to waste. When people failed to acknowledge what was going on with his music and what he had accomplished, he decided it was not worth it. After all, he knew he had done something great, and didn't get a single penny or any compliments, or even the attention from the people he thought he was communicating with.
Thirty years later, his story was to be rewritten by the crazy people who trade records for their soul and who just wouldn't allow a record like that to be forgotten. Many samples later, a CD release from Ubiquity, a new record from Far Out, and, finally, in 2009, a concert with a thirty-piece orchestra in Los Angeles, playing the record like it should have been heard in 1972.
One afternoon, we sat down in Verocai's apartment in Rio for stories about his arrangements and songs, that record, and having people wanting to hear you so much later—and how those stories flowed from him. After all, he doesn't have any time to waste.
Before working as an arranger, you started out as a songwriter. When did you write your first songs, and which ones were the first to be recorded? 
In '62, I had guitar lessons with Roberto Menescal, and soon, in '63, I started writing songs. In '63, I also wrote the score for a children's theater play in Rio, called Os Ciganos da Floresta ["The Forest's Gypsies"], directed by Renato Machado and with Paulo César Pereio in the cast. But my first recorded song was "Olhando o Mar," in 1966, in Leny Andrade's Estamos Aí, with arrangements by Eumir Deodato. After that, in '68 or '69, I was part of the songwriters' society Musicanossa, along with Marcos Valle, Roberto Menescal, Milton Nascimento. We had meetings in an Ipanema theater, and that was where I began practicing arrangements. There was a band with French horn, sax, trumpet. Musicanossa released three records: one through Odeon, one through PolyGram/Philips, and one through RCA. The Odeon one featured a song of mine, "Novo Amanhã," sung by Maria, Dom Salvador's wife. The Philips one featured "Madrugada," sung by a girl named Magda. I can't remember if the RCA one had any songs of mine. Until then, I was only a songwriter.
Did you have any formal education as an arranger?
I was self-taught, like some of the great Brazilian arrangers. Erlon Chaves, for example. Once, I asked him if he would give me some classes, and he told me he wouldn't even know how to do it, since he was self-taught. And he was amazing! I played guitar and used the piano to harmonize and create arrangements. It was always easy for me to write. My strong suit was to create arrangements. So much so that from the start of my career, I was already doing everything.
What was the first arrangement you wrote?
For a song of mine at the Festival Universitário de Porto Alegre, in 1969. I think it was called "Nas Águas Claras desse Mar," with lyrics by Arnoldo Medeiros and sung by Luiz Carlos Werneck, whom I never heard of again. I remember going to Luizinho Eça's house—he was a huge inspiration to all of us, the greatest pianist, amazing arranger—and bringing the arrangement for him to take a look at it. And he approved it, with only a minor suggestion, for the trombones to play the bass parts, to give it more volume. Then I went to the festival and even conducted the symphonic orchestra. A total audacity, since I had never conducted before. And that's how it happened. I just jumped into it. I was twenty-four at the time.
And after that?
Then I wrote the arrangement for another song of mine for the Festival Universitário do Rio de Janeiro, called "A Menina e a Fonte," wrote with Arnoldo Medeiros and Paulinho Tapajós and performed by the Golden Boys. In the same year, Marlene sang "Queixa," a song by Herminio Bello de Carvalho and Mauricio Tapajós, and that was the third arrangement I wrote. Then I arranged "Bem Te Vi," another song of mine with Arnoldo Medeiros, for the IV Festival Internacional da Canção Popular. At that time, songwriters used to [pen] their songs and give them to the arrangers, but I decided to write my own [arrangements], so I could show what I could do. And that was it. I started writing arrangements for my own songs. And one day the festival people came up to me and said, "You're writing some great stuff!" and started giving me more songs to arrange.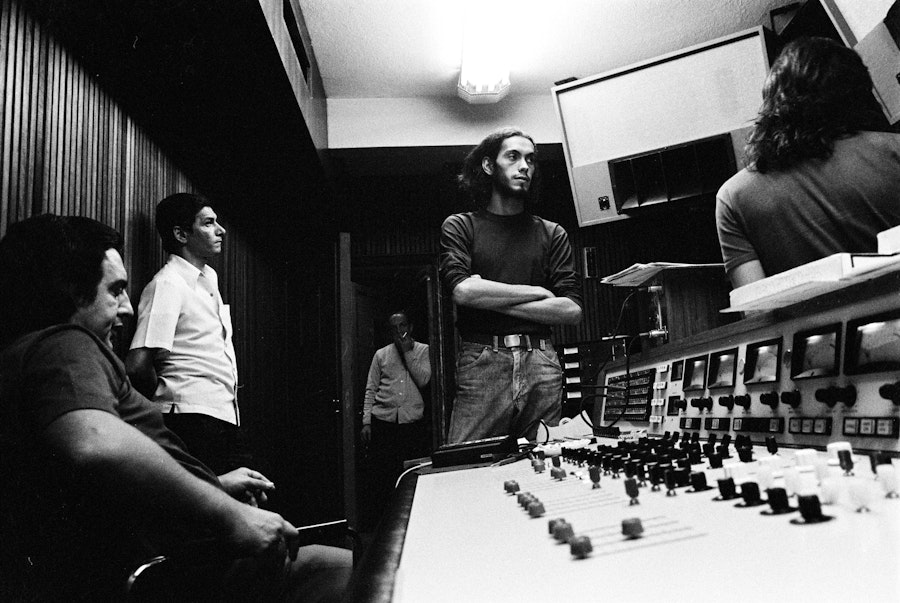 So it was around that time you started arranging for other artists? 
Yes. As soon as I started working as an arranger, I did the musical direction for Marlene's show É a Maior, which later became a live album. Also around that time, Paulinho Tapajós, who was a songwriter partner of mine, was hired by Philips, and I started producing and arranging with him. I did arrangements for O Terço's first record, for the people at TV Record, everything. And everything I did turned out good. Ivan Lins's first record, Agora, came out around that time, and it sold 90,000 copies! Nobody sold that much then; it was bliss. After that, in '71, I was hired to work as an arranger at TV Globo, in the Som Livre Exportação show. Then I wrote for everyone. I even wrote arrangements for Nelson Golçalves to sing "Corcovado" and "Insensatez." [laughs]
Then you started playing with and arranging for Ivan Lins…
I was the musical director and played electric guitar.
Did you help create that soul style he had in his first record, 1970's Agora?
We had to create a style for him. But no one invented anything—he already sang in that husky way. He liked to sing like that. Later, he started saying that was too much, but he liked it. He sang like that because he loved soul. That's a macho record—all shouted, loud, with screaming brass following. [laughs]
Soul music was a big thing for Brazilian music then?
Tim Maia was already big. Ivan himself sold a lot with that first record. It has "Madalena," "O Amor é Meu País," "Salve, Salve," "Agora." It's a strong soul record.
But that didn't last.
There was a "let's change it all" moment for his second record, Deixa o Trem Seguir. Then we did everything differently, and it didn't sell. Everyone who had bought his first record wanted to hear more of the same, and by then we had lots of strings, different kinds of music. There was only a couple of songs in the same style, like "Me Deixa em Paz." Then, since it didn't happen, Ivan left PolyGram. He was recording for Forma, which belonged to Philips. He went to RCA and did the Modo Livre record, and, by then, it was a whole new thing. He says he didn't like to sing that way anymore. In reality, it was a trend. Only Tim Maia kept on doing it, because he was the real thing. Ivan was more of an intellectual type, had a chemistry engineering diploma, well-centered, came from a good family.
Your record doesn't sound like anything else being done in Brazil at the time. How did it come together?
I was producing and arranging for Célia, who was on Continental Records. Then the people from the label asked me to do my own record. At first I didn't want to—I'm a composer, not a singer.
Did they ask for something specific, or did they just let you do whatever you wanted? 
There were no demands. At the time, I was doing lots of arrangements for different people and had a lot of prestige as an arranger. I told them that if I was to do it, I'd do everything my way, and they were up for it. So it was a record with a big production. I did everything I wanted to. It had many different musicians and sounds. I used twenty strings and brass, flutes, percussion. Many great musicians played on it, musicians that at the time weren't famous but are very well known nowadays, like Paulo Moura, Nivaldo Ornellas, Paulinho Trompete, Toninho Horta, Hélio Delmiro, Pascoal Meirelles, Robertinho Silva, Luiz Alves, Maciel at the trombone, Aloísio Milanês, the singer Célia.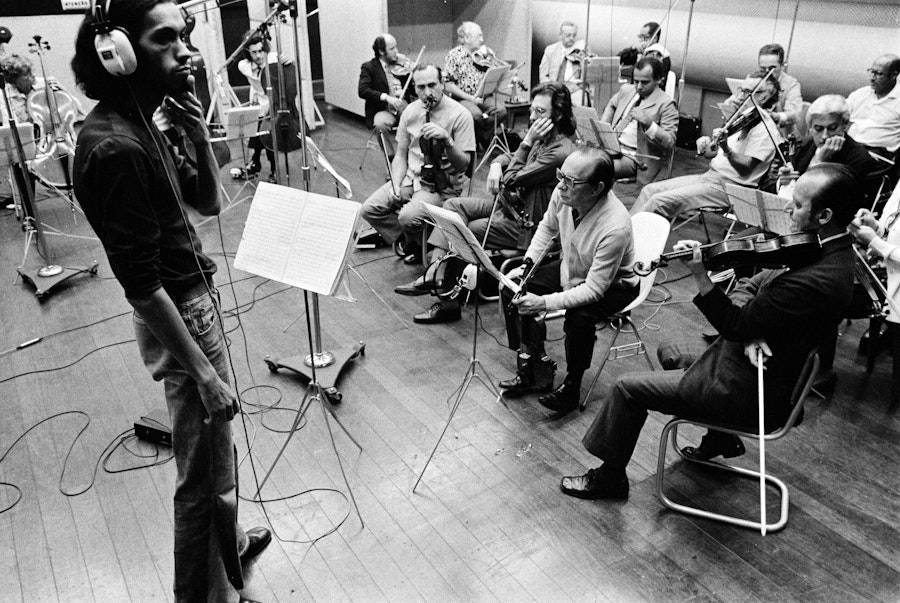 And it also had one of the first synthesizers in Brazil.
I think it was the first synthesizer we ever had in Brazil. It didn't have a keyboard, only pins. It was a suitcase. You just programmed the pins at the plugboard and got lots of sound effects. I used that in the song "Caboclo," for instance. I also added a phaser in the strings to create a mood, in songs such as "Na Boca do Sol" and "Dedicada a Ela." People who are into electronic music love this record for these effects. That synthesizer belonged to Luiz Paulo Simas, who used to play in a rock group called Vímana. He was kind of a hippie character, very smart, very interested in things, from a nice family, used to live in Ipanema. He had just bought that synth and used it very little. I think my record was one of the first times he ever recorded with it. When he got it, he showed it to me, and I loved it. It was very modern; I wanted that on my record.
You also had Pedro Sorongo on percussion, right?
We had two percussionists: Robertinho Silva and Pedro Sorongo. Sorongo was a milestone in Brazilian percussion—he invented lots of instruments. His name was Pedro dos Santos, but people called him Pedro Sorongo because he had invented the sorongo, which was a series of drums. He didn't play the sorongo on the record, but he created lots of exotic sounds. He was an exotic character. He created different sounds, little percussion touches that added to it. That's something that's magical about this record: things just happened. Even the vocals. "Pelas Sombras" features the singing of Luiz Carlos, who was the drummer for the Dom Salvador Abolição band and, later, for Banda Black Rio. He used to sing a little with Salvador, and I liked his voice, very innocent, very loose. And it sounds like these people who sing the favela funk nowadays.
Who else was on it?
Carlos Dafé also sang on it. He had his own career, did some funk records, achieved some success. Paulinho Trompete also sang, besides playing trumpet. He sang "Na Boca do Sol." I think it might have been his first recording session ever. Even I sang in one track, "Caboclo." It was the only time I ever recorded my voice. And, amazing as it sounds, that record is so magical that some people even like it! [laughs]
The record sounds a little like Milton Nascimento and that specific music scene from Minas Gerais.
Yeah, there were two vocal groups: one from Rio and one from Minas. Luiz Carlos, [Carlos] Dafé, and Paulinho Trompete were the ones from Rio. And from Minas, we had Toninho Café, Toninho Horta and his sister Gilda Horta, and Márcio Borges, Lô Borges's brother. They sang in the songs that sounded like Minas. I'm a Carioca, but both my parents are from Minas, so I used to go there a lot. I always had a great identification with Milton.
Were you friends?
We started at the same festival: II Festival Internacional da Canção Popular. He had "Morro Velho" and "Travessia," and I had a song called "Saudade Demais." Milton was a fan of my music, and I was a fan of his, so much so that he spent years singing that song at his concerts. We were very close, had great affinity. I really liked him a lot. When he first came up, he was like the Pelé of music—amazing singer, amazing songwriter, amazing person. We never worked together, but I was always an admirer. Milton is a genius. Really, his work is ingenious. Oberdan used to say to me: "Minas Gerais is harmony, Rio de Janeiro is groove, and the Northeast is energy." Minas has Milton, and the Northeast has the forró and Hermeto. Even though Hermeto is complete, has it all.
What were you listening to at the time? What were your influences on that record? 
Seventies post-Beatles music. Soul. The Black American music was a huge influence in Brazil at the time. Tim Maia's records had just come out; he was the main man in Brazil doing that. Cassiano was another one. Actually, we were more influenced by Tim Maia than by foreign music. Oberdan Magalhães also played on the record, and later he was the one who created Banda Black Rio. So, it was natural for it to sound funky. Actually, soul, because no one called it funk back then. I was also influenced by Frank Zappa, Wes Montgomery, Stan Kenton, whom I loved. The A-side also had some American country music, like in "Caboclo," but with a more complex harmonic side to it. Some of the songs had perfect major chords and tonal changes, like the Beatles used to have. There was also a big samba, bossa nova influence. I was, and still am, a big bossa nova guy. There were many different influences; that's probably what makes the record sound like it does. There's a huge diversity in sounds, styles, ideas. I don't even know where my head was at to do something 68 like that. There's even a two-minute trombone solo by Maciel in "Karina," which was a jazz song. When the record came out, people thought I was crazy. How did I dare do something like that in a music industry that wasn't up for anything?
Were the people at the record label afraid to put it out?
No, they weren't afraid. But many years later, I came to know that people used to say, "Verocai went crazy." People just didn't get it. But I think that if an opportunity to do something presents itself to you, you have to look far. There's no use to just be limited to a room, you have to look to the world. I never thought of myself as an artist who would sell millions of records. I never really thought I would sell many records, so I just wanted to do something I was really into. It wasn't meant to sell, it was just what I was feeling at the time. And that was it. It was a very happy moment for me. I had just gotten married, was successful as a musician, it was something nice that happened to me. I think that if you're going to make something good, you have to fly. You can't be stuck in life's small things. Otherwise, you won't do anything creative. You have to let the chains from the everyday life go and try to do what no one has ever done, do everything you think is possible.
So you knew you were doing something daring, different, difficult?
Well, I didn't want to do just another record. I didn't have any idea that the record was to be something big later, I just wanted to do a fucking good record. And that was my fucking best. But I wasn't planning on doing a record for thirty years later. I didn't even think about that, never thought it would happen. I'm not a prophet. Just wanted the fucking best. So much so that I really did my best at the arrangement, and they ended up sounding wonderful, beautiful. There are things there that are really cool and really different from what people were doing. Even the lyrics, they don't sound like regular commercial stuff at all. At the time, I called Vitor Martins to write the lyrics, and he was interested in left-wing politics. So we ended up doing lyrics full of metaphors, trying to criticize the status quo a little bit.
Were you ever aware of how many copies were pressed or how much they sold? 
I don't know, and I never did. I never got a single penny for it, and no one ever told me anything about it. 
Did you have any expectations on the record?
I won't say I was expecting to sell millions of records, but I expected something to happen, sure. At least something. But it was like it never existed. It got a little airplay on a few radio stations, songs like "Sylvia," "Na Boca do Sol," "O Mapa," but it was very little. When we got the first FM radio station in Brazil, Nacional, the jazz song "Karina" was the theme song for an instrumental music show. But that was it.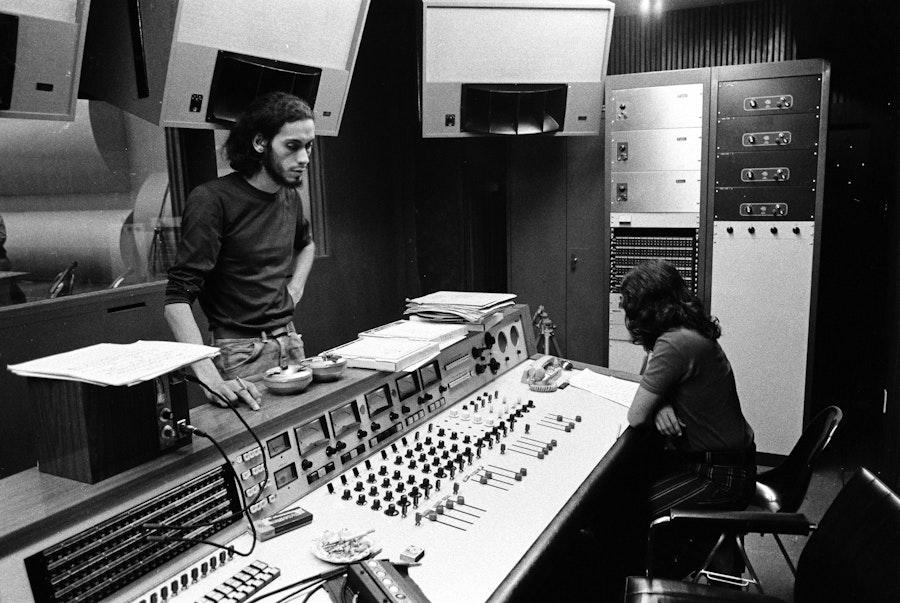 Did you see yourself as part of any scene at the time? Did you identify yourself with other artists?
I already knew that I had done something very different from everything else. Never had any doubts about that. There was a piano at my house that already sounded very different from everything else. That piano was magical. When I sat in front of it, everything changed; it had a unique vibe. It was something that got ahold of me, took me new ways, things just sounded different. And I think that piano influenced me a lot in the harmonic style of what I was doing; something jumped out of it that I wasn't yet aware of. It showed me things that I hadn't seen. There were many wonderful artists that I admired, great songwriters. But it was something that people were more prepared to listen to. I don't know how to explain it. It was music that was easier to be understood. Great things, some genius stuff. But what I did was crazier. That's why it never got anywhere. My leap was a little deeper. I don't exactly know what it is, but it's definitely not like anything else.
What about the cover? It's beautiful, and it has a lot to do with the music. How did that happen?
That's a really magical cover, like everything else on the record. That wall, the leaves on the ground… I knew this photographer, a friend of mine, called Fernando Bergamaschi. He later told me that he never got a single penny for that, I had no idea, and he took millions of pictures. But it wasn't something arranged through the label, I just called him and said, "Let's do some pictures for my record cover." I used to go to his place, and there were always photos everywhere; he was always developing films like crazy. He was at a starting point in his career, and I decided to call him. And he was the one who suggested that place to go do the pictures. It was a small dead-end street, with a hole in the wall at the end. We went though it and saw that huge old house from the nineteenth century. It was a huge abandoned area, full of old trees and that house. It was dirty, with all those leaves in the ground, just like you can see in the picture. Then he just took many pictures. The place doesn't exist anymore. There's a new building there.
And after that, you gave up entirely on writing arrangements. You went on to work with advertising.
Yes. It wasn't fun to write arrangements anymore. It became too limited. And after the record, things became really difficult for me. That's when I started working with jingles. It just gave me more satisfaction than writing bureaucratic arrangements for record companies. I wanted to work with something creative, and there wasn't space for creative music in Rio de Janeiro. Not in '72, '73, there wasn't space for instrumental music then. So I began to get away from that. I worked with jingles for a long time; it was great pay. But I didn't give up on music, I still played a little guitar. Now I gave up on advertising, couldn't take it anymore. [laughs]
Did you ever get the urge to do that crazy thing again?
Now, I've been writing pieces for acoustic guitar quartets, concerts for acoustic guitar and orchestra. It's a different universe altogether. I also wrote arrangements for Far Out Records, Sabrina Malheiros, Azymuth, A Brazuca. I love to write arrangements. I also did a new record for Far Out, called Encore.
When did you first learn that your first record was being rediscovered and had a cult around it? 
More than twenty years later, around '94. [Rio producer/musician] Kassin was the one who first told me. He was friends with my son and, once in a while, went to my studio. Then one day, he said to me, "Arthur, people really love your record overseas."
Did you think it was strange?
I was surprised. But then I began to get used to the idea. Because, really…the record is great, right? [laughs] And after that, I started to hear that more and more. Zé Roberto Bertrami, who's a great friend, once in a while we used to play duo, always said, "In Europe, there's a cult around your record."
It must have been a great joy.
It was pretty cool. Because now the world has gained access to the record, at least. Nowadays, I go to my MySpace page, and there are lots of people who listen to the album and write me about it. It's great for my ego, because everyone loves it. I get emails all the time from all around the world: Croatia, Switzerland, the United States, South Africa, Portugal. I think that's cool. At least it feeds my ego. The pocket's still empty, because I don't get a single penny from royalties. Sometimes, I call Warner and let them know about compilations that feature tracks from the record, but they're not interested.
So, when you look back on what you did, do you still feel frustrated that it felt like nothing happened with the record at the time?
I did everything I wanted on that record. And it just didn't sell. It means that I was wrong. If you ask record label guy A, B, or C, that's what he's going to tell you: if it didn't sell, he was wrong. But I don't regret a single thing. It's fine. The record got its recognition. People all over the world listen to it and tell me it's great. Everywhere in the world, there's always a son of a bitch who loves it.