It's a curious era to celebrate, New York City in the 1970s. Drug-fueled crime was surging and uncollected garbage perfumed the streets. In many parts of town, abandoned buildings seemed to outnumber occupied ones, and the moneyed class rarely ventured below the demarcation line of Fourteenth Street. But these grim circumstances, and more specifically the dirt-cheap rent that ensued, were what allowed a bohemian scene to flourish. In the sparsely patrolled streets of the Lower East Side, there was ample time to experiment with life and art.
It's not stretching things too much to say that Chris Stein was a rebel from birth. Born to lefty parents in the staid Brooklyn of the 1950s, he dropped out of Midwood High School and soon began navigating downtown Manhattan as a student at the School of Visual Arts. Turned off by popular conceptual art, he rekindled a childhood interest in photography with the encouragement of a friend who apprenticed with Diane Arbus, and would soon be almost inseparable from his Nikon.
In 1973, Stein's lens found its enduring focal point and muse at a nondescript bar called the Bobern Tavern (named after its owners Bob and Ernie), where a band called the Stilettos was playing. An admittedly shambolic affair that was equal parts Shangri-Las and Warholian performance piece, the Stilettos nevertheless possessed something that caught Stein's eye, in the person of one of their singers. "She had short brown hair, like a boy's haircut," he recalled of his first meeting with Deborah Harry, who he would soon join as a guitarist in the band. "A few months later she dyed it blonde."(1) The redefined tresses not only marked the start of a lifelong partnership but inspired the moniker of a new musical project that the collaborators would debut in the fall of 1974.
Blondie was not an immediate hit. "Hardly anyone took Blondie seriously," Richard Hell wrote in his memoir I Dreamed I Was a Very Clean Tramp . "They had a bland, occasionally quirky urban girl-group style but were primarily an excuse to look at their stunningly pretty singer." Hell, a veritable architect of punk who had been in landmark groups Neon Boys, the Heartbreakers, and Television before penning the anthem "Blank Generation" with his own band the Voidoids, was not too far off in his assessment.
From the beginning, Stein and Harry were aware of the power of the image and were canny about using it to get exposure however they could. "Sending around pictures of Debbie that we thought would get published was a good idea," Stein recalls thinking. Indeed, Harry's arresting visage coupled with cutting-edge style (literally—the New Yorkers were among the first to purposely slice their clothes) meant that many fans were sold on the image before the band. "Some of those images were out in Creem magazine before anybody heard the music," Stein says, downplaying any Machiavellian agenda and explaining, "People ask us to define punk, and the thing that I always say first is the do-it-yourself mentality. That's what was going on; there wasn't a hell of a lot of preplanning involved."
Nevertheless, it's impossible to see Stein's photos from that era and not be struck at how self-aware and adventurous their approach to image was. A big part of "cool" is effortlessness, not looking forced, being hurried or worried. Their fashion took radical concepts (shockingly ripped and safety-pinned shirts) and presented them with a New York attitude that perfectly blended Fuck You! with Who Cares? Debbie's savvy styling meshed immaculately with Chris's eye for composition and presentation, quickly becoming one of the great complementary duos, a punk Bogie and Bacall whose individual strengths perfectly dovetailed.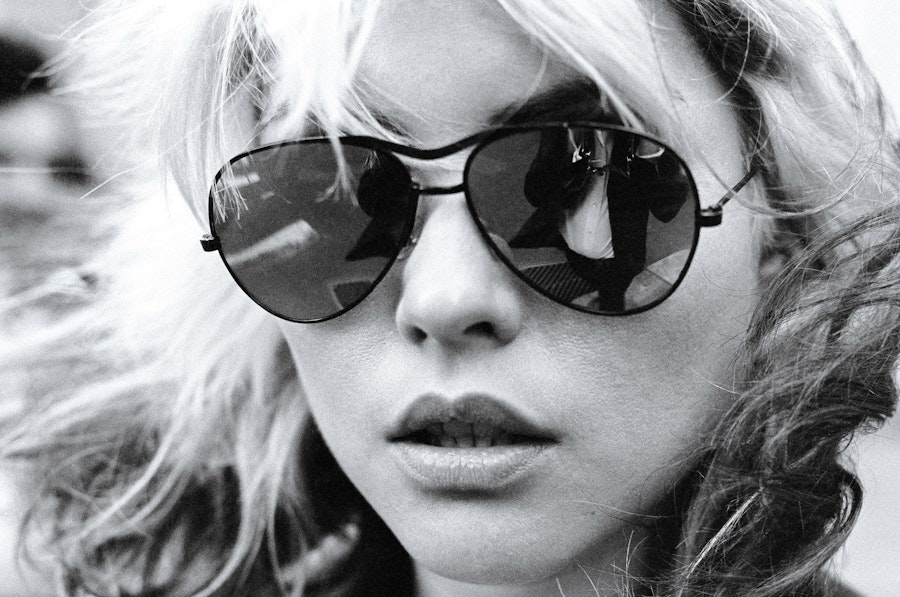 Musically, the band was still evolving. As the main songwriters, Stein and Harry did have their early influences. "When Debbie and me started working on the band, I got really fascinated with the Shangri-Las and all that girl-group stuff," Stein says. "When I was a kid, I didn't take any of that seriously; it all seemed ridiculous. Then when we started working, I realized how awesome it was. I saw it in a completely different light." The Blondie catalog has gone on to prove their eclectic and wide-ranging tastes, but in the early days, their ambition would often outstrip their abilities. David Byrne recalled that Blondie "had a voracious appetite for pop music of all different genres…but didn't have the chops to pull it off."(2) Apprised of this quote today, Debbie Harry laughs. "Perfectly right, actually. That's really true. It took us a while to move into all these things that we were interested in and influenced by. I think that's part of the reason we've had some longevity, because it took us longer to pull the focus." Her use of the cinematic term neatly underlines the band's intimate connection of sound and image.
"It took me a while to learn how to work within our limitations," Stein says, as Harry voices her agreement. "The early Talking Heads were a great example of knowing what your limits are and working within those parameters," he says, then continues the short roll call of some of Blondie's downtown contemporaries. "The Neon Boys and Television, I think those guys had a lot more of a formula in mind. And certainly the Ramones had a very specific focus about what they were doing." As for Blondie? "I think we were just all over the place, trying different styles, stuff that we liked."
There was a lot of convergence. It was intimate, in terms of painters, writers, musicians, actors all kind of overlapping, hanging out together. Debbie Harry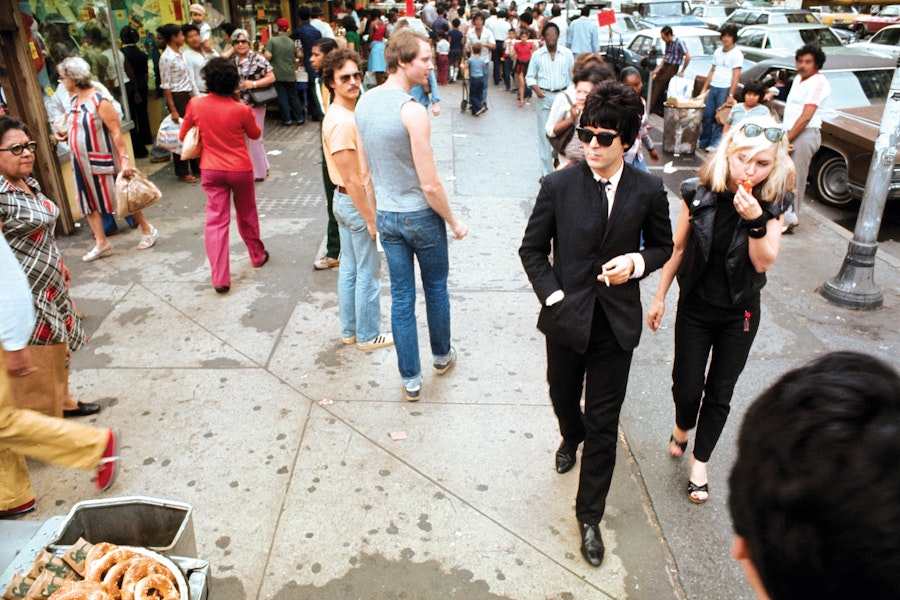 "All those groups are so diverse in what they were doing, it's funny that they wound up all being lumped together," Chris Stein says of the so-called downtown scene, before allowing, "I think everybody was influencing each other, certainly. There was a lot of back-and-forth. Towards the end, before everything moved on to the next phase, it was a little more competitive than it was before, but there were a couple of years where everybody was really close. It was nice. It was like a workshop situation, like going to school with all these people."
Debbie Harry elaborates: "There was a lot of convergence. It was intimate, in terms of painters, writers, musicians, actors all kind of overlapping, hanging out together."
Stein agrees. "I had forgotten how much of that poetic scene was going on in the midst of all the rock-and-roll mania. There were a lot of different camps that encompassed a lot of different mentalities."
The insularity afforded by a time before social media's ravenous hunger for a new trends meant that the lower Manhattan milieu was able to grow at its own organic pace. "I often say that the scenes like [grunge] Seattle, ['60s] Liverpool, ['70s] New York couldn't happen now, because everything gets such immediate attention," Stein muses. "All those different scenes got to ferment for a while; that's what happened at CBGBs. There was a four-year period [of incubation], maybe even longer if you count coming out of the [New York] Dolls era." Then, slowly at first, came the attention.
One Monday morning in January of 1977, the New York Times wedged a tiny review into the corner of page seventeen. Blondie, it proclaimed, "graduated into full membership in the upper reaches of the New York underground/punk rock circuit this weekend at Max's Kansas City." Contrasting the show with the previous spring, when it "appeared that Blondie was more of a nice idea than a successful band," Harry is described as "an exact visual counterpart of her band's eclecticism." A month later, in a more thorough report on "that complex of 'underground' rock bands spawned in a few lower Manhattan clubs," the same writer praised the leading groups on the downtown scene, including Patti Smith, the Ramones, and Talking Heads, with Television getting special attention. But "of all the New York bands, the one that might win commercial success the soonest is Blondie," the writer states, citing the one-two punch of Harry's "happy willingness" to use her "striking punk-sexpot good looks" and the band's "clever, half-parodistic, half-affectionate" approach to their music.(3)
Exactly one year later, the  Times would describe Blondie as "the most photographed 'punk' rock band in the world."(4)
Although Blondie had always been popular in England, probably their first bona fide worldwide smash came late in 1978 via a drum machine and a "weird R&B song" with the working title "Once I Had a Love."
Mike Chapman was a peripatetic Australian producer who emigrated to the U.K. in the late '60s where he became a pillar of the glam-rock temple, landing a staggering number of hits for the Sweet and Suzi Quatro among others. As that style lost its luster, he relocated to Los Angeles, and it was there, less than two weeks after the Times ' review of their Max's Kansas City show, that he saw Blondie, out West for a some dates set up by influential L.A. DJ Rodney Bingenheimer at the Whisky a Go Go. 
Chapman bonded with Blondie's then manager at the shows, who extended an off-the-record promise that if the band ever got out of their current label situation, Chapman would be the producer of choice. As it turned out, things moved rather quickly, and by June of 1978, the band was in the studio with Chapman.
It was an entirely new experience for the group, as the seasoned hitmaker had very clear ideas of how the sessions should go and was strict about enforcing them. "When we got in with Mike Chapman, he held us to this very high standard of precision and perfection that we hadn't dealt with previously," Stein confirms. 
"I wasn't being used as a songwriter, but as a song manipulator and song construction consultant/technician," Chapman said in a 2008 interview. "There was a lot of stuff that needed to be put together, because as loose as the band were, their songs were even looser."(5) One demo was something Stein describes as sounding like the Hues Corporation hit "Rock the Boat," "sort of sing-songy. Chapman describes it as reggae-ish, but I never thought of it like that. It was just a weird R&B song." Stein often used a rhythm box at home for demos, but now Chapman suggested actually making it a starting point for the new song. 
"They had it in a lot of different versions," Chapman recalled, "but it wasn't right in any form."(6) The turning point came when it was decided that this would be a disco song. "I was never anti-disco," Stein says. "All the early disco stuff just came out of R&B, to me. It was all part of it." Harry for her part consciously channeled Donna Summer for the vocals, and as the band and the producer painstakingly layered on keyboards, guitars, and effects, "trying to incorporate that Donna Summer vibe," as Chapman put it, an anthem began to come together. "Having made hit records for the past seven years, I had a handle on what I was trying to accomplish," Chapman stated, "and I knew that with each piece that we added we were getting closer and closer to our goal—which was to have this incredible track that didn't sound like anything else."(7) Stein confirms that "Heart of Glass," as it was now renamed, "was done just like that, all in real time. Nowadays you could put that song together in an afternoon probably, arranging all those parts, but before the days of cut and paste, it took us days to do it, putting all those parts together." He has aptly called "Heart of Glass" a "digital song in analog world."
When the song shot to dizzying heights in the pop charts and became a de rigeur part of every DJ's playlist, it had the unintended effect of placing Blondie in apparent opposition to their downtown confederates. "There was a really big split between this disco world, which was very working class, and the rock world at the time, which was kind of more intelligentsia," Stein says. "It was weird having us be thrust into the disco scene, because it was a very different audience than what we were dealing with.
"I remember Joey [Ramone] saying we sold out or something like that," he continues, "but I always took that as tongue-in-cheek. I didn't feel any change in our relationships with anybody."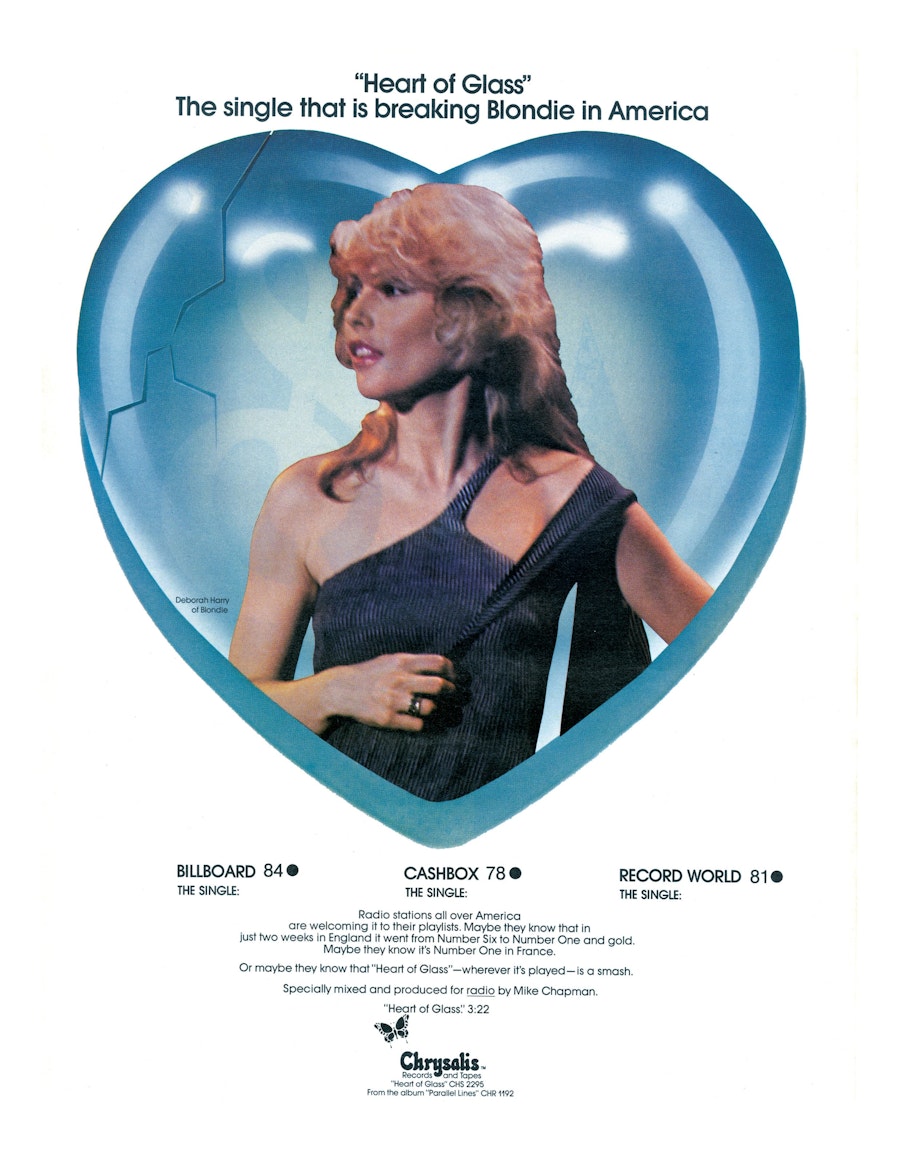 I was never anti-disco. All the early disco stuff just came out of R&B, to me. It was all part of it. Chris Stein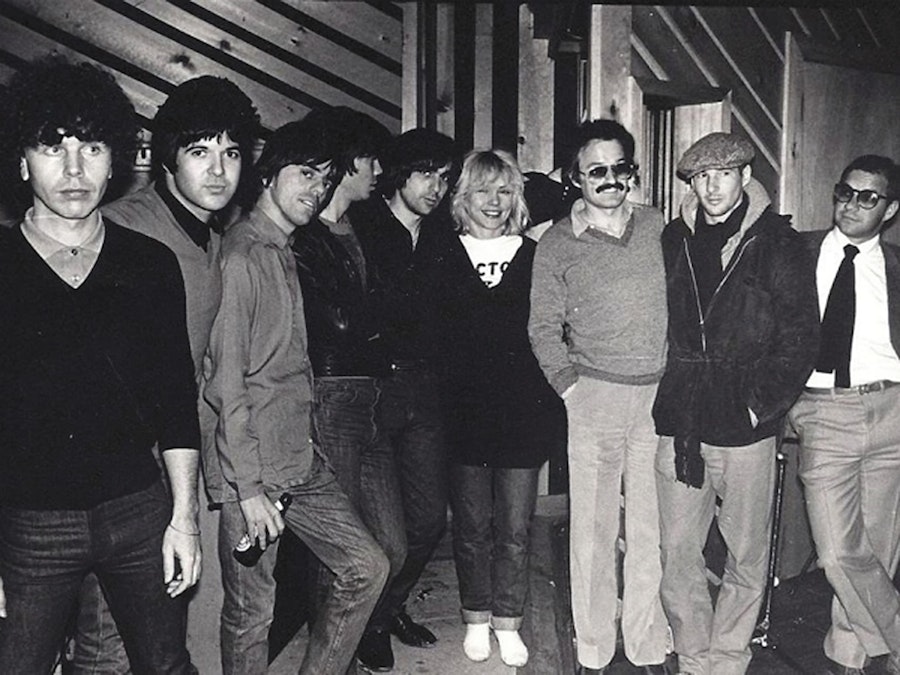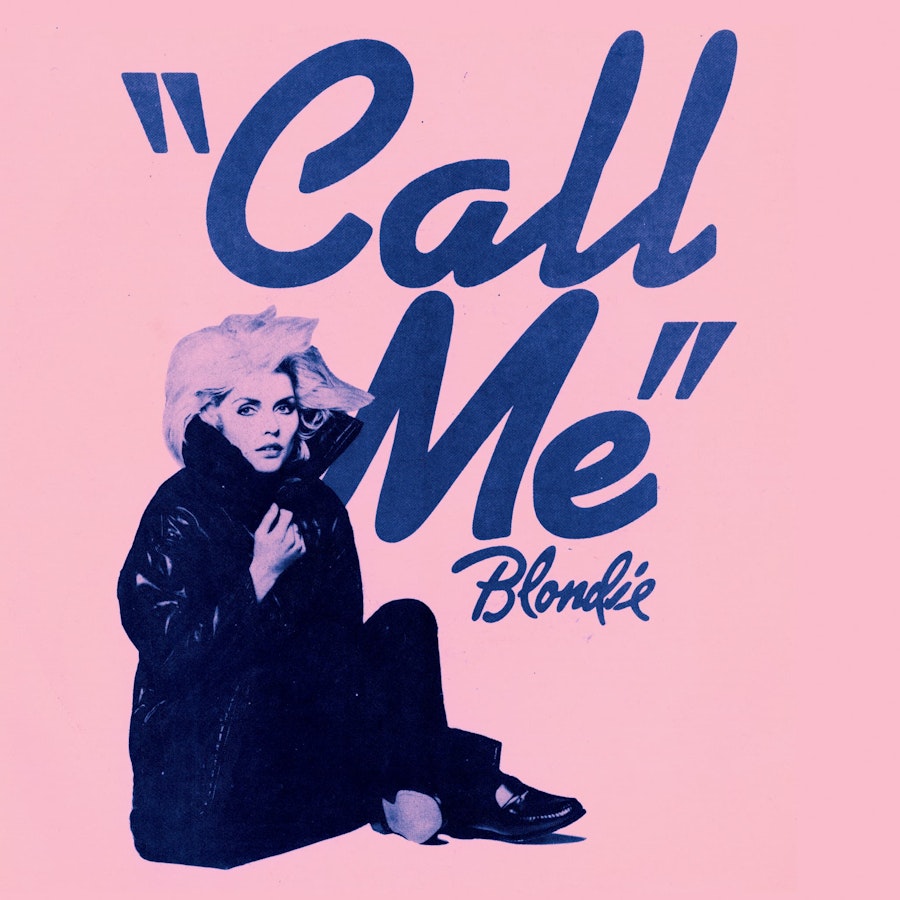 The following year, the band solidified their disco credentials when they were tapped to provide the theme song for the film American Gigolo. In a neat turn of events, the soundtrack was overseen by Giorgio Moroder, whose productions featuring Donna Summer had inspired "Heart of Glass." "Initially," Stein recalls, "he'd given us a demo that was called 'Man Machine.' 'I'm a man machine, I talk to girls.' Debbie said scrap that, and we started over." After the band laid down their version of the song, renamed "Call Me" after Harry's new lyrics, Moroder took the session and "tweaked it," in Stein's words. "He based all his parts on the things we came up with. He was very unlike Mike Chapman, who was willing to work for hours and hours on a single part. Giorgio was very quick. I thought it was great!"

Harry agrees, bringing up the excitement she felt collaborating with the film's director and the Italian superproducer: "The idea of working with Paul Schrader and Giorgio Moroder was totally intoxicating and irresistible. It was also the advent of Giorgio Armani's big leap into fame and notoriety," she elaborates, her eye for the killer combination of visuals and music acute as always. "He created the whole color palette and designed the clothes in that film. The combination of those three major elements is pretty fantastic." 
By 1980, Harry and Stein were jet-setting superstars. But the irrepressible eclecticism that drove their search for new musical avenues had been piqued by a very homegrown, New York phenomenon: hip-hop.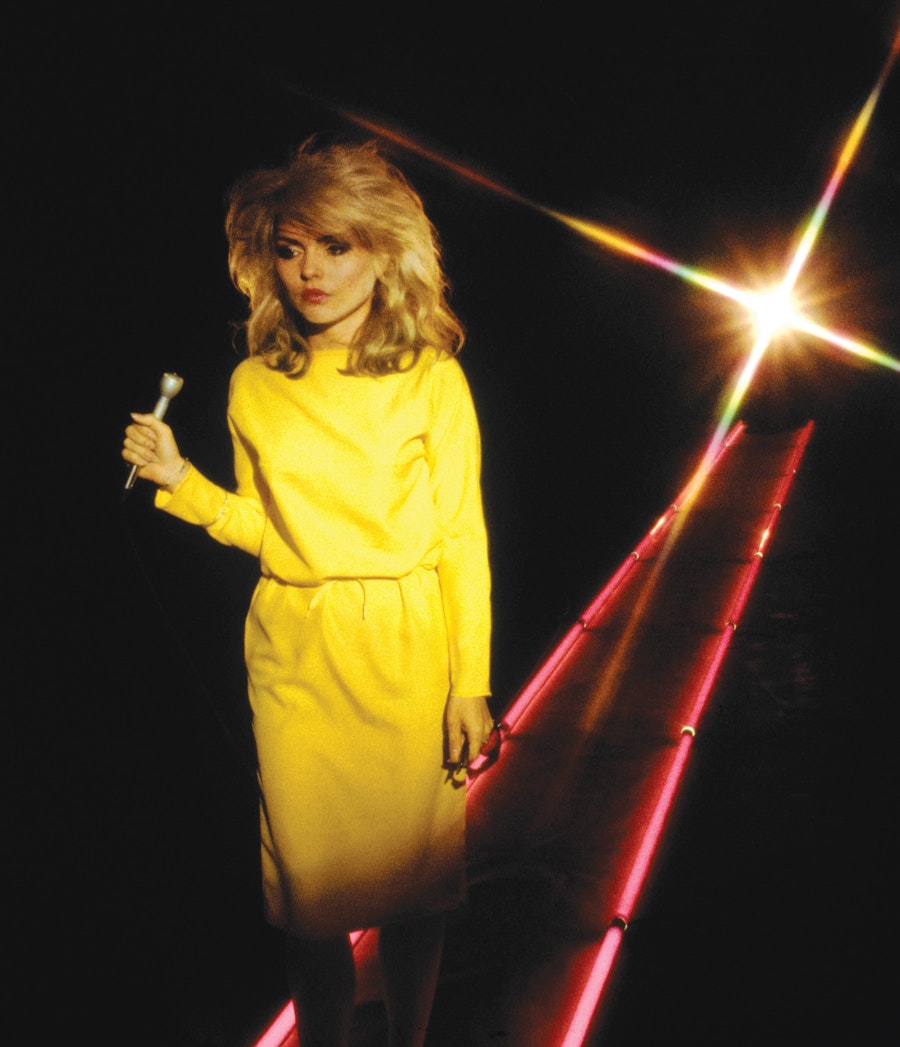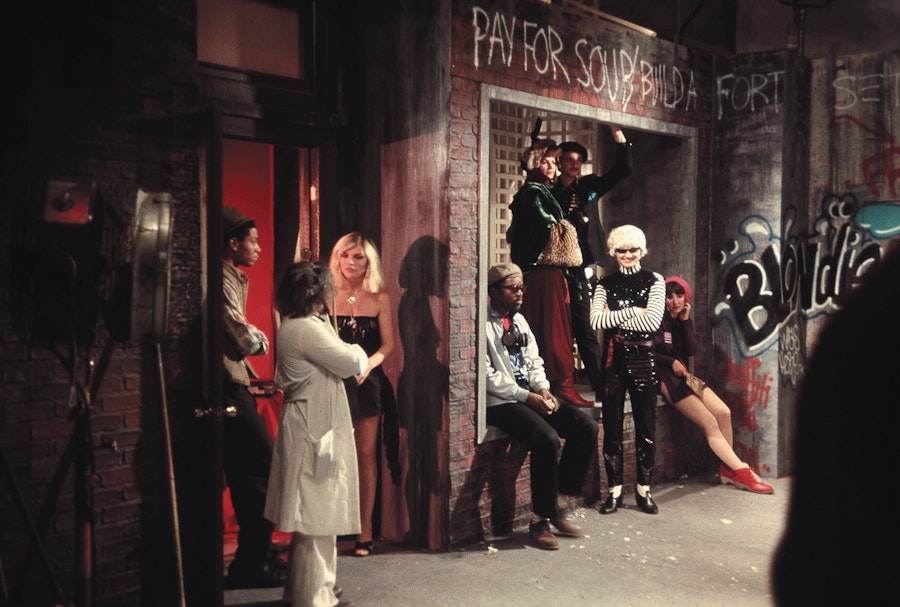 "Fab 5" Freddy Brathwaite was a Brooklyn-bred New Yorker who was instrumental in bridging the uptown (read Black and Latino) and downtown (mostly White) art and music environs. He met Stein and Harry in the late '70s at that nexus of the downtown scene, CBGB, and soon was in regular contact with Stein on the set of the ultra-low-budget cable show TV Party, where Brathwaite was a cameraman and Chris often hosted. 
As disco and R&B enthusiasts, it was only a matter of time before Chris and Debbie caught the emerging sound of rap music. Brathwaite offered to escort the duo to witness the action firsthand. "So we went uptown to this party; it was in a Police Athletic League facility in the Bronx," Stein remembers. "It was kind of a big event, three or four hundred people there, maybe even more. It was exciting. There were a lot of different DJs and acts: Funky Four, maybe Cold Crush, Grandmaster Flash, Grand Wizard Theodore. A lot of the guys who were later involved with Wild Style." Harry enthusiastically concurs: "Yeah, it was great. A lot of it was freestyle, people who were just getting up and doing it."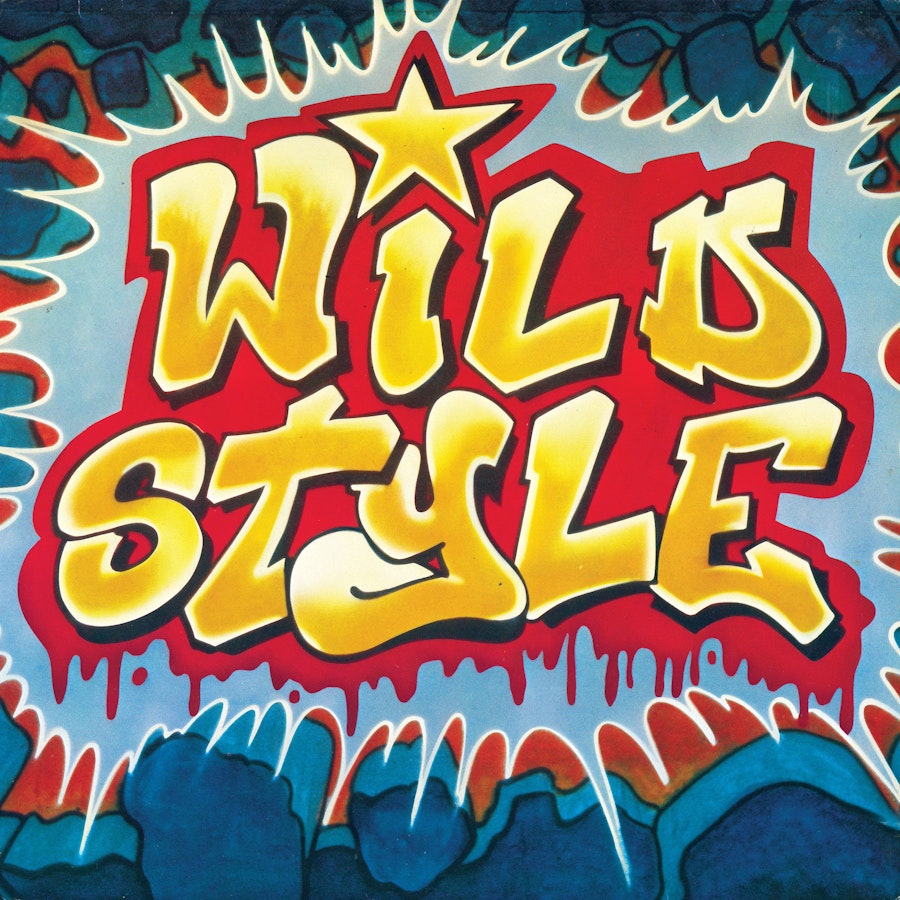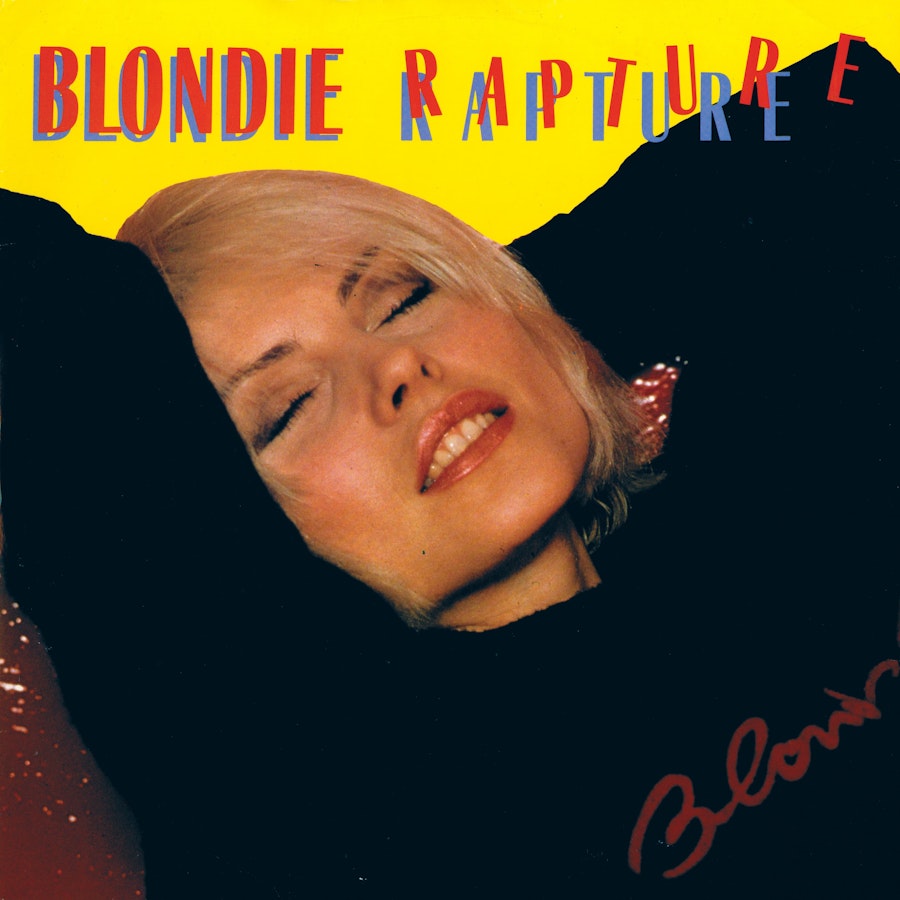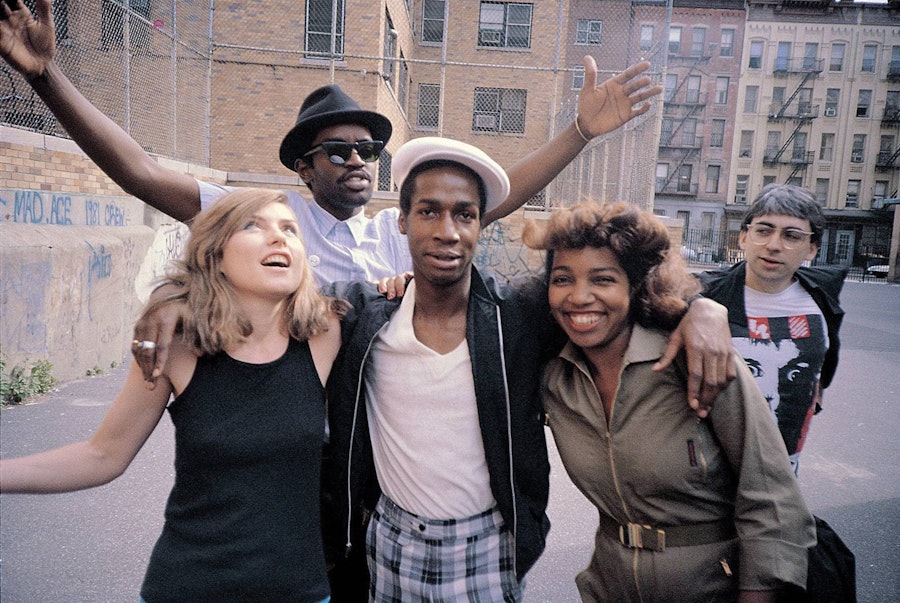 As Blondie grew in stature, the bandleaders did their part to repay the favor and promote the burgeoning hip-hop movement. 
"We were on Saturday Night Live," Stein says, "and they let us pick a musical guest to be on with us." He and Harry chose the Funky Four Plus One. "The people on the show were so nervous about them doing it," he recalls. "I remember trying to explain to them how scratching worked. Trying to verbalize what that is for someone who has no idea, it's really difficult." Ultimately, "they wound up going on with a tape." It was the first time a rap group appeared on national television.
Stein also attempted to interest record labels in the new music. "In the early days, I talked to a lot of guys in the record industry about rap, and pretty much one hundred percent of them told me that rap was a fad that was going to go away." A predictably retrograde attitude that sounds suspiciously like what was trotted out when punk started. "It was, you're absolutely right," Harry agrees. "That was one of the major statements from different A&R people in the industry—that if punk became successful, they were going to quit."
Stein would later put his money where his mouth was when he arranged for the theme song from Charlie Ahearn's landmark film Wild Style to be released on his Animal label, distributed via the Chrysalis Records network. Along with his TV Party cohorts, Stein also participated in the creation of the infamous breakbeats used in the film, adding a layer of atmospherics with a very early guitar synth.
We were into writing pop songs, and the idea of incorporating a rap inside of a song was a new concept at the time. Debbie Harry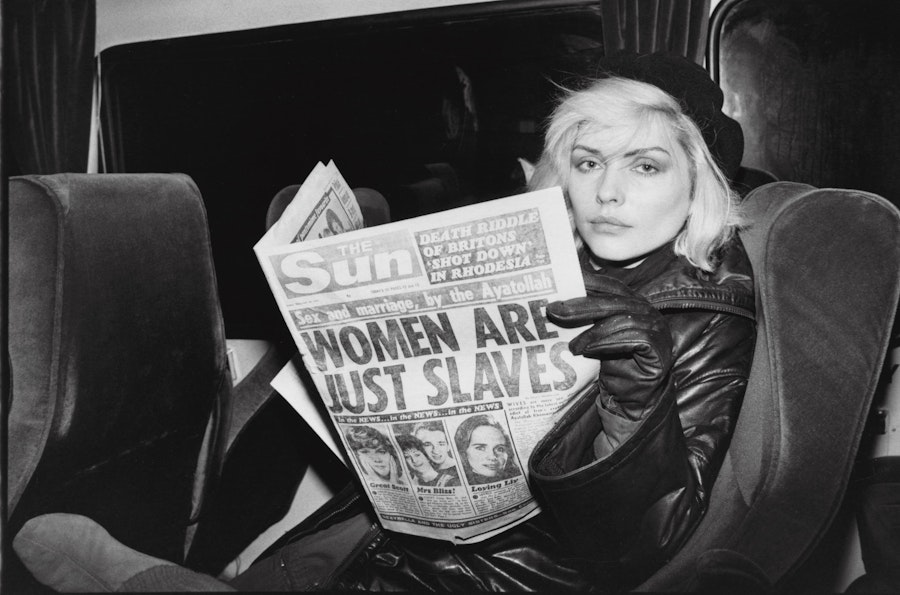 Regarding the use of breakbeats, Stein says, "We were aware of everybody using 'Good Times' as a foundation for their raps—we really loved Chic." It should be no surprise, then, that he and Harry would come up with their own Chic-inspired take on a rap breakbeat. Debbie Harry traces the origins of their concept. "I distinctly remember sitting and watching wrestling on TV one day and Chris saying, 'I think I'm going to do a rap song, called "Rapture." ' And I said, 'Oh yeah, that's great, let's do that.' "
"We were into writing pop songs," she explains, "and the idea of incorporating a rap inside of a song was a new concept at the time. It was just usually rapping to a DJ scratching. This was a little break from that strictness of that way of doing it, but it also made it so [rap] was available on radio and put it into a genre that made it more understandable to a general public."
The video for "Rapture" featured Harry bopping through a stylized downtown street populated by a fabulous assortment of real-life characters: Brathwaite, graffiti legend Lee Quinones, and Jean-Michel Basquiat among them, all of whom helped paint the backdrop. A downtown fantasy come to life, it was both an homage to the place that birthed them and a master class in the blending of style and sound that Harry and Stein had been working on for years.
In retrospect, this high-water mark was also the beginning of the end, as not long after, Stein was struck by pemphigus, a debilitating autoimmune disease. This brought a de facto end to the group, although tensions in the band might've brought the splintering on inevitably.
In time, both Stein's health and the relations between band members improved. The band reunited, recorded new music, and toured. Deborah Harry made a solo album with another one of their disco idols, the Chic Organization, while Chris Stein continued stoking his passion for photography. The second act still continues. And to this day the couple of arty punk rockers who founded Blondie can still be seen around Manhattan, downtown cool to the end.