The streets of New York City weren't very pretty in the 1970s. Littered throughout once welcoming communities, an influx of heroin junkies, many broken young brothers home from the Vietnam War, became yet another symbol of a deteriorating society. As essayist James Wolcott described the then-rotting Apple, it was "a metropolis on the verge of a nervous breakdown with a side order of panic in Needle Park." 
Of course, chocolate-hued hoods like Bed-Stuy, Crown Heights, and Harlem were the hardest hit by high unemployment, poor school systems, run-down rental properties, and drug addiction.
Uptown, noted underworld icons Nicky Barnes and Frank Lucas became rich, stylish men, surrounding themselves with "the baddest bitches," expensive shoes, and gaudy furs. However, the killer-diller, word-is-bond truth was that the drugs these men supplied were detrimental to Harlem in ways still felt today.
From its former glory days as a cultural capital where Langston Hughes scribbled poetry, Billie Holiday sang the blues, and Duke Ellington tinkled his Steinway, the once vibrant village of Harlem had become, as Wesley Snipes's stoic gangster Roemello Skuggs observed in Sugar Hill (1994), "a burnt-out jungle, a ghost of better days." 
Yet, while the streets of Harlem had become a haven for the criminal minded (in addition to drug dealers, there were also numerous pimps, whores, number bankers, and practitioners of other vices), that depressing wonderland of burned-out tenements and trash-strewn lots became the perfect backdrop for the coolest crime movies of that period. 
Beginning with the goofy adventure/comedy Cotton Comes to Harlem in 1970, based on a novel by Chester Himes, the next couple of years bought forth a slew of Harlem-based films including Shaft, Come Back Charleston Blue, Across 110th Street, and Gordon's War. Not yet known as "blaxploitation," these new-jack action flicks became the staple of crumbling movie theaters throughout the country.
"The one thing about our movies was that they had dynamic music," says film legend Fred Williamson, who starred in the 1973 Harlem double feature Black Caesar and Hell Up in Harlem. "The music was as big as the movies."
While Stax mack Isaac Hayes laid the groovy groundwork with his brilliant soundtrack to Shaft in 1971, the following year, Curtis Mayfield's mighty Super Fly album built on the same funky foundation and constructed a soaring skyscraper of soul that sold five million copies in the '70s. 
Composer and arranger Johnny Pate, who collaborated with Mayfield on the Super Fly soundtrack and later scored Shaft in Africa (1973) and Bucktown (1975), explained to Billboard in 1973, "There are people making black films who are into a thing where they feel that if they get a song or a record or an artist involved, regardless of whether the movie is good or bad, they will have a hit."
Released the same year Harlem's congressional representative Adam Clayton Powell Jr. died, I can still remember watching the Super Fly trailer at our local movie house, the Tapia. "He's not just fly, he's Super Fly," the laid-back announcer flowed as various scenes of slick-haired pretty boy Ron O'Neal established the character. "Can a Super Fly Harlem dude leave the system? He's got a plan to stick it to the Man. He's super hood, super high, super dude, Super Fly."
As the heated jazz of "Junkie Chase" (one of the two instrumental tracks, the other being "Think," that arranger Johnny Pate insists he wrote independent of Mayfield, but was denied credit) blared in the background, the neighborhood kids were excited by the playerlistic images of the characters and the uptown street scenes.
"I played alone on 'Junkie Chase,' " recalls guitarist Craig McMullen from his home in Ohio. Describing McMullen's sound, one critic wrote, "[He] played great wah-inflected counterpoint, combining lead lines and strong chordal playing in a sweet, laid-back, but still completely badass post-Hendrixian manner."
Having studied at Berklee College of Music for two years, McMullen was introduced to Mayfield through Rufus drummer Andre Fisher in 1970. "Like 'Shaft,' we had that wah-wah thing down," says McMullen. "On 'Junkie Chase,' I wanted to do a constant rhythm that was freer than what others were doing with wah-wah at that time. But when you hear those horns and stuff, that's definitely some Johnny Pate cold, nasty, jazzy stuff."
Super Fly, which was the first feature of director Gordon Parks Jr. (whose iconic father was an internationally known photographer and the director of Shaft), follows the story line of a hustler who wants to do one last drug deal and escape with his woman, Georgia. "A big score, a million in cash; yeah, the big one," bragged the trailer voiceover. 

Played with method-actor swagger by former stage actor Ron O'Neal, who four months after Super Fly premiered admitted on the program Soul! of dabbling in "a little field research in cocaine" after taking the role. Airing on PBS, the actor explained to host Ellis Haizlip, "We made Priest a coke hustler, but he could've easily been a pimp, a number runner, or maybe even a preacher."
Harlemite and New Jack City screenwriter Barry Michael Cooper, who saw the film six times "at the rat palace on 145th otherwise known as the Roosevelt Theater," was enthralled. "Seeing the landmarks of 127th and 128th and Eighth Avenue, St. Nicholas Avenue, the film was so real, it was almost like a documentary. In the midst of its glorious ruin, Super Fly put a Harlem on display in a way that will never be seen again." 
Super Fly generated controversy with its liberal use of coke by the main characters Priest and his drug partner, Eddie (played superbly by Carl Lee, who also cowrote and starred in girlfriend Shirley Clarke's 1964 Harlem masterwork The Cool World; ironically, his name in that movie was Priest). 
"I don't see why people are complaining about the subject of these films," Curtis Mayfield told Jet magazine in October 1972 in a statement that foreshadows the words of modern-day rappers. "The way you clean up the films is by cleaning up the streets. The music and movies of today are the conditions that exist. You change music and movies by changing the conditions."
Former football player and blaxploitation actor Fred Williamson believes that the people who were opposed to the new wave of Black gangster movies simply had little knowledge of film history. "My generation grew up with heroes like Bogart, George Raft and Edward G. Robinson," Williamson says. "Black audiences weren't accustomed to seeing a stylish leading character at the same time being tough. Sidney Poitier had style, but he was never tough or bad. In the '70s, we were the main stars carrying these movies, and we created characters that stood up for themselves." 
Indeed, Mayfield agreed. "These films were positive for us," he told me in 1996. "Prior to blaxplotation, we didn't dare show any intellect in films. The Black characters were always getting killed. But with Shaft and Super Fly, things were different." Although Mayfield didn't admit it at the time, his urban blues-soaked lyrics gave the characters emotions and conflicts absent from Phillip Fenty's screenplay. 
While director Park's talents were also limited (his Three the Hard Way released two years later is one of the worst films ever made), the nostalgic side of me still gets chills when watching Super Fly late at night on cable. 
Drifting on distant memories, I recall the real-life Super Fly guys profiling through Harlem—"sporting life" dudes who got haircuts at Jerry's Den, threw back drinks at the Shalamar, and parked their colorful cars along Seventh Avenue on Saturday night. 
The first time I saw Super Fly was at the Lowe's Victoria on 125th Street. Next door to the Apollo, the theater was a hundred feet away from the pigeon-eyed view of the movie's opening shot. Filled with young folks who couldn't wait to enter into that playa playa netherworld of hustlers, scramblers, dames, and gamblers, folks were psyched. 
As the reel started rolling, music spilled from the speakers and the audience hummed along, mouthed the words, or sang aloud to the soundtrack. Savvy record executive Neil Bogart, whose Buddah Records distributed Mayfield's co-owned label Curtom, had released the album six weeks prior. 
Coming during a period when soundtracks were often put on the market months after a film had closed, this strategy proved a winner for both the record company and Super Fly producer Sig Shore. 
With a neo-psychedelic red logo that inspired a million graffiti artists, the first single, "Freddie's Dead (Theme from Super Fly)," which is how it was credited on the 7-inch, had blown up on pop and urban stations; the song peaked at number four on the U.S. pop charts and number two on the R&B chart. 
"Original music for motion pictures will become increasingly important as an avenue of exposure," Bogart told Billboard after the Super Fly soundtrack had sold 212,000 in ten days. A million television commercial or radio spots couldn't have bought the kind of anticipation that built throughout the pop-culture landscape, especially in America's chocolate cities, after folks heard "Freddie's Dead."
Premier blues guitarist and Chicago homeboy Jean-Paul Bourelly, who has played with Miles Davis and Muhal Richard Abrams, fondly remembered the impact of "Freddie's Dead" over aspiring hometown musicians. "If you didn't know how to play 'Freddie's Dead' in Chicago," Bourelly recalls, "then you couldn't be in any South Side band. Curtis never played it too much, which made it perfect."
Besides the constant coke sniffing in the film (before crack swept through the hoods of America a decade later, coke wasn't a poor man's drug; the real problem was heroin), the biggest surprise in Super Fly came midway through when Curtis Mayfield made a appearance performing "Pusherman" with his sizzling band. 
Wearing eyeglasses and strumming guitar, the then thirty-year-old composer looked more like a scraggly poetry professor than a hip soul man. If judging by visual style alone, Mayfield was anti-fly.
"Technically, 'Pusherman' was the first song we recorded for the Super Fly soundtrack," says McMullen. "Unlike the rest of the music, which we recorded back in Chicago at the RCA Studios, 'Pusherman' was done in New York City during the same time we came to film our cameo." 
They recorded at Bell Sound Studios, which was owned by Buddah Records coproprietors Viewlex. The then-popular midtown Manhattan studio was where Cannonball Adderley, Kiss, and Roberta Flack had also worked. "Pusherman" was the only track featuring drummer Tyrone McCullen; Morris Jennings played  drums on the rest of the album. "It was also the only track we recorded without arranger Johnny Pate and a full orchestra," informs McMullen.
Pre-music videos, it was exciting to see an artist on the silver screen. Yet, being a kid, I had no concept that Curtis Mayfield was already a respected star. If truth be told, in 1972, I'd never heard of his former group the Impressions nor had any idea of Mayfield's legacy as a songwriter, producer, label co-owner, and shrewd businessman.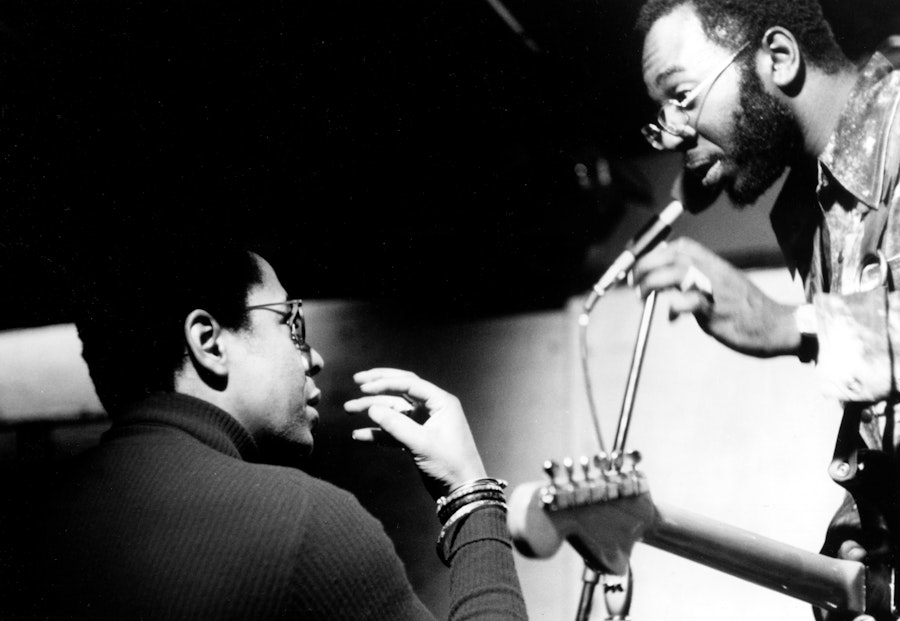 Music was always there; it was part of the neighborhood. We grew up singing. Curtis Mayfield
Hailing from the infamous Cabrini-Green housing projects, the setting for the sitcom Good Times and horror flick Candyman, Mayfield was born on June 3, 1942. Sharing a birthday with bluesman Jimmy Rogers and poet Allen Ginsberg, he was raised in the hood by his mother and pastor grandmother. 
"My mother loved poetry," Mayfield explained when I visited and interviewed him inside his Atlanta, Georgia, home in 1996. Six years before, a lightning-struck tower fell on him during a concert at Brooklyn's Wingate Park, leaving Mayfield paralyzed from the neck down. "When I later worked on the Claudine soundtrack [in 1974], I related well, because I had experienced all of that growing up. Welfare, living in a home without a father; I knew welfare pretty good, because my mother was on it."
Childhood friend and future Impressions member Jerry Butler once said of his and Curtis's boyhood days, "Music was always there; it was part of the neighborhood. We grew up singing." The two met at Traveling Souls Spiritualist Church, where Curtis's Granny Mayfield preached. Both were members of the Northern Jubilee Singers, the church's choir. 
Remembering how his mother read him the fanciful poetry of Paul Laurence Dunbar aloud, the teenaged Mayfield borrowed the seminal Negro's style when he began writing lyrics. "I guess I was somewhat fortunate enough to find myself at a young age," Curtis told Ebony magazine in 1973. "Or, maybe I should say that at a young age I realized that all I could do was sing and write." 
The Chicago of Curtis's youth was also a major music city where Chess Records electric bluesmen rubbed shoulders with the jazzy aliens that swung with Sun Ra, and the doo-wop dudes with processed hair sang onstage at Herb Kent's sock hops while their daddies drank cheap whiskey and listened to Etta James's juke-joint moaning on "I'd Rather Go Blind." 
Still, it wasn't until a cousin returned from the Korean War with a guitar that Curtis taught himself to play. Although Mayfield didn't know "the right way" of tuning the instrument, he used his own technique. Tuning his ax to the black keys of the piano, gave Curtis an open F-sharp tuning—F#, A#, C#, F#, A#, F#—that he used throughout his guitar playing years.
"The guitar meant so much more than I could ever really express," Mayfield said. "I used to sleep with my guitar. Me and my ax slept together. When I was on the road with the Impressions, I'd wake up in the middle of the night and write. All the fellows would leave their wallets with me when they went out. They knew I'd just be in the room writing songs." 
Craig McMullen, who played second guitar to Mayfield's lead from 1970 to 1973, states, "I wish I had paid more attention to how Curtis tuned his guitar. He played an open tuning for a chord as opposed to the regular technique of tuning a six-string. It was a little different and got a unique sound."
In 1957, Mayfield and Butler joined forces with Sam Gooden and brothers Richard and Arthur Brooks to form the Impressions. After trying and failing to sign with Chess Records, home of Muddy Waters and Chuck Berry, the boys eventually recorded their first single, "For Your Precious Love" on Vee-Jay Records. 
With Butler as the front man (later he was nicknamed the Ice Man), the group was renamed by their label as Jerry Butler and the Impressions. A student at Wells High where he was classmates with up-and-coming singer Major Lance, whom he later produced, Mayfield dropped out of school in his freshman year. 
"In those early days, the Impressions used to play at the record hops I threw at local schools or church halls," says renowned Chicago radio personality Herb Kent. At eighty, Kent recently penned his autobiography The Cool Gent (Lawrence Hill Books), which documents his glory days within the Chicago music scene. "Curtis was so broke in those days, his guitar didn't even have a back. Whenever you saw him, he was always facing you, because he didn't want people to see the back of that guitar." 
Six months after the release of the R&B top thirty hit "Come Back My Love," baritone lead singer Jerry Butler bounced from the Impressions for a solo career. Though the Impressions were dropped from Vee-Jay, a new incarnation of the group signed with ABC-Paramount in 1961. Featuring newcomer Fred Cash, they released their first post-Butler hit single, "Gypsy Woman," which incorporated Curtis's love for Spanish guitar. The same year, Mayfield, with a beautiful voice Rolling Stone once described as an "intensely masculine falsetto," began leading the group toward stardom. 
Nevertheless, by 1962, Richard and Arthur Brooks were also gone and the Impressions became a trio. Blending their gospel backgrounds with Black-pride insights, the "new" Impressions changed the sound of soul and created powerful anthems for a generation struggling for civil rights. 
Throughout it all, Mayfield continued to write and produce for Butler; he was also working with the Fascinations, Jan Bradley, Gene Chandler, and Major Lance. Touring on the weekends with the Impressions left Mayfield time during to week to take a day job at Okeh Records, where in 1963 he met arranger Johnny Pate. 
"I had been a jazz bass player who got an A&R job at Okeh," recalls Pate, "and one day Curtis just approached me." At eighty-six years old, Pate is retired from music but still keeps a piano in his Texas home for therapy. 
"Our first project together was Major Lance's popular 'Monkey Time.' Though I was working in R&B, I came from a big-band background, so I was one of the first to use trombone, bass, reeds, and sax on soul records. When we did 'Monkey Time,' we were trying to do something different."
Liking what he heard, Mayfield brought Pate into the session to arrange songs for the Impressions. Beginning with 1963's "Its All Right," the two worked together for the next decade. "Pate was one of those cool arrangers who knew jazz and everything," McMullen says. "It was a shock that he and Curtis later had such a big falling-out over Super Fly, because they were both the nicest guys."
Phil Upchurch was another young guitarist playing sessions and hanging out in smoky bars in Chicago. Accompanying the Herb Kent–managed doo-wop group the Cool Gents, he met Mayfield in a club on the west side where the two became fast friends. 
"Curtis's guitar playing mesmerized me," recalls Upchurch, who's played with Jimmy Reed, Ramsey Lewis, Muddy Waters, Howlin' Wolf, and most recently played on Bob Dylan's Christmas album. "When Curtis asked if I would play on the Impressions' records, I was like, 'Of course.' From that point afterwards, he called me to play on his all records, even when he went solo. I played on ninety percent of the Impressions stuff, 'Keep on Pushing' and all that. At Curtom, I played on Linda Clifford, Leroy Hutson, Super Fly, the Sparkle soundtrack and practically everything else. Back in those days, we would cut four tunes in a three-hour session." 
With a crack crew in place, the trio Mayfield, Gooden, and Cash recorded a slew of hits, including 1964's "I'm So Proud," "Keep On Pushing," and "Amen," 1965's "People Get Ready," and 1968's "We're a Winner," which was the last big hit for the Impressions. "A whole lot of [radio] stations didn't want to play that particular recording," Mayfield told the audience at New York's legendary Bitter End in 1971 (the night he recorded Curtis/Live! ).
"That song came to me in a dream," Mayfield told me of "We're a Winner." "I ran down in the basement and put enough down that I would remember; that was one of the few times I knew I had a smash. Maybe not a charted smash that would earn more money, but the lyrical content of equality and freedom needed for somebody to 'Say it loud, I'm Black and I'm proud.' We needed to come from crying the blues to standing tall."
When I started recording, I saw very few people who owned themselves. There were so many fights with record companies. Curtis Mayfield
Clearly, Mayfield understood not only his musical value, but his monetary worth as well. While other artists were ripped-off constantly by shady record companies and managers, Curtis Mayfield retained songwriting credits and publishing. 
"I was always in search of knowing how I might own as much of myself as possible," Curtis explained. "I had heard stories of guys selling songs for twenty-five dollars; [music] publishers were hitting the lottery off of people's material. Of course, what was considered Black money was a Cadillac and $2,500 in fives, tens, and twenties. Nigger rich. When I started recording, I saw very few people who owned themselves. There were so many fights with record companies. They couldn't understand it. 'He wants his publishing!' they would say to each other. Like it wasn't mine to have." 
Inspired by the sharp moves of Sam Cooke, who wrote his own material, controlled his own publishing, and opened the SAR record label, Mayfield's ambitions were limitless. "People don't really know that Curtis was such a hard businessman," laughs former WVON (the "Voice of the Negro") jock Herb Kent. "If you made a dollar, then Curtis made five." 
In 1968, ready to compete with local soul labels Chess, Brunswick, and Okeh, Curtis and then-manager Eddie Thomas formed Curtom Records. Unlike Berry Gordy, who moved Motown to California in 1969 after post-MLK riots destroyed much of Detroit, Curtis chose to stay in his city of Chicago and fight with the only weapons he had: music and lyrics. 
"I would get most of my ideas from meditations or by the laughter and happiness of the moment, or just good down-to-earth, one-on-one conversation," Mayfield explained. "All the hurt and reflecting on life, that also went into the songs. Whatever you're feeling, whatever your moods, whatever you were trying, whatever you had observed, whatever made you laugh—all of that was inspiration for my songs."
Darius James, author of That's Blaxploitation! Roots of the Baadasssss 'Tude, tells me, "Many poets of that period tried to merge politics and music. But somebody like Amiri Baraka just didn't have the lyricism or poetic clarity of an artist like Curtis Mayfield; he brought sociological thought to soul music, and it was brilliant."
Having already started two failed labels—Mayfield and Windy C—Curtis Mayfield was determined for Curtom Records to be the charm. A funky hit factory located at North Lincoln Avenue on the South Side, Curtom soon became the second home for an array of talented artists, songwriters, arrangers, and producers including Johnny Pate, Donny Hathaway, Leroy Hutson, the Five Stairsteps, Linda Clifford, the Natural Four, and Baby Huey and the Babysitters. 
In 1970, Curtis released his self-titled solo album and never looked back to the Impressions again. "The fans in Chicago wasn't happy when he left the Impressions, but they loved Curtis," remembers Kent. "They were willing to support whatever he did." 
As CEO of the label, Mayfield replaced himself with vocalist Leroy Huston—who was his protégé Donny Hathaway's former roommate at Howard University—as the new lead singer of the Impressions. "There were some things I long wanted to do, but they were out of the category of what was expected of me and the Impressions," Mayfield recalled. "When I got off in the Curtis album, it allowed me to be more personal for myself." 
In the wake of Martin Luther King Jr. being slain, riots in the streets, the release of Miles Davis's Bitches Brew, and Nixon in the White House, Black music was entering into a brand new bag. Led by funk masters James Brown, Baby Huey (who recorded for Curtom), Sly Stone, Norman Whitfield, George Clinton, Junie Morrison, Marvin Gaye, and others, Black music began developing a new language of rawness. 
At the ripe old age of twenty-eight, Mayfield was ready to loosen his tie and madly wave his freak flag. "Music was changing so much, it was the '70s, and there was a new freedom to the music," Mayfield said. "People like Isaac Hayes, Gamble and Huff, and myself were trying to get away from just R&B as we looked upon it; we wanted to be freer. When I first started making music in 1958, a song was two minutes and forty-five seconds at the longest. As time went on, FM radio and flower power happened; people got into smoking herb."
Curtis smiled when I asked if he was also getting lifted during this transition. "I wasn't dropping acid, but I guess it's safe for me to say that I too smoked herb," he confessed. "It was no big deal. I didn't do nothing until I was twenty-seven years old, and smoking herb didn't seem like a heavy cost to pay to cure my curiosity." 
Releasing three albums months apart (1970's Curtis and 1971's Curtis Live and Roots), Mayfield's sound began going through a metamorphosis as could be heard on the tracks "(Don't Worry) If There's a Hell Below, We're All Going to Go," "We the People Who Are Darker than Blue," "Mighty Mighty (Spade and Whitey)," "Underground," and "Stone Junkie."
"Curtis got more into the changing guitar technology and was writing more in-depth stuff using fuzz and wah-wah pedals," says Craig McMullen. In addition to recording, Mayfield also had his band on the road. With Tyrone McCullen on drums, Master Henry Gibson on percussion, Joseph "Lucky" Scott on bass, and Craig McMullen on guitar, the band toured the world. 
"It was the five of us together, and it was all fun," McMullen states. "We was like five brothers just kicking it. Curtis's big saying was, 'I want you to do your thing.' But, it wasn't just about the individual, it was about the group. These guys were my teammates, and together we were becoming so much better."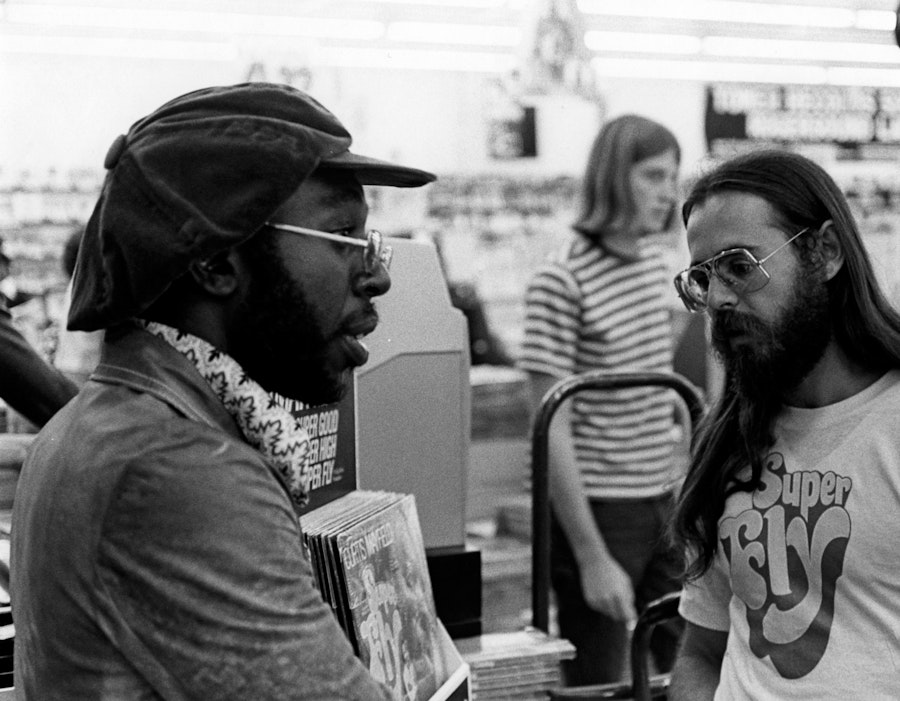 We also showed that you didn't need a room the size of a football field to lay down the music; you didn't have to be a Henry Mancini. Curtis Mayfield
Located sixty blocks from 125th, Lincoln Center has always been one of the most beautiful cultural complexes in New York City. Moreover, it was at that landmark venue in 1971 when producer Sig Shore and screenwriter Phil Fenty met with Curtis Mayfield about creating the soundtrack for Super Fly. 
"There were two shows that night, but after the first set, they came backstage, introduced themselves and handed me the script," Curtis stated, propped-up on pillows; his brown hands that could no longer hold either guitar or pen, lay dead atop a grey blanket. On the wall inside the book-lined room, there was a print of Ernie Barnes's iconic painting The Sugar Shack (as seen on the album cover of Marvin Gaye's 1976 LP I Want You and the closing credits of Good Times). 
"That was a fantastic happening for me, because Super Fly was the first script that I was offered to score. Man, that made my day; I read the script as soon as I got back to the hotel." Landing back home a few days later, Mayfield was on fire creatively and began to flesh out the lyrics. 
"Coming from Cabrini-Green, those characters reminded me of many people, but first they were just the characters from the script," Mayfield recalled. "The characters came to life for me the more I read. I had been around and seen certain things, but it was never my intention to blend them with a particular person that I knew. 
"First of all, I didn't know too many drug dealers. However, reading the script, I started feeling very deeply bad for Freddie. Between his friends, his partners, and his woman, he was catching a hard time. 'Freddie's Dead' came to me immediately. While you might not know a lot of pimps and drug dealers, we do meet quite a few Freddies.
"Still, one of the things that impressed me about the character Priest was, in spite of what he did for a living, was the fact that he wanted to get out," continued Mayfield. "It all locked in when you found out he was a very small [fish] in a very large ocean. That allowed me to speak of this man lyrically as to how people who are fly really behave. I wanted to express things lyrically for what they really were.
"Director Gordon Parks Jr. understood that the music was as important as the dialogue. Not only that, but we also showed that you didn't need a room the size of a football field to lay down the music; you didn't have to be a Henry Mancini. For the price of one, I could bring in two things: the scoring of the movie and of course the soundtrack with a major artist. That was something new for the [movie] business." 
Assembling his musical team inside RCA's massive Studio A, the ninth floor room was crowded with Johnny Pate's orchestra, various session musicians and regular bandmates. 
"The [Super Fly] music was recorded all at once," former Curtom engineer Roger Anfinsen told writer Ben Edmonds in 2002. "We probably approached forty pieces at some points. There were harps, horns, strings, everything; we had to park the backing singers in the control booth. This was the only time I worked in this fashion with Curtis. It seemed about capturing a certain electricity, a live energy."
Craig McMullen remembers well the organized chaos of the Super Fly sessions. "We were able to cut all the music at one time," he says. "And since everything was already charted, we cut all the music in three days. Curtis put his vocals on later. Being part of the rhythm section, we were free to do certain things; therefore, whatever embellishments you might make, you could hear them right on the spot." 
Leaving Curtom in 1973, McMullen later played on albums by the Sylvers and Aretha Franklin. "Personally, I looked at Super Fly as a time to shine," he says. "Shaft was a big hit with some nice guitar work on there, and I wanted to make sure I sounded good. Being a guitar player in the rhythm section, you have the opportunity to get in first, make a statement, and get out. 
"Curtis depended on us to be inventive," McMullen continues. "They were his songs, but everybody had a hand in making them better; we were a championship team, and we all contributed in making them into great songs. We had charts to follow, but as far as what licks I'm playing, those came from me. The better the lick, the more it stands out."
The Super Fly soundtrack opens with the haunting "Little Child Running Wild," featuring Curtis on lead guitar. "I played in the chinks while Curtis played the rest in a 2/4 thing," says McMullen. "It's like a slick blues, but the song also tells a good story. Curtis was always a good storyteller."
Phil Upchurch agrees: "Curtis was a top-flight composer, and nobody wrote better lyrics." The three guitar players, Mayfield, McMullen, and Upchurch joined talents on the fierce title track. Explaining their process of collaboration, Upchurch says, "Curtis would come into the studio with the music concept and the melody and tell us what he wanted us to play. He always had a basic sketch in his head, and the songs would start coming together from the base of what he brought to the floor."
Arranger Johnny Pate was nineteen years older than Mayfield when the two worked together on Super Fly. As seen on the cover of the 1970 cinematic soul album Outrageous (MGM), which has his image superimposed over orchestral sheet music from the title track, Pate came from the era when sharp-dressed conductors projected a dandy public persona one sees in photos of Burt Bacharach and Quincy Jones.
Music critic Gavin Breeden wrote of the album, "One of the most impressive aspects of Outrageous is how effectively it bridges the gap between the late '60s music trends and the funky horns and electric guitars of the early '70s. Pate combines organs, flutes, guitars, congas, and horns into a melting pot of rock, soul, funk, and jazz. Pate is able to steer this thirteen-piece band as a single unit. It is a testament to his skill as composer and bandleader… Pate allows his musicians some freedom and the music moves and breathes without ever sounding bogged down." 
Living in New York City in 1972, where he worked for MGM Records as an A&R and producer/arranger, Pate was lured back to Chi-Town after receiving a phone call from Mayfield. "Curtis called me and said he wouldn't be able to do the soundtrack without me," Pate says. "Curtis didn't know how to write music on paper, so he would bring in his ideas on cassette, songs he had written on his guitar, and I built around that."
Yet, while the arranger was used to being the man in the musical shadows when it came to recognition, Pate's disagreement with Mayfield about the soundtrack streamed from the two instrumentals, "Junkie Chase" and "Think," both songs he claimed he wrote alone. Yet, the Super Fly album sleeve reads: "Successfully arranged and orchestrated from the original dictations of Curtis Mayfield by Johnny Pate."
Seeing the credit, Pate was furious. "I orchestrated and arranged the score to Super Fly, but Curtis Mayfield got all the credit," he fumed to a reporter in August 1972. "Everybody is ego tripping and taking credit for things they didn't do."
According to a Jet magazine story filed December 21, 1972, five months after the movie's release and the subsequent platinum success of the soundtrack, Mayfield filed a dollar lawsuit in U.S. District Court in New York to declare himself the sole author and publisher of the "Junkie Chase" and "Think." In addition, Mayfield also sought a million dollars' worth of damages for alleged defamation of character. 
Mayfield's lawyer Lew Harris told Jet, "We aren't denying that Johnny Pate performed a very useful service in the arranging of the songs, but he was an author for hire; he was paid for his service." Refusing to back down, Pate rebutted in the same article, "I am entitled to half of the composing rights for those two tunes, because I wrote the melodic line for both."
The following year, Billboard reported in an article titled "Johnny Pate Asks for Credit as Scorer" that in the realm of blaxploitation soundtracks the only persons being exploited were "scorers" like Pate who were tired of being passed over. 
"There is a big difference between scoring a movie and writing a hit song for a movie," Pate told Billboard columnist Leroy Robinson. Although Mayfield and Pate had been friends since working on Major Lance's "Monkey Time" in 1963, after their rift over the Super Fly soundtrack, they never collaborated again. 
"Anybody who knows anything about music knows it takes knowledge to put notes together and command a twenty-piece orchestra," states Craig McMullen. "I'm a witness that Johnny was a great arranger, but he and Curtis's spat was brother-to-brother discontent." 
Thirty-seven years later, Pate isn't bitter, but he still disputes Mayfield's official version of what went down in Studio A. "The crediting on the record was the way his people wanted it," Pate says. "I did more than conduct the music on those two tunes, but they wouldn't give me even half credit. In the end, I didn't want to fight about it anymore. My feelings were, just take it and keep it." 
Curtis Mayfield continued to write and produce exquisite soundtracks after Pate's departure. However, with the exception of Short Eyes (1977), a film Mayfield invested in and whose failure bankrupted Curtom Records, all songs were recorded by other artists: Claudine (Gladys Knight and the Pips, 1974), Let's Do It Again (the Staple Singers, 1975), Sparkle (Aretha Franklin, 1976), and A Piece of the Action (Mavis Staples, 1977).
"Sometimes, it's important for a creative person to be able to do for others just to prove you're not a fluke as an artist," Curtis told me. "Every song that I write, I can relate to, but every song I write, I can't sing. 
"First I would write the songs, then bring the rhythm group in. Then someone like Richard Tufo or Riley Hampton, who were fantastic arrangers, would consult with me to make sure everything was where it should be. Later, I brought in the horns, the strings and harps to lock in the magic." 
Yet, no matter how captivating Curtis Mayfield's music continued to be through his lifetime, nothing quite matched the beauty, brilliance, and cultural influence of Super Fly. From the films of Quentin Tarantino and Lee Daniels to the music of Jay-Z and D'Angelo, to the prose of Nick Hornby and Ben Greenman, the musical muse that was Mayfield still shines bright.
"I always felt those songs will be relevant forever, because they are so strong," says Phil Upchurch. "Curtis Mayfield was as gifted as Bach or Beethoven."
Nine months after being inducted as a soloist into the Rock and Roll Hall of Fame, Curtis Mayfield died on December 26, 1999, at the North Fulton Regional Hospital in Roswell, Georgia. He was fifty-seven.