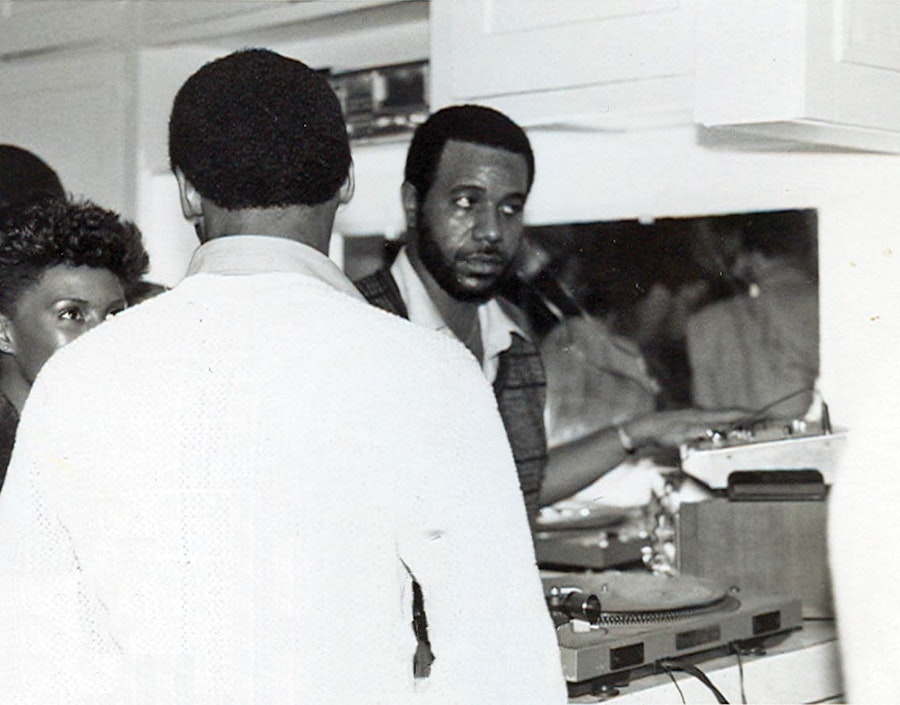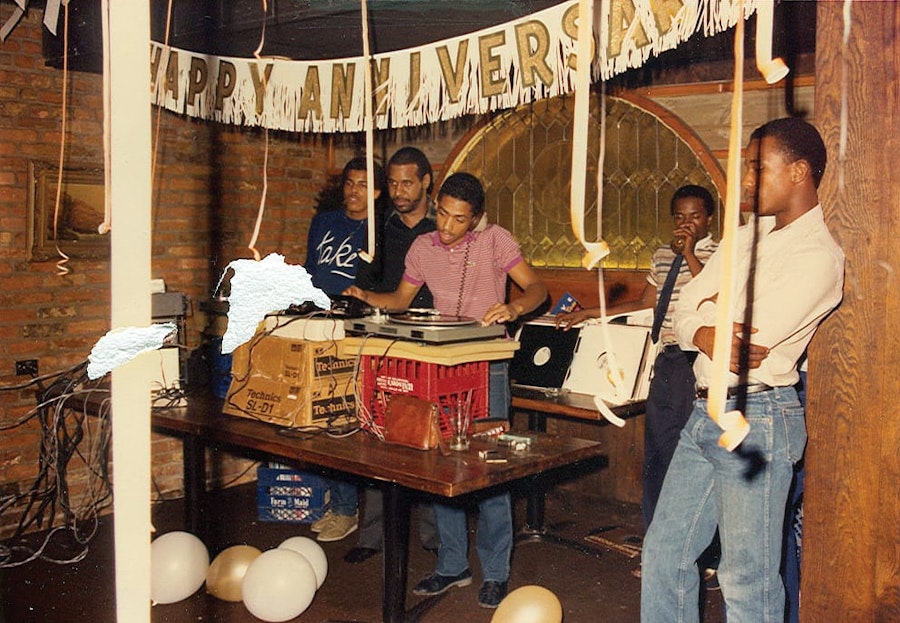 Mike Clark: When I first saw Ken play, I was a teenager—maybe thirteen or fourteen. He had a very perfected style and was able to play naturally. He wouldn't have a rehearsed, programmed situation; he would just play and let it go. My impression of him was that he was the first DJ I heard play straight from himself. He had a saying: "Whenever you want to know what record to play, what record is it that the people are interested to hear, you look at the crowd and the crowd will tell you what to play." You can look at them and just go straight to the song. That was one of the hardest lessons to learn. But once you knew where he's coming from, it all made sense.
Technical skill is always important, but it's not as important as knowing your crowd. Before there was mixing, DJs just used to play records, and, nowadays, that is hard to explain. But if you know how to work a crowd, you can play without mixing and still get a better response. You know how to get the crowd to all become one. Everybody's on the same page and there's not a record you can go wrong with. That's the best way I can describe it. You're almost on a [trance-like] level with each other.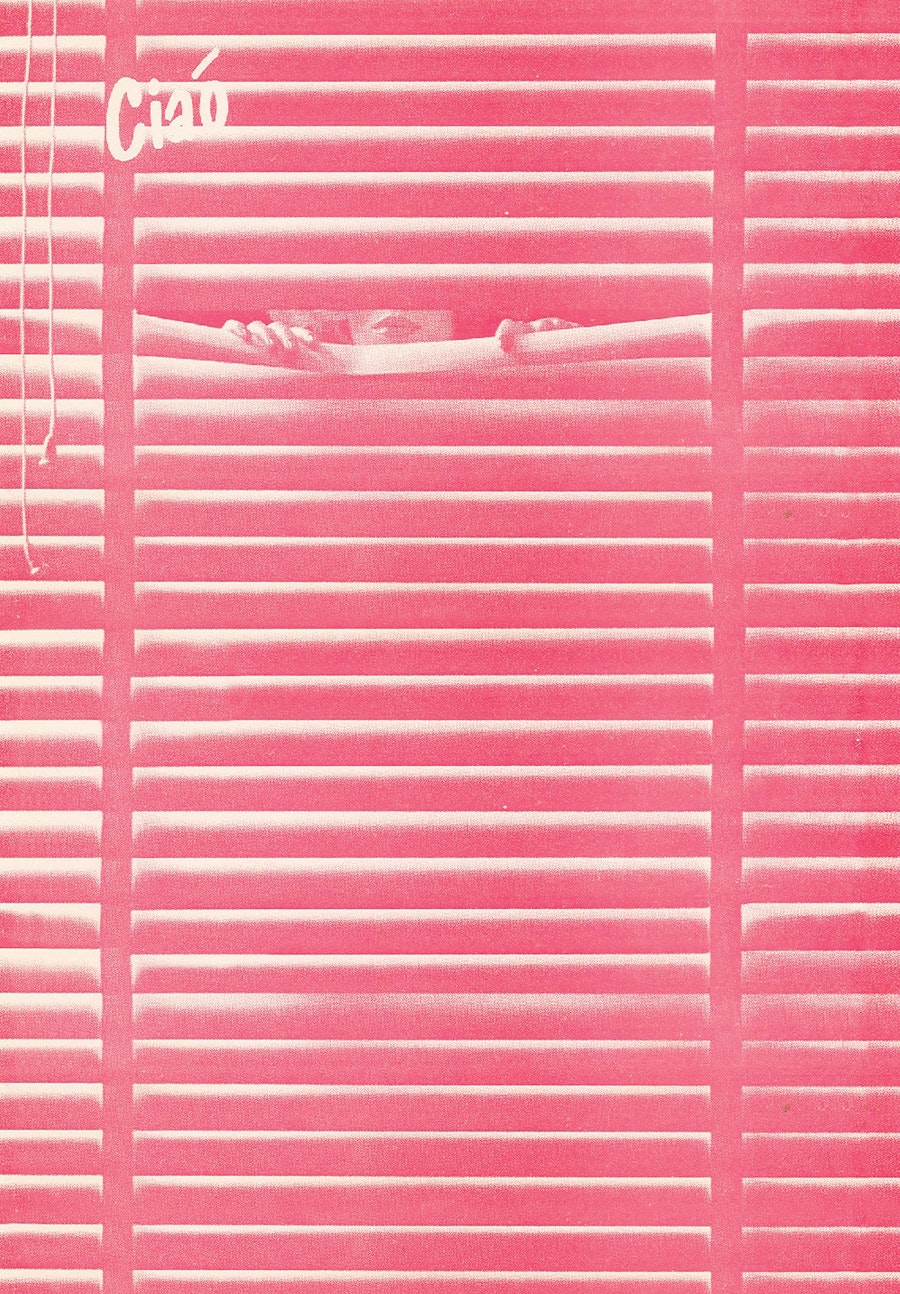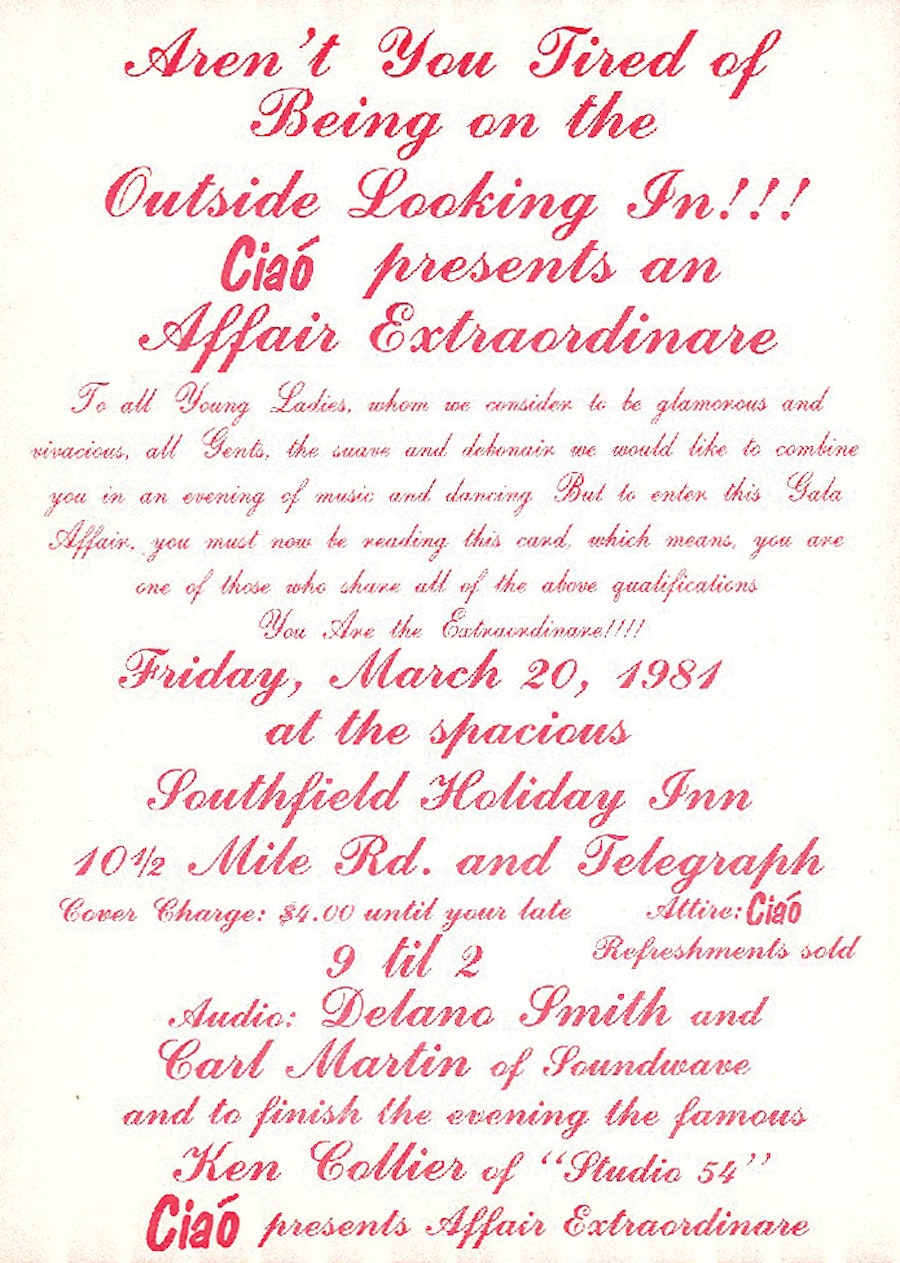 When you first heard Ken, what kind of music was he playing?

Mike Clark: He had a kind of down-tempo groove that was very close to what our beatdown sound is. You start with the gut, and the whole thing is a funky groove that will take you out on some weird, trippy feel. You don't know what the record is, but it's doing all this cool stuff. That was the thing I used to love about Ken: no matter how many records we used to buy, no matter how many things we would compile on cassettes, he would just lose us with his playing and with his record selection.
He was the first person we heard play [Kraftwerk's] "Trans-Europe Express," a lot of early West End, Prelude, and things of that nature; he just had a whole array of records. He was a Billboard reporter, [so] a lot of people used to send him promotional records. This was in the early '80s and late '70s. 
Ken's peers were people like Ron Hardy, Larry Levan, Tee Scott—all those legends in their own cities. One time, Ken had Tee Scott come play in Detroit. The first time I met Ron Hardy in Chicago, I inquired about getting a cassette. He said that he doesn't give cassettes out, and he doesn't really sell them. My impression was that he was a kind of standoffish guy, but he asked me where I play in Detroit, and whether I knew Ken Collier. When I told him that I played with Ken, his eyes just opened up, and he gave me three or four cassettes. 
When [Ken Collier] performed, it was a whole different ball game; it was amazing. You never knew exactly how he would play a record. Sometimes he would let them blend, sometimes he would just throw the record in—but he would do it in a way that, before you knew what the next record was, before you could even decipher it, it gave you a boost of energy. 
Norm Talley: Ken Collier bridged a lot of gaps through music. He brought [together] a lot of different races and ethnic groups, straights and gays. You got all your different groups, and he brought them together under one roof, which a lot of people haven't been able to do up until this time—not in Detroit. And in big numbers as well.
He was a nice, respectful, genuine man, and reached out to the younger DJs. I started out buying disco records from Ken Collier, so I got my whole initial collection from him. I had a paper route and he lived three blocks over from me. I used to take my paper money and go over to his house, listen to records, and buy them for two dollars each. Then I expanded out and got a little bit older, and I began to ride my bike to the record stores a bit further away. But, initially, I got my whole record collection from him.
We played a lot of Giorgio Moroder, Cerrone, Suzi Lane, Sylvester, all that kind of stuff—pre-drum machine! Delano Smith
Mike, you played for Mojo at the Cotton Club with Terrence Parker in the late '80s. Was that an underground thing?

Mike Clark: Well, I would call it kind of mainstream. The music was new at the time, and everyone was on it. We had two or three radio stations that were playing house music and techno, and almost every club was spinning it; that was before the whole hip-hop and R&B thing took over. Certain [house and techno] records were even being played on normal radio, so it's a fine line figuring out what to call "underground" as opposed to what's "aboveground." Back then, you would play a house record, followed by an Italian disco record, followed by a Prince record, followed by Michael Jackson or whatever was hot at the time, and danceable: Teena Marie, Rick James, whoever. It all fit in a mesh of mixing; it wasn't separated like you could play techno or house only.
When did you notice that separation between hip-hop and R&B, and house and techno, occurring?

Mike Clark: Towards the late '80s, we felt a strong change. A lot of that was due to the fact that Chicago and Detroit were really trying to get their music out, to join with major labels as well as push their own independent labels to become more like major labels. You had a division of power, and a lot of separateness, between producers and between record labels. There was a division of the community itself, which was strongly due to a lot of magazines around the world labeling the sounds. Once it was established that the word techno came out of Detroit and the word house came out of Chicago, it wasn't enough. They had to segregate the styles, even though, technically, there wasn't a difference in sound; there was only a regional name difference. The world chose to define techno—music from Detroit—strictly as a particular type of sound, mostly minus a lot of the melodic chords, vocal singing or blues, jazz, and gospel styles.
Those things affected our world greatly. When you separate a city by the name of a sound and you give it a meaning that doesn't necessarily have anything to do with what the city is really all about—which [in Detroit] is gospel, house, funk, Motown, blues, all of the above—separatism begins.
What kind of music were you playing when you started DJing?

Delano Smith: We were playing disco music back then—disco and progressive R&B like Brass Construction [and] things of that nature. We played a lot of Giorgio Moroder, Cerrone, Suzi Lane, Sylvester, all that kind of stuff—pre-drum machine! The most hard-to-mix shit ever! [laughs]
Do you remember some of the first homegrown—made-in-Detroit—tracks that you started playing?

Norm Talley: One was "Sharevari." It was a popular tune in the early '80s. I played it quite a bit, and I still enjoy playing it actually. A Number of Names was the name of the group.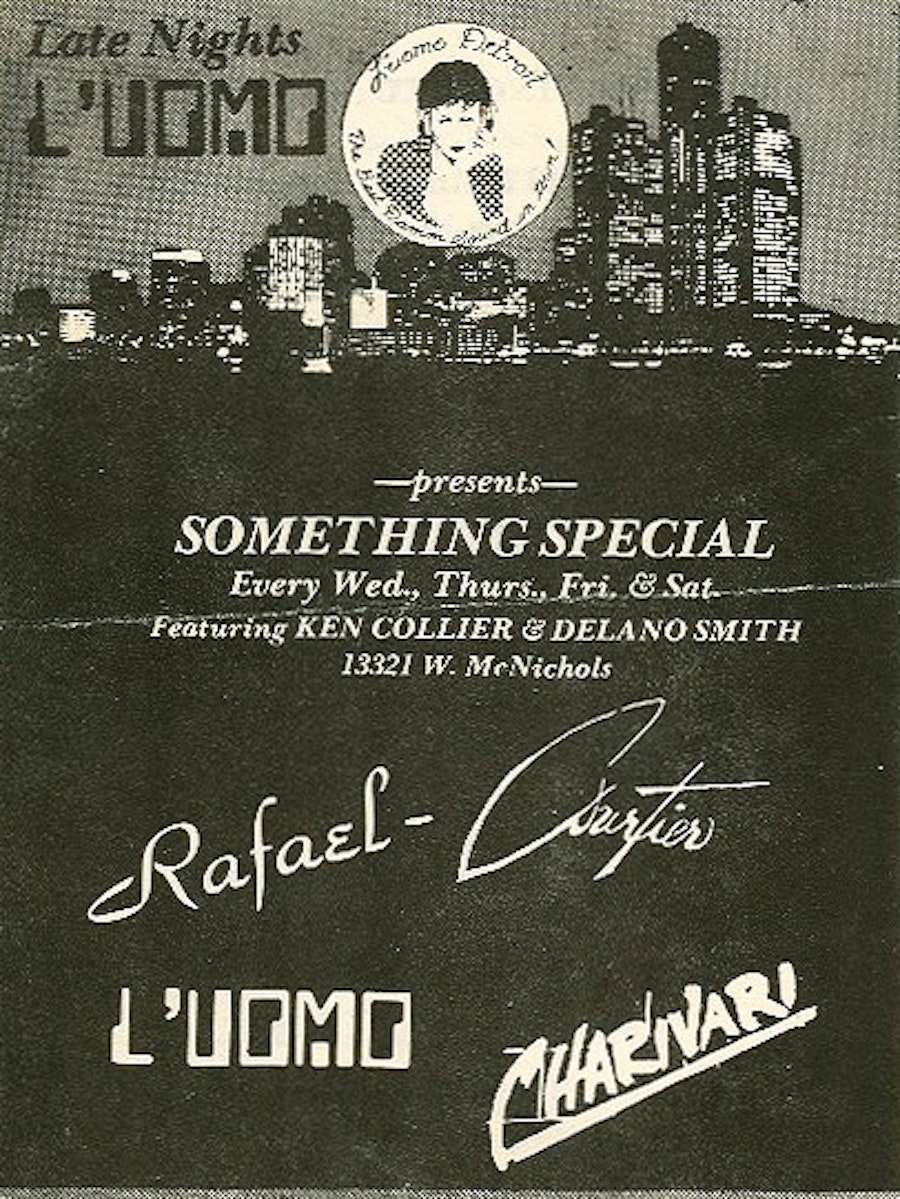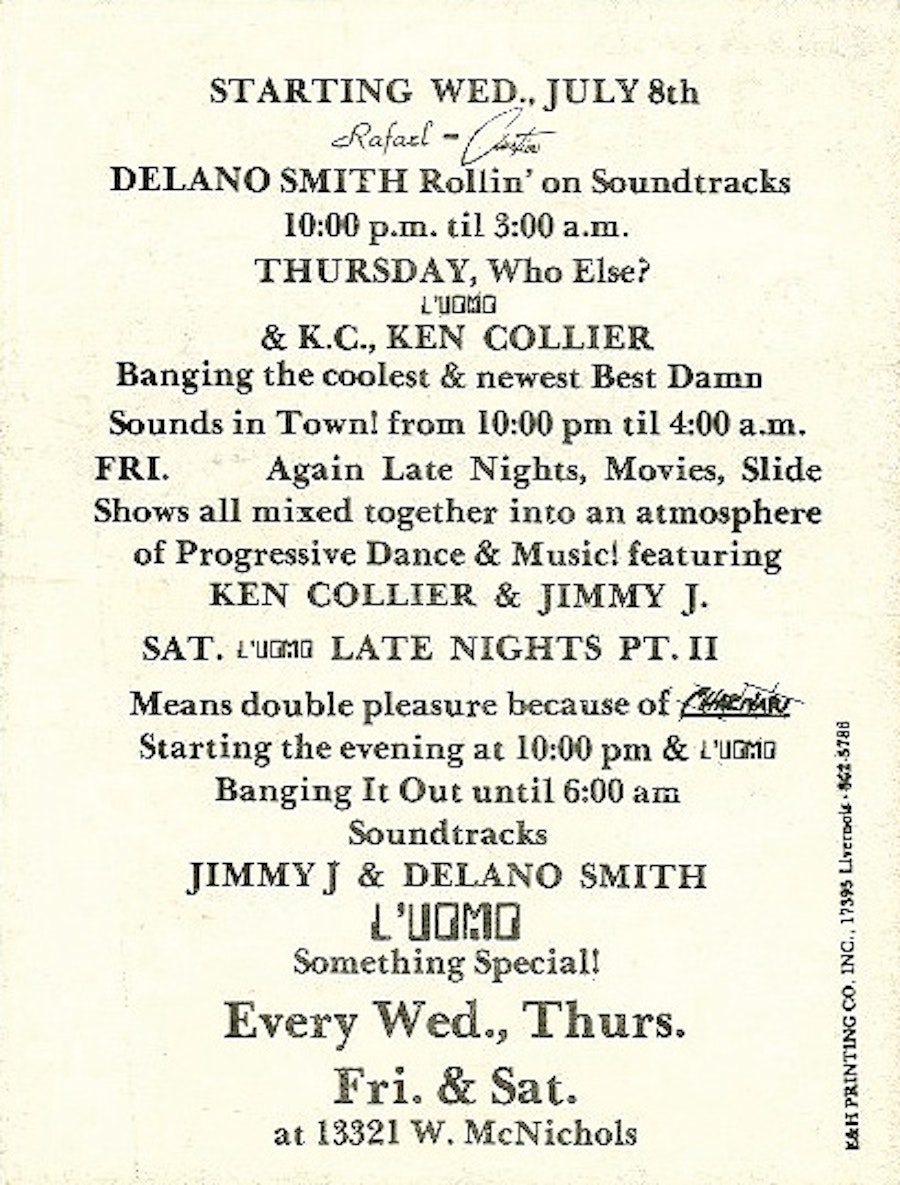 Everybody's having fun, looking nice, enjoying themselves, what's better than that? Mike Clark
So the purpose of these drum tracks was as a DJ tool?

Norm Talley: Most definitely. You would use them for mixing to keep the crowd going with a good beat. Say you had an a cappella track of [Loleatta Holloway's] "Love Sensation," a song that everyone likes, and every is DJ playing. What you'd do is mix the beat track first, then lace the a cappella over the top. Now it's somewhat of a remix of a popular song that everybody knows because they can hear the vocals. It has these different beats underneath, so they're still dancing, but to a different version of a song that they know.
People have a preconception that machine music doesn't have any soul.

Norm Talley: Sure, but it's in the way whoever programs it and where their soul lies as far as if it feels funky or not. It can be cold if you let it be, but if you approach it in a different manner, then it can be soulful. Jeff Mills is a funky DJ. He makes funky minimal tracks that have a good rhythm, even though he's presenting this [overtly electronic] style of music.
A lot of the producers that are producing now in Detroit were exposed to good music at a young age, so I think that kind of carried on. A lot of people can tell you stories of how their parents had parties—[how they were] peeking around the corner, [at] age six, and they're having a party downstairs in the basement, and playing good music, and dancing, and you're hearing bass lines and things like that.
Mike Clark: Back then, everybody used to dress up, everybody used to wear matching outfits, [and] people used to have dance routines. That was my image as a little thirteen-year-old seeing this, and to me this was it! Everybody's having fun, looking nice, enjoying themselves, what's better than that?
DJ CHARTS
MIKE CLARK'S BEATDOWN CLASSICS CHART
"Still Waters" The Four Tops (Motown)
"Message in Our Music" The O'Jays (Philadelphia International)
"Galaxian" The Jeff Lorber Fusion (Arista)
"Under the Moon and Over the Sky" Angie Bofill (GRP)
"Alonzo" Al Jarreau (Warner Bros)
"The Voice of Q" Q (PRT Records)
"Can't Get Away (From Your Love)" Carol Williams (Vanguard)
"My Chance to Dance" Mahogany (Mahogany)
"Burning Spear" The Soulful Strings (Cadet)
"Zulu" The Quick (Pavillion)
NORM TALLEY'S CHART (1978–1983)
"Heavy Hitter" Barbara Norris (Nelwin Records)
"Sing Sing" Gaz (Salsoul)
"Feed the Flame" Lorraine Johnson (Prelude)
"Dying to Be Dancing" Empress (Prelude)
"Bourgie Bourgie" Gladys Knight and the Pips (Columbia)
"When You Wake Up Tomorrow" Candi Staton (Warner Brothers)
"Midnight Lady" Cerrone (Cotillion)
"Why Leave Us Alone" Five Special (Elektra)
"Deputy of Love" Don Armando's 2nd Avenue Rumba Band (Ze Records)
"Wheel Me Out" Was Not Was (Ze Records)
NORM TALLEY'S CHART (1983–1984)
"Give It Up for Love" Tata Vega (Motown)
"Brother's Gonna Work It Out" Willie Hutch (Motown)
"Computer Games" Yellow Magic Orchestra (Horizon)
"Love Injection" Trussel (Elektra)
"Beyond the Clouds" Quartz (TK Disco)
"The Music's Got Me" Visual (Prelude)
"Weekend" Phreek (Cotillion)
"Express Yourself" New York Community Choir (Polygram)
"Keep Giving Me Love" D-Train (Prelude)
"Thanks to You" Sinnamon (Beckett Records)
DELANO SMITH'S CHART
"Disco Circus" Martin Circus (Prelude)
"Don't Make Me Wait" NYC Peech Boys (West End)
"Let No Man Put Asunder" First Choice (Salsoul)
"You Don't Know" Serious Intention (Easy Street)
"Use Me Lose Me" Paul Simpson Connection (Streetwise)
"Sharevari" A Number of Names (Quality)
"Catch the Rhythm" Caress (Warner Bros/RFC)
"Moody" ESG (99 Records)
"I'm Caught Up (In a One Night Love Affair)" Inner Life (Prelude)
"Help Is on the Way" The Whatnauts (Harlem International)