Yet there is a link, forged by a few key figures in the high-school social parties of the 1970s and the clubs and radio shows of the '80s. These musical visionaries shepherded their dancers and listeners from disco, via hi-NRG and Italo, through to the earliest house records, while never neglecting a healthy dose of the left field and unexpected. 
This sound, or maybe this "feeling," is known as beatdown and owes a great deal to the eclectic, boundary-defying styles of DJs such as Ken Collier and the mysterious radio presenter known as the Electrifying Mojo (real name: Charles Johnson).
Mojo, a bona fide Detroit legend, broadcast from various frequencies throughout the years, including WGPR, WJLB, and WHYT in the late '70s through the '80s. His intricate radio shows were famous both for their disregard of typical genre boundaries and their host's charismatic MCing. 
Collier, on the other hand, was mainly a club DJ whose generous nature and dedicated, professional approach to DJing was an inspiration to countless aspiring Detroit DJs. He was one of the first DJs to bring a style of mixing music formerly associated with gay clubs over to the straight Detroit scene. He passed away in February of 1996, due to diabetes.
The modern inheritors of this style are the present-day beatdown DJs of Detroit. Three in particular have channeled the vision of the godfathers of beatdown, both through their DJing style and through the release of documents such as the Detroit Beatdown compilation. They are Mike Clark, Norm Talley, and Delano Smith.
Mike Clark became hooked on music and DJing courtesy of his elder brother, who snuck an underage (but tall) Clark into some of Detroit's best clubs and parties of the early '80s. Clark has been at the center of various key groups in the musical evolution of Detroit, including the Direct Drive crew and Underground Resistance. As well as holding a string of club residencies and international dates, Mike has a long history of involvement in Detroit's radio stations, initially as one of the Electrifying Mojo's early protégés.
Norm Talley grew up on the West Side of Detroit and was lucky enough to live just around the block from Ken Collier. Early excursions to Collier's house on record-buying trips (funded from carefully saved pocket money) led to a lifelong obsession with music and an encyclopedic knowledge of rare and obscure records. Norm is very much the DJ's DJ.
Delano Smith is undoubtedly one of the elder statesmen of Detroit's music scene, with a DJing career stretching back to the mid-'70s. Present at the inception of the modern Detroit sound, Smith witnessed the transition from the little-known, gay loft-party scene of the early '70s to the global electronic movement of today. Delano continues to release acclaimed tracks that look to the future while acknowledging the debt to the past.
The day after Detroit's annual electronic music festival in 2005, we met at Mike Clark's apartment to discuss the origins of their music, the advent of drum machines, and the story of DJing in an era that pre-dated genre labels such as house and techno.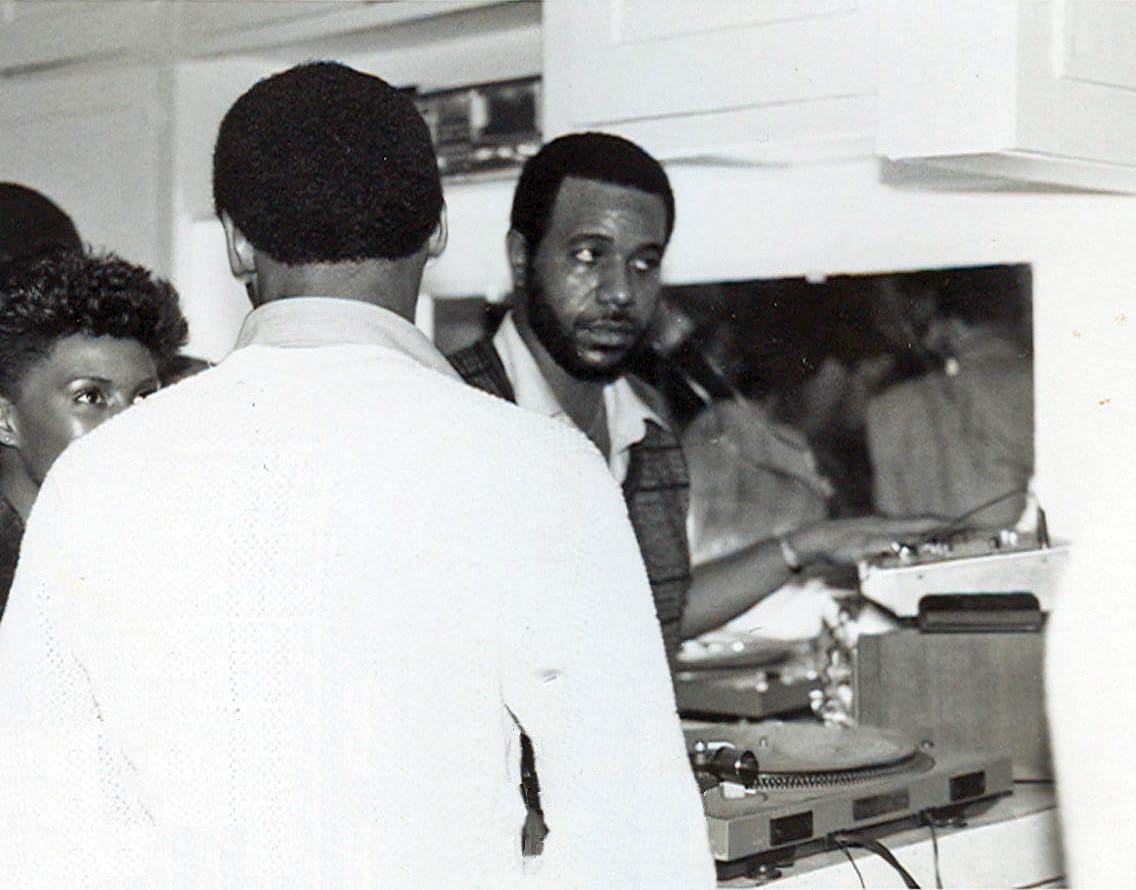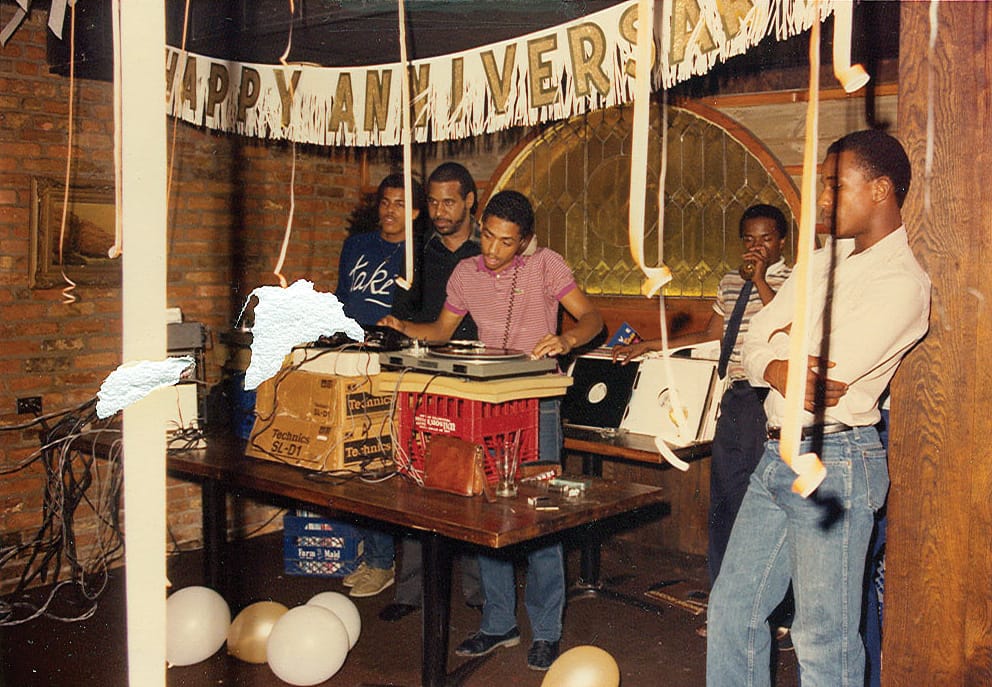 ---
You must have seen Ken Collier at a very young age.

Delano Smith: I was actually a witness to the inception of it all. Back in 1977, I saw Ken Collier play at the Rathskeller, at the University of Detroit. Back then, I was fifteen and in the ninth grade, so I was partying with seniors in high school and probably people two or three years after that. That was the first time I ever saw a DJ mix two records together, and it really inspired me to actually be a DJ. I'm like, "I wanna do that!" [laughs]
That was the first time I ever saw a DJ spin standing up! Everyone else sat down and they didn't mix. That's how we knew DJs: they all sat down, and they went from turntable to cassette or 8-track or they would let the record play and go off. This is how parties were given back then. We would take the record off, put another record on and let that play. When I first saw Ken [mixing], I thought it was phenomenal! It was like inventing the wheel or something. I think it was new to everybody back then. From that one particular party, that was when Ken began to get business from all of us. Other high-school organizations, friends at other high schools, started booking him, and from there it's history.
That's how he and I became friends; he gave me his number, and I used to call him: "How much would you charge to do a party?" We'd have a party at the YMCA, with this organization I belonged to called La Cordiere. He charged $250 dollars back then. We thought that was so fucking expensive. "How the hell are we going to get $250 dollars?" That was for the sound system and him. I remember he wanted to get into the room early in the morning so that he could do a sound check, and we were like, "What the fuck is a sound check?"
All of us—Norm, Mike, Derrick [May], Kevin [Saunderson], Theo [Parrish], Kenny [Dixon Jr.], Darryl Shannon, all the Detroit legends...Dwayne Montgomery, Duane Bradley, Stacey Hale, Al Ester—all those guys were inspired by Ken Collier. If it hadn't been for Ken Collier, it would be a totally different scene than it is now, Ken spawned all of us in Detroit. Rest in peace. We all loved Ken Collier; he helped us all. That's how it all came about, when it got to the straight people and they learned the technology of the turntables and the mixer thing. 
Back then, we didn't know how to mix very well, and he did. He mixed disco, and he had the tools to do it, like direct-drive turntables. That rubbed off on me, and I know it influenced the generation of DJs that came behind me. To hear and see him play, you knew he was really into his sets and the music selection. When we started to hire him to do our high-school parties for us, he was a real stickler about the dynamics of the room and everything like that, about having an adequate system. We used to be like, "Why is he such stickler about the sound system? Why is he asking us?" All we knew was that it was loud. He took care of all the technical aspects and was the consummate DJ and soundman. 
Watching him play was incredible; he enjoyed himself more than the dancers did. Turntables are an instrument, and they were his. They were instruments then and they're instruments now; it's just a matter of how you use them, how you master that instrument. You'll never hear anyone play like Ken Collier. He would ride a mix down on you, or he might ride for two or three measures then, pow!, take it out and…oh God, send the crowd crazy! He was really everyone's hero—all the DJs. Even back when we were kids, we all had respect for him.
Ken played a lot of the stuff that came out of New York back then, a lot of the Shep Pettibone and Larry Levan remixes, like [First Choice's] "Let No Man Put Asunder." Prior to that, [Ken played] a lot of the Giorgio Moroder–kind of harder disco [and] Martin Circus's "Disco Circus," a classic back then that was awesome. Kano ["It's a War"]—that was one of the really big records; we ran that for years. 
They were the first four-on-the-floor stuff. The Kano and the Martin Circus came through with that hard kick and clap on it: boom clap boom clap! That stuff was easy to mix and sounded good on the system, so we ran those tracks into the ground.
Mike Clark: When I first saw Ken play, I was a teenager—maybe thirteen or fourteen. He had a very perfected style and was able to play naturally. He wouldn't have a rehearsed, programmed situation; he would just play and let it go. My impression of him was that he was the first DJ I heard play straight from himself. He had a saying: "Whenever you want to know what record to play, what record is it that the people are interested to hear, you look at the crowd and the crowd will tell you what to play." You can look at them and just go straight to the song. That was one of the hardest lessons to learn. But once you knew where he's coming from, it all made sense.
Technical skill is always important, but it's not as important as knowing your crowd. Before there was mixing, DJs just used to play records, and, nowadays, that is hard to explain. But if you know how to work a crowd, you can play without mixing and still get a better response. You know how to get the crowd to all become one. Everybody's on the same page and there's not a record you can go wrong with. That's the best way I can describe it. You're almost on a [trance-like] level with each other.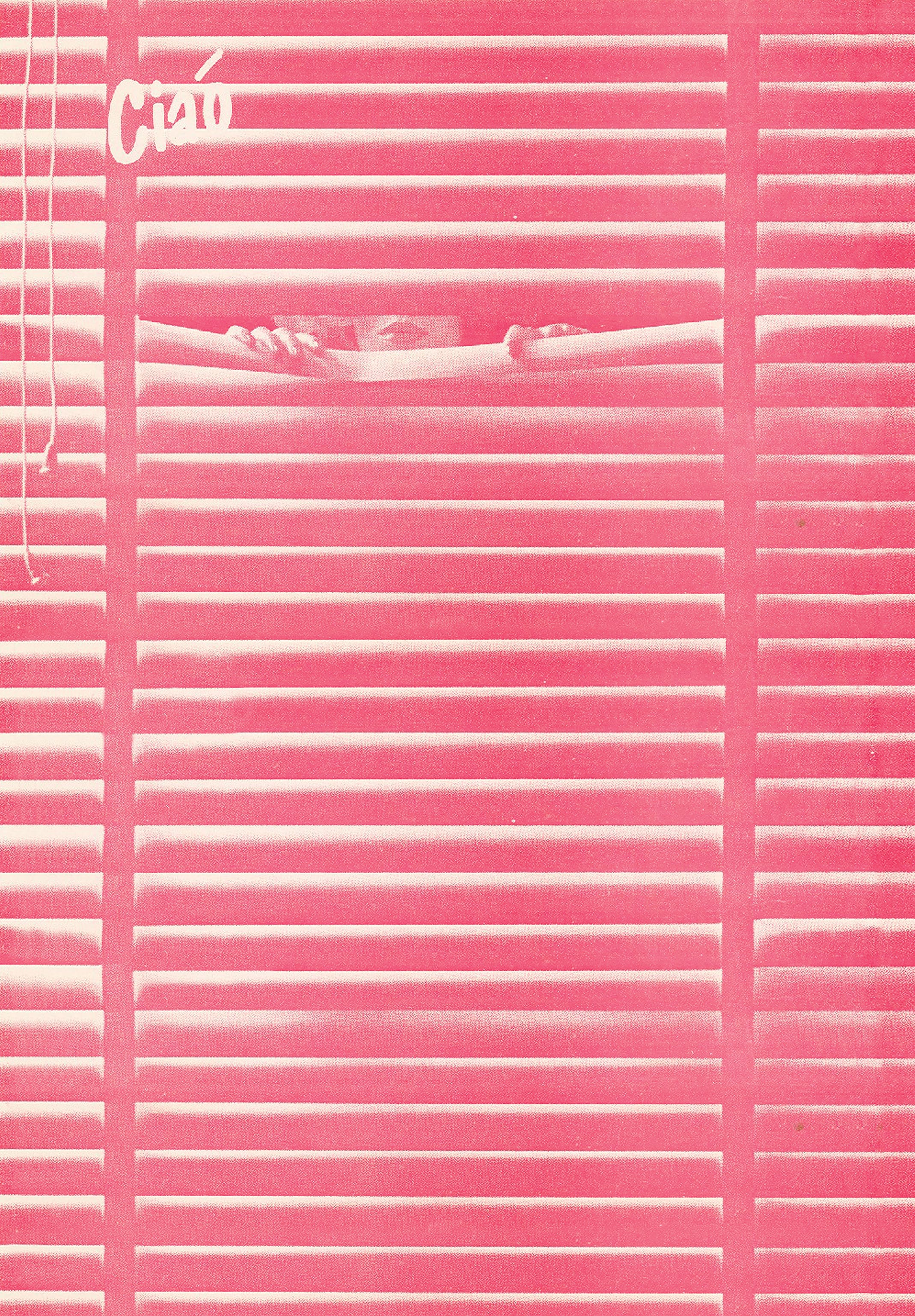 When you first heard Ken, what kind of music was he playing?

Mike Clark: He had a kind of down-tempo groove that was very close to what our beatdown sound is. You start with the gut, and the whole thing is a funky groove that will take you out on some weird, trippy feel. You don't know what the record is, but it's doing all this cool stuff. That was the thing I used to love about Ken: no matter how many records we used to buy, no matter how many things we would compile on cassettes, he would just lose us with his playing and with his record selection.
He was the first person we heard play [Kraftwerk's] "Trans-Europe Express," a lot of early West End, Prelude, and things of that nature; he just had a whole array of records. He was a Billboard reporter, [so] a lot of people used to send him promotional records. This was in the early '80s and late '70s. 
Ken's peers were people like Ron Hardy, Larry Levan, Tee Scott—all those legends in their own cities. One time, Ken had Tee Scott come play in Detroit. The first time I met Ron Hardy in Chicago, I inquired about getting a cassette. He said that he doesn't give cassettes out, and he doesn't really sell them. My impression was that he was a kind of standoffish guy, but he asked me where I play in Detroit, and whether I knew Ken Collier. When I told him that I played with Ken, his eyes just opened up, and he gave me three or four cassettes. 
When [Ken Collier] performed, it was a whole different ball game; it was amazing. You never knew exactly how he would play a record. Sometimes he would let them blend, sometimes he would just throw the record in—but he would do it in a way that, before you knew what the next record was, before you could even decipher it, it gave you a boost of energy. 
Norm Talley: Ken Collier bridged a lot of gaps through music. He brought [together] a lot of different races and ethnic groups, straights and gays. You got all your different groups, and he brought them together under one roof, which a lot of people haven't been able to do up until this time—not in Detroit. And in big numbers as well.
He was a nice, respectful, genuine man, and reached out to the younger DJs. I started out buying disco records from Ken Collier, so I got my whole initial collection from him. I had a paper route and he lived three blocks over from me. I used to take my paper money and go over to his house, listen to records, and buy them for two dollars each. Then I expanded out and got a little bit older, and I began to ride my bike to the record stores a bit further away. But, initially, I got my whole record collection from him.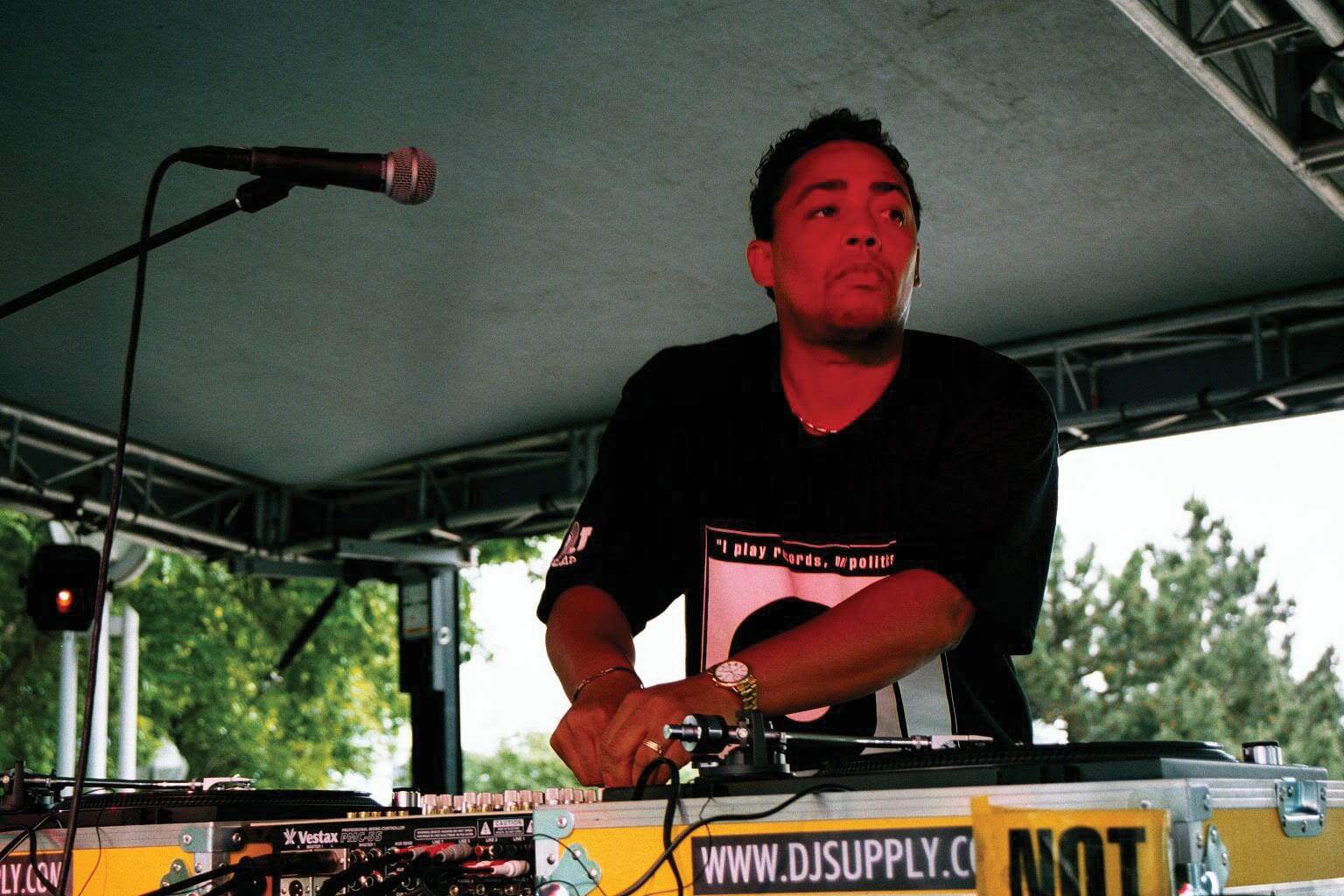 We played a lot of Giorgio Moroder, Cerrone, Suzi Lane, Sylvester, all that kind of stuff—pre-drum machine! Delano Smith
---
What about the Electrifying Mojo?

Mike Clark: Mojo also came out of that [late-'70s] era. He was a free spirit that pretty much played anything he wanted to. A lot of Detroiters grew up on Mojo. He played cool stuff and had Detroit right where he wanted us. I used to go down to the radio station and see him there. He'd talk, do mixes, and record stuff, and I'd just be there, talking to him, drinking coffee, talking about life. I learned about edits and things of that nature [from him]. I was an absorbent sponge at that time. 
Norm Talley: Mojo really broke a lot of records. He didn't play under a standard format; he could play a record for as long as he wanted. He could play a twenty-minute version of a record and then stop it if he wanted to and talk for fifteen minutes. He'd tell you: "Turn your lights off," and you'd see people turn their lights off. "If you're in your car, flash your lights," and you'd see people down the street flashing their lights. No DJ really was doing anything like that at that time. That's what made him so different: he would communicate with his audience. He had the Midnight Funk Association [which was a popular segment of Mojo's show that began with a pledge of solidarity], and you wanted to be a part of the Midnight Funk Association. He was very cutting edge at that time; he was even playing edits back then. He'd make a long version of a record, of any record that he liked and he would play a ten, fifteen-minute version.
He was one of the first people to break Juan [Atkins]. I mean, he'd play Juan every night, and that really put Juan out there on the Detroit level. He played "Cosmic Cars" and all that to death. He would play "Cosmic Cars" and say, "If you're in the car,"—he had a deep voice you know—"honk your horn three times," and you'd be bam, bam, bam. I think that bred a different style of listener, who eventually turned into a producer or a DJ. I don't know if other areas had DJs similar to that or radio stations similar to that, but I think that alone bred a different style of music producer. He would play music across the board; he played New Order; he'd play the Rolling Stones. It didn't matter who it was by, if it was a good record, he'd play it—and make you like it! [laughs] He was a really aggressive DJ that was into communicating with the community, so that molded a lot of people's thinking.
Mike, you played for Mojo at the Cotton Club with Terrence Parker in the late '80s. Was that an underground thing?

Mike Clark: Well, I would call it kind of mainstream. The music was new at the time, and everyone was on it. We had two or three radio stations that were playing house music and techno, and almost every club was spinning it; that was before the whole hip-hop and R&B thing took over. Certain [house and techno] records were even being played on normal radio, so it's a fine line figuring out what to call "underground" as opposed to what's "aboveground." Back then, you would play a house record, followed by an Italian disco record, followed by a Prince record, followed by Michael Jackson or whatever was hot at the time, and danceable: Teena Marie, Rick James, whoever. It all fit in a mesh of mixing; it wasn't separated like you could play techno or house only.
When did you notice that separation between hip-hop and R&B, and house and techno, occurring?

Mike Clark: Towards the late '80s, we felt a strong change. A lot of that was due to the fact that Chicago and Detroit were really trying to get their music out, to join with major labels as well as push their own independent labels to become more like major labels. You had a division of power, and a lot of separateness, between producers and between record labels. There was a division of the community itself, which was strongly due to a lot of magazines around the world labeling the sounds. Once it was established that the word techno came out of Detroit and the word house came out of Chicago, it wasn't enough. They had to segregate the styles, even though, technically, there wasn't a difference in sound; there was only a regional name difference. The world chose to define techno—music from Detroit—strictly as a particular type of sound, mostly minus a lot of the melodic chords, vocal singing or blues, jazz, and gospel styles.
Those things affected our world greatly. When you separate a city by the name of a sound and you give it a meaning that doesn't necessarily have anything to do with what the city is really all about—which [in Detroit] is gospel, house, funk, Motown, blues, all of the above—separatism begins.
What kind of music were you playing when you started DJing?

Delano Smith: We were playing disco music back then—disco and progressive R&B like Brass Construction [and] things of that nature. We played a lot of Giorgio Moroder, Cerrone, Suzi Lane, Sylvester, all that kind of stuff—pre-drum machine! The most hard-to-mix shit ever! [laughs]
Do you remember some of the first homegrown—made-in-Detroit—tracks that you started playing?

Norm Talley: One was "Sharevari." It was a popular tune in the early '80s. I played it quite a bit, and I still enjoy playing it actually. A Number of Names was the name of the group.
---
Some people point to that as the first techno record. 

Norm Talley: Well, it was definitely an early tune, before house, and it was very popular, so I would touch on that as being one of the first, most definitely. But this is before the techno label was placed on music; this was before the labels of house and techno.
What was it like when the first drum-machine tracks came in? 

Norm Talley: Well, a drum machine was part of my DJ set up. I would have the two turntables, Technics 1800s, then I would have the drum machine. How we used the drum machines was that we mixed them with disco. The drum machine would keep the beat constant, [so] you could have a good four-to-the-floor beat under a disco record even if it didn't have that strong a beat [by itself], because you would have the drum machine behind it, carrying it. You could mix those two together, and it was making a remix, live. I would just keep the drum machine going, then switch patterns on the drum machine, then switch records.
It was more popular in the '80s to trick around with your records. There weren't as many records coming out as there are now, so a lot of people played the same music. You played the same music, but you had to mix it originally; you had to be more creative with the records that you had. You would play a different version or you would mix it with something else to sound different. You might do a little slipping or scratching on the front of it to make it your signature style of play.
A lot of the first house records were just drum-machine tracks. They had Jive Rhythm Tracks, on Jive Records. This was in 1983. There was also the Jesse Saunders On + On tracks. These were all just drum tracks. I got a good response when I played them, and I think that, as far as people even accepting how electronic music goes, they were opened up to it through these drum tracks. The only thing to do next was to add the bass line and the chords to make it a full house track, or dance track, or whatever you wanted to label it.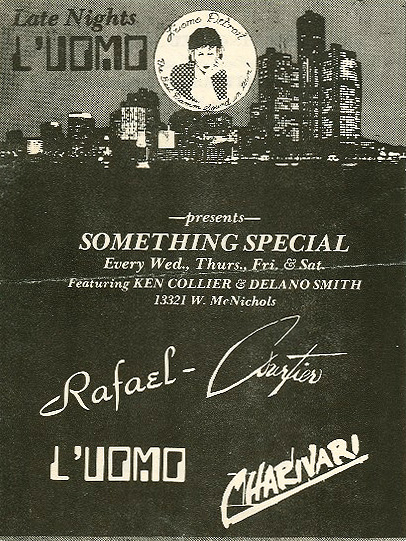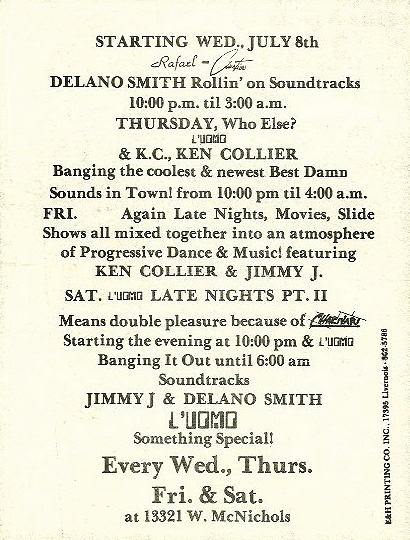 Everybody's having fun, looking nice, enjoying themselves, what's better than that? Mike Clark
So the purpose of these drum tracks was as a DJ tool?

Norm Talley: Most definitely. You would use them for mixing to keep the crowd going with a good beat. Say you had an a cappella track of [Loleatta Holloway's] "Love Sensation," a song that everyone likes, and every is DJ playing. What you'd do is mix the beat track first, then lace the a cappella over the top. Now it's somewhat of a remix of a popular song that everybody knows because they can hear the vocals. It has these different beats underneath, so they're still dancing, but to a different version of a song that they know.
People have a preconception that machine music doesn't have any soul.

Norm Talley: Sure, but it's in the way whoever programs it and where their soul lies as far as if it feels funky or not. It can be cold if you let it be, but if you approach it in a different manner, then it can be soulful. Jeff Mills is a funky DJ. He makes funky minimal tracks that have a good rhythm, even though he's presenting this [overtly electronic] style of music.
A lot of the producers that are producing now in Detroit were exposed to good music at a young age, so I think that kind of carried on. A lot of people can tell you stories of how their parents had parties—[how they were] peeking around the corner, [at] age six, and they're having a party downstairs in the basement, and playing good music, and dancing, and you're hearing bass lines and things like that.
Mike Clark: Back then, everybody used to dress up, everybody used to wear matching outfits, [and] people used to have dance routines. That was my image as a little thirteen-year-old seeing this, and to me this was it! Everybody's having fun, looking nice, enjoying themselves, what's better than that?
DJ CHARTS
MIKE CLARK'S BEATDOWN CLASSICS CHART
"Still Waters" The Four Tops (Motown)
"Message in Our Music" The O'Jays (Philadelphia International)
"Galaxian" The Jeff Lorber Fusion (Arista)
"Under the Moon and Over the Sky" Angie Bofill (GRP)
"Alonzo" Al Jarreau (Warner Bros)
"The Voice of Q" Q (PRT Records)
"Can't Get Away (From Your Love)" Carol Williams (Vanguard)
"My Chance to Dance" Mahogany (Mahogany)
"Burning Spear" The Soulful Strings (Cadet)
"Zulu" The Quick (Pavillion)
NORM TALLEY'S CHART (1978–1983)
"Heavy Hitter" Barbara Norris (Nelwin Records)
"Sing Sing" Gaz (Salsoul)
"Feed the Flame" Lorraine Johnson (Prelude)
"Dying to Be Dancing" Empress (Prelude)
"Bourgie Bourgie" Gladys Knight and the Pips (Columbia)
"When You Wake Up Tomorrow" Candi Staton (Warner Brothers)
"Midnight Lady" Cerrone (Cotillion)
"Why Leave Us Alone" Five Special (Elektra)
"Deputy of Love" Don Armando's 2nd Avenue Rumba Band (Ze Records)
"Wheel Me Out" Was Not Was (Ze Records)
NORM TALLEY'S CHART (1983–1984)
"Give It Up for Love" Tata Vega (Motown)
"Brother's Gonna Work It Out" Willie Hutch (Motown)
"Computer Games" Yellow Magic Orchestra (Horizon)
"Love Injection" Trussel (Elektra)
"Beyond the Clouds" Quartz (TK Disco)
"The Music's Got Me" Visual (Prelude)
"Weekend" Phreek (Cotillion)
"Express Yourself" New York Community Choir (Polygram)
"Keep Giving Me Love" D-Train (Prelude)
"Thanks to You" Sinnamon (Beckett Records)
DELANO SMITH'S CHART
"Disco Circus" Martin Circus (Prelude)
"Don't Make Me Wait" NYC Peech Boys (West End)
"Let No Man Put Asunder" First Choice (Salsoul)
"You Don't Know" Serious Intention (Easy Street)
"Use Me Lose Me" Paul Simpson Connection (Streetwise)
"Sharevari" A Number of Names (Quality)
"Catch the Rhythm" Caress (Warner Bros/RFC)
"Moody" ESG (99 Records)
"I'm Caught Up (In a One Night Love Affair)" Inner Life (Prelude)
"Help Is on the Way" The Whatnauts (Harlem International)