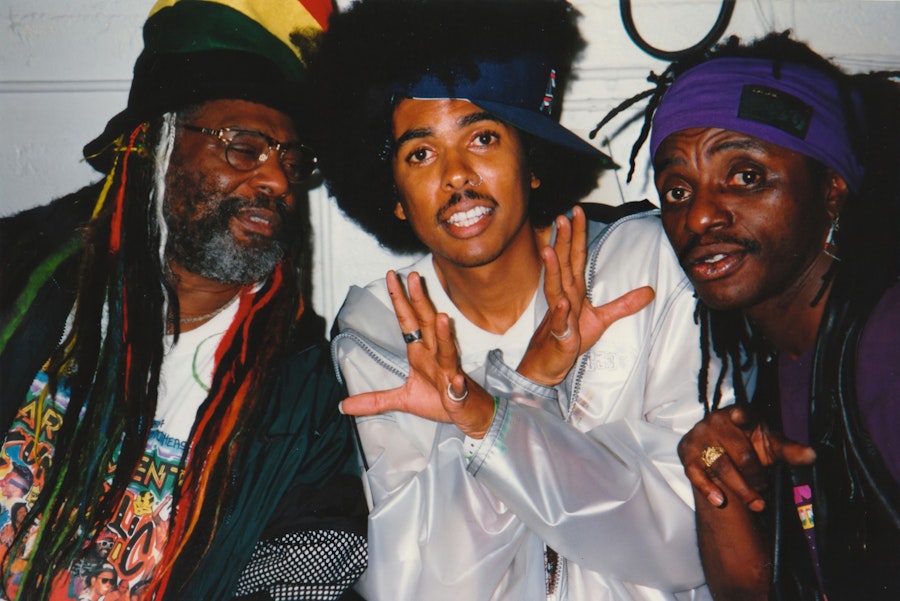 George Clinton has had a considerable influence on your work. When did you first hear his music?
First song I noticed was "Give Up the Funk (Tear the Roof Off the Sucker)." When it came on the radio in '76, I thought it was some weird and twisted gospel group, because the vocals were layered so densely. It was actually kind of haunting; it scared me and seduced me at the same time. [laughs] The music had an exaggeratedly dark, urgent, and aggressive quality to it, while also comical, and while also somehow warm and kind-hearted, like I had never heard before. It gave me a vision of a choir performing in a church somewhere way out in space. Kool and the Gang made funk music. Slave made funk music. But "Tear the Roof" sounded like funk on steroids.
Then a year or two later, "Flash Light" came out, and my soul recognized that same feeling that "Tear the Roof Off" gave me. That's when I bought my first Parliament album: Funkentelechy vs. the Placebo Syndrome.
Later that same year, I was enjoying another song on the radio, "One Nation Under a Groove," when my best friend Cush said, "You know, that's your boy George from 'Flash Light.'" I said "Nah, the DJ said this is a different group called Funkadelic." He said "Yeah, that's them, Parliament; it's the same group."
I was blown away. From that moment on, they became my favorite band and still are to this day. I began clicking up with other Funkateers, back-learning their catalog and discovering Bootsy's Rubber Band, Brides of Funkenstein, and so on. I soon discovered that in order to get that particular great feeling, it had to be P-Funk.
What's your favorite Clinton record?
Probably "(Not Just) Knee Deep" or "Aqua Boogie." What's your favorite P-Funk song? You like George and them?
My favorite Parliament song? It would be "(You're a Fish and I'm a) Water Sign." I love that song.
[Sings] "Can we go down…" I like the lyrics where he says, "Let's go mating, the water's fine." That was the B-side to the single "Aqua Boogie" on 45. That's your favorite? See, I like the dance music. [plays and sings to "(Not Just) Knee Deep" melody] "Feeling so serious, she was on her period, when she tried to freak with meeeeeee." That's my Humpty version.
I love it. Can you play "Sons of the P" on piano?
Hmm. I can't remember it! [sings] "The things we bring, will scatter sunshine in those times of rain. When we're near, have no fear…we'll set free…the pain."
My favorite line in that song is "…pulling down the pants to your mind." 
Working with George and doing that song was so fun. That was a great time, because it was our first time really being around him for more than just a few backstage handshakes. We did about two songs for him, and he did that one for us. Then we played each other's albums. I think he was working on [1993's] Hey, Man, Smell My Finger. We played him "Kiss You Back" and "Heartbeat Props," and he liked them. Then we rhymed over ["Rhythm and Rhyme"] with him. That was an amazing time.
How was it working in the studio with him?
George is one of those people when you meet him, and he's exactly who you knew he was. Because of his music, and he feels a certain way. You meet him, and, "Yup."
Wooo! He puts the threshold so low as far as what's acceptable. He takes the bar down to level everybody, and just loosens everybody up. He's real comfortable in his skin; not embarrassed or ashamed about one thing about his life. It transforms the room.
When you spend time with George, it's not like you're in the United States; you're in P-Funk land. It just has that air to it. None of the usual laws and social norms apply. It's just total freedom. He was a little bit rough around the edges back then, but he was the anchor, and you forgot about that. The conversation takes over, and it's always so enlightening, brilliant, fun, and rich. You don't see yourself or anyone else. You see the fantasy of the vision of the things you talk about. That's all you see.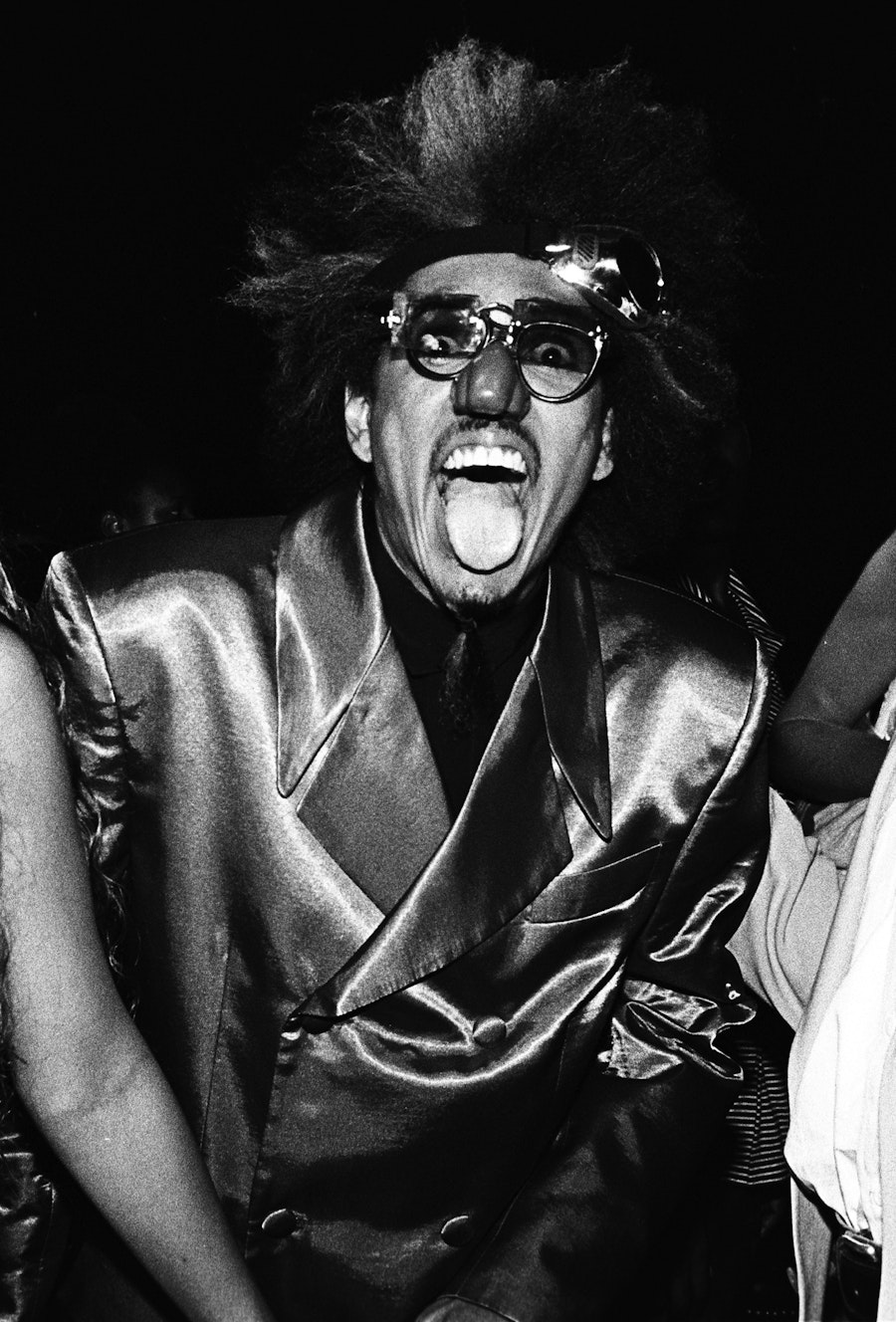 When people are like, "What color was his shirt?" or "Where did he get all the coke from?" I don't remember. It just seemed like every time he ran out, he'd pull another sack magically out. There wasn't even a pocket; he would just pull at his leg.
I remember he listened to "Sons of the P" once. We sent him a tape with some of it on there, but most of the vocals we laid while waiting for him to show up. We sent him a tape with the music, with no extra keyboards on it, and a basic chorus. The "yes we are the…" and all of that other stuff wasn't on there. So we put that on there, and then he shows up and listens to all of that once, and was like, "Okay, yeah, yeah, yeah, all right." He went in the booth and he did what he did in one take. All his adlib stuff he did from just listening to it once. He was amazing. He nailed what we were doing with the third, fourth, fifth harmony. He was going up and down, shorts, stops, breaks, breath, speak again, breath, speak again—and he captured all that "and the doctor said you don't need a thing…" He was amazing to work with.
It was funny too. He walked in with a big crumpled piece of, like, postal wrapping paper; it was just something from around the house you could tell. And on top of that he had the lyrics he wanted to sing scribbled on sideways, in colored ink. He's just organic. From the moment I spent those hours with George, life got better for me in all fashions. I was just like, "What is everybody tripping about? Why does the notebook have to be neat? Why does my hair have to be fixed to record? Why does…blah blah blah?"
Did that stay with you?
Oh yeah, because I was already that kind of person. People teach you "First impressions are everlasting" and "If you don't look like you want to get paid, you won't get paid." So I still had some of that. And hip-hop was different to funk. Part of the funk code was the lovechild hippy thing. But hip-hop had a code, and being funky and un-groomed wasn't part of the code.
"Want It All" is one of the Digital Underground songs I relate to most. What inspired the song for you? Do you still relate to it?
I absolutely do still relate. I struggle with those types of choices even more now that I'm older and have more self-discipline and awareness. Only slightly more though. [laughs] But "Want It All" was always about the feeling of course, not the action. Everyone knows that nobody has it all, it's not possible. If you're rich or famous, you're also locked in a cage and drenched in responsibility.