To kick off 2023, artist Smurfo Udirty and Wax Poetics have collaborated on a new t-shirt with exclusive art specially created for Wax Poetics by Smurfo. It is available for a limited time here.
Christopher Weeden was born in Brooklyn, New York in the late '80s. His multifaceted artistic journey as Smurfo Udirty began with street art, graffiti, and storytelling. Indeed, it's not uncommon to walk the streets of Bushwick today and trace Smurfo tags throughout the neighborhood. "Brooklyn is urban history that needs to be preserved," the artist has declared, and as part of that preservation Weeden acts as a documentarian. 
His goals in this role—a documentarian of Brooklyn's culture—are to preserve history, tell stories that matter to the urban landscape of New York, and to promote free thought while addressing issues that society cavalierly attempts to sweep under the rug. A multitalented creative, Weeden is not limited to canvas but delves into simulated worlds in his large collection of personal black books—the time-honored method of choice for generations of New York's graf legends. 
At a level beyond his journal sketches, the inner workings of his mind are captured on canvas with hyperbolic scenarios and commentary authentic to New York City. In a conscious play to induce a more receptive audience, he uses a style akin to classic comics to disarm the viewer. By the time the initial burst of enjoyment of the bright colors and cartoons wear off, the message behind the madness seeps in and the audience is receptive to engaging in the conversation that the piece has started. This gives his viewers the option to trade in their typical rose colored lenses for a perspective on the world that is satirical yet perhaps more honest—Smurfo's view of the world.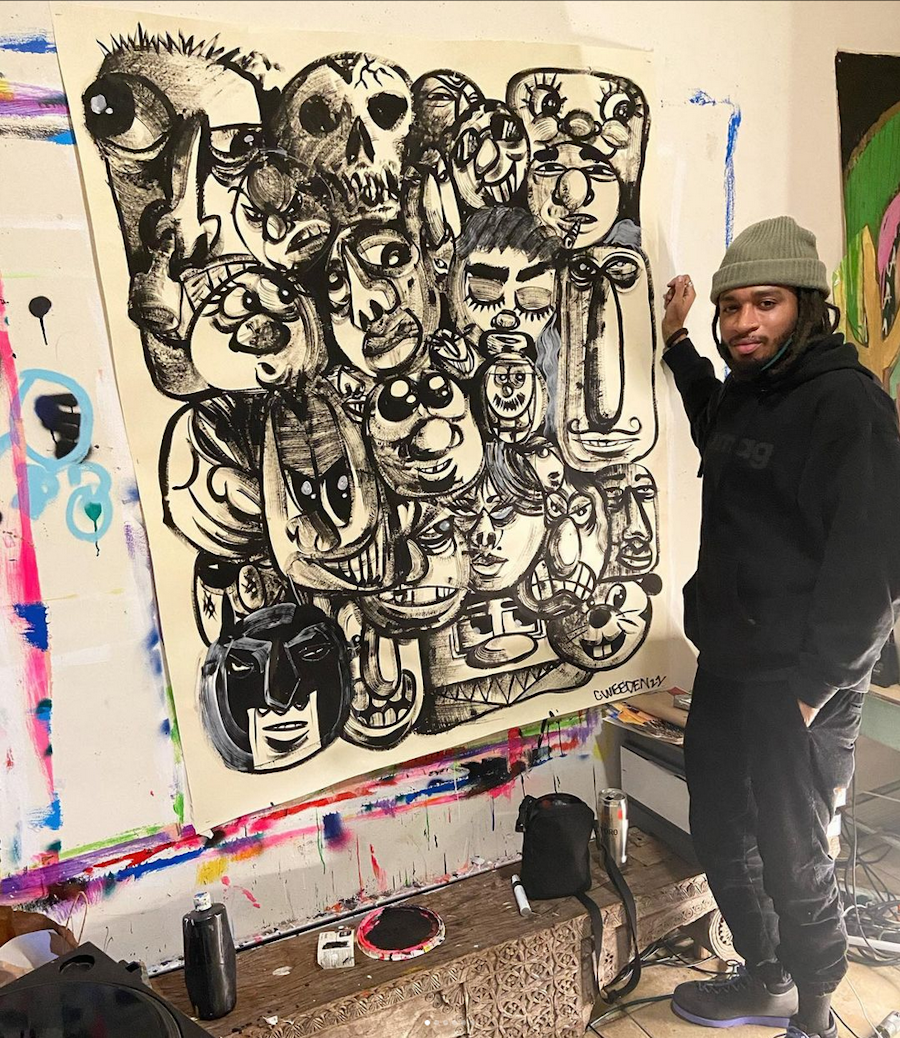 Weeden officially joined the N.Y.C. art community with his debut show All City (2011) curated by Anne Huntington. As an emerging artist the works were embraced with interest and speculation over his provocative commentary and lighthearted approaches to adult scenarios. His most recent show, Right Off the Bone, was highly anticipated by the Brooklyn and N.Y.C. underground arts community. Right Off the Bone debuted at Black Wall Street Gallery in Spring, 2020. It was there he provided a full sensory experience highlighting his works with a specially curated sound accompaniment. Propelled by his ability to flow from medium to medium, Weeden is unstoppable, never afraid to confront societal issues by using his art as the vehicle to drive important conversations to the forefront of his audience's minds. At the core he values being a free thinker, questioning everything but at the same time remaining open minded to receive others' perception of the world.