Wax Poetics was established in 2001 as a high-water mark for music journalism and is dedicated to preserving that legacy, presenting thoroughly researched, well-written, informative articles along with the dynamic design and artwork that has been our trademark from the start. A crucial component of this visual aesthetic is the use of original, specially commissioned illustrations by tremendous graphic artists, both established and up-and-coming. In the first issue, we are proud to present a gorgeously rendered wood-cut image of cover story feature, Marvin Gaye, by Australian artist A.Kid.
Along with Gaye, Issue 01 features pieces on foundational figures in hip-hop, iconic soul legends, instigators of Brazilian musical invasion, and a tribute to a Jamaican legend—a diverse mix that will make the true Wax Poetics fan proud.
The future is also in our sights. New content partnerships will provide a look at new trends and creative approaches to presenting relevant cultural content. Our first partnership is with the influential, Amsterdam based lifestyle brand, Patta.
Please note that the deadline to get Issue 01 has now passed. If you join now, the first print issue you will receive will be Issue 02 (20th Anniversary).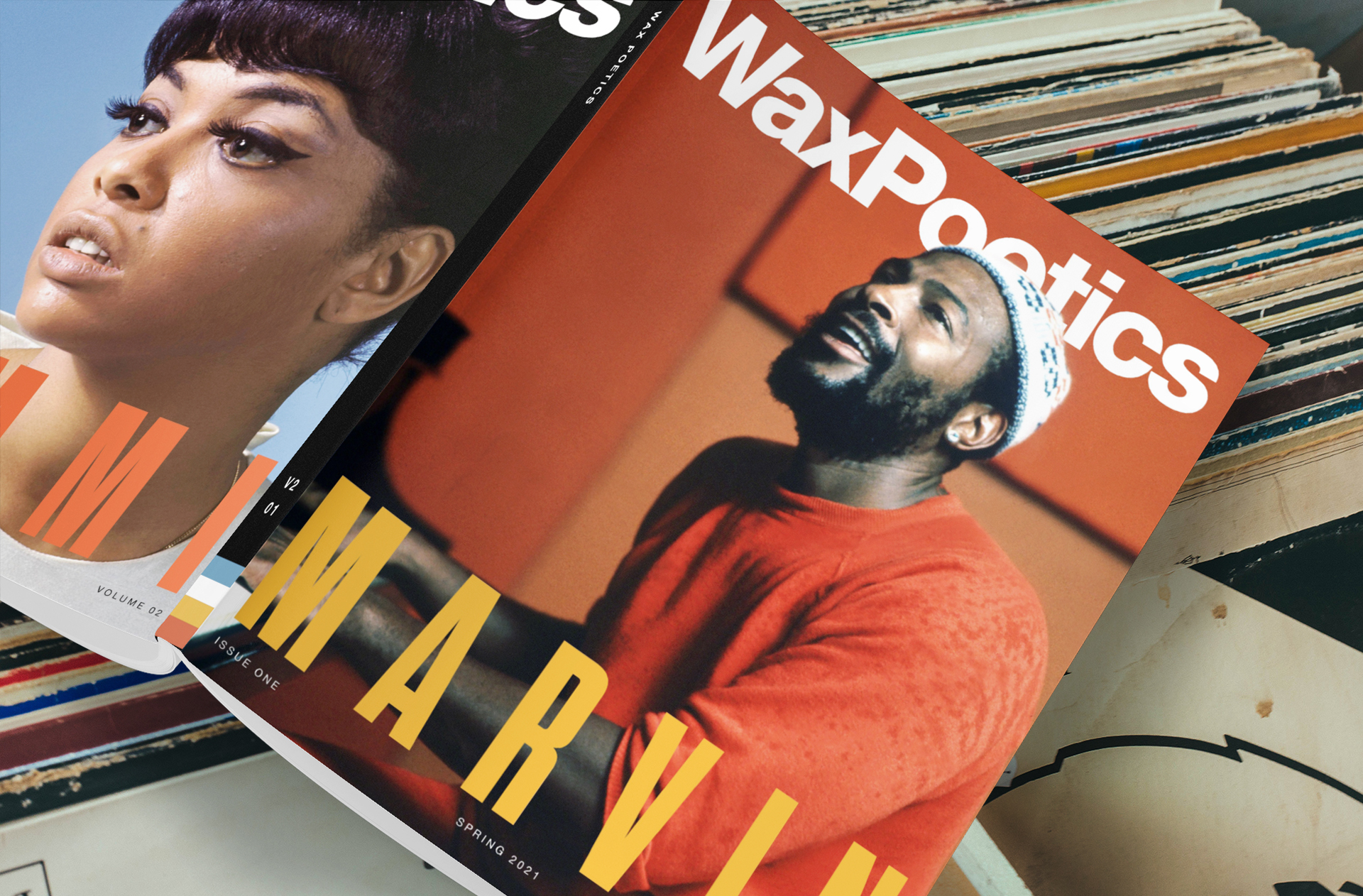 High Art
by Tamara Warren
Lee Quiñones gained cult-classic status starring in Charlie Ahearn's 1982 hip-hop culture film Wild Style, but he had been been bombing New York City subway cars since the mid-1970s. By teaming up with Fab 5 Freddy, Lee was able to catch the eye of international art dealers and shift his painting from trains and handball courts to galleries. Forty-seven years after first picking up a spray-paint can, Lee recounts his story in his own words.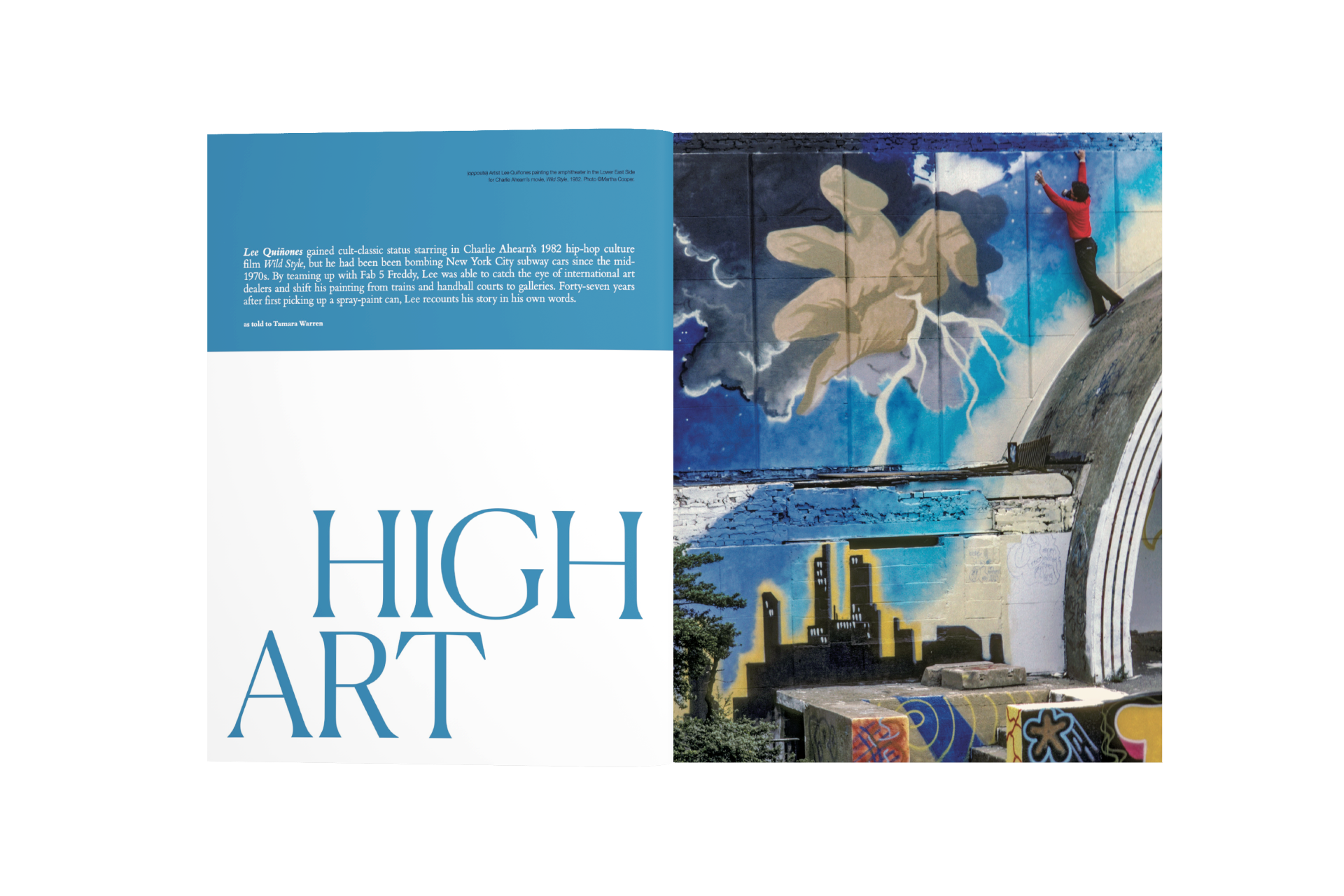 Hip-Hop Shangri-La
by Mark Skillz
Fat Jack was a hustler with a dream—and a knack for making other people's dreams come true. When Harlem was at its most dangerous and desperate in the late 1970s, Jack was able to do both by finally realizing his vision of bringing an old-school nightclub back to the neighborhood. Given this distinguished platform, it wasn't long before the local kids made their burgeoning rap scene the star attraction at Harlem World, a move that helped change the course of music forever.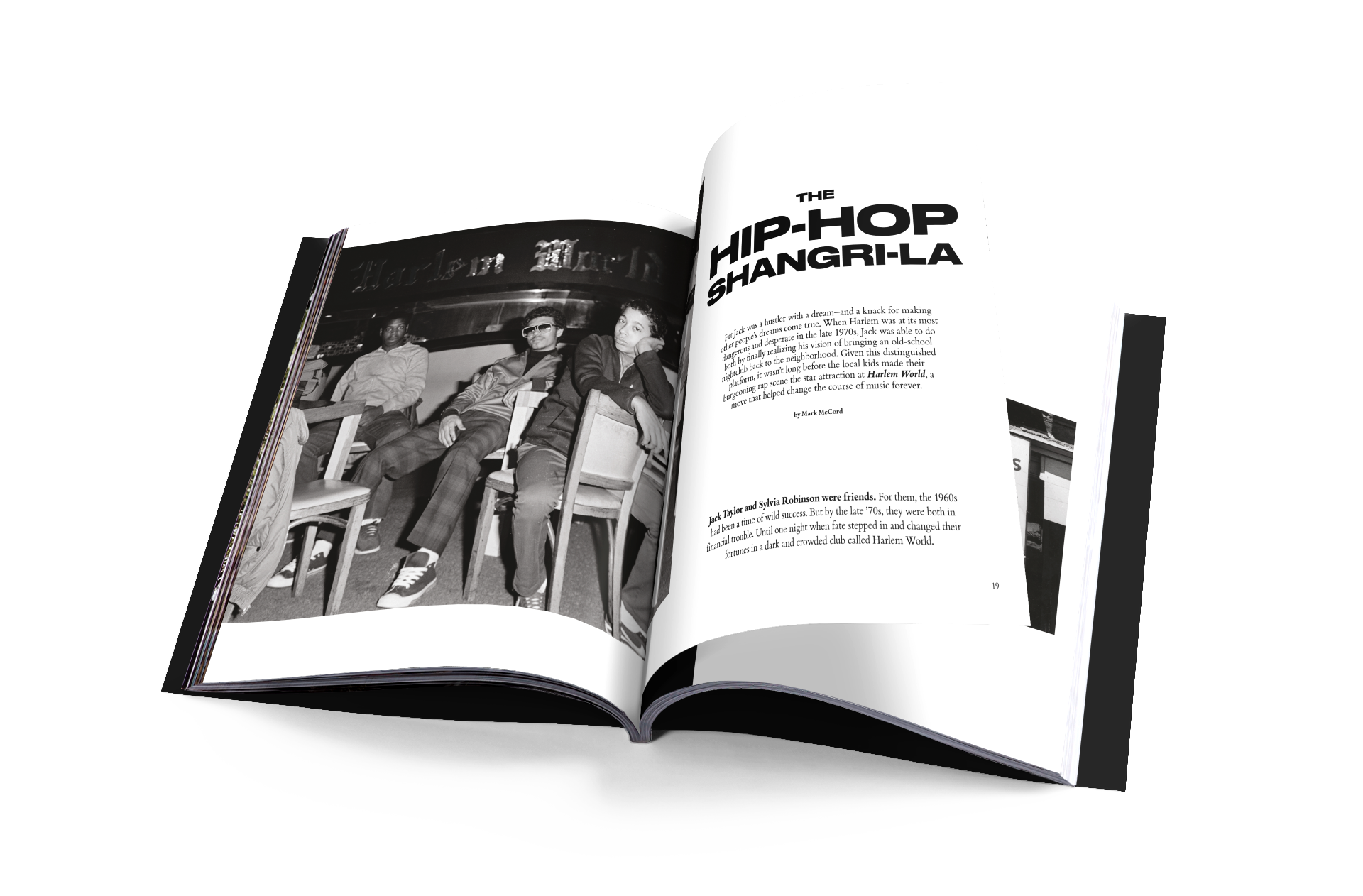 Cover Story
by Mikje Hurkx and Sofia Zemame Berkhout
Edson Sabajo and Guillaume "Gee" Schmidt met each other in the '90s at Fat Beats Amsterdam, where Edson worked many years. They quickly became friends and started working together, while also promoting parties and hosting radio shows. They brought new excitement to the Dutch streetwear scene by starting their own independent sneaker store—Patta—in 2004. With stores in Amsterdam, Milan, and London, the Patta fashion emporium has grown to be an important hub for the respective creative scenes, with local and international music being the backbone of it all. Wax Poetics' collaboration with Patta is a natural outcome of our recent move to Amsterdam, resulting in this article series, where record-collecting artists discover the story behind their favorite record sleeve.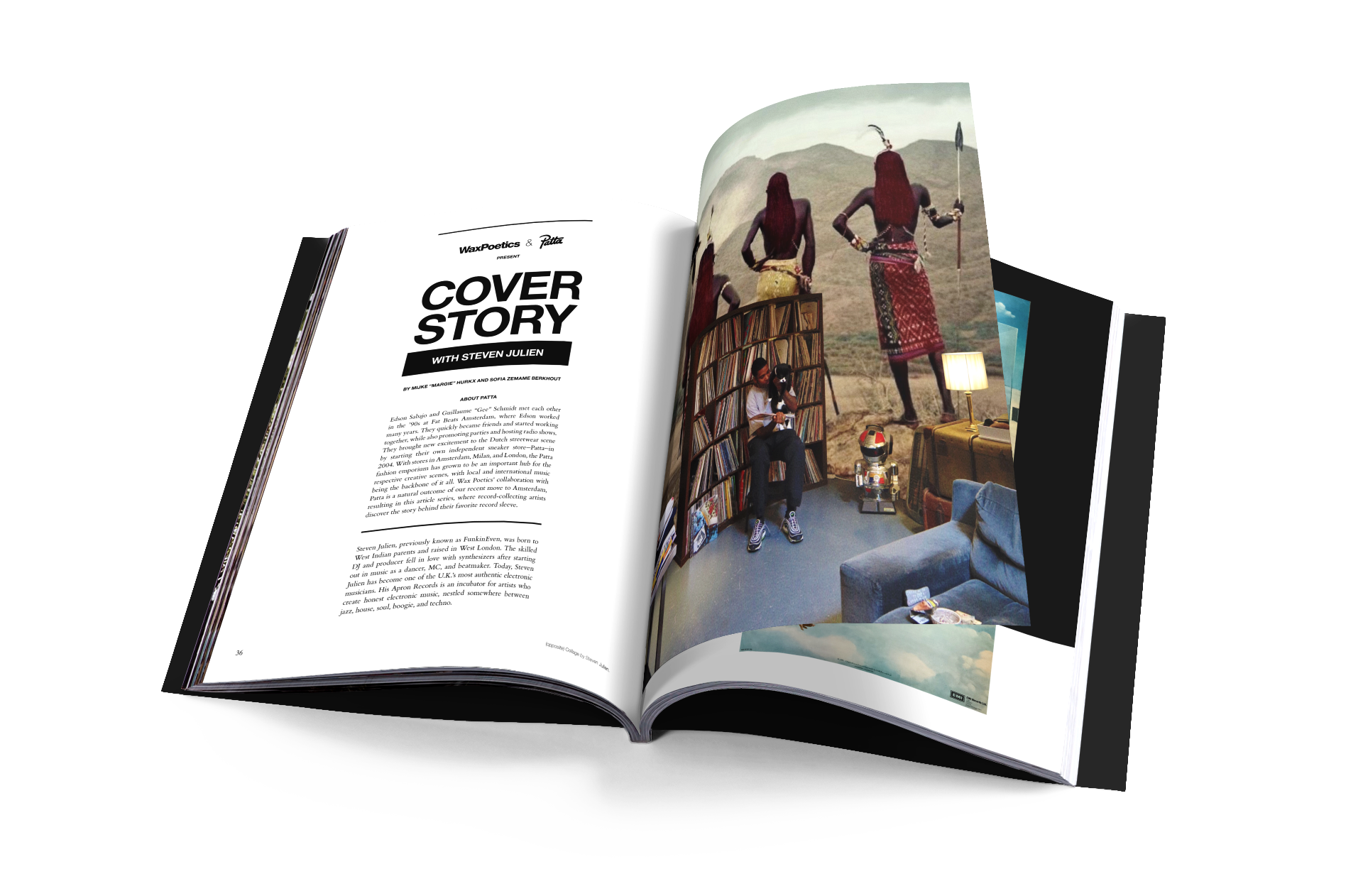 See Me
by Andria Lisle
Despite her high-profile abusive relationships, Tammi Terrell's life should not be oversimplified as victimhood. By all accounts, she was a fierce and smart singer who confidently navigated the dark mazes of the music business with the wits of a seasoned veteran. And although her life was tragically cut short by a brain tumor, she left behind a string of indelible love songs with duet partner Marvin Gaye that have stood the test of time. While Terrell and Gaye were both struggling with their respective personal relationships, they came together as an archetypal loving couple—however staged—and captured the imagination of the American public by offering a collective fantasy as respite from the dark and tumultuous times of the late 1960s.
The Fire From Within
by Travis Atria
Marvin Gaye's life was both heartbreaking and hopeful. His music touched millions and still resonates today. Writer Travis Atria explores Marvin's spiritual and sexual conflicts, where his two sides created wildly different music, some highly sensual and others profound, like the sacrosanct What's Going On. We go on a wild journey taking us from the beginnings of his sociopolitical concerns, to him succumbing to his sexual nature and desire for wealth and fame, to his mental breakdown on the Hawaiian island of Maui, where he had every intention, it seems, to record another spiritual and socially conscious masterpiece, only to go to war with himself.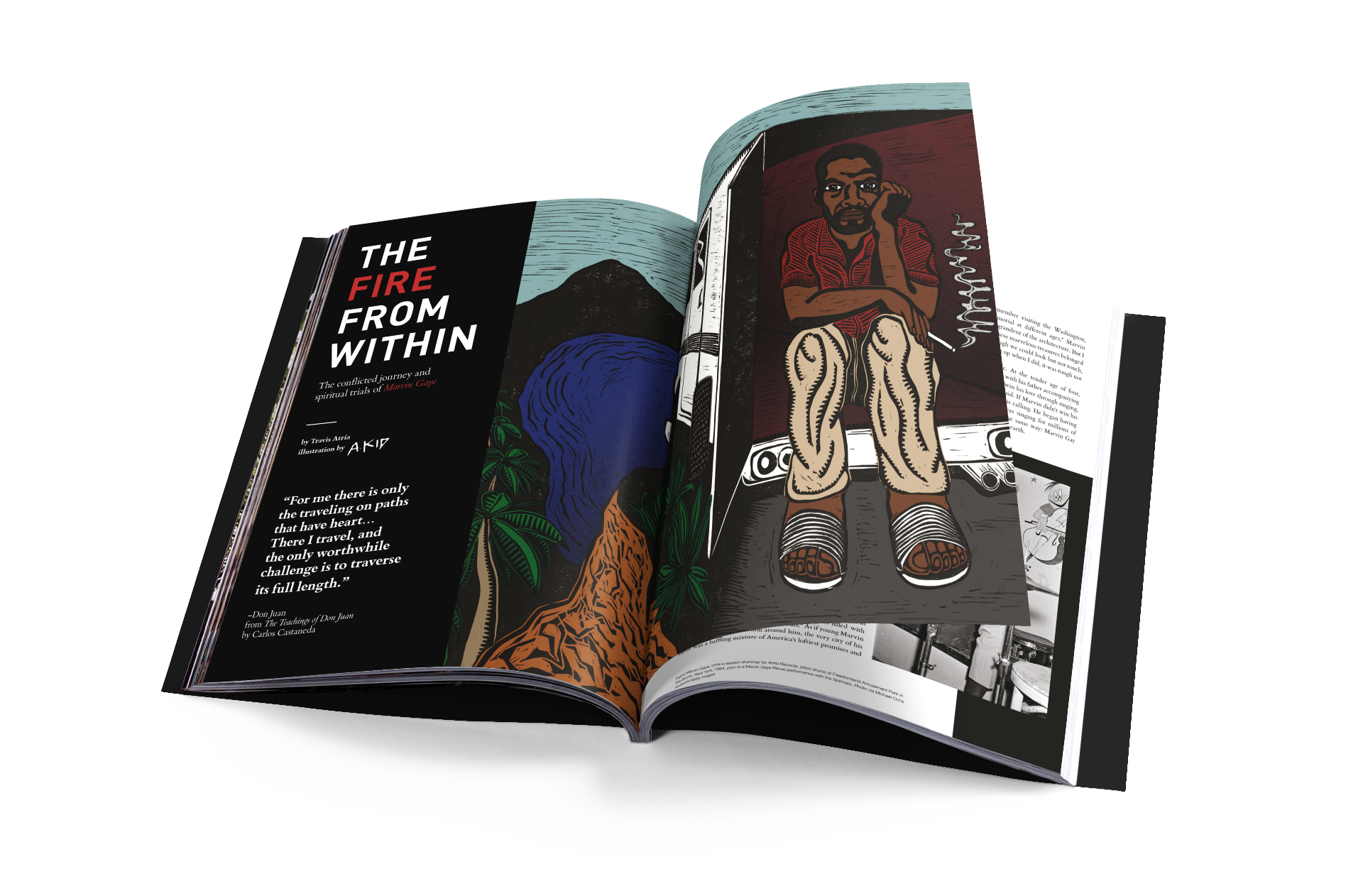 The Maestro
by Allen Thayer
Rising from Rio's jazz scene, Sergio Mendes led bands with a who's who of Brazilian talent, trying for years to break into the U.S. market. He finally found lasting success with a global audience by melding his country's popular musical styles of samba and bossa nova with American pop. After millions of albums sold and a lifetime of touring, he has become a trusted ambassador and, for many, the face of Brazilian music.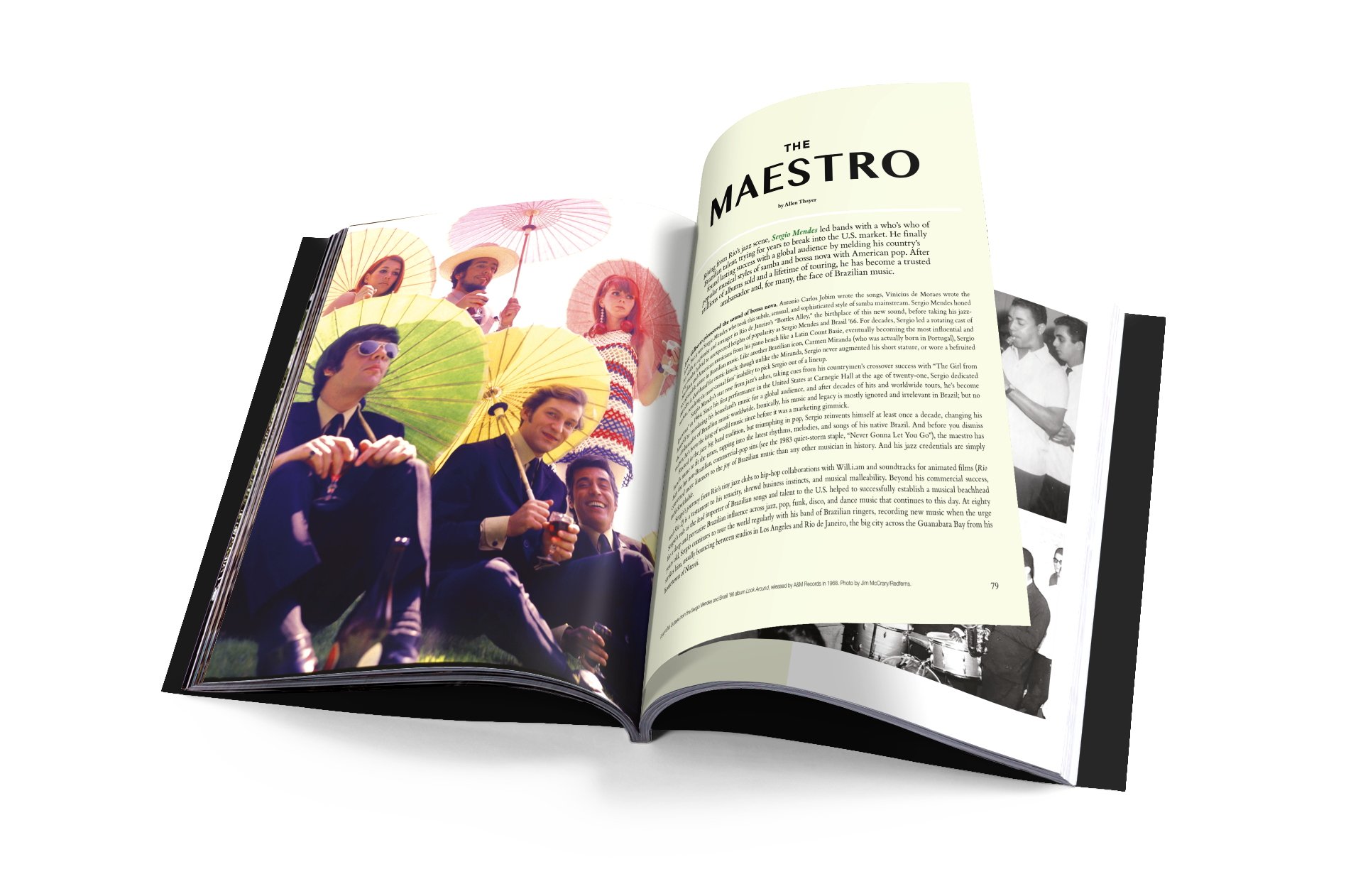 Beyond Boundaries
by A. D. Amorosi
Rocketing to ubiquity after being inspired by music he heard at Tijuana bullfights just over the Mexican border, a short drive from his Los Angeles home, trumpeter Herb Alpert was always about much more than the highly stylized mariachi sound he became known for. With a sense of freedom and a powerful platform afforded by his wild success, he was able to bring a sneakily progressive batch of artists to light via his A&M label, and, as time went by, he finally shed the trappings of the past with a series of polished electric funk grooves and jazz experiments.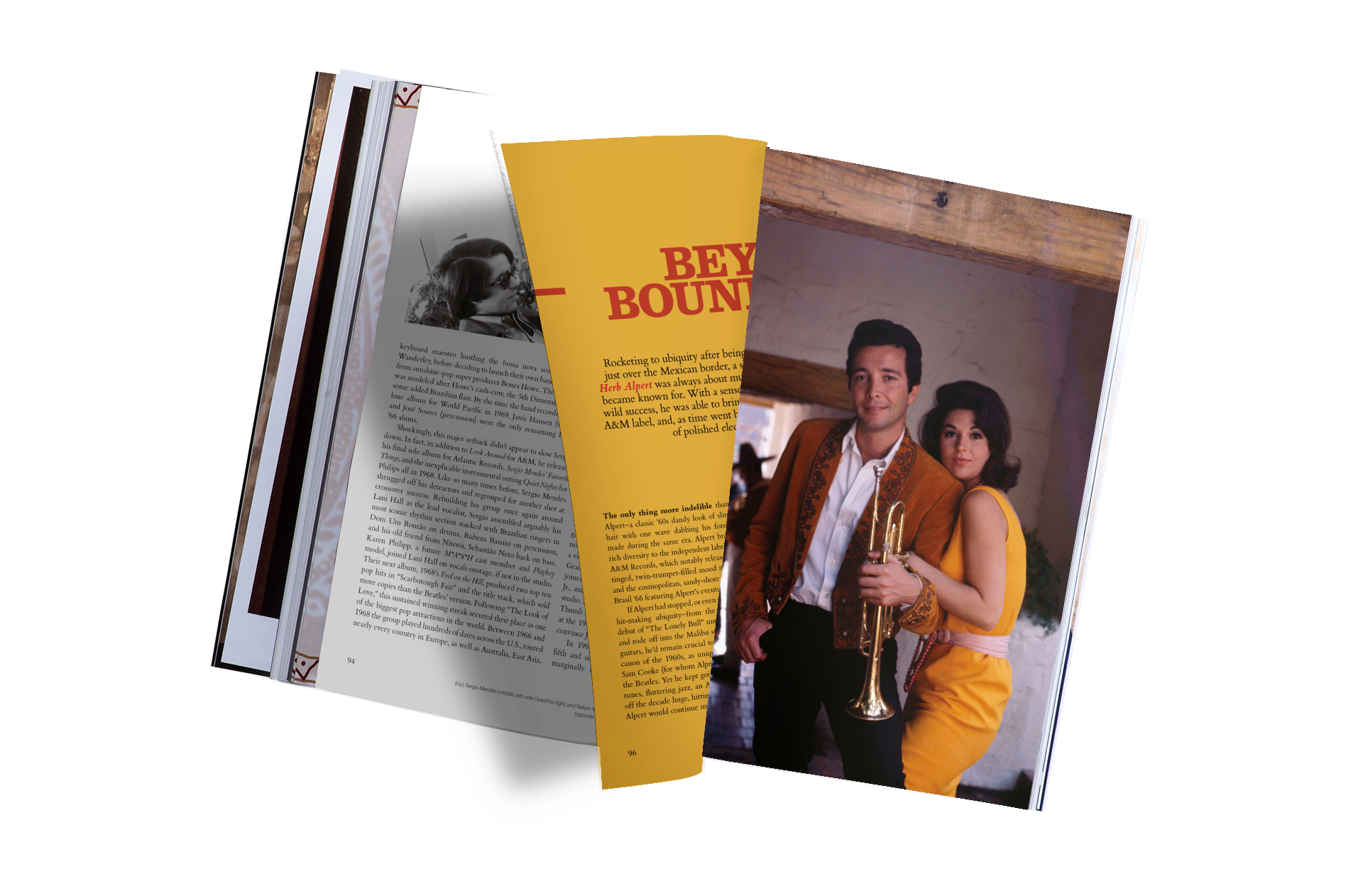 Native Sons
by A.D. Amorosi
Redbone is a California story. Brothers Pat and Lolly Vegas grew up in a dusty, desolate town in the San Joaquin Valley, but a love of jazz and skills on the guitar saw them quickly graduate from local gigs in nearby Monterey County to prime time in the big city. Riding the surf pop wave, the brothers worked as in-demand session players in early '60s Los Angeles while juggling a full schedule of Hollywood club dates. By the end of the decade, the brothers were ready to form a radically new band. Embracing their Native American heritage and love of improvisation, Redbone championed a musical and cultural identity that was uniquely their own, landing them a contract with Clive Davis and ultimately a rock-and-roll legacy that took them far beyond the Golden State.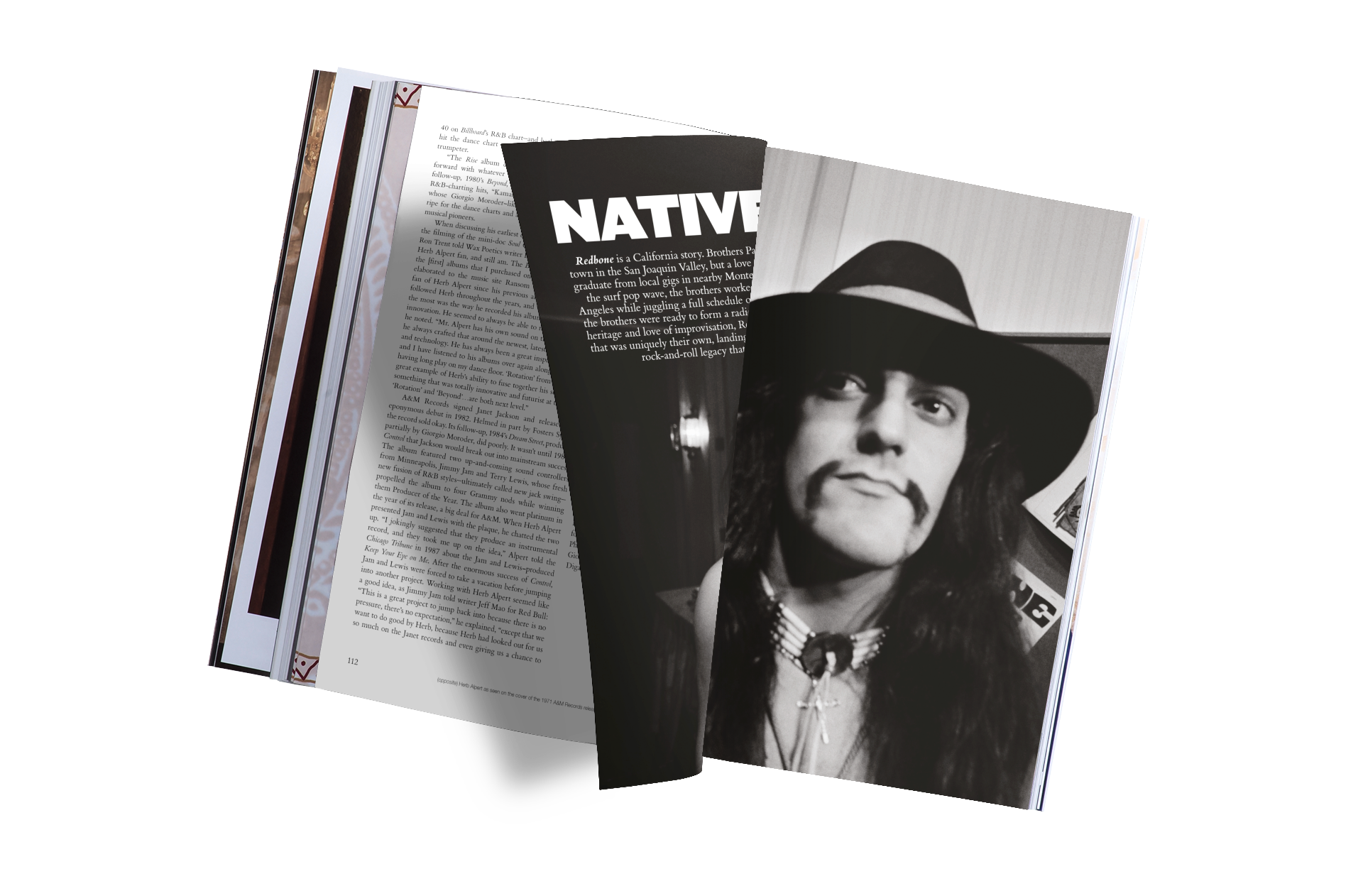 Mighty Heavy Load
by David Ma
A group of Caribbean immigrants in England combined their love of American jazz and African drumming with their native calypso and reggae and distilled it into a heavy and utterly unique brew they called Cymande. A powerful debut and a style that had no peers earned them much love from the States, but they carried a heavy burden to repeat their success. Facing indifference in their adopted homeland, their run would be short—and after forging three weighty albums, they went on an extended break. Years later, the hip-hop community gave them new life, and now they and their singular sound are considered essential elements of the funk pantheon.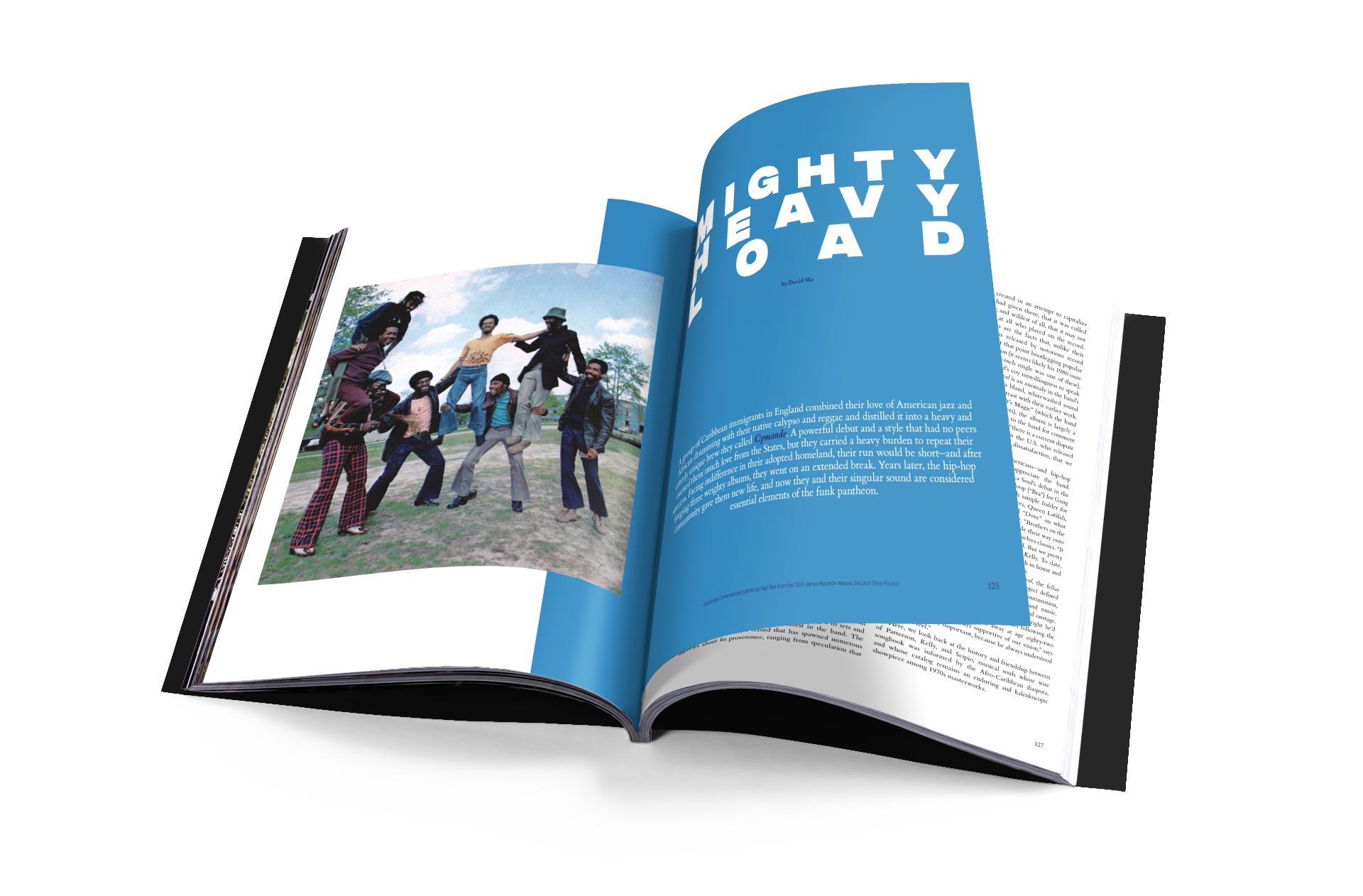 Perpetual Glory
by David Katz
Growing up singing in revival churches and hearing American gospel records playing on the radio in his native Jamaica, Toots Hibbert was the first artist to mix spiritual singing and ska with his trio the Maytals, which took the island nation by storm. As Jamaican music moved from ska to rocksteady and beyond, Toots evolved with the scene, even coining the term reggae as the new dominant style was blossoming. Making music and touring for nearly sixty years, the influential singer and songwriter will forever be considered both an ambassador and godfather of Jamaican music.