There have been so many stories written about hip-hop's early days that have not reported on the guys that spun in Manhattan and Brooklyn in the early and mid-'70s, that many crucial DJs of that time feel left out.
"Kool Herc and guys like that didn't have a big reputation back then," explains Jones. "They were in the Bronx—we, meaning guys like myself and Flowers—we played everywhere, so we were known. Their crowd was anywhere between four to seventy. Mine was eighteen to twenty-two. They played in parks—where anybody could go; no matter how old you are, you could go to a park. We played in clubs."
With a sense of urgency, Mr. Jones says, "I have to clear something up: Many people think that we played disco—that's not true. There were two things happening in Black music at that time: There was the 'Hustle'-type music being played—which was stuff like Van McCoy's 'Do the Hustle.' I couldn't stand that record. And then there were the funky-type records that mixed the blues and jazz with Latin percussion that would later be called funk. Well, hip-hop emerged from that."
He places special emphasis on the word "emerged." He says that because "If you know anything about the history of music, you know, no one person created anything; it 'emerges' from different things."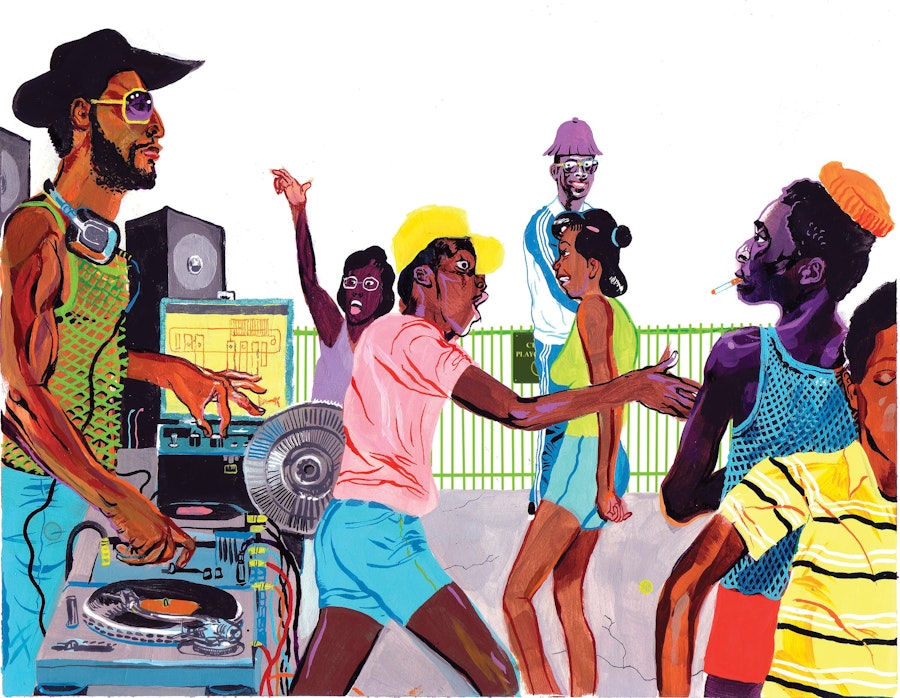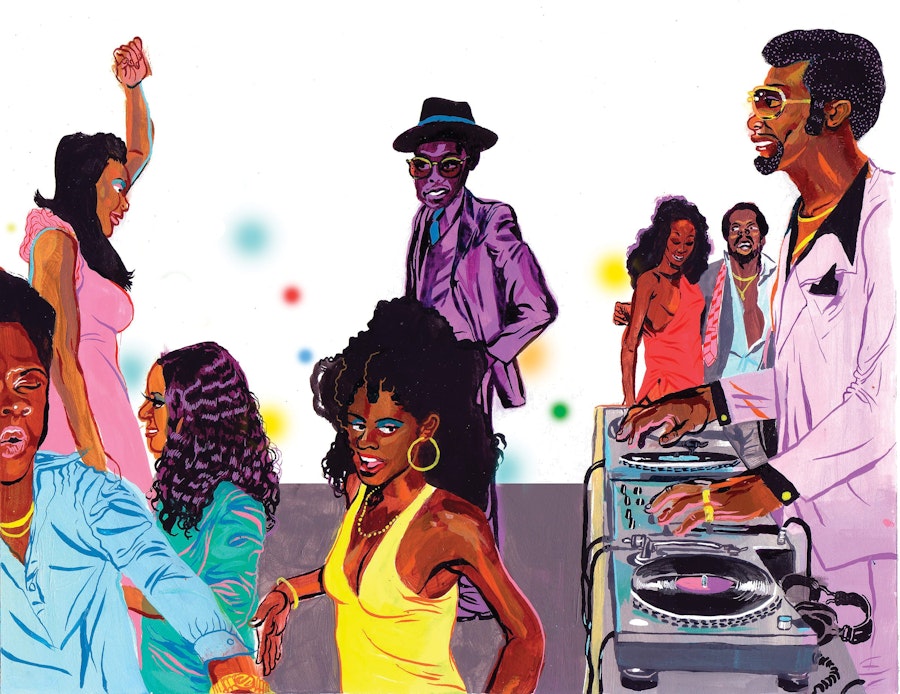 That was typical of Herc—if you went over your time, hell yeah, he'd drown you out. Disco Bee
In his arsenal, Herc had the mighty twin speakers dubbed the Herculords and his crew, a mixture of high school friends and neighborhood kids called the Herculoids. The squad consisted of the Imperial Jay Cee, LaBrew, Sweet and Sour, Clark Kent, Timmy Tim, Pebblee Poo, Coke La Rock, Eldorado Mike, and the Nigger Twins. According to Herc, "Coke and Tim were friends of mine; it's like I got the Chevy, and I'm driving. You my man, so you roll too. So when Coke wanted to play, he play—you know what I mean?" 
Although the core crew was Herc, Timmy Tim, and Coke La Rock, many of the people that frequented these parties could also be dubbed Herculoids as well. Even though they weren't members of the crew, many of these people would become disciples of a new musical gospel. They would help spread the musical message and further build upon the foundation that Herc had laid down. Much like the early Christians, who endured all manner of harassment, the early followers of Kool Herc would lead what would later be called hip-hop through the parks and rec centers of New York and then onto the international stage. These devotees would be active figures in this new genre from the late '70s into the mid-'80s. 
"Man, Herc was a monster," remembers DJ AJ Scratch, who Kurtis Blow paid homage to on the classic record "AJ Scratch." "I wasn't even on back then—I was trying to get in the game back then," reminisces AJ. "I was a nobody. I was like a regular dude, you know what I'm saying? I was a Kool Herc follower—I was a loyal follower. I would've followed Kool Herc to the edge of the earth."
"Yo, Herc was unstoppable back then," says DJ EZ Mike. He and Disco Bee were Grandmaster Flash's left- and right-hand men; they helped Flash develop his quick-mix theories and rock shows back in the day. "Back then, no one could touch Herc and his system—it was just that powerful."
Disco Bee concurs: "The first time I heard Kool Herc, I used to always hear his music, I used to live in these apartments and I would hear this loud-ass music. We used to go to the park and we would hear his shit from three or four blocks away! We would hear this sound coming out of the park. You'd be like, 'What is that sound?' You'd hear [imitates the sound of the drums] shoooop, shoooop, donk, donk, shooooop. You wouldn't hear any bass until you started getting closer. But you could hear his music from very far. And you'd know that Kool Herc was in the park. We used to go to Grant Ave. where Kool Herc would be giving block parties. We'd hear him while we're coming up the street—we're coming up from the 9 train and we'd be coming up the steps and you'd hear his music on Grant Ave. It used to be crazy."
"Herc had the recognition; he was the big name in the Bronx back then," explains AJ. "Back then, the guys with the big names were Kool D, Disco King Mario, Smokey and the Smoke-a-trons, Pete DJ Jones, Grandmaster Flowers, and Kool Herc. Not even Bambaataa had a big name at that time, you know what I'm sayin?"
According to Herc's own account, he was the man back then. "Hands down, the '70s were mine," he says. "Timmy Tim is the one that bought me 'Bongo Rock,' and I made it more popular. He bought me that album, and after I heard that album, I said to Coke, 'Listen to this shit here, man!' We used that record, and that was what kicked off my format called the merry-go-round."
"Pete DJ Jones was basically a whole other level," says AJ. "He played disco music, and Herc played b-boy music, you know what I'm sayin?"
"When you say he played 'disco' music, what do you mean?" I ask him. "Give me an example of a record that Pete Jones might play."
"Okay," AJ clarifies, "he played things like [MFSB's] 'Love Is the Message' and [Cheryl Lynn's] 'Got to Be Real'—stuff like that. He played stuff with that disco pop to it. He didn't play original breakbeats like what Kool Herc was on. He played like a lot of radio stuff. That's what Pete DJ Jones did—that's what made him good. I mean, he had a sound system, but he played a lot of radio stuff. Kool Herc played the hard-core shit you ain't ever hear: 'Yellow Sunshine,' 'Bongo Rock,' and Babe Ruth—a whole variety of stuff. James Brown 'Sex Machine' LP—you know the version with the 'Clap your hands, stomp your feet'?" 
Before hip-hop was a multibillion-dollar-a-year industry, it was a subculture. All of the elements were coming into place, sort of being cooked like a stew, in a melting pot: a spoonful of funk, a fistful of bass, a heap of raw energy—all cut up on a platter with a dash of angel dust.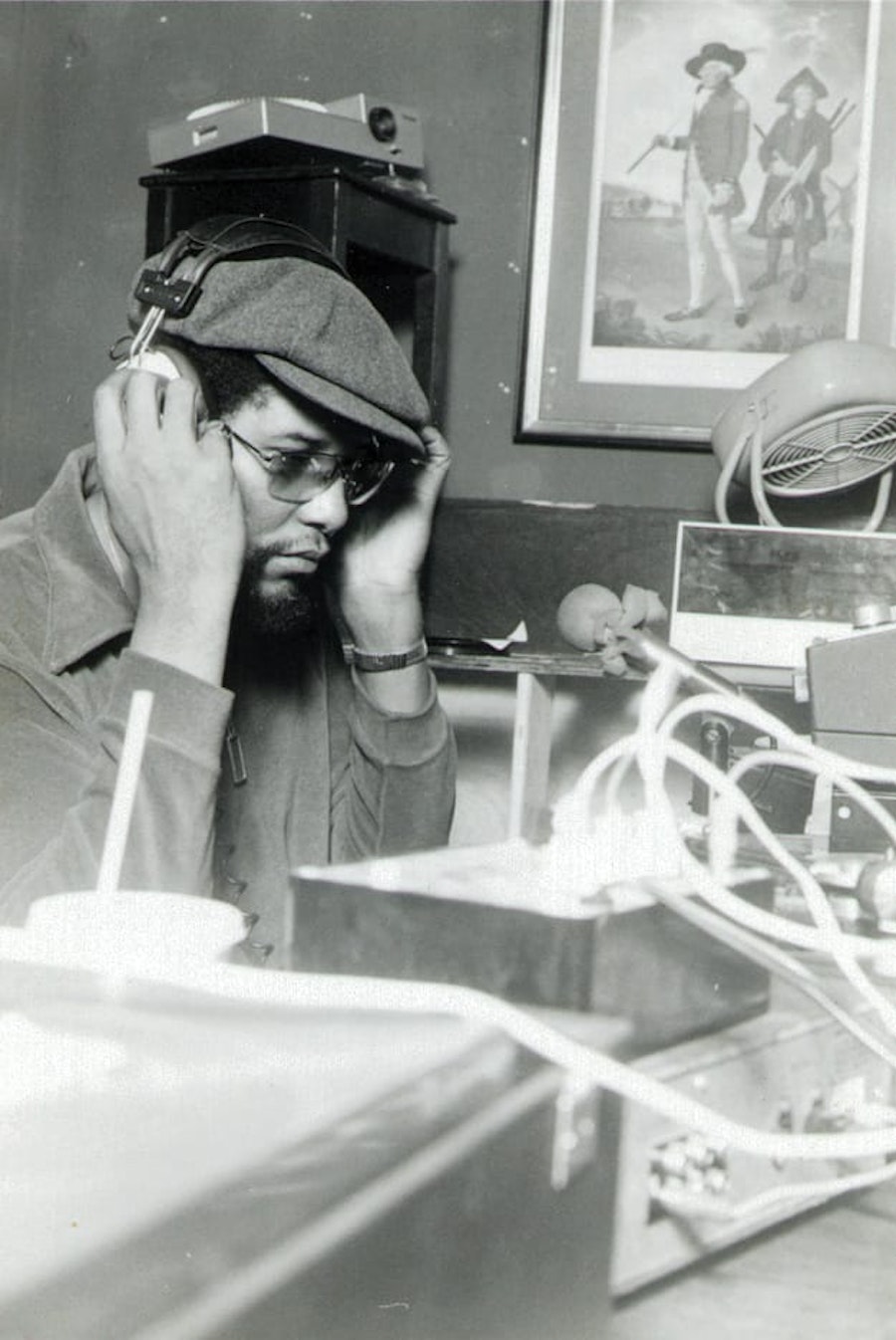 There were lights, but it was dim. That was hip-hop back then—everything was dimmed out. AJ Scratch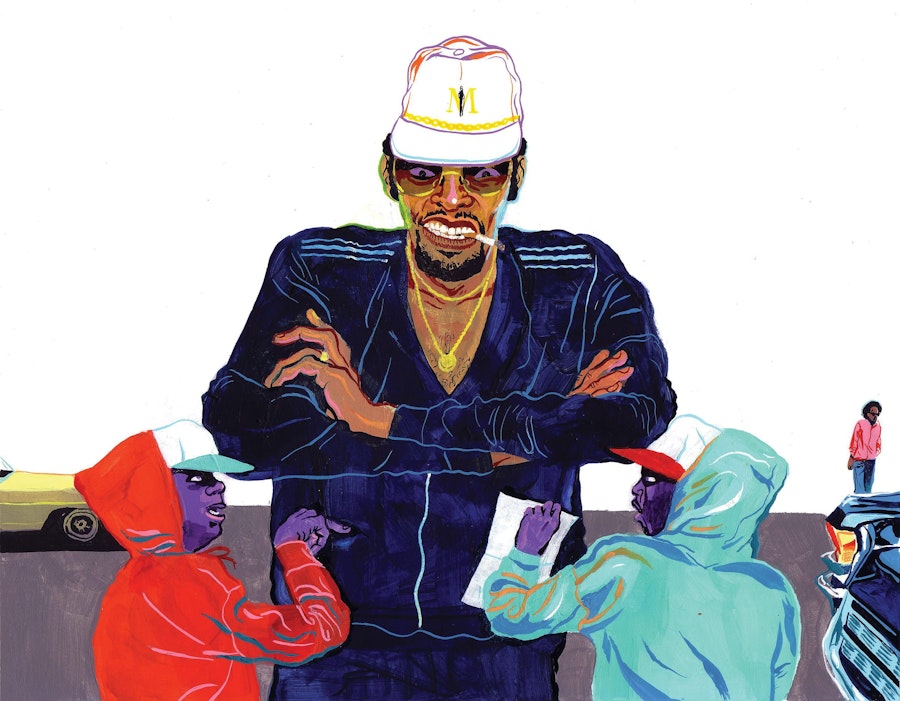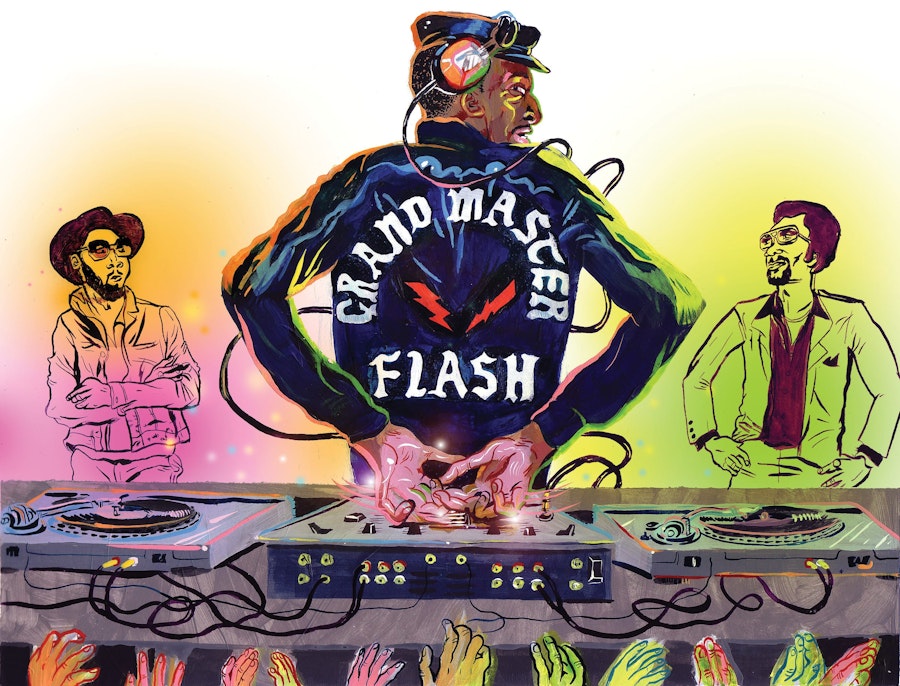 You see, Flash was a DJ; he was doing all that quick-mixing and spinning around and stuff—the Bronx lost its mind that night. AJ Scratch
One could only imagine Flash cutting "Hotshot" to pieces that night at the Executive Playhouse in front of hundreds of stunned spectators: "Hot shot, hot shot, hot…hot shot hot shot hot…hot shot. Hot shot. Hot shot…hot...hot…hot."
"You know what? At that battle, Flash showed the Bronx that he was for real," says AJ. By Herc's own admission, by 1977, he was on the decline. Whether or not it had anything to do with him getting stabbed at the Executive Playhouse is open to speculation. What is a fact, though, is that after this battle between two of the biggest stars of the era, the name Grandmaster Flash was no longer relegated to a small section of the Bronx. His fame spread like wildfire throughout the city. According to more than just one person interviewed for this story, the long-term effects of the battle on Kool Herc were not good. In the weeks following the battle, Herc's audience got smaller and smaller. They were leaving the Executive Playhouse for another hot spot: The Dixie, which was the home of Grandmaster Flash and the Three MCs.
Soon the Dixie would become so crowded that by four a.m. when the house was still packed, the only way they could get people out of there was by playing Jackie Wilson's "Work Out." But the fly girls and b-boys would still want to party. "We'd put that record on," says Disco Bee, "and you'd look out on the floor and folks would be doing the twist."
The battle between Kool Herc and Pete Jones was also a pivotal moment in time, because previous to it, battles were all about equipment, records, and who moved the crowd. Grandmaster Flash added the next dimension: showmanship. This was at a time when the sound system was king. Breakout and Baron had Sasquatch, DJ Divine had the Infinity Machine, Kool Herc had the Herculords, and Grandmaster Flash would later have a system called the Gladiator. Today's DJs know nothing of sound systems; even fewer know how to hook one up.