Given the hundreds of artists who came through Stax Studios in the 1960s, it'd be easy to overlook Linda Lyndell. She only recorded for them twice, then abruptly retired, not even twenty-two yet. She had hoped to avoid much attention, content with a quiet life away from music. For a quarter century, she almost succeeded.
Like many soul singers of the '60s, Lyndell had a sweet and searing voice, a product of years singing in the solemn yet rapturous traditions of gospel. Unlike many soul divas in any era, Lyndell was white, born and raised on a farm outside Gainesville, Florida. Even as a child in the South, though, she was immersed in a cross-racial cultural environment. "From a very early age, I sang Black gospel," she says, explaining that her family, "had [white] church two Sundays a month and Black church two Sundays a month."
By fourteen, she was actively singing R&B for a variety of local rock and roll bands, and, in a few years, she took to the road. "I was with different bands," she says. "I would come on up with Lavell Kamma and the Counts. I sat in with James Brown in New Orleans, sang with Ike and Tina Turner. It was during the time that everybody just got together."
The most important encounter was with Otis Redding, who she met through Atlanta DJ and producer David Crawford. "I loved James Carr, Wilson Pickett—all those old gospel people," says Lyndell. But with Redding, she continues, "I loved his style and it was easy for me to understand where he was coming from, how he wrote a song, and how he sang a song." When Redding became the cornerstone artist at Stax's subsidiary, Volt, he encouraged Lyndell to approach them too. She recalls, "Otis said, 'Go up to Stax. That's what you need to do.' He gave me a good recommendation with Al Bell, Isaac Hayes, and David Porter."
Her first single for Volt, "Bring Your Love Back to Me" (1968), was, in Lyndell's dismissive words, "bubblegum," and not surprisingly, it went nowhere. However, Crawford was convinced Lyndell had hit potential, and she came up to record in Memphis in the spring of '68. They stayed across the street from Stax at the Lorraine Motel mere weeks before Dr. Martin Luther King Jr. was assassinated there in April. 
Gathered at the Lorraine were Lyndell, Crawford, and a trio of women from nearby Tennessee State who would sing backup. The Stax rhythm section busied themselves playing cards. The night wore on until Crawford came knocking on Lyndell's door, asking: "How do you like [this chorus], 'What a man, what a good man, what a mighty good man'? That's all that was ever written down." Despite the late hour, all the players gathered in the studio and Lyndell described the session as, "an ad-lib. We got around the piano, getting into the groove, and it just came together, just like that. It was an amazing thing." They managed to knock the song out in two takes, after which Crawford announced, "We got that; we don't need to mess with that."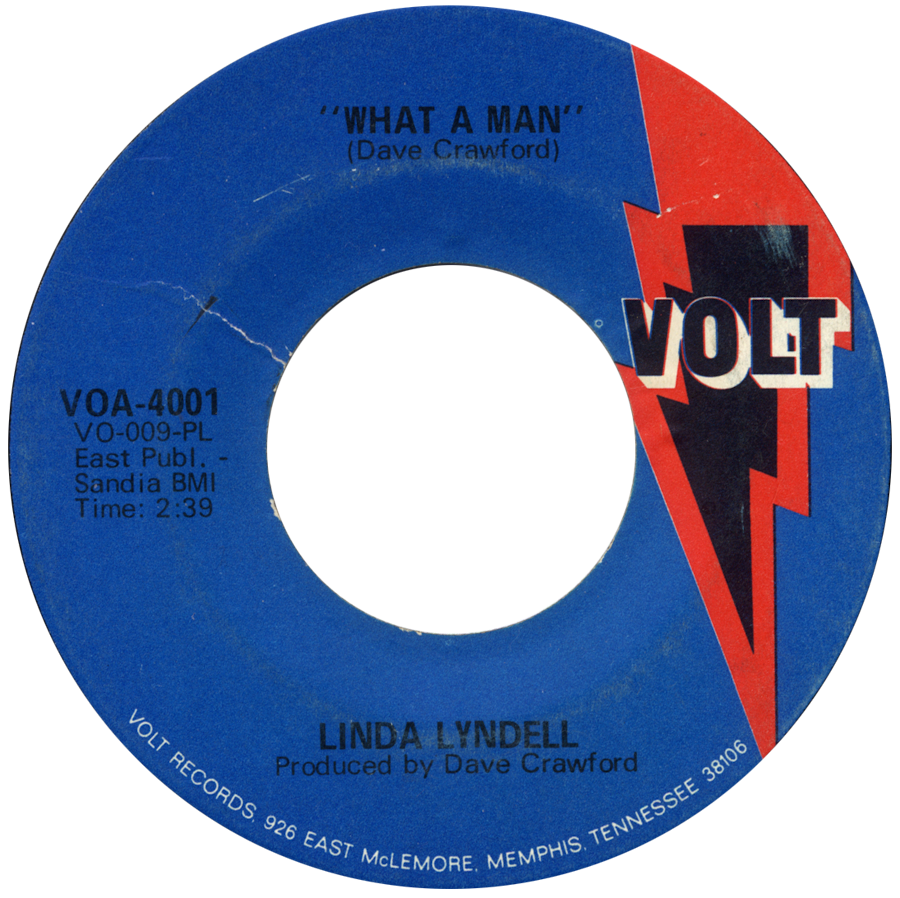 Unfortunately, the fairy tale ended there. Stax was weathering a storm following the plane-crash death of Redding in December 1967, and the label had just been sold to Gulf and Western in March 1968. Under new management, Stax/Volt couldn't push the single higher than number fifty on the charts. Meanwhile, Lyndell was feeling intense heat as a white, Southern woman singing Black music. "I had to get out of the business. It had gotten too hard for me," she explains. "The race thing was really bad. I had been threatened by the KKK and wasn't really accepted by anybody. I didn't have anybody who was on my side."
Lyndell stopped recording and settled into a quiet life away from music for the next twenty-five years. Then a funny thing happened: the release of the Stax/Volt box sets in 1993 turned a wave of hip-hop producers on to new sample fodder and Salt-N-Pepa ended up discovering and remaking "What a Man," as their platinum hit "Whatta Man," enlisting En Vogue to sing Lyndell's now-famous chorus. Lyndell says she was "so out of it," she didn't even know about the rap song until four years later, when she got her first royalty check. "To tell the honest-to-God truth," she admits, "I've never just sat and listened to it. I've listened to enough of it to appreciate what they did; they had good taste not to mess with a good thing. My hat's off to them."
Since then, Lyndell's been motivated to get back into singing actively. In fact, this past May, she returned to Studio A at Stax to sing a special tribute medley of Otis Redding songs. "It's turning out really good," she says of her entry back into the musical world. She does still harbor one more wish in regards to the song that brought her back: "I always thought, one day, we'd get together [Salt-N-Pepa, En Vogue, and I] and sing the song together. Maybe in time. Just a thought."