"Alexa, play Charles Mingus, 'Meditations on Integration.'" Amit Patel summons a grainy black-and-white video from YouTube onto his projector, beamed onto the white wall between two Klipsch speakers, a modified Technics SL-1210 turntable, and a valve amplifier. Mingus is tuning up above us, and he sounds great.
As cofounder of London audiophile bar and restaurant Brilliant Corners with his brother Aneesh, it's not surprising Amit has a decent home setup. Since it opened in 2013, the Dalston-based spot has become a destination for vinyl enthusiasts drawn to the all-analog sound system and high-grade sushi. With their nomadic, Loft-inspired party rig Giant Steps, organic wine, and hi-fi shop Idle Moments, and imminent new live music venue "mu," Amit and Aneesh have quietly built an infrastructure for jazz appreciation into the fabric of London's East End.
Although it made its name hosting stellar DJs like Floating Points, Four Tet, and Donna Leake, the flagship event at Brilliant Corners has long been Played Twice. The concept is simple: (almost always) a jazz record, played in full to a silent room through Klipschorn speakers, followed by a live interpretation of the album by a group of jazz musicians. Some choose to play it straight, but most will bring a new verve to the arrangements, encouraging intergenerational dialogues to emerge. Saxophonist Shabaka Hutchings, who inaugurated the series in 2014 with Ornette Coleman's The Shape of Jazz to Come, likes to take a metaphorical rather than a literal approach.
"It takes something just to put the time aside and say I'm really going to listen to this, and the details that come out on that sound system make it a much more rewarding experience," Amit explains. Trumpet player Byron Wallen once said Played Twice was like group meditation. At Brilliant Corners, good sound is a means to an end, not an end in itself.
"There's also no stage, and you're right up close," Amit continues. Previous favorites have seen drummer Seb Rochford play Andrew Hill's Smoke Stack, Tom Herbert lead a band in Björk, and Hutchings paying his respects to Alice Coltrane's Ptah, the El Daoud. Flyers for all the previous performances, with illustrations by longtime friend Richard Short, are framed in Amit's hallway. It's clear the idea and the musicians who have realized it are close to his heart. "I think that's one of the key ingredients as to why it's so intimate."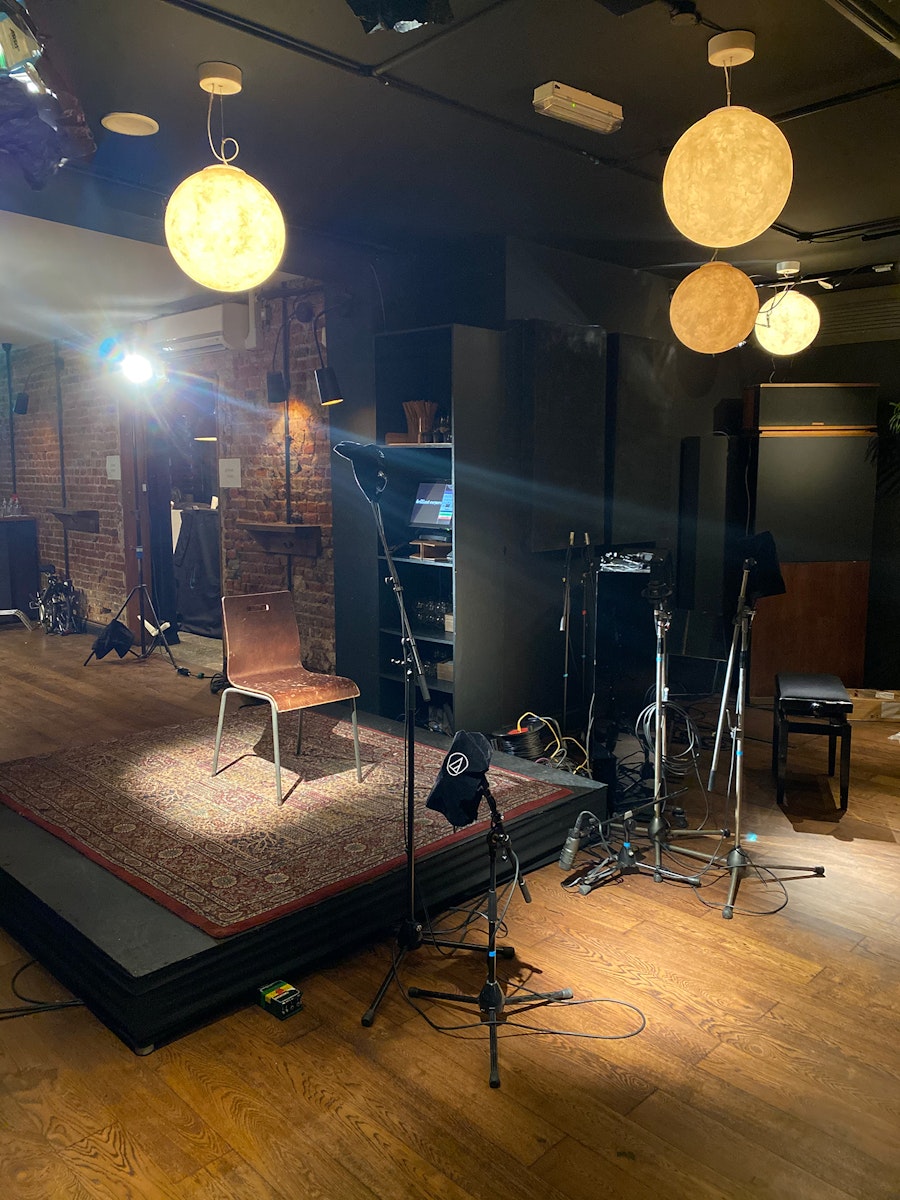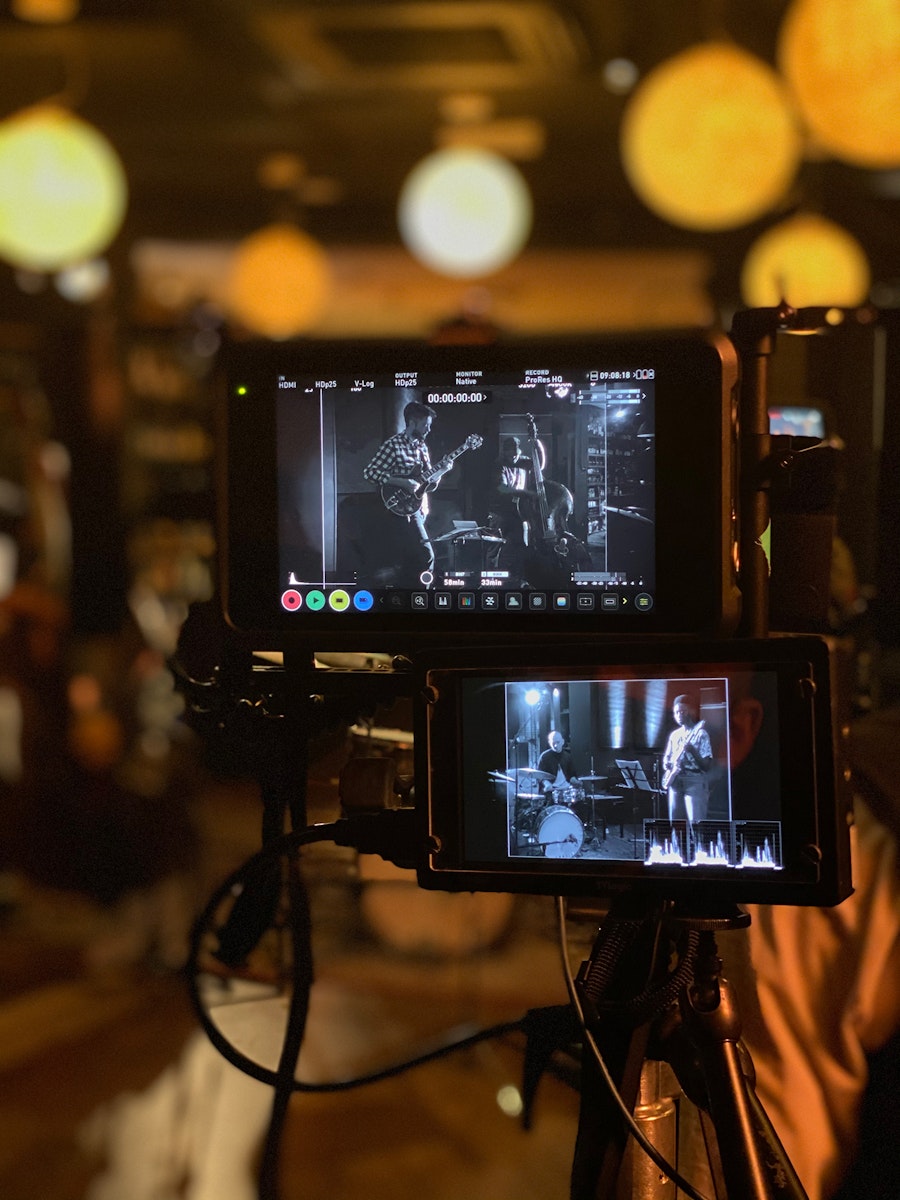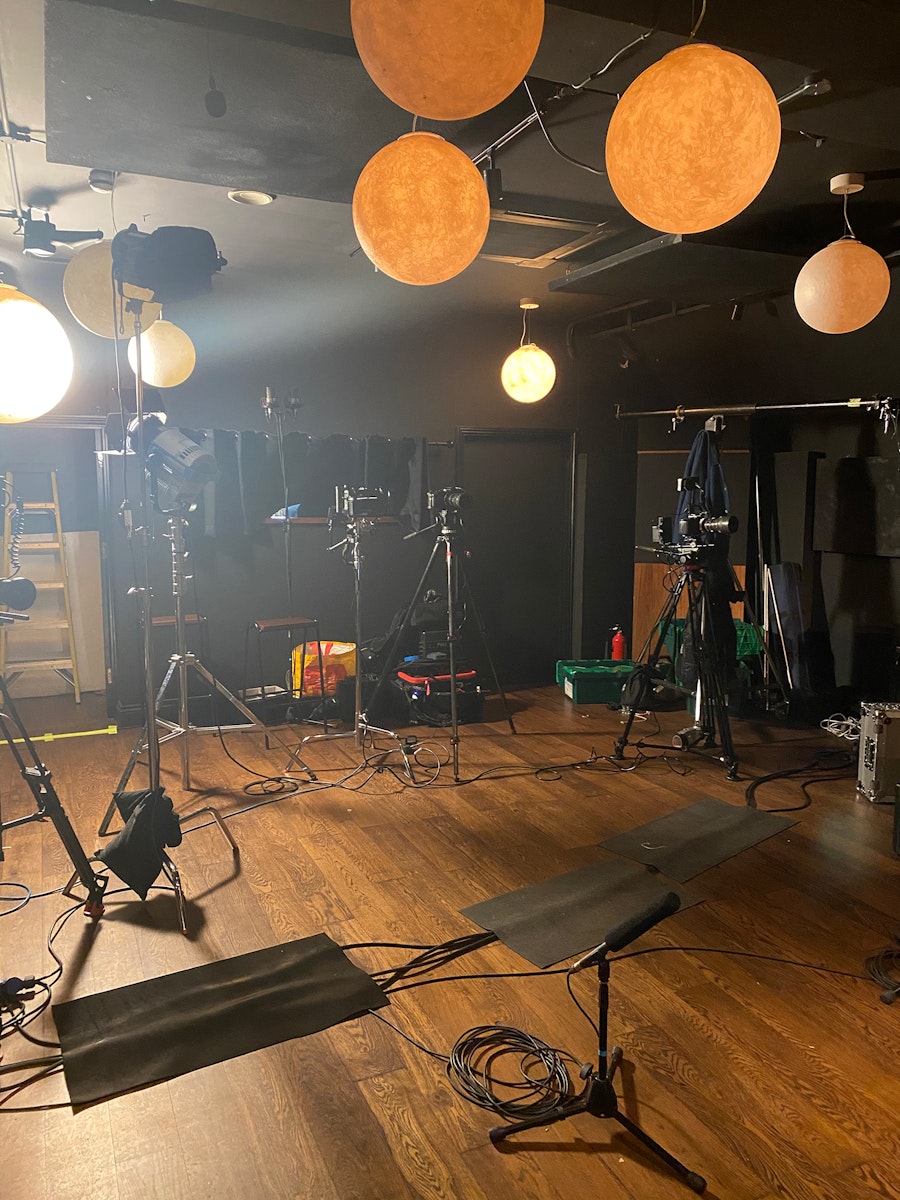 During the COVID lockdown in early 2021, Amit and Aneesh endeavored to replicate that intimacy on film, inviting groups of musicians to play through full albums, funded by the Arts Council and recorded with a selection of classic ribbon, valve, and transformer-coupled mics supplied by longtime supporters Audio Technica.
Of the three films produced, two feature pianist Alex Hawkins, guitarist Dave Okumu, saxophonist Shabaka Hutchings, bassist Tom Herbert, and drummer Tom Skinner, playing Dexter Gordon's A Swingin' Affair and Pharoah Sanders's Pharoah—for which they were also joined by percussionist Adé Egun Crispin Robinson. The third explores Miles Davis's Kind of Blue under the direction of drummer Seb Rochford, alongside guitarists Shirtley Tetteh and David Preston and bassist Neil Charles.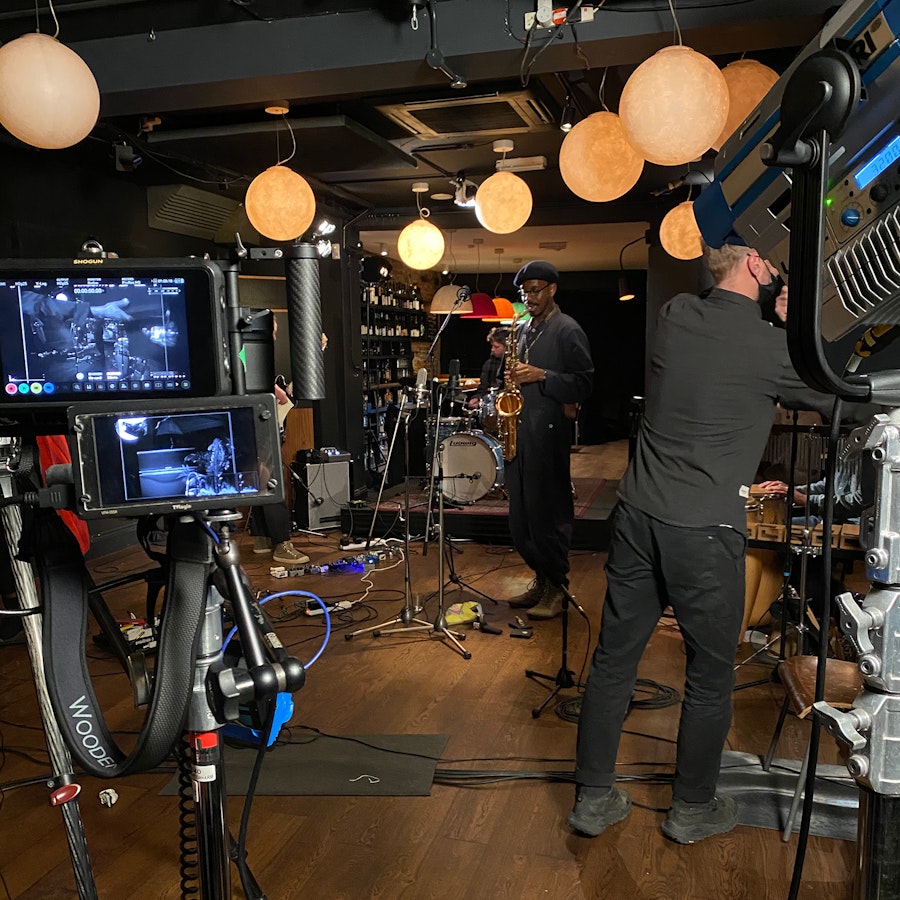 "After all these years, I still don't know how they do it," Amit says. "They come in, they talk about stuff—it's not clear who has even listened to the record—they set out the lay of the land, and then when they start, it's just flawless." Recorded live in a single take by sound engineer Tim Pennells, these performances are premiered here for the first time.
Amit points to the video of Charles Mingus on the projector as visual inspiration for the idea. It's a TV spot from the 1960s and the classic era of staged jazz performances, of which whole archives now exist online. The settings are often demure, and there is a brevity to the editing that Amit admires. These unfussy films captured the musicians as they were that day, crumpled suits and all. They allowed for imperfection and trusted the music to do the work.
In this particular video, Mingus has counted in his group with a flick of his bow, only to call a halt to the tune after a few bars. It breaks down and an awkwardness descends. Saxophonist Clifford Jordan stares into the distance while the bassist slowly, painfully unpacks some rosin for his bow, mumbling towards Eric Dolphy with an air of cultivated disinterest. Like Mingus's best tunes, there is a sense of coming apart, of near imminent collapse to the whole occasion. Moments later, another wave of his bow restores order and they're off again, for good this time.
"When you watch old jazz recordings of Coltrane and Mingus and all these greats, the knowledge that you have about them makes you quite inspired and wondrous," Amit says. The musicians are cut against an empty room, a play of shadow and light just low enough to leave something to the imagination. Sometimes, the less you can see, the more you hear. "We wanted to do it in a way that would show the humanity of the people that are playing," he continues. "A clean visual document of what it looks like when people play jazz."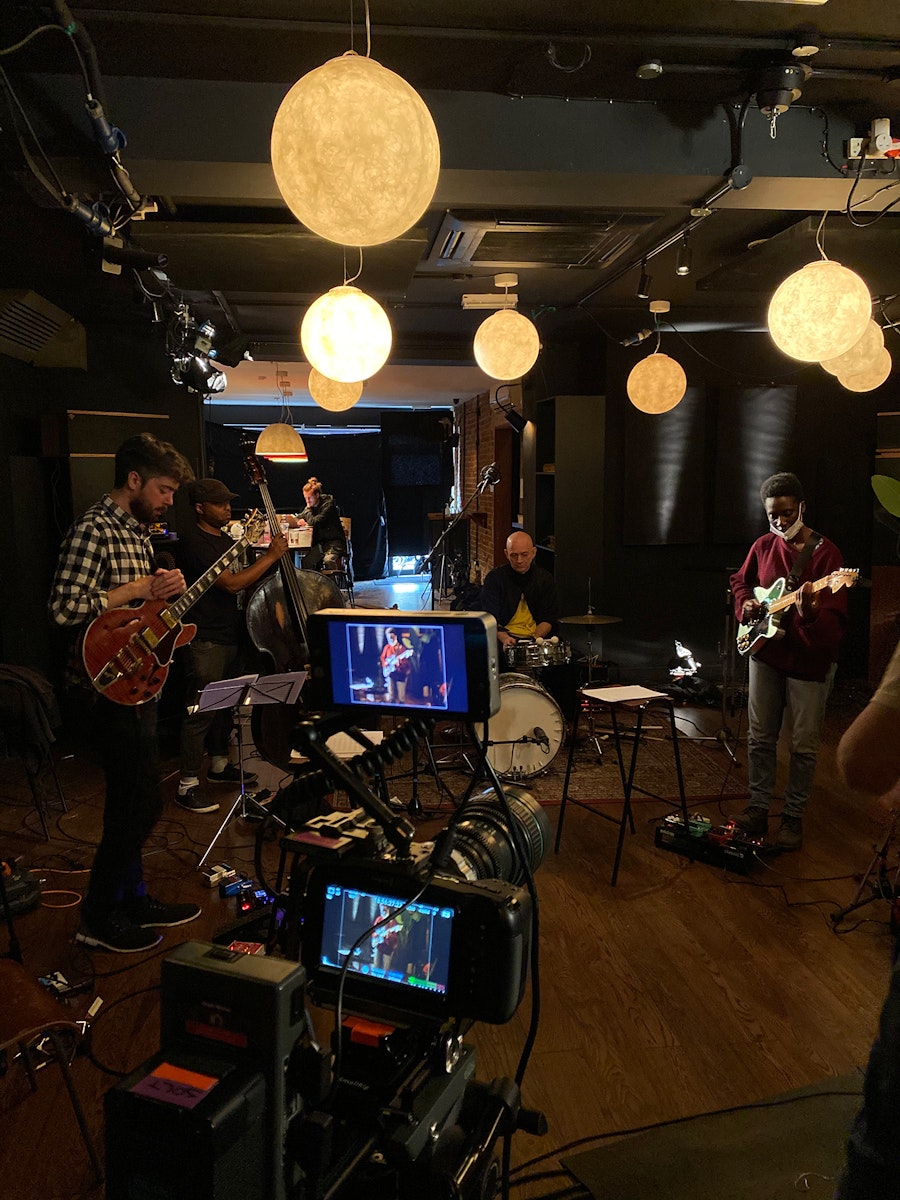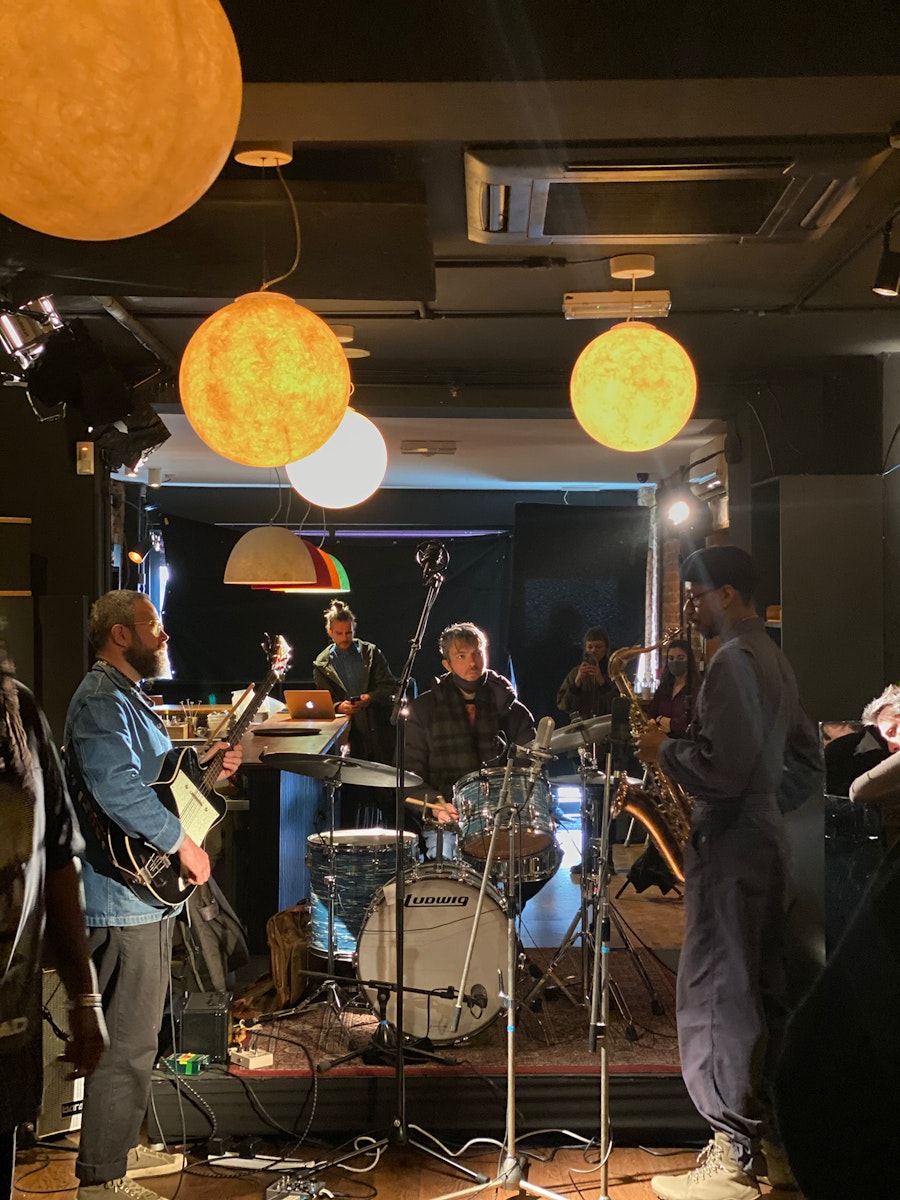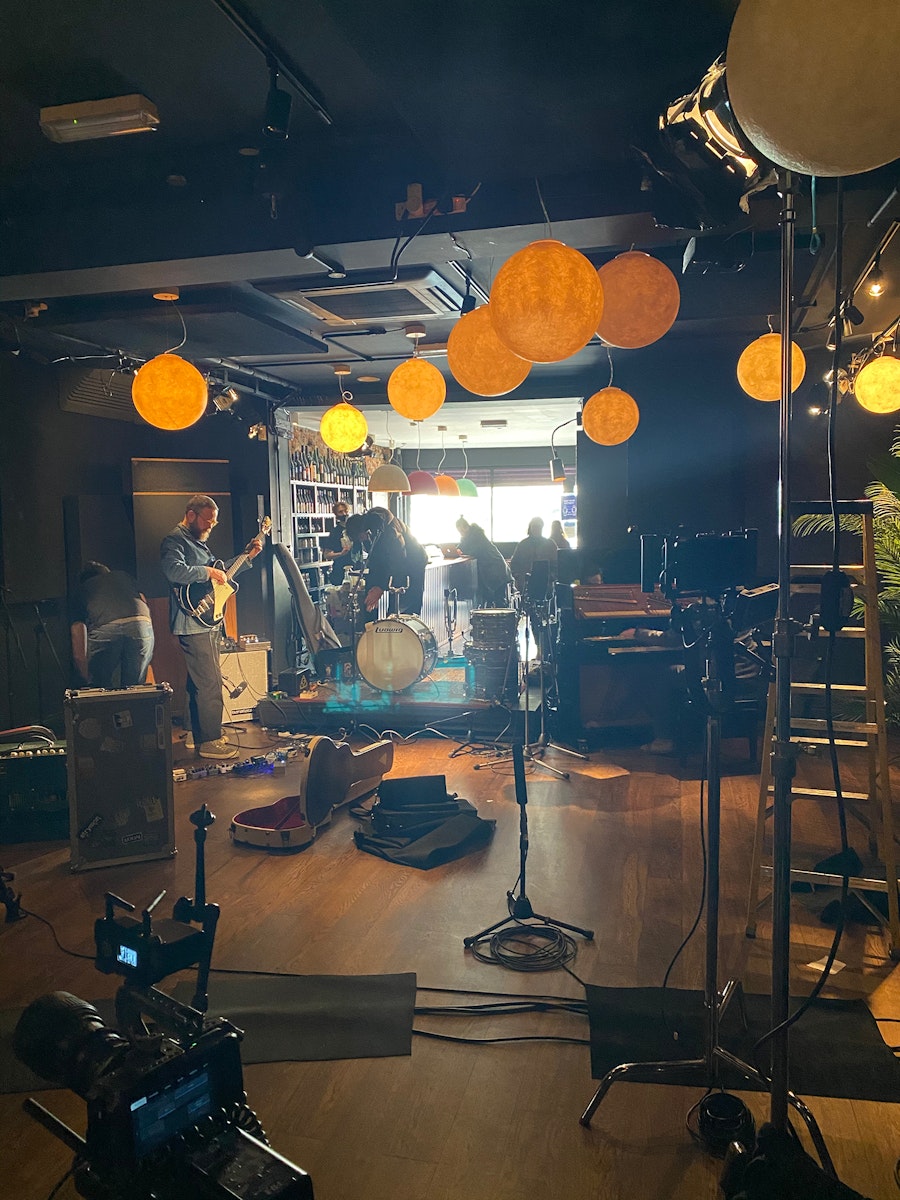 To do so, Amit played bad cop in the edit suite, holding his nerve on cuts between the three cameras set up in the back room at Brilliant Corners. "I was constantly telling the camera team not to do anything. 'Don't cut. If you want to do something, don't, just leave it.'" He laughs at the tyranny of the situation. It is twenty-five minutes until the first cut in "Harvest Time," the static wide-angle shot allowing the tune to unfurl at its own pace. It isn't until the thirty-first minute that we see Shabaka blowing up close, neck strained, sweat beading at his brow. Such directorial restraint lends a power to the moment not available to performance films that flit between close-ups, as if trying to augment the music with a sense of manufactured urgency. "Really, you want the visuals to facilitate the listening of the music," Amit says. "It's a long atmospheric piece, so what would you achieve with an earlier cut?"
There's something in this that speaks to a wider phenomenon. Such is the competitive, visual nature of social media marketing, that there is an increasing pressure for musicians to really lean into their performances, and for a degree of creative editing to support them. Where the likes of Mingus and Dolphy would endeavor to make the hardest chops look staggeringly simple, there is a tendency in this current medium towards making that which is difficult look really very difficult.
The question for Amit is structural as much as anything else. Tenor saxophonist Dexter Gordon might have played every night for months on end, moving between engagements at jazz clubs across the country. But for many young musicians hustling in London, precarity is built into every performance. "There are not many clubs here where you get to play regularly. You never quite know when you're going to play again, so perhaps this impacts the performance in some way," he explains. It's this gap in the city's contemporary jazz scene that Amit and Aneesh are keen to fill. Step in "mu," a live jazz venue built around longer residences rather than one-off shows, just a few doors down from Brilliant Corners in Dalston.
"Artists will be there for two weeks, if it's possible," Amit explains. "That's what I imagine they used to do back in the day. That's how they made better music, and that's how they got away from this idea of just going to a show because you know the musicians. Instead, you could just turn up because you know you'll have a good time."
As has informed the ideas behind Brilliant Corners, Giant Steps, and Idle Moments, it's a mixture of incredulity and improvisation that has driven Amit and Aneesh to "mu." "It should exist. How can there not be more places in London where these amazing musicians can just play all the time?" And while it's hard to imagine musicians not relishing the opportunity, there's something deceptively novel in the concept for audiences too. "I'd love to be able to know that any night of the week, I can just stop in and listen to some live music," he says. In the theater of spectacle on which cities like London thrive, it almost seems too simple to be workable.
For Amit, there is a timeliness to this work that has also informed the making of these three films. "Not to be cynical about it, but I really hope that jazz music doesn't peter out," he says, remembering the blank stares he would receive playing jazz-only sets in the early days of Brilliant Corners. "You know, real jazz music. With amazing players, playing amazing compositions, and group improvisation where no one is grandstanding." He offers the decline in big band jazz as an example to make his case. Contemporary economic realities make funding and hosting big band jazz unworkable for both promoters and audiences, and as a result their appearance at concert halls is now a special occasion.
That's not to say that Amit is not proud of how far they've come. The "mothership" of Brilliant Corners has survived eight years to become part of the furniture, and its many offshoots are now laying down roots of their own. Other audiophile venues professing similar values have followed suit, but none feel as natural as Brilliant Corners. "If you put a good sound system somewhere permanent, DJs will want to play on it," he says. "We never knew it would definitely work, but we knew we wanted to try."
The spaces Amit and Aneesh have nurtured strike a balance between meditation and participation—between deep listening and the joy of social occasion. In doing so, they are doing a service to the current crop of jazz musicians, as well as those to come. "Maybe in ten years time, we'll look back at these videos and think, 'We had it good then,'" Amit muses. "Or maybe it'll just show how young we looked." Here's hoping it's the latter.
Watch the live Twice Played performances below: