It's a sunny, laid-back day in Brooklyn, the type of day Robert Hall relishes. Better known as Lord Finesse, he's spent the better half of the afternoon combing the borough for records. As founding member of the D.I.T.C. Crew, his search for vinyl is routine and has remained so for decades.
D.I.T.C.—which stands for Diggin' in the Crates—was at the pinnacle of poise in the late '80s and early '90s. The Bronx-based collective brimmed with talent, boasting members Lord Finesse, Showbiz and A.G., Diamond D, Fat Joe, O.C., Buckwild, and the late Big L. Their creed was the construal of their name: to find records, of any sort, and create something substantive. "We got together in the mid-'80s," explains Finesse. "We all had solo careers, but formed together because we all loved music, records especially. We all had records and would always go out lookin' for 'em. It just made sense to combine our interests, talents, and our strengths."
Nineteen years since his debut, The Funky Technician, I caught the esteemed rapper/producer as he came back from sun-soaked Brooklyn to drop off his latest stacks, before heading out to scour more bins around the city.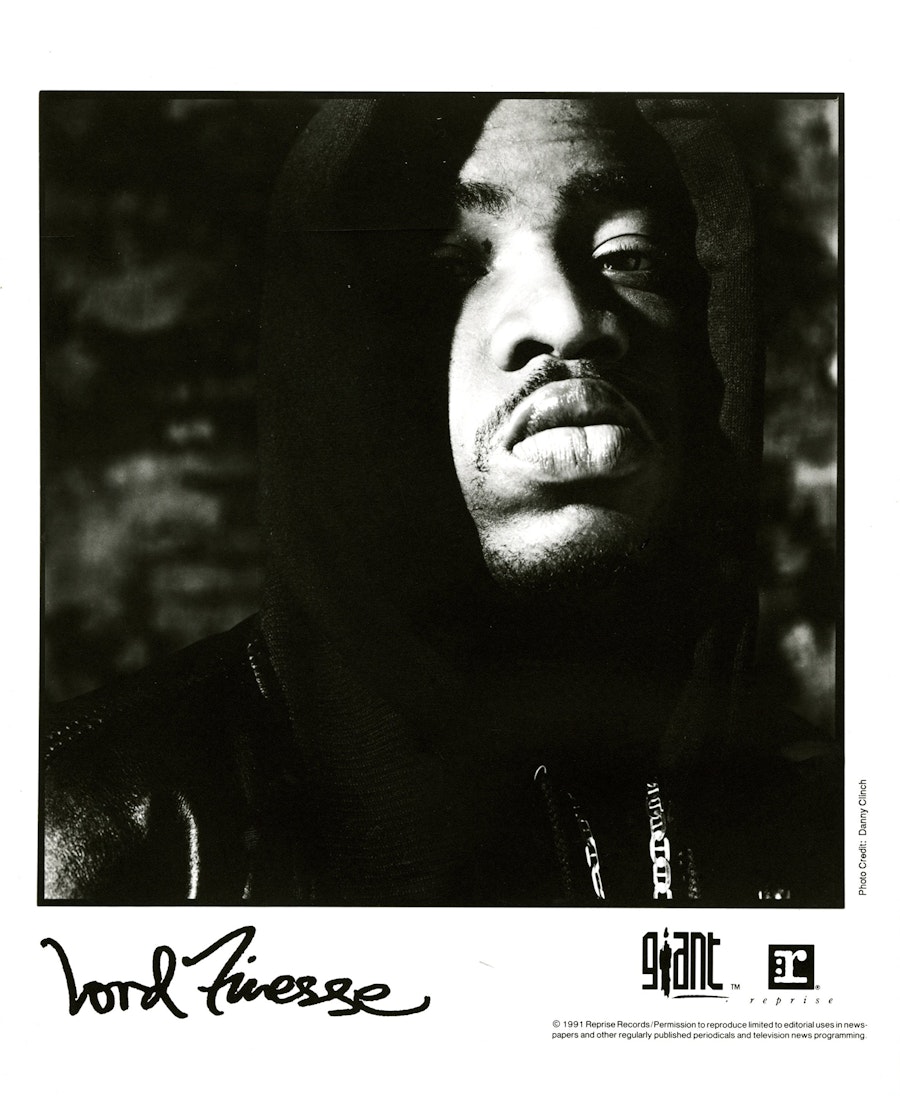 You haven't been as prolific recently when it comes to rapping, but you still produce and DJ quite often. Are you more interested in production at this point in time?
Right now in my career, I'm more fascinated by the musical aspect of things. I just love music. There's also no age limit to being a producer. There's no marketing plan or promotional garbage for producers. Nothing has to be applied to you as a producer in terms of looks or image, ya know? If you make great music, people will notice. That's what I'm after. 
How often do you still look for records?
I try to go three days a week or more. If I don't go out looking for records, I feel like I'm not doing my job. I feel like there's always an obscure record out there, and I'm on a mission to find it. I'm always looking to get new musical knowledge. 
When you get records now, is it simply for your collection, or is it viewed more as a production tool?
It can be ten different things. I look for records that I can loop or chop up. But I also get records that I just want to play, or records that I liked as a kid. I get obscure soul joints to use at parties, or [to use] as an intro when I walk onstage. Sometimes, I find obscure records for cheap and sell it to another store for store credit. I look for a variation of things. 
Having been one of a few known rappers who can also successfully make beats, can you share the standouts in your collection that are immensely valuable to you and your career? 
Now you got me excited! Hold on, hold on, let me go kneel down and look through my shelves and all that. I'll call you right back.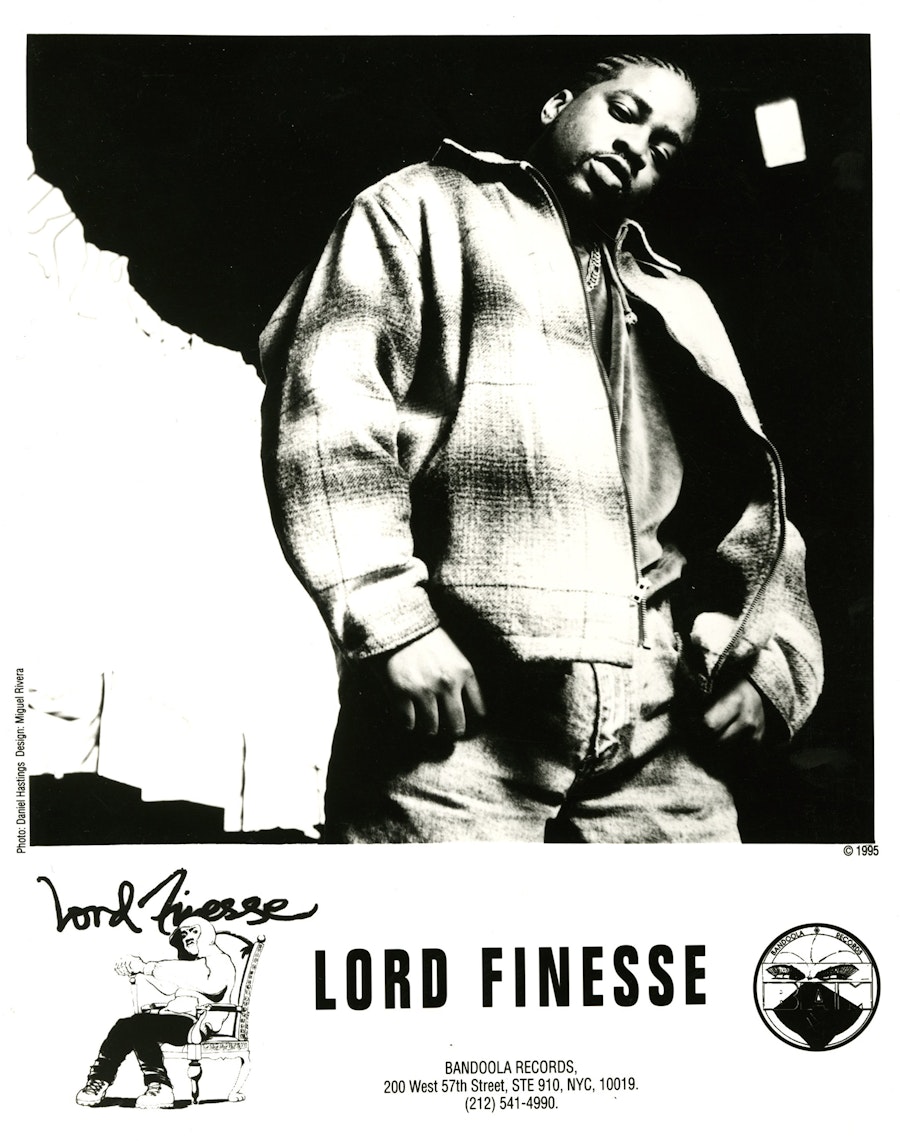 Record Rundown
The phone rings ten minutes later, and Finesse, in his signature smooth tone, rattles off the following records.
Miles Davis Bitches Brew (Columbia) 1970
It was a mysterious album with deep undertones and loud brass. You could take the bass notes, or take horn hits, and do what you want with them. When it came to Miles, his stuff was dark, real dark, which I loved. It was incredible, because I liked using a lot of jazz when making beats. And the way D.I.T.C. flipped it, it didn't sound like straight jazz anymore. It sounded funky or even gangster when we were done with it. This album is amazing because of its dark, sinister sounds.
Power of Zeus The Gospel According to Zeus (Rare Earth/Motown) 1970
This one's important to me because Showbiz and I used this record [a lot] when we made beats together. It's always important to find drums that are open so you can get the kick and the snare and the lower kick. These drums were very popular at the time, because it's a mean, long drum break. They're slow, but they hit hard and were real unique. I heard this in the early '90s and will never forget it.
David Axelrod Songs of Experience (Capitol) 1969
Axelrod's mind-blowing! I couldn't believe this Caucasian cat was behind so many good Black artists. [laughs] Like Lou Rawls or Cannonball Adderley, for example. He was behind a lot of Fantasy and Capitol artists too, and I loved those records. I was fascinated by his use of drums, and how he put them in these weird arrangements along with strings. It made me wonder what he was thinking, like, "What was going through your head?" He had so many cool bits and pieces on this one, and D.I.T.C. always loved abstract jazz that you could take sounds from and put back together. This record right here fucked me up!
Roy Ayers Ubiquity Vibrations (Polydor) 1976
He was so damn musical and melodic. Around the time I did The Awakening, I was in a real melodic mode. Once again, I was using variations of jazz, and certain artists have such distinctively beautiful melodies. He had his own signature. I mean, Roy and his arrangements were so jazzy, but he was also very soul influenced. This album also had some real mean bass lines. Certain parts of this album, you could take and just pitch-shift a bit and make a whole new melody from it. So the end result would have Ayers's feel and his vibe, but it would be a whole new beat by me.
Quincy Jones The Hot Rock Soundtrack (Prophesy) 1972
He's one of the greatest composers ever, especially when it came to how he produced his soundtracks. It was a Robert Redford film, and the score just blew me away. Like I said, D.I.T.C. was on this dark jazz shit, and Quincy would have different variations of the same song. You'd hear the same composition done, like, three times, and each would have new elements that were so perfect, so enhancing. It was sinister to the core. He had amazing horn hits. This is one of my favorites. You're gonna make me put this on after this interview. [laughs]
Dizzy Gillespie The Real Thing (Perception) 1970
If you listen to this record real deep, the bass lines and horn coordination will really stand out. There are songs that have so many changes, so many different emotions, that you forget you're listening to the same track! There are also so many songs that you can listen to all the way through. I first picked this up when I was living on Fifty-eighth Street. They were having a flea market, and I got it for three dollars! You can listen to this one all the way through.
James Brown Black Caesar (Polydor) 1973
I'd be a fool not to talk about James Brown. It's so hard to even pick one, because he has a million dope records. This was a soundtrack that he scored. It was a Fred Williamson film, and there are so many different dope songs on here. "Mama Feelgood" and "Blind Man Can See It" and "The Boss" are incredible. The way the entire thing is arranged is just perfection. This one is so dope to me for so many different reasons, I can't even explain exactly why.
Kool and the Gang Live at P.J.'s (De-Lite) 1971
What made this one so important to me is because of the different turnarounds. By that I mean, they could take one song and change its direction so quickly and so smoothly. There are many things on here that is apparently improvised, but it sounds like it was written and planned. The horns on this one are like the syrup on the pancakes! The right horns can make any track special. I dig horns, can you tell? I don't want to put anyone on blast, but, I swear, like, fifty different cats used this record. But for me, it's simply one of my favorites.
Johnny "Guitar" Watson Listen (Fantasy) 1973
I own a lot of his albums, but this one's genius. His voice is just amazing. You hear the struggle in [his] voice; you hear what he's trying to get across. I love vintage rhythm and blues, because you hear what they're trying to portray immediately. A lot of them aren't incredible singers, but their attitude and emotion come across very clearly. From his dope name, to his guitar arrangements, Johnny blew me away. He produced a lot of his own records too. His solos also had so much feel to them. I absolutely love this record! Oh yeah, and he was apparently a pimp with the ladies too. [laughs]
Ohio Players Pain (Westbound) 1971
The reason I'm naming Ohio Players, and the reason I'm naming a lot of these artists, is because I got at least fifteen or twenty of their records. Once I got one of their records, I had to get the rest of the catalog, ya know? And everything was great, up until the '80s, I guess, when everything got all disco. These guys? Wow! They were so consistent for so long, at least to me. I used this one for "Track the Movement" [from The Funky Technician], but it's so good all the way throughout. I was just going through artists, and once I discovered an artist I thought was good, we'd buy up all their shit. The Ohio Players are definitely one of those artists.