Legendary Dutch saxophonist Hans Dulfer will be the first to admit that his success in music was built on both drive and luck. For the past sixty years, the name Dulfer has been on the lips of the jazz world of Holland, for better or for worse. One thing is certain: Dulfer has a knack for being in the middle of it all.
Motivated since his teenage years to become a famous musician, Hans Dulfer threw himself into the Dutch jazz and improvised music scenes. Along the way, he helped promote avant-garde jazz in Holland, develop thriving jazz programs in Amsterdam, and meld the worlds of jazz, psychedelic rock, and funk into a unique, spirited blend. 
Dulfer has begun to enjoy a long-delayed celebration of his career that was intended to coincide with his eightieth birthday in 2020. What was supposed to be a year of touring was curtailed by the pandemic. The reissuing of Dulfer's three genre-bending LPs for the Catfish label gave fans something to celebrate, however. 
Wax Poetics sat down with Hans Dulfer to speak about his career and what helped him to become such a lightning rod within the Dutch music scene.
Born May 28, 1940, Hans Dulfer's childhood coincided with the German occupation of the Netherlands during the Second World War. His parents, a travel agent and a housewife, moved Dulfer and his older sister to the new neighborhood of Amsterdam West, where the youngster became interested in sports, but not music.
I wasn't interested in music at all at the time because I was real young then. "What do you want to do?" I wanted to be an American.
That was the liberation. That isn't right because the liberation in Holland was done by the Canadian army. At that moment, you wanted to be American. That means chewing gum. That means sports. Everything that was American was good for you. That was the reason I also got involved in jazz music. 
Dulfer's father was a jazz fan, having amassed a collection of jazz 78s before the war. But the younger Dulfer didn't get interested in jazz until a chance encounter at an Amsterdam club gig he attended with his sister.
My mother said that I had to go with her as a kind of chaperone. When I came in there, I saw a lot of people and, in the middle, I saw a big, Black guy who played a shiny, fantastic instrument. I saw that all the nice girls were around him and he drank more beer than everybody. At that moment, I said, "I want to be him!"
The concert happened to be given by Surinamese/Dutch saxophonist Lodewijk Parisius (aka Kid Dynamite), one of the few Black performers who continued to play during the German occupation of Holland and one of the country's star jazz performers. 
I didn't want to be a good music player, I wanted to be famous. To be famous at that time was the most important thing. I first tried that as a soccer player, and I did not succeed. I played in a small club, and I had to train in bad circumstances. I played left back or something like that. Then I was finished. 
Then I noticed baseball. Baseball was a typical American sport. I was very interested in that because you had long trousers on and a nice cap. A nice outfit….
I started playing baseball. I was fourteen years old and then played already first base in one of the biggest baseball clubs in Holland. I played in the first division, and the name of the club was ABC, Amsterdam Baseball Club. Baseball in Dutch is honkbal. 
After having his mind blown by Kid Dynamite, Dulfer asked his mother if she would buy him a saxophone. Citing a lack of money and having no interest in allowing her son into the seedy world of jazz, his mother said no. A friend then hipped Dulfer to the fact that the local brass band provided instruments and lessons to interested parties for one guilder a week.
In 1956, just before his sixteenth birthday, Dulfer joined the local brass band with the intention of playing saxophone, but he had to settle for a valve trombone. His instrument was a shortened variety that was customized for cavalry riders. Dulfer took the requisite lessons and convinced the band leaders of his intent (and an aching embouchure). He was finally provided a saxophone. 
The director taught me to read notes, and you play first thing. There was only one sax player, a very old guy who could only read good. He was on soprano sax. It was very awful to hear. 
There was this other young guy who did the same thing that I had, but he had started to play trumpet. When we could both play a little, we started in the intermissions, when we were rehearsing. He started to play a tune by Al Cohn, "Jane Street," because we could both play that tune. We also started a little improvising. Of course, against the people of the brass band. They said, "Stop this awful music!" 
We became friendly. We started a band, too. 
Theo Deken. He was for me very important because he was a little further on than I was. He could also play the "Blues March" and "Moanin'." Those were very popular tunes at that time by Art Blakey and the Jazz Messengers, who had been in Amsterdam at the Concertgebouw (ed. Nov. 15, 1959). I saw that concert. It was such great music. So I wanted to have a group with trumpet, tenor, piano, bass, and drums. And Theo knew some guys who joined with us. I knew, also, some guys, and we tried them out to make a group.
With youthful exuberance, Dulfer teamed up with Deken, who came from the more affluent Amsterdam South. Dulfer could only read the easy brass band music but learned some jazz tunes by ear. He also had his own ideas about improvisation.
I never heard about improvising on chords. The thing was that I improvised on the tunes and the theme. In a short time, we had jobs. We played at the school parties and in small clubs, cafés…in the dangerous part of Amsterdam, in the Red Light District. Nobody told me that the improvising I did was no good.
I was still in my baseball situation. I was also chosen by the Dutch National Team for first base.
We named the band for the piano player, Clous van Mechelen. His mother was famous and had a lot of money. So, we had the Clous van Mechelen Quintet. Around that time, there was the Loosdrecht Festival in Holland. It was for coming-up jazz bands. My trumpeter said, "We are going to play there and then maybe we'll get famous if we play good."
But I found out that the saxophone I had from the brass band, a very old saxophone, had a different kind of tuning. It was a half a note higher than it normally should be. I played out of tune. I had to have a better saxophone because the trumpeter said that we didn't sound good. He was right, of course. 
I was in high school and I had to go from the third class to the fourth class. I didn't want to do that. I just wanted to play baseball and play saxophone. My mother said, "We'll buy for you a new saxophone, but then you have to go to the fourth class." I said, "Okay. That's cool." I bought that Italian saxophone, a Solotone, at Hampe [& Berkel Muziek] but also, left school.
Now I had a good saxophone, but I had ruined my ears by playing a wrongly tuned saxophone. It was very hard, but we could play together. Then we went to that festival. We made a very good appearance, but we didn't win.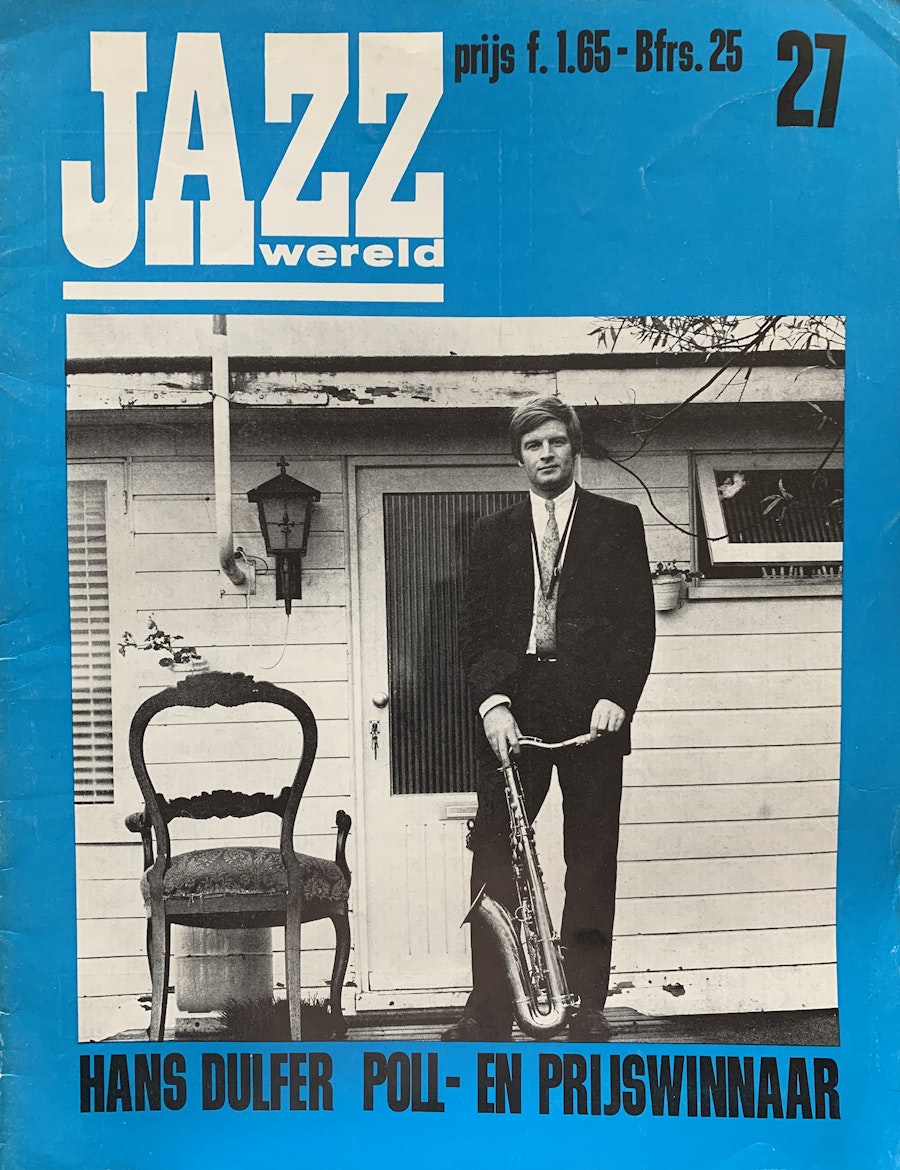 Though van Mechelen Quintet wouldn't make a splash in Loosdrecht, where the Misha Mengelberg Trio would take first place, the group did find another competition that would get them more notoriety.
Clous came up with it. He heard that they were trying to find the Dutch Elvis Presley. A kind of competition. One of the prizes was that you got a ticket to go to New York and go to jazz clubs. We decided that we wanted to do it. But we didn't play Elvis tunes. 
They accepted us. I don't know why. It was a special night where people had to play tunes they knew from Elvis Presley in a film theater in Amsterdam [Cinema Royal]. We were asked to play three tunes. 
The one I remember is "CTA" from Jimmy Heath. I also thought we played "Blues March." When we began playing, people started screaming that they didn't like it. They threw fruit at us and, finally, we had to stop. At the end, we played part of "What Is This Thing Called Love." In the cinema, there was always a big Hammond organ with a guy playing. The guy knew the tune, so when we ended the tune, the organist was playing together with us. 
Later on, we found that we were all tricked. The guy who became the Dutch Elvis Presley [Pim Maas] was the son of the organizer. We had to go home. We wanted to go to the States and we thought playing pieces from Art Blakey was very popular. But not with people who liked Elvis Presley.
The Metropolitan Quintet was a commercial group that asked Dulfer to join them for playing pop hits at dances, weddings, and social functions. The group enjoyed Dulfer's playing but made it known that it could be better.
One day, the leader of the band came to me. He was a little shy. "We like you very much. But there is one thing that the other musicians sometimes say… You play a little out of tune…" 
A little? Of course, with the Italian saxophone… Those people came together from the band and made a plan. They would give me a Selmer, which was the most expensive horn, for fifteen hundred guilders. We had to do a gig in Haarlem, where we would play a gig on the weekends. They brought all the money from one month and then they bought the Selmer. The thing was that half a year later, the leader of the band came to me a said, "We have given you this Selmer, man, and we like playing with you very much. But you still play out of tune!"
In 1962, Deken put together an ensemble that included a who's who of Dutch musicians, including pianist Louis Van Dijk and saxophonist Dick Vennik. The Big Ballad Boogie Blues Beat Bounce BeBop Band was mainly a rehearsal band but managed to have a concert at the Concertgebouw in Amsterdam on December 23, 1962. 
He wrote his own tunes. Even a suite. Difficult music but not that difficult to play. I was the star saxophone player because I could play solos on all those tunes. Of course, the other people in the band who had good education with their instruments, couldn't believe that I got all the solos. It was kind of fun. That band got a little name. The nine-piece band. We rehearsed at the Felix Meritis Building.
But later on, Theo became hooked on heroin. And all his friends. The bass player and some other guys, too. That was for me the time to leave. When I left, it was finished… Theo became a guy who lived on the streets in Amsterdam.
Dulfer became a musician with increasing influence around Holland. He also became one of the first free jazz players in the country. In 1964, Dulfer was introduced to the American saxophonist, Albert Ayler, and everything changed. 
I became interested in Albert Ayler because of a guy in Rotterdam: Paul Karting. He organized tours for American musicians. I have to explain something: The things I like playing on saxophone are a kind of a combination of new music and old sound on the saxophone. I always wanted to sound like Coleman Hawkins and Ben Webster.
Paul Karting had a club in Rotterdam. I played there often with my trio. He said: "Dulfer, I have something for you that you'll really like, a saxophone player who plays with the old style of sound on his horn but very new music. When you come by next time, I'll give you a record. The guy wants to do a tour for me, but I can't make tours for him because the music is so way out." So, he gave me that record, and the first time I heard it I was so flabbergasted. I had heard nothing like that played on a tenor saxophone. 
Ayler's trio had released a couple records and was touring with trumpeter Don Cherry. Karting asked if Dulfer could help get the band a hotel in Amsterdam, where he first met them. 
It was fantastic to see [Ayler]. He was a very nice guy. The other guys were not that nice. Sunny Murray, the drummer, was already a little angry. Gary Peacock was very sick. He had ulcers. 
I went with them as a kind of roadie. It was kind of necessary because the next day they played in Alkmaar. The trouble with Sunny Murray became the top problem and he was yelling at the other musicians because he could only make twenty-five guilders there. Twenty-five guilders was really nothing. Sunny Murray decided not to play. Then I saw something that was unbelievable. They others took it for granted. They start playing without drums. Nowadays, there are a lot of people who play without drums. At that time it was very crazy for me. That day, I was completely taken with that kind of music. They played so fantastic. The audience, of course, started booing. 
The craziest thing was that it was in a normal jazz club that I told the booker that he should book Albert Ayler. All the normal musicians came there. Also, musicians who later became followers of Albert Ayler, like Misha Mengelberg. They stood there at this club called the Sherherazade. They knew that I was a fan of Albert Ayler, so they came to me when the band started playing and said, "Do you like that, Dulfer?" Of course, I said I liked it and Ayler was my favorite saxophone player and things like that. 
The freedom that Albert Ayler had was great. At the same time, I became a fan of Archie Shepp, who played at that time fantastic free jazz with influence from Coltrane and Albert Ayler. He played with normal rhythm sections now and then. The music made a big impression.
Around this time, Dulfer met a young organist named Herbert Noord who set up jam sessions at the Bohemia jazz club. The sessions brought in players from across the country, including the young firebrand woodwind player, Willem Breuker. The first recording that Dulfer appeared on would be on Breuker's groundbreaking Contemporary Jazz from Holland – Litany for the 14th of June, 1966, where he played with a seventeen-piece ensemble. One especially important person Dulfer met there was Han Bennink, a drummer from Hilversum. 
Then I met Han Bennink, the drummer. He was not playing free jazz. He was playing regular jazz a lot. He was very interested in what I did. That was strange because he was a real professional player, and I was the biggest amateur there was. But we got together. I was also organizing gigs and I was living in a houseboat. 
Then one day, he said, "Let's start something. We're making a new group." Han Bennink was the drummer. I was the saxophone player. Willem van Manen was the trombone player. He was from Amsterdam South, and he was not so interested in the free jazz. But he liked what we did. That was a quartet.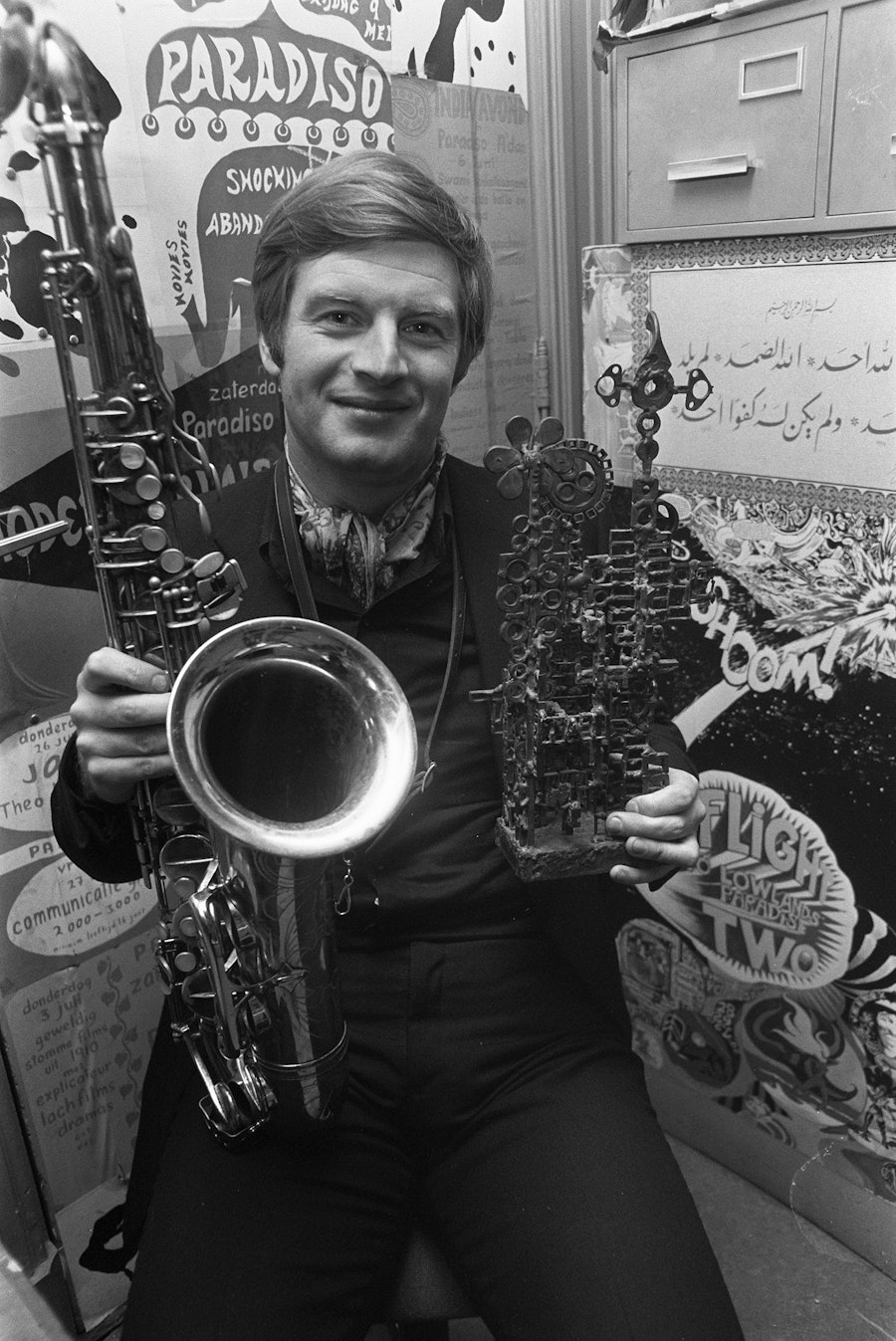 The group, Heavy Soul Inc. (which also included bassist Maarten Van Regteren Altena), had its first appearance on September 4, 1968, at Paradiso, a former nineteenth-century church that had become a youth entertainment center. The concert was recorded and later released on Dulfer's own label. ("The tunes were written by me, but I gave the money to the trombone player because he didn't get that much money from Paradiso.") Dulfer approached Paradiso to see if they would be interested in jazz concerts that he would organize and present. That began a one-night-a-week residency that started with local groups and quickly grew to incorporate jazz musicians from all over the world. 
My band was the first band that was going to play there. That got some interest from some people. You know what happened? The building was almost completely filled. You could fit in that time fifteen hundred people. 
But you know the real story… In Paradiso, there are about fifteen hundred people but including about fourteen hundred Germans who were just lying on the floor smoking hash. They were stoned like a motherfucker. There were about a hundred friends of mine there and other musicians. But in the paper, it said: "Dulfer Saves Jazz in Holland! Fifteen hundred people in the Paradiso!" 
Wow! That meant I started the club being a weekly venue. The next time, a lot of people had read that in the papers and they thought, "Oh! We have to be there!" And a lot of Germans lying on the floor maybe couldn't stand it anymore. So, the combination made the audience a little different. 
The same thing for a couple of weeks and I got famous musicians from the bebop scene or something like that. Also, from the free scene. I let my friend, Willem Breuker, play there with Gunter Hampel. Slowly but surely, every night it got crowded there, and it was unbelievable. 
Then I started booking American musicians, and I was very lucky with that. Sometimes they called me a day before and said, "Dulfer, I heard about you. Can I play in your Paradiso?" And then I would say, "Yeah. Tomorrow?" I would think about bringing Dexter Gordon. Dexter Gordon was living in Denmark then. Finally, he came there, and it was a fantastic night. Dexter was so good. It was recorded. Han Bennink played drums. 
Han was my favorite drummer. I let him play with everybody. With Don Byas, who lived in Amsterdam. With Ben Webster, who lived in Amsterdam in that time. 
One night, Dulfer hosted guitar legend John McLaughlin at Paradiso and on his houseboat. 
Arjen Gorter told me some friends had come to Amsterdam, and they didn't have any money, and they were good musicians. They wanted to go to Paradiso. Of course, I can handle that. But first, they didn't have money for a hotel. Then my wife heard that and said, "Come. Let them sleep at our house." I was living on a very small houseboat. 
I drove them into Amsterdam and brought them to my house. John McLaughlin was a very nice guy. He could also talk very good with my wife. He was very interested in everything. He slept there for one night, and the next night we went to Paradiso.  I was playing with my own group, and then John sat in for a while. I didn't like it so much. Nobody knew John McLaughlin. Maybe in England. I didn't know him, and I wasn't so interested in guitars at that time. 
Then we went back to the houseboat at night. The next day he left. He kissed my wife. After that, he became very famous playing with Miles. One time, I met him once at this festival in Juan-Les-Pins in France and I told him about it, and he didn't know anything from it. 
The weekly jazz sessions ended at Paradiso in 1973 when Dulfer got into a little trouble. 
Somebody from taxes came by. I had paid the musicians. I asked 1 guilder entrance into Paradiso. So, the first time, I had fifteen hundred guilders. And I could spend, the next time, fifteen hundred guilders, and I did that. But I never paid any taxes. Then the tax man came, and he said I had to pay fifty thousand guilders. I tried to get other people to help me. But nobody had money, and nobody had time to do a benefit. So, then I stopped Paradiso. I was in big trouble. I found out later that somebody else paid the taxes. Then I did again in 1975 a little jazz in Paradiso, but not too long because the pop people had the most influence. 
For regular income and conveyance to gigs, Dulfer began selling cars in 1963. He continued selling cars, including a time managing his own dealership, until 1989. It became a part of his persona, as he was able to shuffle musicians about town in fancy cars. He was also a natural born hustler.
I wanted to be famous. I wanted to drink a lot of beers. I wanted to play saxophone. I loved selling cars. The way I started selling cars is because I had play outside Amsterdam and I didn't have a car. I met a guy who said to me, "Why don't you become a car seller? You get a car from the company." I just worked a little selling cars and, in the afternoon, I started rehearsal.
I made my own record company and I called it Heavy Soul Records because Heavy Soul was the name of the Ike Quebec album. A fantastic saxophone player. My favorite. I had his photograph on the outside and the inside of Paradiso, so everybody could see that. 
In Amsterdam, on the side of Olympic Stadium, once a week there was a guy who [sold] second-hand cars. The guy was one of the guys who gave me money to start the record company. He did not like the music. He liked very much that I put out a record. I did business often with him. He was selling the second-hand cars in that dirty place. I did not dare to come there. He said to me, "Give me fifty of that! I'm going to sell your records because you don't sell now…"
I sold maybe one or two records a month or a week. Really that is nothing. You have to send it. You go to the post office. You have to pay for a special way of sending it. I didn't know how to do it. He said, "I'm going to sell those for you." 
What he did was unbelievable. He sold his second-hand cars and said, "You are going to buy that car? You are going to have to pay for that car, and you have to buy one of these records." Can you imagine? I had one hundred fifty that I ordered of Heavy Soul. I had to sell them all because my houseboat was listing to one side. It was too heavy.
Later on, I made a second record by J. R. Monterose, who became a very good friend. He was already one of my favorite saxophone players. The only thing, I had never seen him. I thought he was a Black saxophone player. When I finally met him, he was like an Italian. Very small guy with an Italian look. White guy. He was living in Brussels. He played very often in Paradiso. 
It is around this time that Dulfer met bassist Jan Jacobs and percussionists Alberto de Hond, Steve Boston, and John "Groentjie" Grunberg, who had a Latin group called Ritmo Natural. The group emerged from former members of Max Woiski, Jr.'s ensemble, a Surinamese Latin music group that was popular in Amsterdam. 
I listened to records by those old-fashioned tenor players, like Ike Quebec, who I liked so much. They all made records and they had, for instance, Ray Barretto on the conga or something. I liked that very much. So, I tried to find a conga player.
I talked to a bass player who had a quartet that played Latin music: Jan Jacobs. He did jam sessions in the Milky Way [Melkweg]. He heard that I was looking for a conga player, and he played with Ritmo Natural. Ritmo Natural was a group led by Alberto de Hond. Steve and Groentjie were in it and, also, Jan Jacobs, who played the bass. He played the bass fantastic. Only two notes. That was all he played.
He said, "Why don't you take my group to play with?" They played not really Latin music, more Suriname music and West Indian. I found out that I could play very, very out. Not with chords, just with their rhythms.
Of course, I told that to Han Bennink. He said, "Sounds good to me" and starts playing. Also in Paradiso, Han Bennink on drums and with Ritmo Natural. Two completely different worlds, of course. One night after we played together, Groentjie made the famous verse. He said, "Han Bennink versus Ritmo Natural… Han Bennink has beaten Ritmo Natural, 2-to-1…" They could stand me because I was playing over them. But Han Bennink was a little too much. Han was not so much in with Latin rhythms. 
Later on, I started playing with Martin van Duynhoven. That went better because he was open minded. 
At the beginning of the '70s, there were a lot of benefits against Vietnam things. Ritmo Natural was fun dancing. We were the most asked group for that. Strangely enough, the benefits paid better than normal jobs. It went together very well, but I should tell you one day we played somewhere and Groentjie was a very funny guy. He made announcements for the band. He said to the audience, "This band is two Negroes [he and Steve Boston] plus a Jewish guy [Alberto de Hond], plus a white guy [the bass player], and Hans Dulfer."
I wasn't [Black]. I wasn't Jewish. I wasn't white. I was Hans Dulfer. That was one of the most fantastic things somebody ever said about me. Can you believe that? It was so funny, and it was so good to hear.
His popularity and hard work helped Dulfer garner the 1969 Wessel Ilcken Prize, which recognizes outstanding achievements in jazz in Holland. He bought himself a King Super 20 tenor saxophone with the prize money. Dulfer found himself in a vaunted position where radio and a label were reaching out to him. Dulfer and Ritmo Natural attended Montreux Jazz Festival, performing at the Casino de Montreux on June 20, 1969. 
What happened then? They had never heard about Albert Ayler or Archie Shepp, all my favorites. I played that way. I made a concert. They stood up from their chairs and they walked out.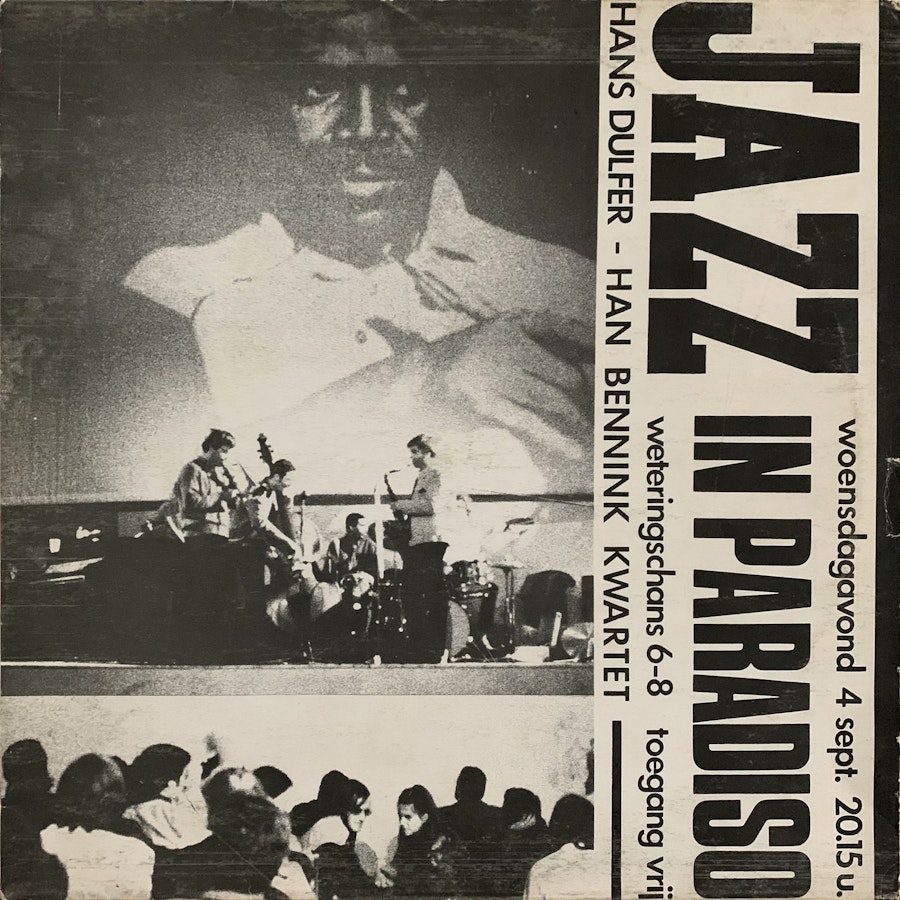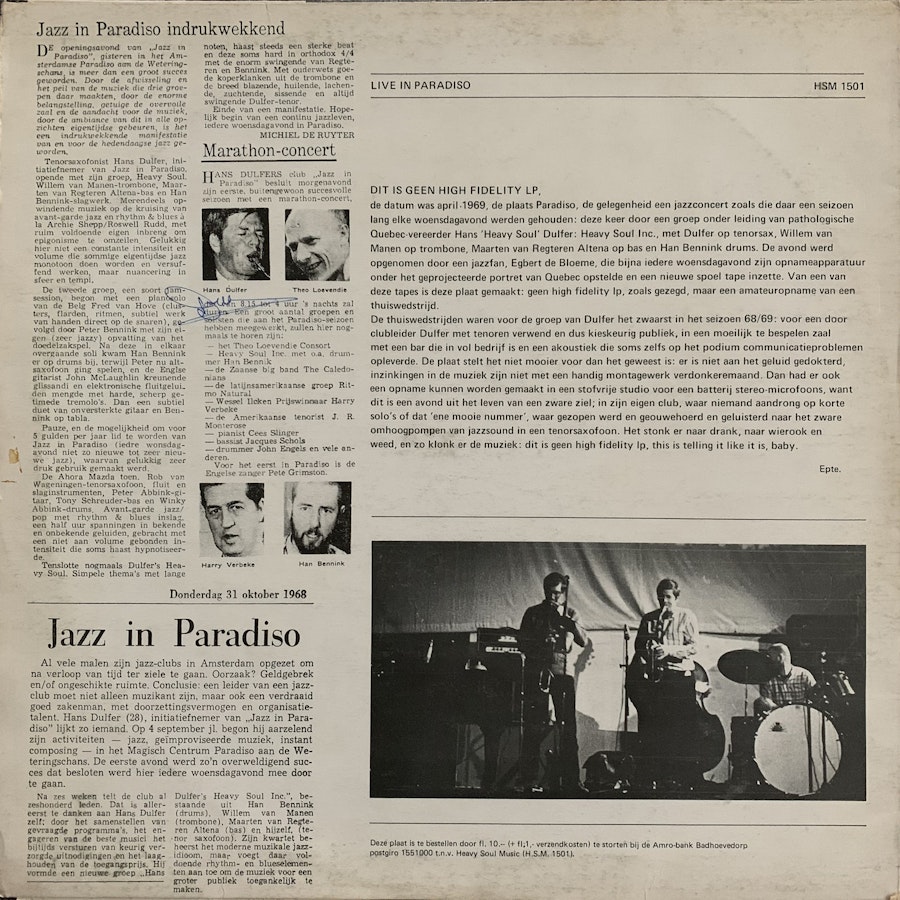 The next recording Dulfer was featured on was Soulbrass Inc.'s Live at the Bohemia Jazzclub from October 5, 1969, where he found himself with organist Herbert Noord, bassist Arjen Gorter, baritone saxophonist Henk Van Es, conga player Steve Boston, and drummer Rob Kattenburg playing soul jazz tunes. The record came out on Noord, composer Loek Dikker, and Hein van Warmerdam's Stichting Jazz Werkgroep label. 
Producer Joop Visser was working the record department at De Bijenkorf store in Amsterdam when Dulfer met him. Once Visser got a job at Dutch EMI, he invited Dulfer to record on his Catfish label. Prior to recording his first album, Dulfer recorded an album in December 1969 with Dutch composer, Theo Loevendie, entitled Mandela.
Martin van Duynhoven always gave me good tips. I played with Theo Loevendie in a concert. The Theo Loevendie Consort had three drummers in it: Martin van Duynhoven, Johnny Engels, and Han Bennink. Theo asked me if I wanted to play with the Consort. I knew he created very difficult music, because he was also a classical composer. He was also into jazz. He played bebop jazz in the '40s and the '50s with Nedly Elstak, a trumpeter. 
That was very rough. I was very proud of that. A famous composer asked me to play in his band. I later found out that Martin van Duynhoven had said to him, "Why don't you take Hans Dulfer to the band? He attracts an audience!" I was popular in that time. 
Not too much later, I was called by the famous Boy Edgar with his big band. It was going wrong a little. They didn't get many jobs. Martin van Duynhoven said to Boy Edgar, "Why don't you take Hans Dulfer into the band? He attracts the most people!" Boy Edgar had never heard me but he hired me on the spot. Before I knew, I was sitting between Toon van Vliet and Piet Nordijk. Those were the two famous players at that time. They both advised me during the playing, and they told me everything I did wrong.
They were both very satisfied with me. It was the same with Boy Edgar. He asked me because he wanted to be a little popular. That is the story of my life.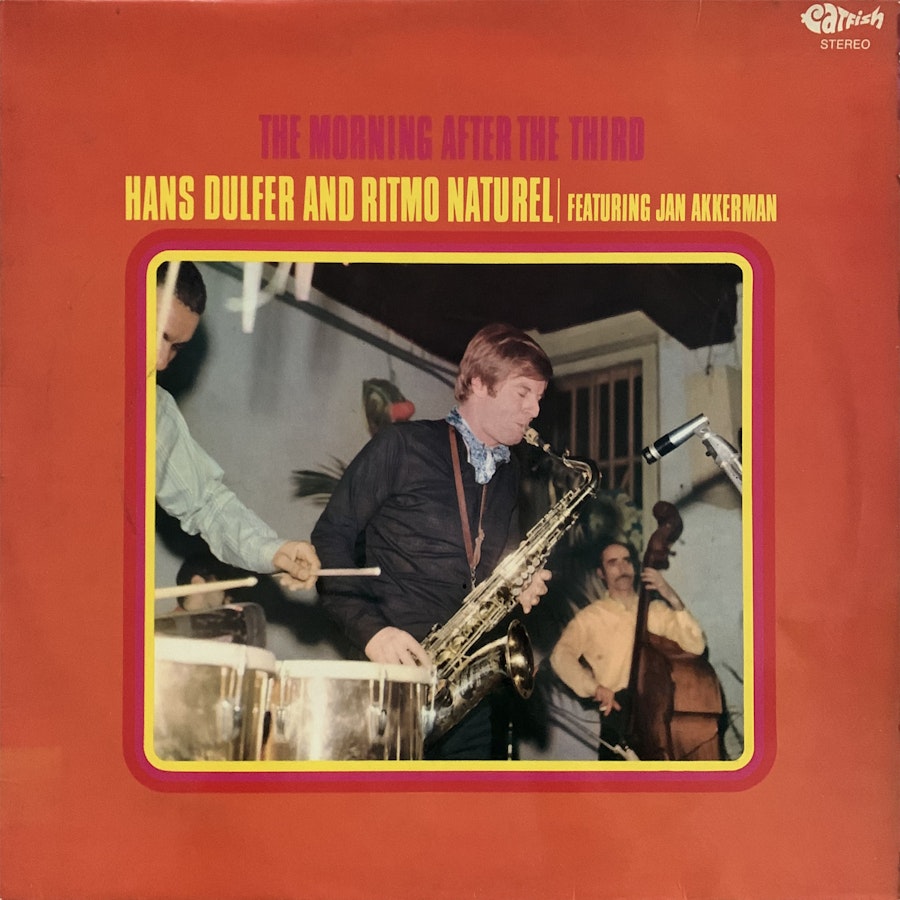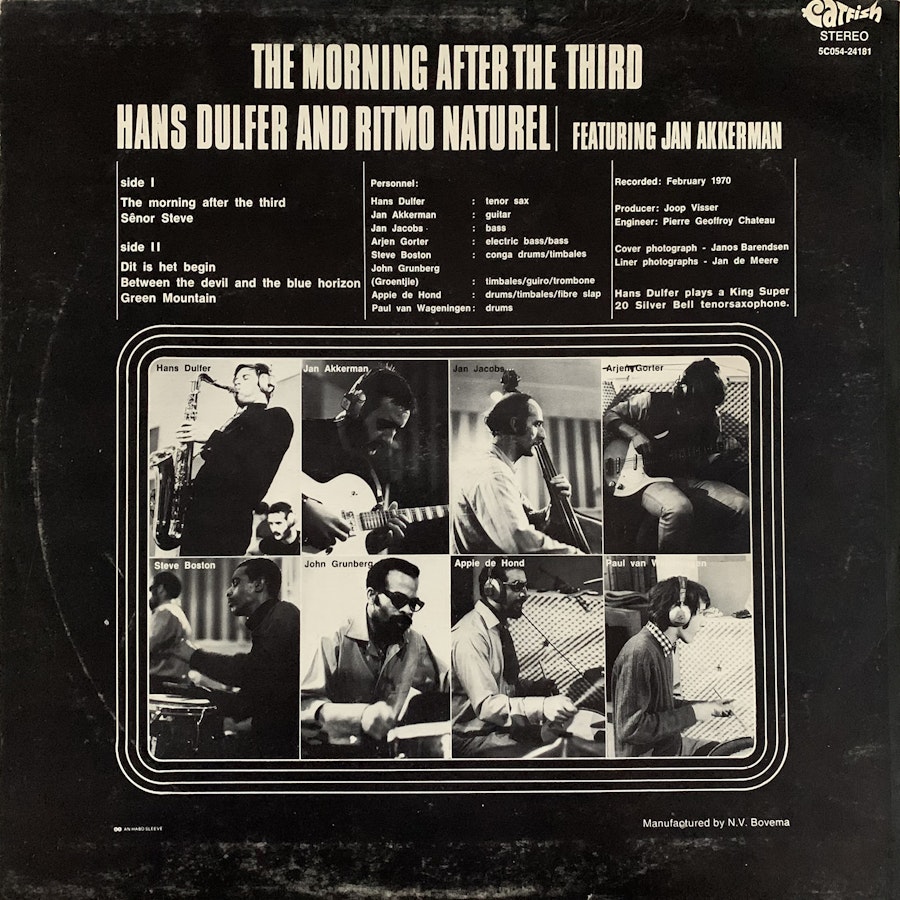 Dulfer finally was able to lead his own session in February 1970 at the Bovema Studio in Heemstede. He brought with him Ritmo Natural along with bassist Gorter and drummer Paul van Wageningen, from prog rock Groep 1850. Producer Visser suggested the ascending guitar slinger Jan Akkerman join. The resulting album, The Morning After Third, gets its name from a tune by Dulfer's friend Theo Deken and was recorded in a single long jam session. 
On the first one, played Jan Akkerman. That more or less the idea of Joop Visser. I said, "Yes. But only one tune." And Jan was already a really famous guy. He played with Focus. But I said, "I agree but only one tune. No more."
The enigmatic Akkerman is present on the entirety of The Morning After Third, making the recording a freewheeling blend of soaring saxophone, wailing guitar, and percussion grooves laid by Ritmo Natural. The five tracks use the briefest of melodic content, including a tune from Loevendie, to set up longer jams.
The second album that Dulfer made for Catfish was Candy Clouds, named after his daughter, Candy Dulfer, who was not a year old when the recorded from August 17 to 18, 1970. Ritmo Natural remained the principle rhythmic force. Martin van Duynhoven took the drums chair and zoologist/free jazz pianist Kees Hazevoet also was added. Two musicians from other Catfish groups also came in, prog rock band Ahora Mazda's woodwind player Rob van Wageningen and Groep 1850 guitarist Dave Duba. 
Martin van Duynhoven said, "I'm playing now with a very crazy group [Groep 1850] from the Hague. They use drugs all the time. You should hear the guitar player." Okay. I went with Martin. I then had a lot of ideas for playing with rock bands. I saw that and said, "That is fantastic." So, I went to the guitar player after I heard them and said, "It would be interesting to play with you." "Oh, no! I don't dare. I don't dare to play jazz," he said. I answered, "But I play jazz in a different way. With Latin guys." Latin music he had never heard of. But Martin said, "Come by, and we'll play."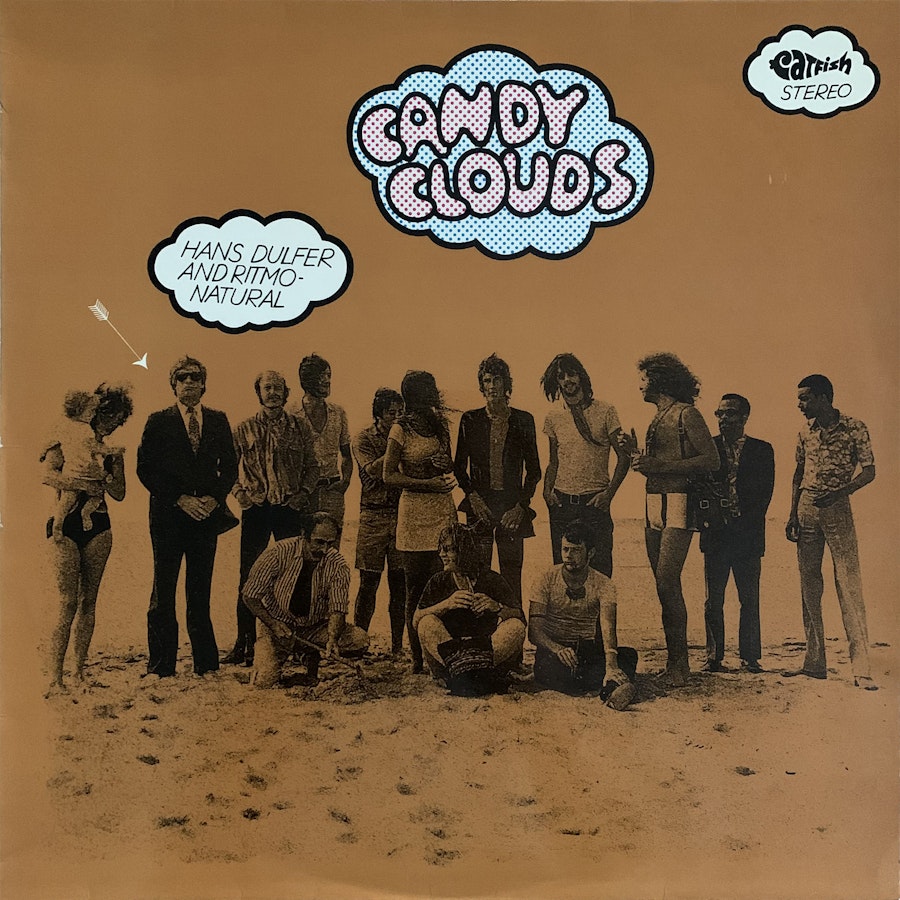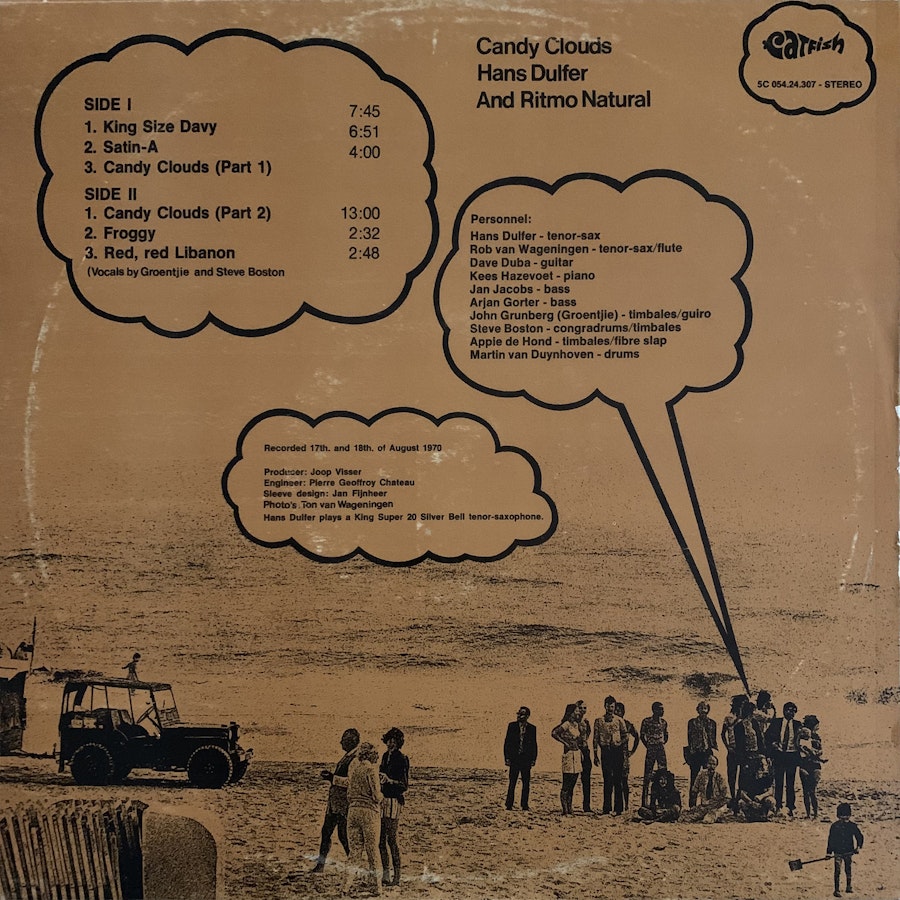 Then we made Candy Clouds. I don't know if you have seen the sleeve for it. The people were organized by the publicist at EMI. They said, "Go stand on the beach. It is nice to do that." And I had no time to do it. I said, "Okay. Let the band go out there. You can do all those kinds of things." But they said, "But you have to come, too." If you see the cover of the LP, you see me standing, the only one who was really well dressed. 
It was my car salesman dress. I went to the beach, but I had no time to change my clothes. I come there and I'm afraid the people wouldn't know who I was, being with all those badly dressed guys. On my side is my wife with Candy on her arms, who was just born. That is why I called the record Candy Clouds. 
Joop came to me, "We have to make a single." I knew a danceable tune that we played with Ritmo Natural ["Red, Red Lebanon."]  I made the intro alone on my saxophone to make it impossible to ever come on the Top 50. [laughs] That was the reason. 
Then I let him sing something. For twenty years, I never knew what they were [saying] there. Also, I also wanted to make trouble with the people. I smoked at that time a lot of Red Lebanon [hash]. I liked that very much. That's why I called the tune "Red Lebanon." I thought, "That's a good way to make the tune not popular." [laughs]
It became very popular. I had to play it for a long time afterwards. Even with other bands, you know. They always ask me, "Can you play 'Red, Red Lebanon'?" Because of Lebanon [the country]. A lot of people nowadays, you have to explain what is Lebanon.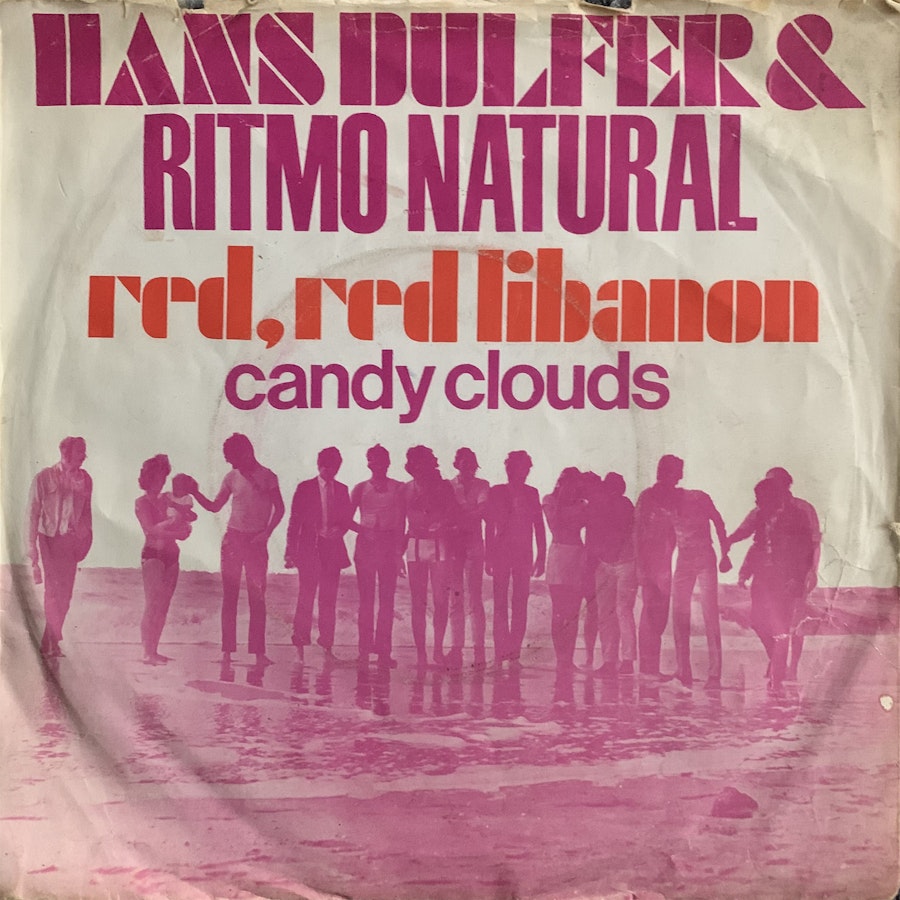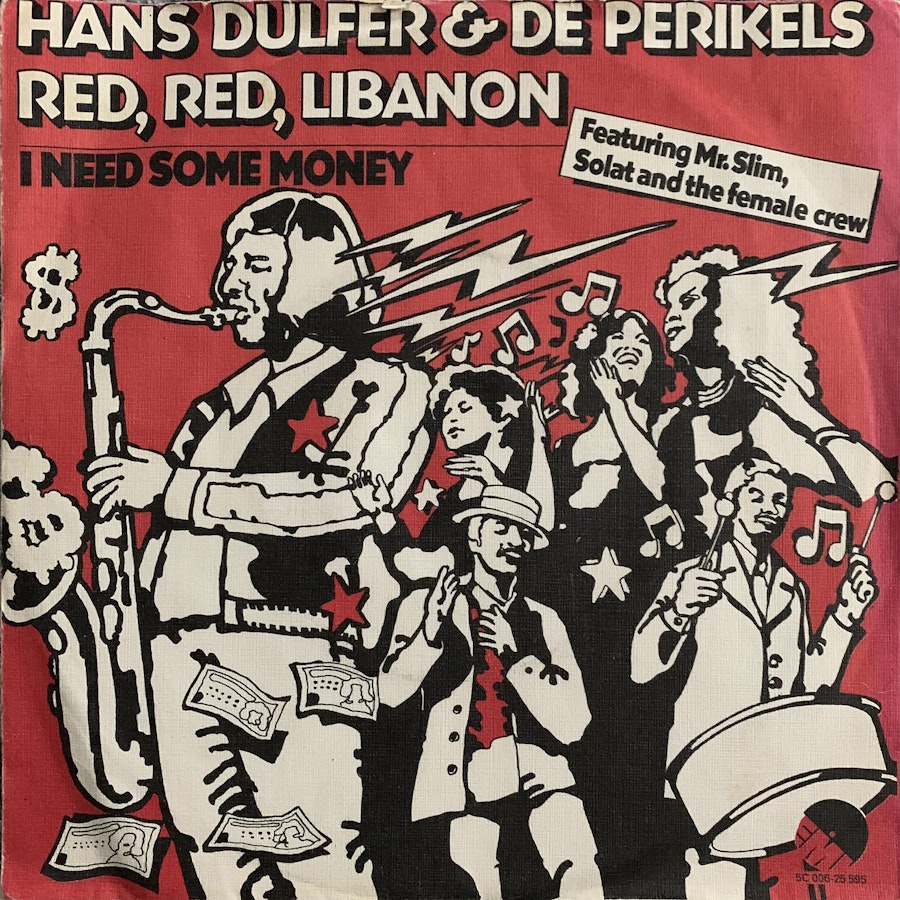 Ritmo Natural wasn't always available to play with Dulfer, as the group played their own gigs and the members individually. That led Dulfer to other discoveries. 
There was also another group in Holland, Solat. They were one of the only groups that played funk at the time. They played really good funk, and they had good musicians, a very good singer there, too. Then the drummer from that group came to me and offered me the whole band. That became the Perikels.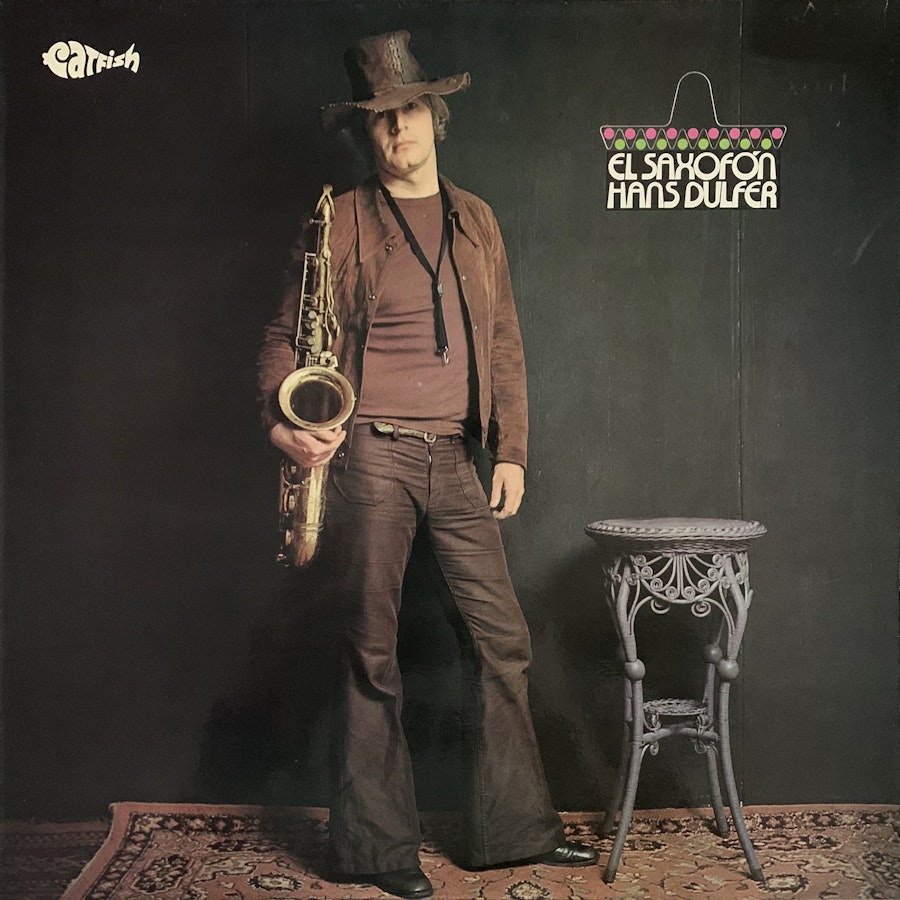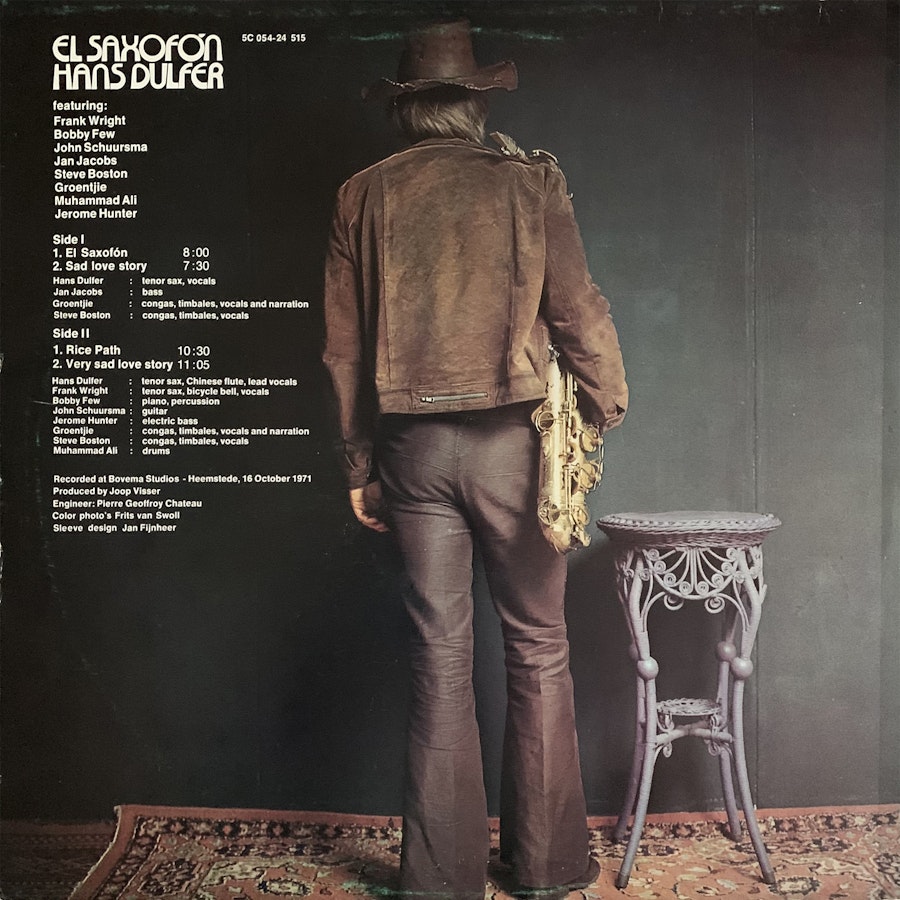 The final album for Catfish was El Saxofón, the recording presenting the two sides of Dulfer's musical persona. One side featured his collaboration with the members of Ritmo Natural, while the other had Dulfer amongst American free jazz legends, including saxophonist Frank Wright, drummer Mohammed Ali, and pianist Bobby Few, who had come to Paradiso in July 1970 with saxophonist Noah Howard. 
EMI asked me to do a new LP. I tried some things after Candy Clouds, but they didn't work. I remembered I had done a recording with the Dutch Broadcast Company for All of the World (Wereldomroep). They asked me to play a concert.
I already had an LP out. Should I do that again or not? Then I suddenly remembered that I made a very crazy recording for that big broadcast company. I thought, "Maybe, if I can get this recording back, then I can use that for making a new LP." You see, I was very smart already, at that time. My famous car seller mentality. 
I called that company and said, "You never sent me a tape from that concert I made with Ritmo Natural. That was such a good concert. I want to hear it." "Yeah, Dulfer. We'll send you a tape." They sent me the tape. This tape I brought to the office, so I had the one side already filled. Stealing from the big broadcasting company. Later on, I sent it back. I said, "Thank you. I listened to it and made a cassette from it." Maybe, they never listened to their own broadcasts. 
The other side I made with the Frank Wright Group because they wanted to make some extra money and I could give them some extra money from the record company. Frank became my friend. I was his friend, too, because of the way he played. Those chains on the stage and making loud music and singing and screaming and everything. It was fantastic. The idea was to make a double LP. The double LP is made. But not out. 
Dulfer remained busy in the outsider jazz and improv scenes in Holland through the mid-1970s. He was one of the principal movers in the establishment of the Bimhuis performance venue in October 1974, booking the space for a time before his tax situation forced him to stop. 
After that, the saxophonist turned to his Perikels band and a more commercial sound, alienating him from his former musical conspirators. Dulfer continued to build an audience, including diehards in Japan. His wide-toned tenor can still be heard regularly all throughout the Netherlands, as he still tours unceasingly, including performances with his contemporary jazz star daughter, Candy Dulfer.