When Steve Arrington embraced life as a servant of his savior, the Lord Jesus Christ, in the mid-1980s, he recalls how his record company, Atlantic, was wary. "Oh, you into Jesus now?" was its response. "That's cool." 
After all, musicians—and artists, in general—can be fickle, or quirky. Maybe this was a fleeting fancy. It could just be a phase, like the inmate who finds solace in the arms of Allah, but backslides on parole. Some of Arrington's bandmates also thought this was the case, but he knew different. He felt different. "I was just totally enthralled in wanting to know more about God," he says. "Period." 
After leaving the music business indefinitely a few years later, Arrington was less sure. One day he would be confident, the next week, scared to death. The response among his friends, relatives, and industry circle also varied. Some were feeling the spirituality-centric transition, saying he was doing an amiable thing that would earn the respect of his hero, John Coltrane. Others told him, "You done went crazy…word in the street is, 'Steve trippin'.' " 
Life at the time, it seemed, had brought the drummer-turned-lead-vocalist far from where he was just a decade prior as a member of Slave. During the band's late-1970s to early '80s peak, there was a sentiment that on paper, Slave was one the most talented bands in the world, pound for pound, in any genre, according to Arrington. The group hailed from the southwestern Ohio working-class town of Dayton, where an R&B lineage rests only among the invention of the cash register and the birthplace of modern aviation in renown. Few regions anywhere compare to Dayton in per capita funk fortune, which includes the Ohio Players, Roger Troutman and Zapp, Walter "Junie" Morrison, Heatwave, Lakeside, Sun, Faze-O, Platypus, and Dayton (the band). Arrington gives some credit for the power of the local Black music scene to the influence of James Brown, whose earliest recordings were for King Records and its Federal subsidiary in Cincinnati, about an hour's drive south of Dayton on the Ohio-Kentucky border. 
More important than the influence of Brown was the presence of the Ohio Players, and the music curriculum that was a staple of Dayton's public schools. The Ohio Players were Dayton's first major music act, and even at the peak of the band's success, the working-class city remained its home. "You'd figure they would move to L.A., they would move to New York, they would move to Chi-Town," Arrington says. "For them to come back home to Dayton, in this small area, and to have access to cats on that level of creativity, we went back to the lab."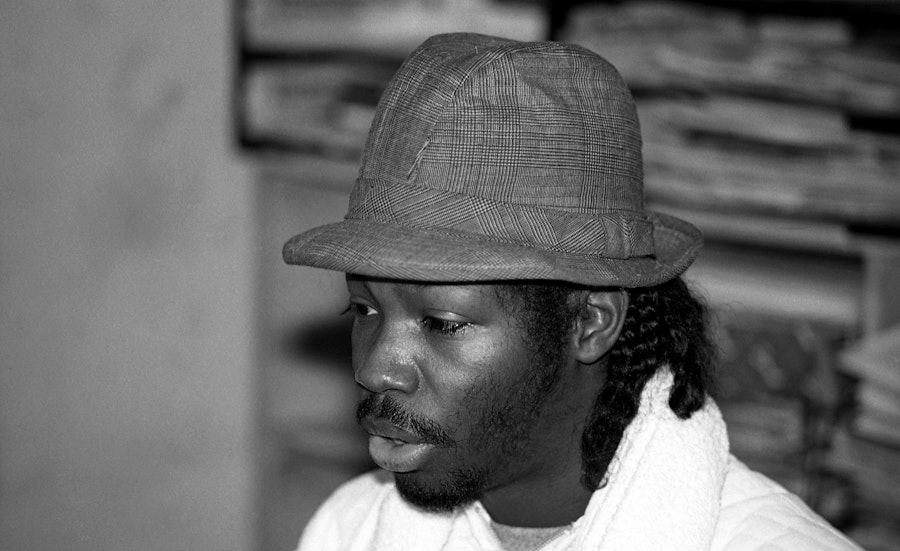 The "lab" in Dayton could be anywhere—street corner, basement, music hall, or garage. For many of the city's youth, it was the neighborhood public high school, which "functioned as the institutional foundation for Dayton funk," according to Scot Brown's "A 'Fantastic Voyage': Funk Music in Dayton, Ohio and the Politics of Desegregation," a conference paper presented in 2004 at the annual meeting of the Association for the Study of African American Life and History. The Ohio Players were a generation apart from the local acts that would follow them, but what these younger artists didn't pick up from their elder mentors, they learned at four of the city's high schools—Roosevelt, Dunbar, Roth, and Jefferson—which "all had extensive music programs," according to Brown, "and in some cases required courses in music theory as prerequisites for participation in intramural choirs and marching bands." 
Arrington, born into an oft-traveled military family, attended four different high schools before settling at Roth for his senior year. He began performing in a band called the Young Mystics with underclassmen Mark Adams, a bassist; horn player and percussionist Floyd Miller; and saxophonist Tom Lockett Jr. The four would join guitarists Mark Hicks and Danny Webster in the band room during sixth period at Roth to woodshed and talk music. Arrington also was in a jazz-fusion band at the time with keyboardist Carter Bradley, with whom he would discuss venturing out to California. As a senior, however, his future was more immediate, and despite a wealth of musical talent, Dayton lacked a business infrastructure to provide the proper support. 
"Dayton did have these smaller labels, but by the time the Dayton scene really kicked in, those smaller labels were gone," Arrington says. Both Lakeside and Platypus relocated to California before him, as did Solar Records songwriter Dana Myers, also a Dayton native. Arrington followed suit, moving to San Francisco and joining a band led by percussionist Coke Escovedo, who would become a mentor. He would go on to play with Escovedo's older brother Peter and his niece Sheila—Sheila E.—during his time in the Bay Area until he received a call from Adams and the newly formed Slave, who already had a hit in "Slide" off their 1977 self-titled debut album. The group was planning a drum chair move and was reaching out to their hometown brother.
After finishing an all-star tour with the Escovedos, Arrington played percussion with Slave on the Hardness of the World tour, followed by drums on "Stellar Fungk" from 1978's The Concept LP and became entrenched, bringing some of the Latin flavor he learned on the West Coast to the Ohio sound. "I was just so down because I had been in this heavy, powerful salsa thing that was so mighty, [that] I was just ready to do anything," Arrington says. "If we could have thrown bricks against the wall and made that funky, I would have been down, because my head was just so wide open musically after being in that environment."
Carlos Santana was a featured guitarist alongside his brother Jorge Santana and Ray Obiedo on Arrington's last tour with the Escovedos, so rhythmically, "it was so sick, there were nights I thought I was going to jump off the drums and take off running," Arrington says. "So when I got in Slave, I was buck wild with it… Melodically, I didn't care, because I had been in such a music environment that encompassed all of that."
Trumpeter Steve "Stevie" Washington was Slave's de facto leader, according to Arrington. Washington was originally from New Jersey and the nephew of Ohio Players horn player Ralph "Pee Wee" Middlebrooks. While living with Middlebrooks in Dayton, he began performing with Adams in a band called Black Satin Soul, which, along with the Young Mystics, morphed into the original Slave lineup. "Stevie was a forerunner to Prince in a lot of ways in understanding the studio," Arrington says. "We were funky, but Stevie understood the studio.
"What Stevie was able to do, he heard everybody's specialty and he was able to build a nice cocoon around what you did best, and then push it to the forefront," Arrington continues. Record companies heard the funk and the intensity, but needed radio-friendly hits, so famed Atlantic Records producer Jimmy Douglass took over on 1978's Just a Touch of Love, the first album to feature the vocal trio of Arrington, Curt Jones, and Starleana Young. Arrington, however, was originally recruited to play drums—singing wasn't part of the plan. "Adams and those guys knew I could sing, but that wasn't the primary reason I was in the group," Arrington says. "That sort of came as a bonus."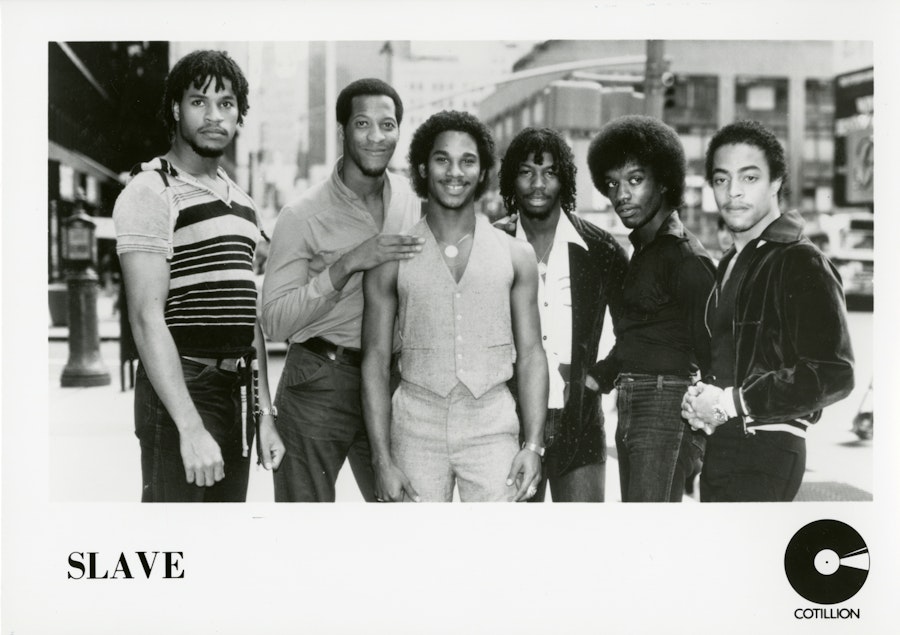 Slave had the right people in the right places for renewed commercial success, led musically by bassist Adams. In the studio, the band would play as if it were playing live, and "I've never heard bass come through the speaker and grab you like that," Arrington says. Adams, who passed away in 2011, was a monster virtuoso on his instrument, and the force behind the Slave sound during all stages of the band's existence. "Stevie featured him and pushed him out front like that," Arrington says. "Mark is doing all of this stuff on the bass, and the pocket doesn't move one iota." 
The songwriting process was collaborative. Ideas emerged from jams that turned into songs, or from someone bringing in a bass line, guitar part, or groove. Washington heard things and made them fit, and in the midst of Adams's and the band's driving funk, Arrington, Young, and Jones stepped to the microphone and glided and soared inside and above it all. There was enough differentiation between everyone that "Star sounded nothing like me, which sounded nothing like Curt, which sounded nothing like Danny, which sounded nothing like Floyd," Arrington says. "Since we were so different in that way, it made it easier." 
"There wasn't a lot of ego in that respect, because we knew we were doing something special," he adds. "We knew that what we had going was for real." 
Washington, Jones, and Young left the group to form Aurra after 1980's Stone Jam, Slave's highest-charting album since their debut. "That was a major blow," Arrington says. "As they say, that was the first crack in the wall, and it was a big one." The issue, according to Arrington, was a lack of consistency in management and personnel—a problem that had plagued the group since its debut. Even while they were hitting on all cylinders, there were money issues and a revolving door of handlers and band members that made it difficult to bring the business together for such a large collective.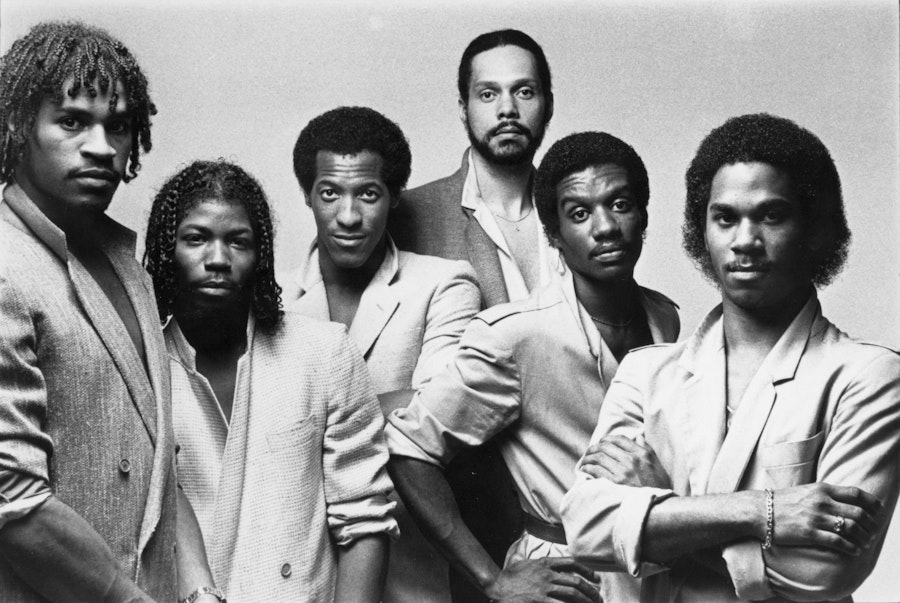 "We were able to recover and put the pieces together to keep the inertia going, but you can only make it so long doing that, because if the right pieces don't come in as the important pieces start to go, uh oh… And that's what happened," Arrington says, adding that Washington, Jones, and Young felt the same way. Furthermore, Arrington, Jones, and Young all originally joined Slave as sidemen. They became increasingly important to the group, but they were never officially signed as full-time members. Now, in the wake of their departure, Arrington's role was expanding, but he was still a sideman earning sideman's wages. Slave was at its commercial and creative peak, yet key members of the band were walking around broke.
Arrington declined an invitation to leave the group and join Aurra. "I told them I'm going to stay with my Dayton homies," because for him, Slave was not just a band, but a movement—and family. "I would have added another color [to Aurra], but I knew they had heat," Arrington says. "I knew they were going to be all right, because they had the talent to start over, but we had the name in Slave and this monstrosity to maintain." Arrington genuinely wanted to stay, but without a leader in Washington, and with the business in such chaos, Slave was in trouble after 1981's Show Time.
"We never recovered from when Stevie left," Arrington says. "We never recovered emotionally." Washington helped craft hits, and Slave was now trying to recapture past glory with new leadership and a new cast. Arrington was a drummer who could sing at the start of his career, but by this time, thought of himself more as a singer who played drums. He also was writing and hearing things that wouldn't fit into the Slave formula—sounds like "Way Out," from his solo debut, Steve Arrington's Hall of Fame I, and broader strokes about where he thought funk music was going. Arrington still had love for the music Slave was making, but with the group in disarray, he decided to leave while the feeling was still good.
In forming the Hall of Fame band—which included guitarist Kevin Eubanks, who would go on to be bandleader on The Tonight Show with Jay Leno—Arrington was able to bring other sidemen like him into lead roles, and musically, "bring all these different influences and different things that I always wanted to do," he says. This included a penchant for jazz and a spiritual and uplifting lyrical side rarely seen in the sexy, party vibe of Slave. Atlantic told him that if he did "Watching You" (a top-ten hit from Stone Jam) again, he'd be set, which he understood. But Arrington felt the need to do something different, which is something he says record companies don't understand about artists. He sees artistry from a jazz perspective because the story is still being written, and won't be told until it's over. 
"My body of work will show my journey as a human being, rather than the product of a company," he says. 
While Slave fans were dancing to "Watching You," Arrington was immersed in Igor Stravinsky's The Rite of Spring and the catalogs of James Taylor, Yes, Aaron Copland, and Hank Williams. But as open as he was to other genres of music, he was even more open to the awareness of the divine growing within him. The unabashed positivity in songs like "Nobody Can Be You" and "Pocket Full of Air" (which was the B-side of "Way Out") signaled an organic progression—a progression that Arrington wasn't going to let come to an end because it wasn't good for business. When he embraced his spirituality, he took it seriously, and it took front and center in his life. After two Hall of Fame and three solo albums, Arrington was done with popular music. 
"That run was over," he says. "I had nothing else to say."
Arrington walked away from the game with no regrets. His love for God and his desire to know God was similar to how he dove headfirst into music by moving to California at age nineteen. "I had done major things to make it in music, [so] I couldn't give God any less than that," he says. He threw all of his albums away and refused to watch secular television. He stomped on his gold record commemorating the sale of 500,000 units of Stone Jam and asked, "What's the gold record in my life that's keeping me away from my God?" The star turn was over. Arrington had nothing else to express. Anything more would come out of his knee-deep plunge into religion. 
He didn't speak again as a commercial artist until nearly twenty years later, after traveling the globe preaching the Word and playing drums behind gospel choirs. When his heart started tugging and told him to get back out and create music for the people, he followed that path, just as he had done almost two decades prior. In that time, Arrington realized that love was the bottom line, and through his music, he would be an agent of love. He returned to recording in 2009 with Pure Thang, and subsequent collaborations with younger generations of artists and performances for audiences half his age revealed that he's still feeling funky, and still has something to say—notably 2013's Stones Throw album Higher with Dâm-Funk.
"I'm pops now," Arrington says. "I just want to show somebody some love, and I want to do it the way I know how."
My body of work will show my journey as a human being, rather than the product of a company.