Gil Scott-Heron is heavily regarded as one of the most prophetic, groundbreaking artists of any era. Born in 1949 in Chicago, Illinois, he spent his formative years in Jackson, Tennessee, being raised by his grandmother. Under her tutelage, he received weekly instruction on learning the mastery of the written word and her affinity for consuming music. At the age of eleven, he began playing the keyboard and wrote his first short story. A year later, his grandmother died, and he returned to his mother's care in the Bronx, New York. From the outset, he was a proficient wordsmith, and his gift was recognized early on by one of his high school teachers. Shortly thereafter, he was granted a full scholarship to the Fieldston School in New York City. By the time he turned fifteen, he joined his first band and performed around the city playing covers of Top 40 hit records.
Once he graduated from Fieldston, he followed in the footsteps of his literary idol Langston Hughes, when he made the decision to attend Lincoln University, the famous historically Black university in Pennsylvania. During his freshman year, he met his longtime friend and collaborator, the multi-instrumentalist Brian Jackson. Immediately, they found a kinship through music and began crafting socially and politically conscious and Afrocentric material in their group called Black & Blues. In 1969, Scott-Heron took a leave of absence from college life to focus on writing his first novel, The Vulture, and a book of poetry, Small Talk at 125th and Lenox. They were published simultaneously by World Publishing. Because the publishing company had a deal with Flying Dutchman Records, it led to Scott-Heron being introduced to the label's founder, veteran producer Bob Thiele, who'd recently left the Impulse label.
The following year, in 1970, with production assistance from Thiele, Scott-Heron recorded his debut album, a spoken-word version of Small Talk at 125th and Lenox, at RCA Studios, backed by percussionists David Barnes, Charlie Saunders, and Eddie Knowles. The songs gave an insightful glimpse into the harsh realities that America, and in particular Black America, was facing at the beginning of the 1970s, as well as introducing the world to Scott-Heron's spellbinding baritone voice. With the unexpected success of Small Talk at 125th and Lenox, Scott-Heron was given the opportunity to release his second album, Pieces of a Man. This was the first time Brian Jackson featured prominently as a collaborator. At the request of Scott-Heron and Jackson, they wanted to collaborate with some studio musicians to advance the quality of their sound. Through Bob Thiele's industry connections, they were paired with legendary bassist Ron Carter, drummer Bernard Purdie, conductor Johnny Pate, flutist and saxophonist Hubert Laws, and guitarist Burt Jones. This collaboration placed them in esteemed company and launched their musical career.
Recorded on April 19 and April 20 of 1971, Pieces of a Man elevated the profile of the groundbreaking duo. The eleven-song offering ventured into an array of topics, ranging from the complexities of being Black in the United States to embracing joy and freedom of expression. It expanded their jazz and blues influences, but it also showcased Scott-Heron's singing ability for the first time, as opposed to the spoken-word poetry of his debut. Pieces of a Man is a masterpiece, but it was also a jumping-off point for the duo, who went on to create a number of classic works of musical and sociopolitical art, like 1972's Free Will, 1974's Winter in America, 1975's The First Minute of a New Day and From South Africa to South Carolina, 1977's Bridges, 1978's Secrets, and the Malcolm Cecil– and TONTO–assisted synth-funk classic 1980.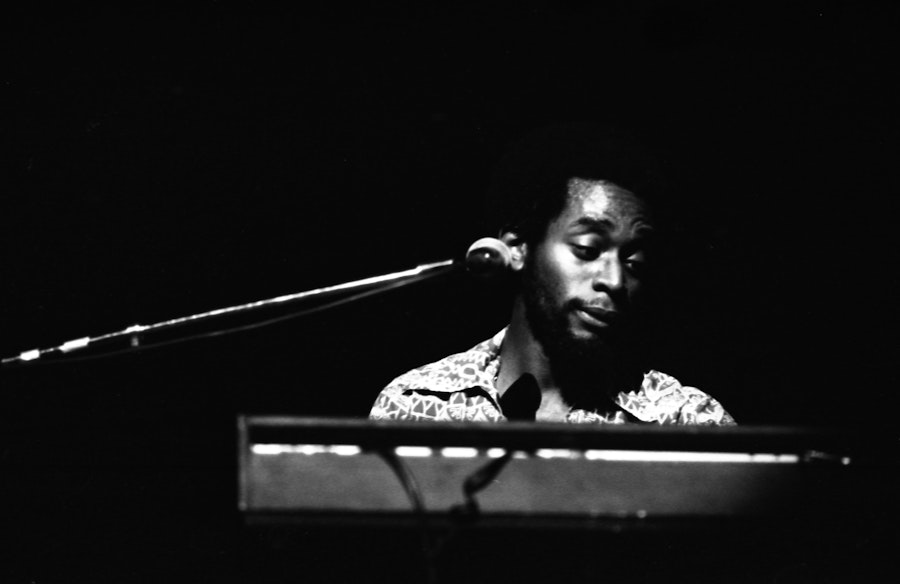 When and where did you and Gil Scott-Heron first meet? 
Brian Jackson: We met because we were both super students at Lincoln University, which meant that, even though we were enrolled, we never went to any classes. [laughs] I got fed up, man. I just got fed up with the curriculum immediately. It didn't take long. I knew I had made a mistake. I wanted to go there because Langston Hughes went there and people like Oscar Brown Jr., Thurgood Marshall, and Kwame Nkrumah went there. This is what I had in my mind when I went there. When I got there, I had just finished fighting for a Black curriculum in the Black history department at Erasmus Hall High School in Brooklyn, New York, where I went to school. So seventeen-year-old me was thinking this was a Black school, and I get in the class and the first thing this professor told me was we were going to talk about the lexicon. I said to myself, "What are you talking about?" He started breaking it down. A lexicon is a list of the most important writers and artists from previous centuries up until contemporary times. I'm thinking, "Okay. All right. Cool."
Then, he showed us the list of the people he was going to talk about. He went up into the mid-twentieth century, and not one Black man or woman was mentioned. No Duke Ellington, no Louis Armstrong, no James Reese Europe, no Bessie Smith, no Billie Holiday, no John Coltrane, and no Fletcher Henderson. I was like, "No Duke Ellington? What the hell is going on here?" He could have put Alexander Pushkin in there somewhere, you know? He had the opportunity to do that and try to make it relevant to the people who were sitting in front of him. I got pissed off about it, and I confronted him on it. At the time, nobody else stood up with me. I was thinking to myself, "Man, I'm going to have to stay here for three months and listen to this fool rattle on about half of the picture and probably inaccurately at that." I told him, "Look, man. Let me tell you this: I'll take the test. Just give me the test." He replied, "No, I can't do that. You are a freshman. You got to attend classes. That's the rules."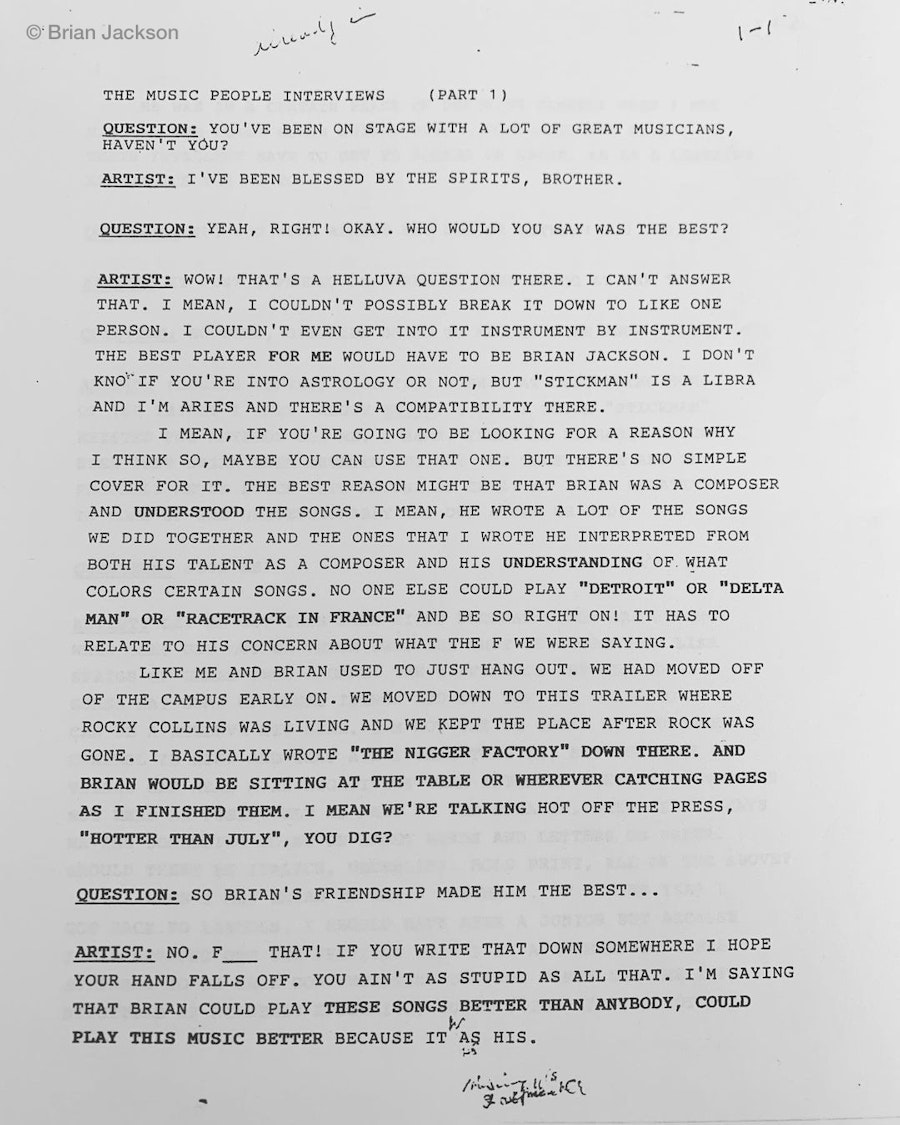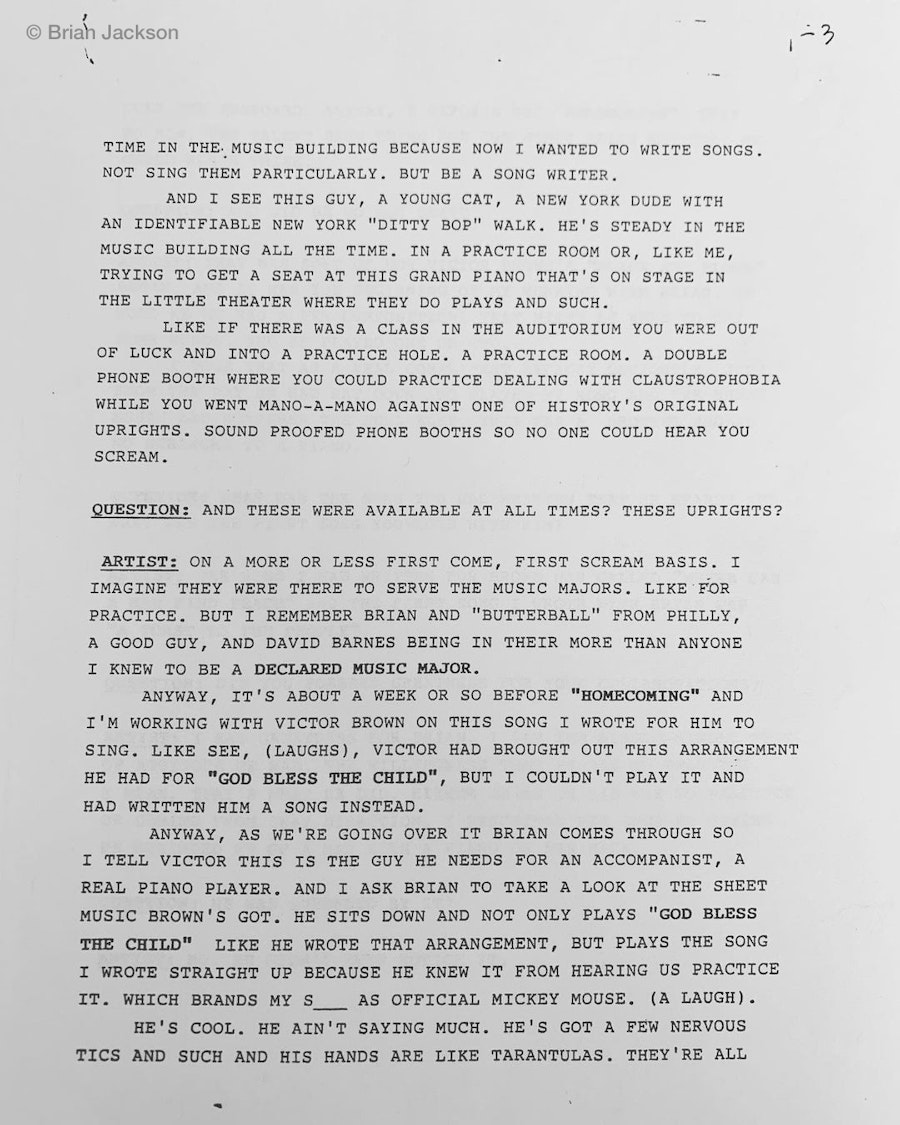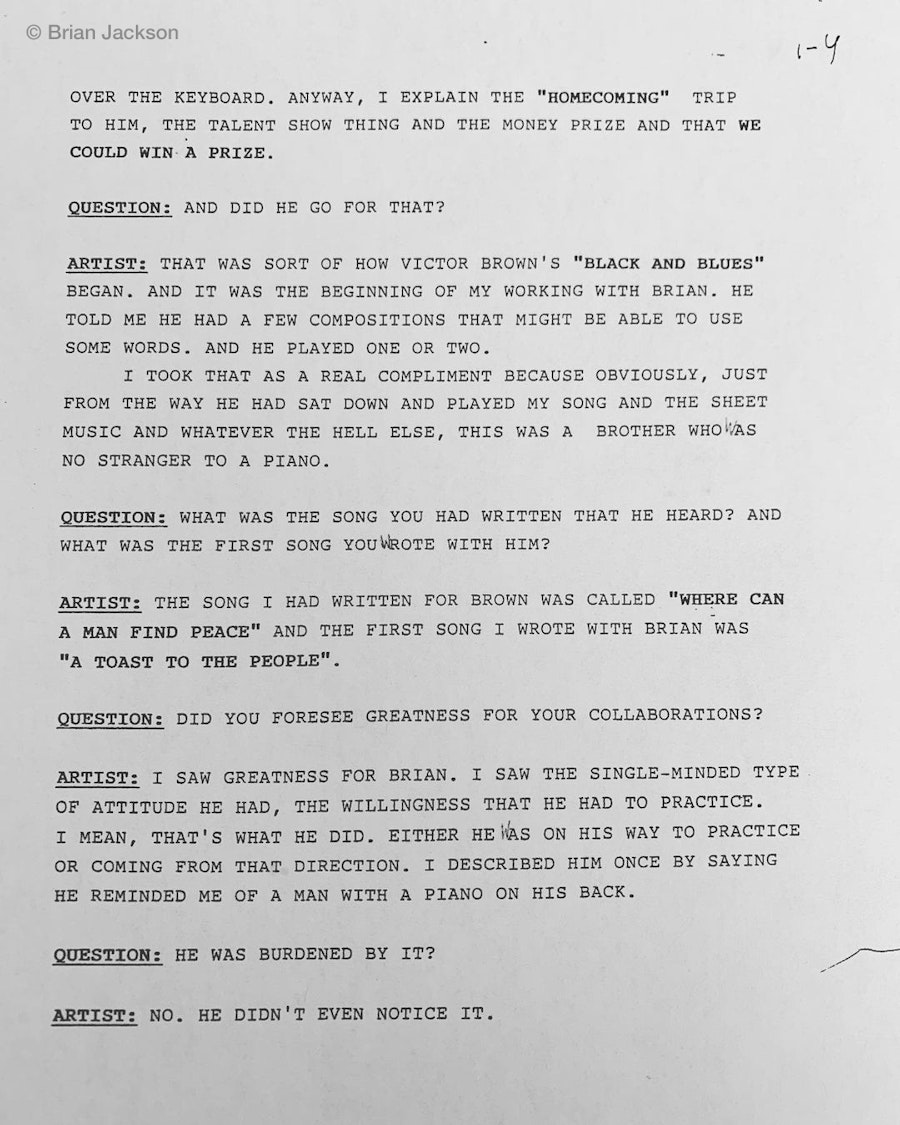 I went all the way up the ladder. I explained it to the dean. I explained my ideological differences and everything. He said to me, "No, no. That's not how we do it here. This is an academic institution." Blah, blah, blah, and all this. I was like, "Okay, I get it. I see what I landed myself in." Then, I was depressed. I was using my dad's life insurance money. He had just passed away, and I was using his money to go directly to that school. I was feeling guilty because I couldn't do it, but I couldn't go home either. [laughs] When I was depressed, I would write music. It would be some of the best times for me to play. It really helped me. It was my therapy. I used to break into the chapel or the auditorium at Lincoln University and go in the practice room during the daytime, and I would just play my heart out, write songs and stuff.
One day, this guy came in the room, and he asked me, "Hey, man. You sound pretty good. Can you do this talent show with me?" I replied, "Yes, what do you need?" He said, "I want to do 'God Bless the Child.'" I said, "Hey, cool. I know that one." He asked, "Yes, but do you know the Blood, Sweat, and Tears version?" I responded, "Is there any other?" [laughs] That was the only one I knew that actually was an arrangement. I said, "Okay. Let's do it." He was like, "Yes, man. Cool! So, we're doing this talent show?" I answered, "Yes, but are you only doing one song?" He replied, "No, I'm doing another song." I asked, "What is it?" He answered, "It's this song my brother wrote for me." I asked, "Where is your brother?" He answered, "He's in the next room." I said, "Let me meet him, man." He brought him around, and it was Gil Scott-Heron.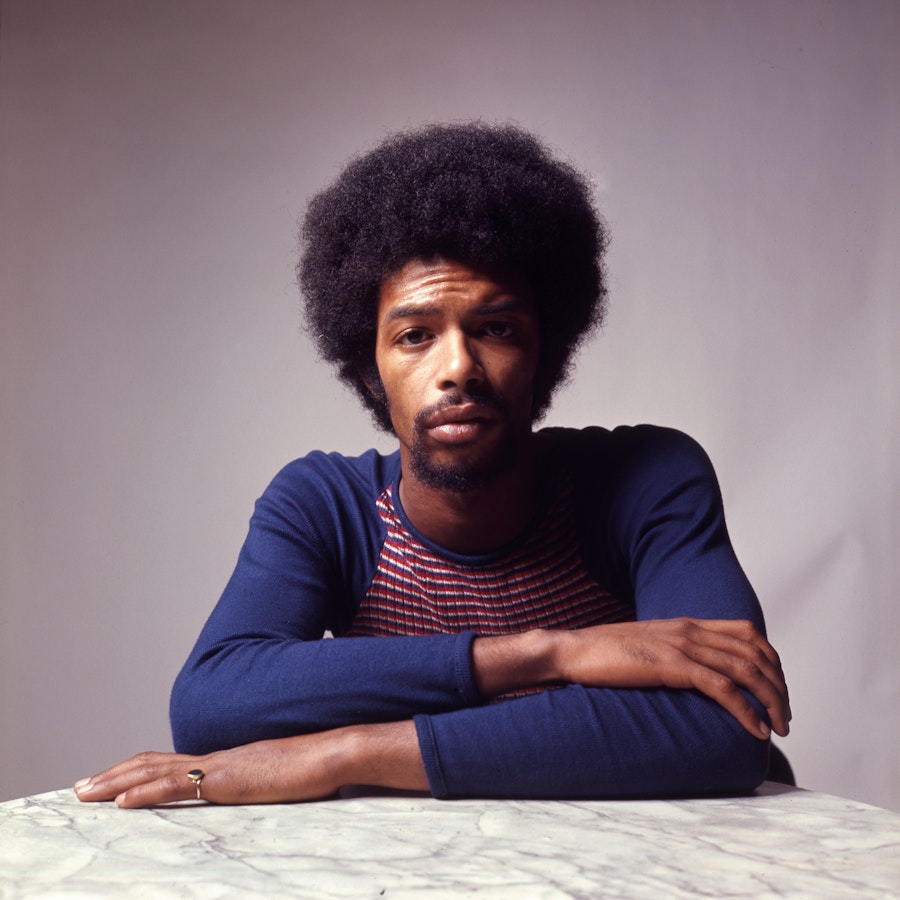 Gil sat down to play the other song. It was a song called "Peace," which he never released. It was actually released as a bonus track many years later. After I heard it, I said, "This is really interesting." The lyrics, to me, sounded like an old man had written them. I was a poet. I was writing poetry, and I was writing lyrics for some of my songs, but it was taking so long. I thought to myself, "Man, I need to off-load some of this work." I asked him, "Hey, man. Would you be interested in writing some songs and some lyrics to some songs I got?" He answered, "Yes." I said, "Here is one." I played it for him. He asked, "What you been thinking about when you wrote that?" I said, "I don't know. I think I raised my glass to the people who came before us, the fighters, people who fought for our rights and justice for our people. It's just a salute to them."
I played it again, and he wrote some stuff down in a notebook. He said, "Play it again." I played it again, and he wrote some more stuff down. He got together with Victor, and they worked on the melody. He said, "Play it one more time." I played it one more time, and at the end of that, it was officially our first song, called "A Toast to the People." That's how we met. That was such a successful song in my mind, and I guess in both of our minds. We said to each other, "Let's try to do this with some more jams. We'll see what happens."
I had a bunch of stuff, and he had a bunch of stuff, and I don't know, man. I guess, at some point, we ended up just writing together. He was so fluid at it. He wrote lyrics in pen. That's cocky, right? He wrote lyrics in pen because he wasn't going to necessarily be changing too much stuff.
That's dope.
That was cocky in a good way. He barely needed to change anything, to be honest. His ex, Monique, told me the other day that Gil told her one time, "Brian is a great poet. The way Brian writes, he's lyrical. Me, I just write shit." [laughs] I've thought about that. First of all, it was a tremendous compliment to me when Gil Scott-Heron tells someone you're a great poet. Second of all, posthumously, I still had to address the fact of him saying, "I just write shit." When he said that, it just reminded me of him writing lyrics in that book with a pen and never having to erase it. My response to him would've been, "You just write shit and it's a masterpiece." [laughs] He wrote shit, and it was better than the shit that everybody else wrote, who spent days and months and weeks working on their stuff. You know? That was how we got together, man.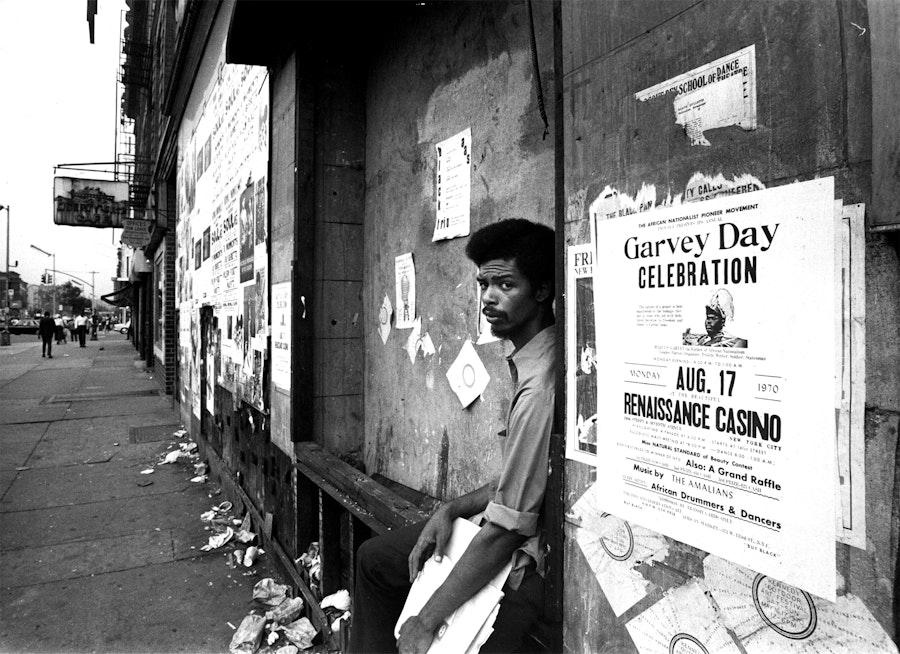 How were you all approached to do Gil Scott-Heron's debut album, Small Talk at 125th and Lenox?
It was because Gil had that book of poetry out, and Bob Thiele was starting a new label. He had all spoken-word stuff on there. I don't know if you've ever looked at that Flying Dutchman catalog, but on their early stuff, they had people like…[New York Post columnist] Pete Hamill [1970's Murder at Kent State University]. He had all kinds of people doing albums [like Stanley Crouch's Ain't No Ambulances For No Nigguhs Tonight, 1969; H. Rap Brown's SNCC's Rap, 1970; and Angela Davis's Soul and Soledad, 1971]. Basically, it was just them talking. I don't even know if there was music on a lot of them. This is what he was going for. He was probably one of the first spoken-word pioneers, as far as recordings, because it was cheap. You didn't need to spend a lot of money. He made albums. Then he saw [Gil's] book, The Vulture. I don't know actually how he got a hold of that, but somehow, he got ahold of it. He wanted Gil to recite it. That was that. But Gil told him before the smoke cleared, "Look, man. I'm writing songs now. I'm not really writing just poetry anymore. I'm writing poetry and music with my man, Brian. I'm not really down to do three albums of poetry." Thiele said, "Tell you what. Do this one. If it does anything, we'll talk about it."
Within a few months after the release of Small Talk at 125th and Lenox, Bob Thiele called Gil up, and he called us into his office. He said, "Okay. You want to do some music?" We answered yes. He said, "Okay, sit down and let's talk about it." I sat down at the piano, because he had a piano in his office. I said, "We're going to play you a couple of songs." We played him three songs. At the end of it, he said, "Who do you want on the album?" We told him we had a long list. Our list looked like a Steely Dan album. If it had just been us, who knows? I don't know. Maybe it would have been a different road altogether. But he got us Ron Carter, Bernard Purdie, and Hubert Laws. It was done.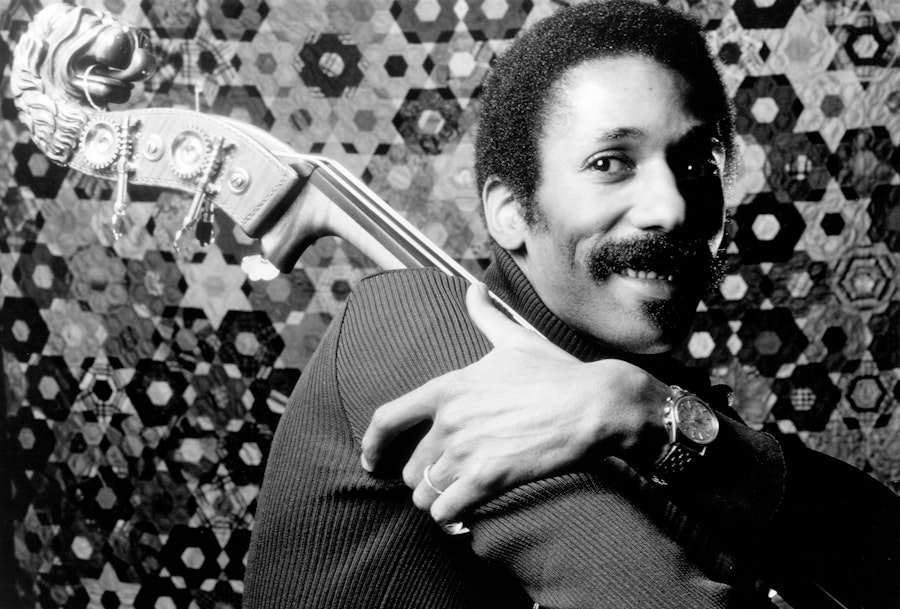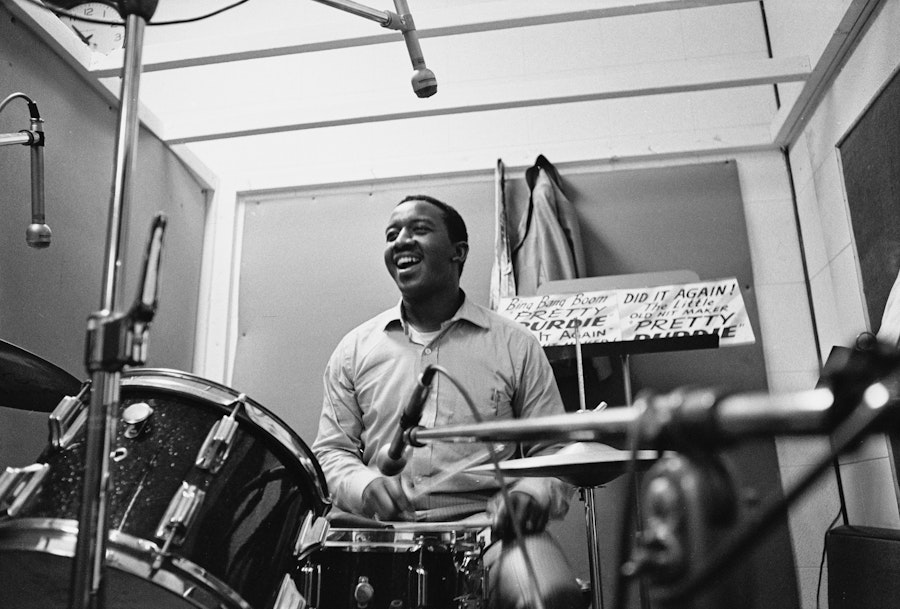 Bob Thiele brought them aboard after you requested to have them on the album.
Yes. We requested a lot of people, but we didn't get all of them. I don't think we thought about Purdie because we were thinking, man, this is kind of jazz. I don't know what we were thinking, but we were thinking maybe it would've needed to be more. I don't know. Bob's choice of Purdie was brilliant. I don't know how many albums Ron Carter actually played with Bernard Purdie on, but that was brilliant. Think about it. Ron came in with his bass and his electric bass. There might not be a dozen people on the planet who Ron recorded electric bass with. What an honor. Hubert Laws came in with his flute and an alto sax. I asked him, "You play alto sax?" [laughs] He answered, "Yes, I mess around with it a little bit." He picked the thing up and sounded like Ronnie Laws. I couldn't believe it. These guys pulled out all the stops for us.
What was it like working with those three legendary musicians on this particular album?
Mind you, I was nineteen. I had heard about these guys all my life. I was an album liner notes reader. This was when albums had the personnel on there and everybody was listed. I was reading these albums. I was looking at… Aretha Live at Fillmore West with Purdie leading the band with King Curtis… I mean, come on. Bernard Purdie playing on Yusef Lateef's Detroit and killing it. 
Then, of course, Ron Carter. I'd been listening to Ron walk all the way around the world with Miles Davis. I kind of knew that he played electric bass, because I think there was one album that he played [electric bass] on [for] Miles Davis [1969's Filles de Kilimanjaro]. He played bass on some of those cuts. But really? Then, Hubert Laws. Come on, if you listen to CTI's catalog at all, you've got to know Hubert Laws, because he was all over everything. Bob [Thiele] also hired somebody to be the conductor because he didn't know if I was going to freeze up, or if I could even communicate musically to the other musicians.
He got Johnny Pate. I don't usually talk about Johnny Pate, but Johnny Pate was huge. It was huge that he was there. Johnny Pate was the guy that did all that stuff with Curtis Mayfield. We had Johnny Pate sitting in. Johnny got the charts done for our music. He was sitting in front of us. I'm sure Bob [Thiele] put him there as an insurance policy. He had to pay for all these guys, and he was going to get something out of them one way or the other before we left. He paid Johnny to make sure that the other guys got what they needed. To Johnny's credit, he didn't try to take over the session. He wasn't like, "Okay, I'm the boss here." He looked at what was going on, and in the end, he decided that he wasn't going to have to think too much because everything was going along well. I think they put me on the spot. Ron was a joker. Ron had a weird sense of humor. On the second song we did for the album, Ron said to me, "This chord right here. This is C9, you've got C13. Is it dominant or sus [suspended]?" I answered, "It's sus." He said, "Oh, okay. You're sure it's not dominant? Because it could be C9. Maybe it should just be a C9." I was quaking in my boots because I was talking to Ron Carter about theory. [laughs] He had more theory in his left hand than I have in my whole body. I said, "I'll just go with whatever you say it is." He replied, "No. But if it's supposed to be a sus-chord thing, yes, then it's a sus chord." I said, "I think it's a sus chord. Yes, it's a sus chord." Then I caught him looking at Bernard Purdie, and they winked at each other with a smile. Then they both started busting out laughing. I was like, "Okay, all right, guys."
So that was Ron, but I suppose that was my test. I stood up for my music. When they saw that, I think Johnny [Pate] realized that I knew what I was talking about. I knew what I was doing, and I could communicate. He left us alone. Sometimes, the reason I forget to mention Johnny is because he made himself disappear. He was only there when he was needed to be and really didn't feel that he was needed that much. He gave everybody the sheet music. He sat in front of us, and what he did was, he cued people when there were supposed to be changes done. He did it so beautifully, because I didn't have to conduct them. I could just play. It saved a lot of time, and it was a beautiful experience.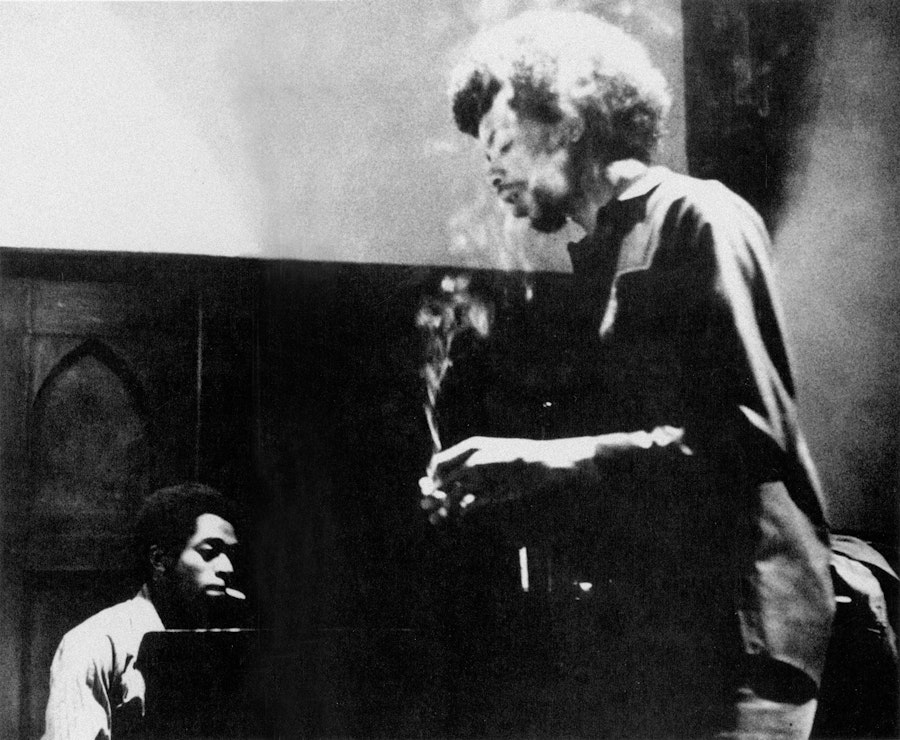 Going into the making of this album, after the success you all had with the previous spoken-word album, Small Talk at 125th and Lenox, what was your collective mindset in creating this album?
We had been writing. It seemed like every time we turned around, we had another thought. We had songs coming out the wazoo. We just wanted to get them all out. Gil could write some poems, and his poems hadn't gotten in the book and on the album. Pieces of a Man was inspired by our experiences as young Black men and being young Black men in America at a particular time in the late 1960s. Having been traumatized by all these assassinations, by the killings at Kent State and Jackson State, by the American choice of electing President Richard Nixon, the beginning of the whitelash to Black civil rights and Black Power movements. It was the aftermath of the second reconstruction. This was basically what we were in. We were just trying to deal with that. A lot of my thinking started revolving around the concept of George Orwell's book, 1984, and it was fast approaching. Richie Havens had an album out [in 1969] called Richard P. Havens, 1983, which I always thought was really provocative, and it made me think a lot about that. It made me think about how many freedoms we were losing every hour, and how much we were giving up knowingly and unknowingly, but mostly unknowingly. For example, when the poem "The Revolution Will Not Be Televised" came out. I tell kids today, "You know, the references might not be clear to them because they're outdated references, but the result is still the same. We don't have Madison Avenue psychoanalyzing this anymore, playing on our insecurities and weaknesses. What we do have is, we have the Internet, which is hardwired into our brains right now, which is even better. It's more effective."
No, the revolution doesn't even need to be televised anymore, because it's all on a seven-inch screen. It's all there in front of us all the time. It's not television, but it's still the media though; but they don't have to sell us anything anymore. They just have to play on our curiosity. You click something, and they got you. That's true. That's it. There's no need for a Madison Avenue. No need at all. It's all Silicon Valley. Everything can be done in Silicon Valley now much more effectively to reach many more people. That was the idea of "The Revolution Will Not Be Televised." Basically, we're just giving up whatever it is that we still have left, and we didn't have anything anyway, but we thought we did. 
When did you know that your partnership with Gil Scott-Heron felt right?
I think from that first song, man. What happened was, we didn't see any need to stop writing together, but also, we liked each other so we hung out. We never really thought about whether we were going to be a writing team or not, because we were friends. We loved hanging out together. More so than anything, we felt that the friendship would probably endure. It was really based on that. It was more personal than professional. We were boys, and at some point, we became brothers and became each other's family. Once that happened, then we were bonded to each other in a way that went beyond any creative output.
You mentioned the assassinations of a lot of our leaders and the tragic incidents that happened in May of 1970 at Kent State and Jackson State. Were you all also motivated and inspired by people like the Last Poets and the Watts Prophets?
Absolutely. These were the people that we looked up to, and we needed to do something on their level. I don't know if either one of us even thought we could do it, unless we had people like that coming forward to do it. [Writer] Amiri Baraka was another one. Being able to link up art, crafty lyrics, and skillfully crafted music together in a particular genre was our goal. I still couldn't tell you today what that genre is. Our goal was to write lyrics that could be more than just something to hang on a song.
What was that time period like for you and Gil Scott-Heron as young Black men growing up in the United States? 
Pieces of a Man was about how we felt going through that period of time in our lives. The futility of it all. What we saw with some of the older Black men in our community and the futility they felt in the sense of having lost their lives, even if they hadn't been killed, it could have been through drugs, poverty, lack of education, and a lack of opportunities. It was all of these things. There were so many different angles that caused us to be depressed. When we looked around, we saw the depression. A lot of the songs were about that. For instance, the title track, "Pieces of a Man." It was about a man who lost his job and lost his mind. He was a family man, and it was told from the perspective of his son. It could have been his daughter too. It was taken from the perspective of his child, watching him open the letter that the mailman apologetically brought to him, a pink slip, and watching how his father just came apart. Why did he do that? Why did he come apart? This was the stuff that the story doesn't tell. Gil was a master of telling a story without telling it.
Because he was a father and had a family, this job meant his ability to maintain his family and take care of them. Losing his job was probably one of the most maddening things in the world. To be on the edge, teetering on the edge of total destruction, homelessness, and hunger. So many of us were and still are. You know what I mean? How many of us are less than two paychecks, or less than one paycheck away from being out there on the street? Living in a tent or having to go to a shelter or something. Too many of us. Many people don't have relatives. They don't have people that can help them. There's a lot of people who can't help you, even if they wanted to help you, because they're just one step away from homelessness. 
That's what "Pieces of a Man" was about. It was about these situations that we find ourselves surrounded by, but looking at it from the inside, and taking a deeper dive into it and looking at it in the form of a story or songs like "A Sign of the Ages" or "The Prisoner." These were songs that came from the inside of where we were living and where we were at in our consciousness. We were still young men worrying about how to grow up as Black men in America. We had questions like: What do we got to go through? What have we seen? What are we going to have to deal with? What are we dealing with now? That was what it was all about, Pieces of a Man. We were looking at these pieces, and somehow, we were going to have to figure out how to put them all together and be whole.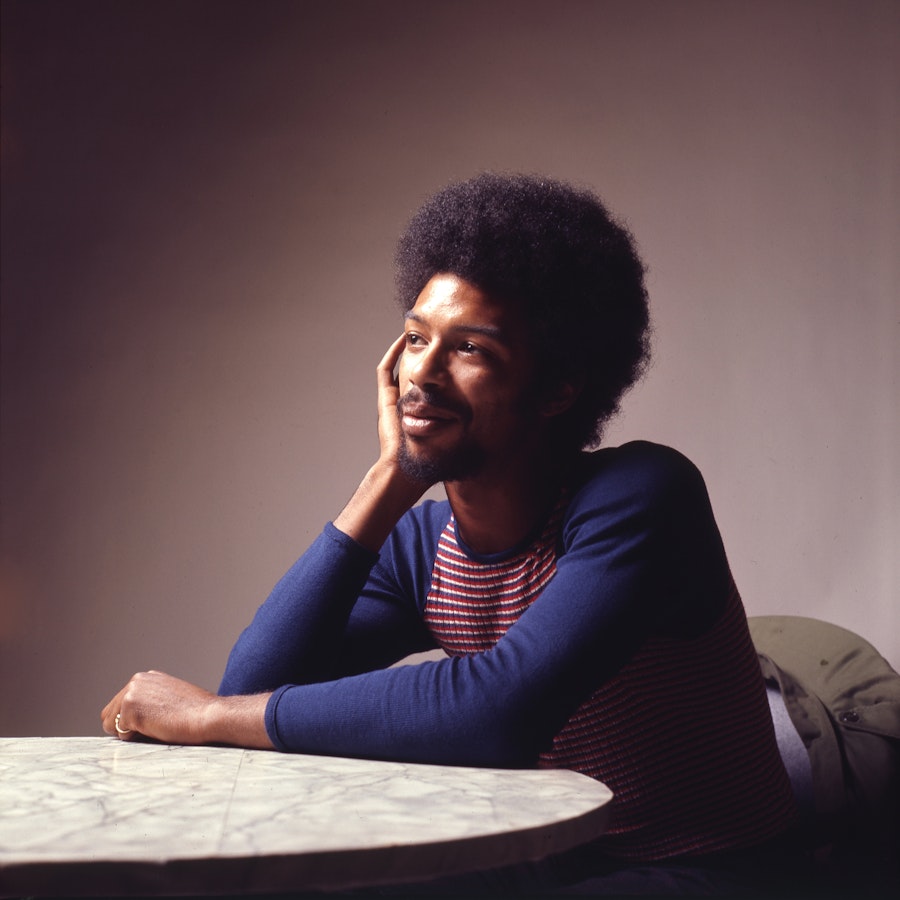 What is the story behind you and Gil Scott-Heron signing to Flying Dutchman Records?
It was a three-album deal, and it was based solely on the poetry writings from Gil. Gil didn't want to do it, because as I said before, he wanted to start working on the music. He wanted to have those writings that we were doing put out there. If Bob Thiele had not been willing to at least give us the opportunity to possibly record some of that music, I don't think Gil would've taken the deal.
Did you all get an advance to help pay for studio time because you were recording at RCA Studios?
Bob [Thiele] paid for it. Back in those days, you hardly ever paid for a studio because it was too expensive. Later on, it was our studio. We would get a budget from them. Because Bob was the producer, he paid for all of that. Bob was great. The only thing that we had a problem with Bob about was the publishing. Bob wanted to retain one hundred percent of the publishing, figuring that he probably wasn't going to make a lot of money off of these albums anyway. We weren't going to be selling any gold or platinum albums to recoup his investment, which was totally understandable, but where would that leave us like forty years from then? A lot of the older guys were telling us we had to keep something in our pockets, at least [some], if not all of it. We went in and said, "We could re-sign, but let's do a fifty-fifty on the publishing." He was not willing to do that. That was the only reason we left. But Bob was great.
What was your typical studio routine? You all weren't enrolled at Lincoln University any longer, correct?
Let me see. Yes, more or less. I mean, I was still there, but I wasn't registered. I was like the ghost of Lincoln. [laughs] I'm serious too because they had an overflow one year, and they put some of us in the guest house. Then, when they had enough room for kids to be put back in the dorms, they closed it back down again, but that actually happened to be my last college semester, so I just stayed on. I'd have to say Officer Bryant knew that I was in there because I lived there. I was playing loud music. People could've heard my music from the other side of the campus, so he knew I was in there. He never gave me up. Good old Officer Bryant.
As far as our studio routine, it wasn't much of a routine, because our sessions was like a day, two days long. We'd come in there and be ready to work. Bob told us what to play, and we played, which was good. We'd do retakes and that was it. Then everybody went home. That was really it. Once we started getting the kind of semi-pseudo rock-star budgets, we would spend weeks in the studio with [TONTO synth maestro and recording engineer] Malcolm Cecil in the mid- to late '70s, working on concepts and all that kind of stuff. None of that was happening back in the Flying Dutchman days.
When you all were recording, where would everyone be positioned in the studio?
If you were looking at it from my perspective, the piano was on the right. It was a huge stage. I think they had probably recorded orchestras in there and all kinds of things. It was just a massive sound studio. We were using the left quadrant of it. There was so much more. We were in a tight little space on the right. The wall was to my left, and there was even space between the wall and where we were set up. Actually, we were positioned right in front of the control room, so they could see us. The control room was off to the left. This was from my perspective facing the control room. I was on the left. Maybe fifteen feet away from me, across to my left, was Ron [Carter]. Then, in front of Ron, a little bit to his right was Hubert Laws sitting down in a chair. Behind us, maybe three or four feet centered between me and Ron, was Bernard Purdie.
To complete the stage, in front of Bernard Purdie and across the stage at a distance from Hubert Laws, was Johnny Pate. Then, on the other side of Hubert Laws, was my boy on guitar, Burt Jones—Jones for short. Burt and I had met in high school. We didn't know we were both going to Lincoln University. We met there and started playing the Top 40 R&B songs for the student mixer party that we had every Friday in the student union. We were already good friends, but we didn't know that we were musicians in high school. We didn't find that out until we got to Lincoln. Burt, even though he was only a year or two older than me, had been [writing and arranging for James Brown].
He was a bad cat. He knew how to read charts and everything. He taught me all that stuff. About a couple of weeks ago, somebody just wrote to me about one of the shows that we did for one of the student mixers. He said, "Y'all did that version of 'Shaft.'" He said it was better than the [original song from Isaac Hayes's soundtrack] album. I'll never forget that, man. He had everybody hollering. We did, man. We tore that show up. The last song was "Shaft." We had the horns. It was a full band, and I'll never forget it because that night I was standing up playing my little Wurlitzer. At the very last note, I hit it and the piano fell off the stage. [laughs] Greatest finale ever.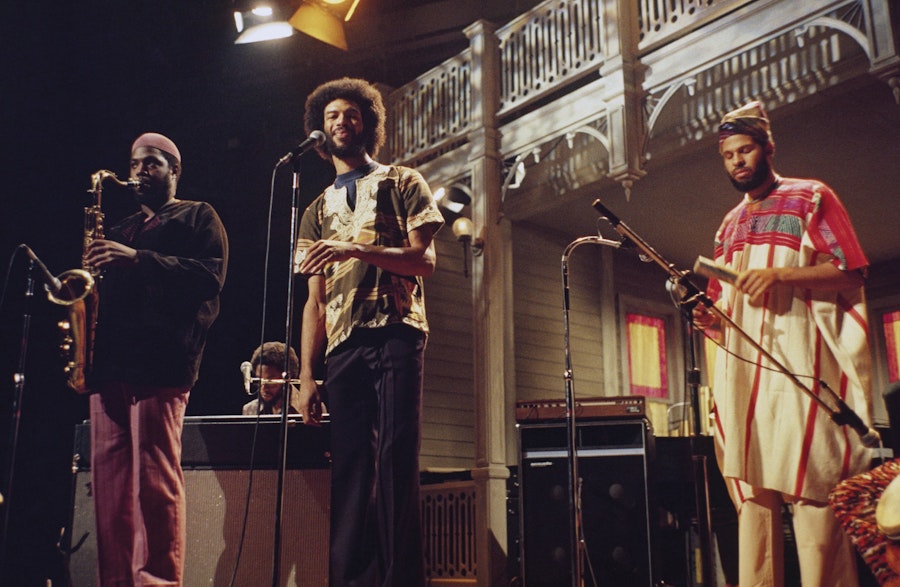 That's amazing. How long did it take you all to record this album? 
It took a few days, but we had written all the music and practiced it and played it over and over again, just the two of us. We were in a good space, where we knew what we wanted to do. I was still at Lincoln University at the time. We used to play all the time. We used to practice night and day. We worked on these songs and getting them tight. Like I said, we used to hang out. We used to talk about what was going on in the country. In the late '60s, we used to listen to a lot of music together. We'd listen to the Isley Brothers, Jimi Hendrix, Otis Redding, the Last Poets, Richie Havens, Aretha Franklin, and Al Green. We were doing a few gigs too. We were, like, driving up and down the East Coast. We had a gig up in Boston. We had one in Chester, Pennsylvania. It was at a rival school in Huntsville called Cheyney University. We would go to Morgan State [in Maryland]. We had gigs in that northeast corridor right there. We really wanted to bring the guys from our Black & Blues band to do the album, but Bob was like, "No, we're going to do this. We're going to book studio musicians to do this." It was a fantastic decision.
You were nineteen at the time. How old was Gil Scott-Heron?
Gil was twenty-one. He hadn't turned twenty-two yet. 
So, the both of you were babies creating these songs?
We were babies among all this greatness. I was intimidated by Bob Thiele too. This guy might have just come from a recording session with Archie Shepp or somebody else. It wouldn't have been too long before he had finished an album working with John Coltrane. It was pretty intimidating to be around all those guys.
When you all began recording at the studio, did you already have an idea on how you wanted the studio musicians to play your songs? 
No, we had no idea how we wanted it to be. We really didn't. I don't think anybody did. Studio musicians are not given enough credit for how involved they are in the creative process. These guys added what was needed. It was just Gil and me writing songs together with a piano up until that point. The songs that we did on that album, we didn't do it with our Black & Blues band. We never had a chance to hear what it would sound like with a band, especially not with a band like the one we had. This was our first time. It was our first time hearing our music like that. These guys made that stuff up on the spot. I understood why they got paid the big bucks, because they made us realize our dream. Before that, it was just a song we wrote. By the time they finished, it was a cut on an album. There was nothing else needed. It was amazing. When I look back on it, it was an amazing time. These were the guys I learned it from by watching them and seeing what they did. That was my first introduction to what being a studio musician was like. I learned a lot from them.
Can you describe the collaboration process between you, Gil Scott-Heron, and the rest of the musicians?
It happened effortlessly. We would just sit down, Purdie would count it off, and then we would launch into it. We had no idea what anybody was going to do. [laughs] It seems unbelievable. Maybe we played the song once or twice before we recorded it. It was like how those guys did it back in the day too. I'm talking about the Blue Note sessions and CTI sessions and that kind of stuff. All those Lee Morgan albums. A lot of those albums were done like that back in the day. This was the mindset they had. They were professional studio musicians. They knew what to do. That was the unspoken part of those albums. That was the part that you don't hear. It's just like when you hear the studio version of "The Revolution Will Not Be Televised," with Ron [Carter] playing bass. I never played on that. That was a piece that Gil [Scott-Heron] did with congas on Small Talk at 125th and Lenox. Bob Thiele thought it would be cool to do it again with the musicians. 
Ron [Carter] started playing this bass line, which was probably as recognizable as Anthony Jackson's first notes on [the O'Jays'] "For the Love of Money." You hear three or four notes on that and you know what it is, "The Revolution Will Not Be Televised." Much to my chagrin, Ron has never been credited for that, but that was all his music. He just sat down and played it, and he cued [Bernard] Purdie on when he was going to change key, and Hubert [Laws] just learned it. I think they did that in one take. There was no music. Ron just kicked it off, "Guys, come on. Let's go." [laughs]
Wow.
I know. If I ever had the ability to change that, that's the thing I would change. Ron Carter needs to be credited with the music for that, just like Anthony Jackson ended up getting partial credit "For the Love of Money." It was Gamble & Huff. They wrote the song. In the end, they were like, "This wouldn't even be a song at all if it wasn't for what Anthony Jackson put on it." I feel the same way about "The Revolution Will Not Be Televised" and Ron Carter.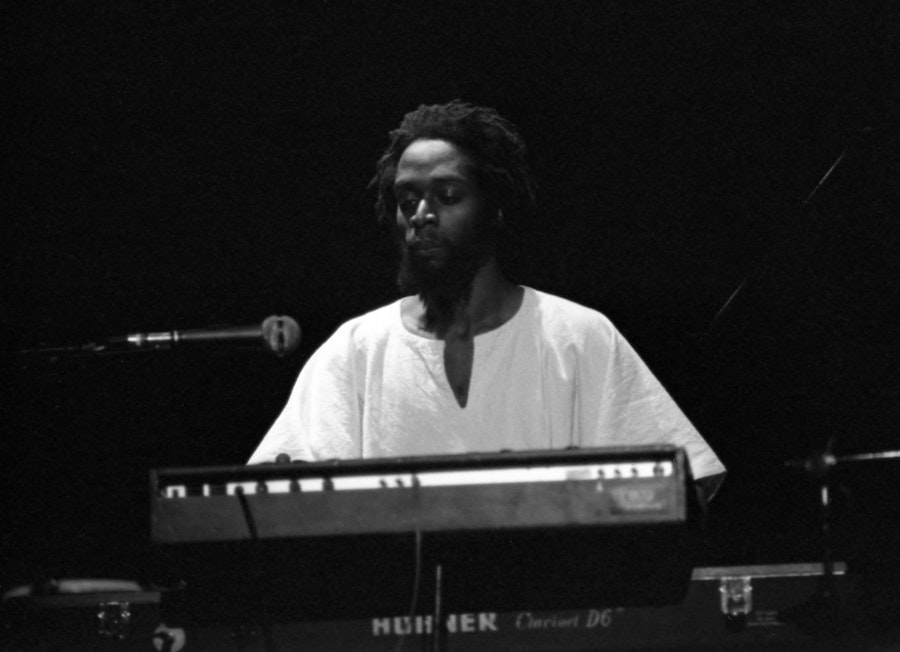 How long would you all be in the studio for? 
Knowing how much union fees were back then, I would say we probably weren't in the studio for more than four or five hours per day. Over three days, I'm sure we probably recorded three or four songs a day and that was it. After we recorded tracks, we all hung around. Between takes, sometimes we would listen, if he called us in. Bob would say, "Come on in, boys." We would come in and listen. Everybody would be happy. Bob would be smoking his pipe. Everybody was listening, and then they would go back. After they left, we would go back and cut some more. The funny thing about studios like that, we could feel the people who were there before us. The greatness of different artists that had been in that room making timeless music, and we were in there doing our thing.
If you were to walk into RCA Studios back then in New York City, how would you describe it?
It was a big room with a high ceiling. The ceiling must have been thirty feet high. They had all the mic stands and a big piano. A big, beautiful acoustic piano. There was space, and they had enough rigs and different kinds of barriers and stuff to arrange the room however they needed it to be. It was basically a big open space, man. I would say maybe fifty by thirty [feet], something like that. It was huge. It looked like a gym.
What made you all decide to go with Pieces of a Man for the title of the album?
It was the concept of all the stories that tied back to the elements of a Black man's life. This was the theme for a lot of things that we did. The music was semi-autobiographical. It was future autobiographical because we were seeing ourselves not as kids, but as men who were growing into the role of Black manhood. It was brutal. Some of the things that we saw were quite frightening and painful. We were just dealing with it the best way we knew how by telling stories about it.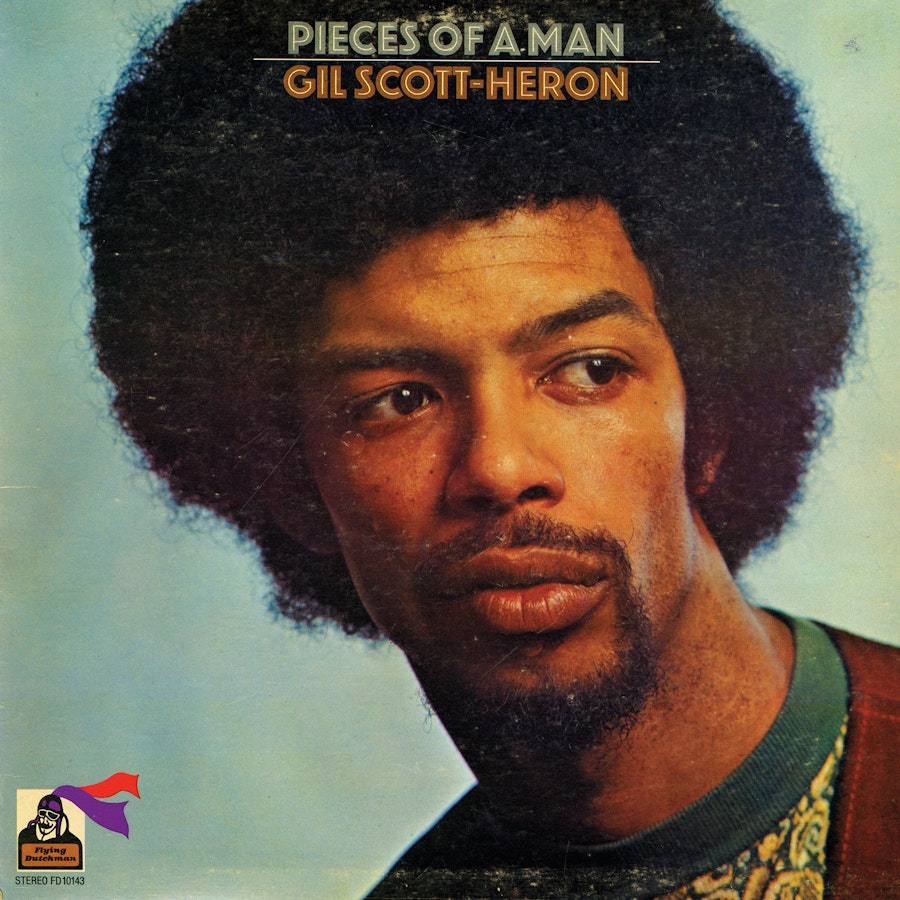 Let's go in-depth about the making of the songs on the album. You talked a bit about "The Revolution Will Not Be Televised." When Gil Scott-Heron wrote the lyrics, were you in the same room as him, or was that something he just showed you?
Yes, he had already done it for his book, The Vulture. He had already completed that book. It was about to come out. We all had a chance to see him making The Vulture and The Nigger Factory, because he would show us pages. If he was writing in it, he'd ask for our comments, or if something made sense or not. We were his editors for those pieces. 
"Save the Children"
When Gil was going to high school, he had been in a soul band. They used to do a lot of Smokey Robinson and the Miracles and Temptations songs. His playing focused around that style of music. You can listen to some of his songs and you can still hear elements of it at that particular time. We hadn't had too many sessions yet about expanding our chord selections and stuff like that. I was already experimenting with it because I was into jazz. Jazz is all about the progression and coming up with new progressions and stuff. When Gil and I met, one of the things that he really liked was the fact that I had different ways to go with the music. 
Basically, "Save the Children" was one of those songs that Gil had written during the early stages of his writing, when he was still using the same chords that he used on some of the early songs that he wrote. "Save the Children," from our perspective, maybe we wouldn't have admitted it then, but we were children. We could see that if we were about to take this over, we were going to be the next ones in line to try and do some fighting. We could infer from our own childhood how important children would be to us by looking at ourselves now. By looking at ourselves at that particular time and saying, "I get it. We don't have what we need. We don't even have what we need to get the job done, so we have to be more conscientious about when we move forward." I guess that's what this song was saying. Having one foot in adulthood and one foot still in childhood gave us a unique opportunity to see what needed to happen in terms of the next generation coming after us.
"Lady Day and John Coltrane"
They were two of the people that we used to listen to all the time, especially John Coltrane. One day, it just occurred to us. One of the first things we ever listened to was Cosmic Music by John and Alice Coltrane. The spirituality of it moved me, because I'd never even thought of jazz up until that point. It obviously came from a spiritual place. To me, a lot of it was cerebral, especially where Coltrane was going. He was very careful to bring that to the spiritual realm, which made a big impression on me. Once I understood that, I could understand the feelings that I was having listening to music like that. Gil turned me on to Cosmic Music.
"Lady Day and John Coltrane" came from a deep admiration for both of those artists. We realized that, like us, the thing that characterized them in our likeness, and yet their differences, were the fact that Billie Holiday was an Aries and John Coltrane was a Libra. We looked at their energies, and we saw a similar Aries energy in Gil being a singer and a fiery orator person. Coltrane was coming from more of a spiritual divine, sensing music that somehow really fit together with our psyche and our sense of who we were as artists, or who we were trying to be as artists. That was a song that was dedicated to two of our muses.
"Home Is Where the Hatred Is" 
I never really knew the story too much, until later on, when Gil recorded the spoken-word bit on my album [Gotta Play] in 2000. He told me that it was about a basketball player that he knew who had gotten addicted to drugs. He said it was written from his point of view and some of the things that he had to face, like the shame of having to go back to his people and to his family in shame and disgrace. He said the song was about that. I never knew that.
"When You Are Who You Are"
This all came from having conversations. We were teenagers at Lincoln University. We saw a lot of naturally beautiful sisters. Some of them were still doing their hair up, frying their hair, and using skin-bleaching cream. It was just one of those things that came about from having a conversation about these sisters, but people in general. It would be so great if everybody would just be happy with who they were, and not try to correct their flaws, because it was their flaws that made them perfect.
"I Think I'll Call It Morning"
This was a song about optimism and being whole. I'm really glad you're asking me about these particular songs, because a lot of people will think back and remember us for a handful of songs. Malcolm X once said, "One day, I'm going to be remembered as a preacher of hate." That always made him sad because he really felt that he wasn't a person who had hate in his heart. I think I can relate to that, because a lot of people look at the work we did, and they only remember us for "Whitey on the Moon," "The Revolution Will Not Be Televised," or "Home Is Where the Hatred Is." There were a lot of songs, man, that were not revolutionary. They branded us as revolutionary and protest musicians. A lot of our songs are not about that, man. We were not about that. "I Think I'll Call It Morning" was a perfect example of how, again, [we're] dealing with being a Black man in America. Also, keeping in mind that we were also human beings. We also have feelings and different ways of looking at things that can be harmful to us if we let it. You can let this anger build up inside you. You can let this feeling of desperation build up inside you, and it can explode. Like Langston Hughes would say, "Does it explode?" You can also choose to look at each day as a new one.
It was an opportunity to do something positive, or to think something positive, or to be something positive to someone else, to yourself, to your family, and to your loved ones. You know what I mean? It was a choice. It is a choice. It was not an easy choice, but it was a choice. "I Think I'll Call It Morning" addresses that choice.
"A Sign of the Ages"
Well, man. After I've just talked about how it's important to try and refresh your outlook, sometimes it's not so easy. "A Sign of the Ages" was one of those songs where we described some of the things that were hurting us and some of the things that bothered us about living in the time that we lived in. It was a poem that spoke to that sense of despair. The last line, I think, is really indicative of the pessimism that the song really is talking about. It said, "There ain't no peace on Earth; there may be peace when you die."
"Or Down You Fall"
This song was about the illusion of strength. "Or Down You Fall" was certainly a look at the role that we felt we would have to play as Black men, and how we've seen other men go forward into that and try to assume that role with varying degrees of efficiency. It was about the whole concept of how impossible it was to assume any role forever. The first line of the song was, "I sail out on my paper ship / The sea is made of fire." I can't think of a better way to describe futility. [laughs] The last lines of the song were, "Go away / I can't stand to see your face / Because you see the weakest me/ Now that you know that I'm only human / Instead of all the things I'd like to be / Now you know that I'm only human / Instead of all the things I'd like to be." It was about the hypocrisy of trying to be invulnerable. Fortunately, those roles are starting to crumble a little bit in the new generation, but there's still a bit of it. There's still a bit of it left. To be honest, I don't think it's actually gone away. I think it's crossed over into both genders now. We're all vulnerable, and not showing vulnerability is not necessarily the key. That's not the answer. We'll never escape that. We're human. 
"The Needle's Eye"
"The Needle's Eye" is basically a continuation of what we've been just talking about. The lyrics, "Him who don't fit through the needle's eye / Him who just don't understand." Gil was painting this picture through his language of someone who didn't fit in. Someone who looked more like a cubist painting than a full human being, at least that's how people looked at him. People would look at people who didn't fit in the right way. The needle's eye is a very thin area that you have to be able to fit through. If you don't fit through, then where does that leave you? It left you somewhere that was not necessarily comfortable or fair. We saw ourselves as people who didn't fit through the needle's eye. We saw ourselves as outcasts because of how we saw things and how we talked. This song addressed that. 
"The Prisoner"
"The Prisoner" was "Pieces of a Man" part two. It was about what was expected of us, and how we are processed in this society. One of the lyrical lines was, "Smacked on the ass when they're squalling and wet." It was like we were already getting beat up as we entered this world, and how we can never forget the life that we were living. It was like The Matrix in another way. Whatever it was, we were caught in it. We were in a society as prisoners of the rules, the customs, the prejudices, the isms, and everything else that went along with the roles that we were told we had to play. Our society, our economic standing, our race, everything. We were tied into society and by society through all these means. Basically, you had nowhere else to really move. This song was about being imprisoned by society.
When we were doing this song, Ron Carter took out his bow. He started playing this solo piece at the beginning of it on his bow. Bernard Purdie was doing these kinds of things that sounded like a prison gate slamming. Then, he took out these chains. He said, "Wait a minute, I've got the perfect thing." He went into his kit bag, and he pulled out some big, thick chains. He started shaking them and rolling them around on the heads of the drums. I said to myself, "Wow, man. That's so cool and so creative." They went in, and they re-miked the drums so they could hear the chains rattling and everything. It took me all these years, as I'm recalling this story, and I'm thinking to myself, "What the hell was he doing with chains in his drum-kit bag?" [laughs] Was this a guy who just prepared for everything? Was there a crowbar? [laughs]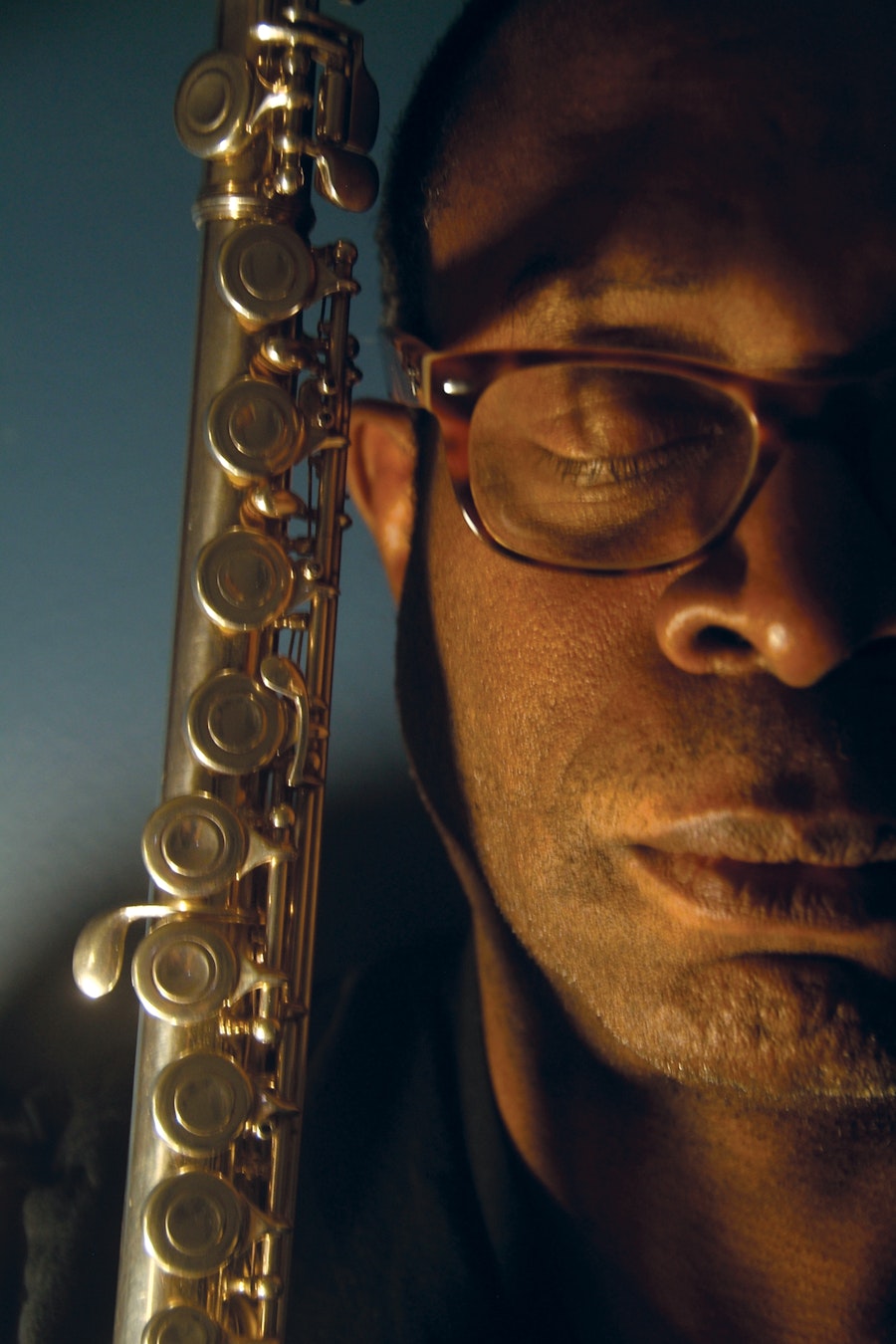 As you look back on the making of this album a half century later, what are your feelings about doing it with your longtime friend and the impact it has made on popular culture?
I never knew that it would have such an impact fifty years later, and that I'd still be alive. [laughs] I didn't know that people would still be listening to it and get some meaning from it. Like I said, it's not hard to ignore an album like this, with such great musicians backing it up, and with the poetry of Gil Scott-Heron. I think it was the right combination of people. When people ask, "What does a producer do?" This album is an example of what a producer does. Bob Thiele was a consummate producer. I learned a lot from him. He was the man who brought all of those elements together and was right on the money with it. Props have to be given to him. Props have to be given to Johnny Pate, who was there when we needed him, as well as my unsung friend, Burt Jones, who really did a lot of great work on the album, especially on "When You Are Who You Are" and "Home Is Where the Hatred Is." His solos on "When You Are Who You Are" and "Home Is Where the Hatred Is" are what helped to make these things classics. If people are still listening to the album, that means there was something of value people could use in their life journey. That's all that we were trying to do. Like Gil used to say, our albums were survival kits.