It's a Saturday night at Foro Hilvana, a music venue near the Centro Histórico of Mexico City. COVID lockdown restrictions have been somewhat lifted though the rules are still unclear, and from the street, one can't tell if the place is open for business. Once inside though, it's packed with an eager audience that has thronged to see Son Rompe Pera, a marimba-driven cumbia band. Started by Kacho, Kilos, and Mongo Gama, sons of a marimba player, they have continued the family tradition, but this is anything but a traditional cumbia band or performance. The Gama brothers and fellow bandmates have the look and attitude of rock and rollers, which indeed is one of the foundations of their own musical careers. But they returned to the cumbia of their youth, injecting it with the onstage abandon of their forays into punk and psychobilly, and the crowd is eating it up. The fans, many of them wearing Son Rompe Pera's merch T-shirts proclaiming that CUMBIA IS THE NEW PUNK, are feeding off the energy of the band—dancing, moshing, and singing along. After the band exits the stage, a DJ spins more cumbia tunes and the floor is filled again with couples dancing, the energy in the room still electric. The Son Rompe Pera gig is just one snapshot of what is going on in Mexico City's music scene, where musicians are mixing the sound and rhythms of cumbia and other Latin styles with sensibilities and instruments culled from years of playing rock and roll. Flipping the script on decades-old musical genres, a new generation of bands has gone back to the drawing board, reexamined their influences, and created new and fresh sounds that have deep roots in the tropical music of the past.
The term "tropical music" was coined in the 1940s to differentiate any number of Latin music styles that began in areas bordering the Caribbean Sea from those that started inland. Cumbia, mambo, cha-cha-cha, salsa, rumba, and bachata are just a few that fall into that category. Though many of these genres are firmly part of Mexican culture, a few decades passed where they weren't in the forefront of "cool" music scenes, and a clear division was in place between music lovers. But things have come full circle, and tropical music styles like psychedelic cumbia are back in the spotlight and have sparked excitement both locally and internationally. Two bands spearheading this movement, Sonido Gallo Negro and La Redada, took the opportunity to talk about their sounds, Mexico City's evolving musical scene, and the reemergence of tropical music to center stage.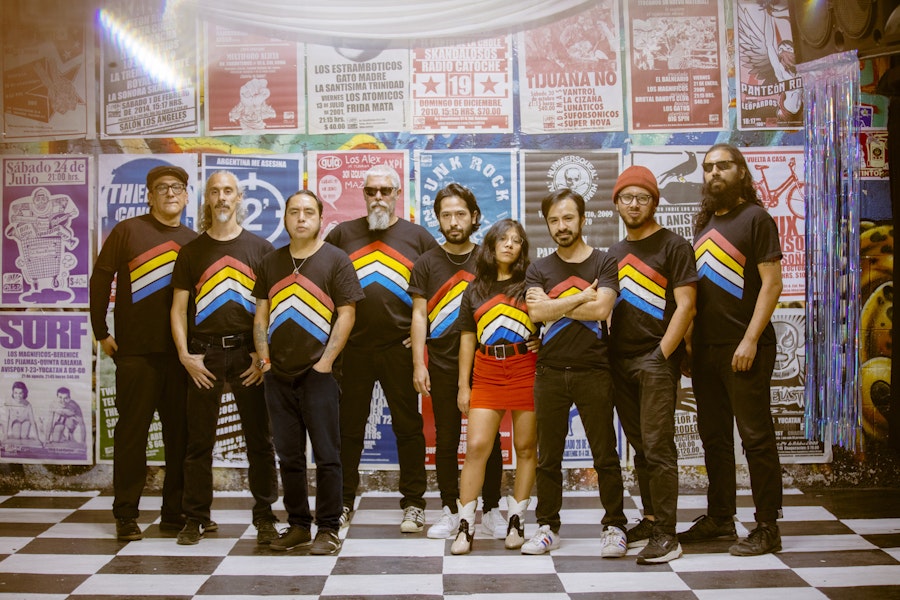 Sonido Gallo Negro may be the band that started it all. The eight-piece instrumental band is one of the original driving forces of the tropical scene in Mexico City. Originating from the San Juan de Aragón neighborhood, the core members played in surf- and spaghetti western–oriented bands such as the Twin Tones, Espectroplasma, Telekrimen, and Las Calambres before beginning their current project over ten years ago. Sonido Gallo Negro takes their cue from their members' musical backgrounds along with newer influences to create a trippy, atmospheric yet highly danceable and rhythmic sound. Using the traditional rhythms of cumbia, as well as mambo, cha-cha-cha, and rumba, among others, they douse their music in a technicolored psychedelic hue. For them, the switch from rock to cumbia was a natural transition. "In 2010, we were a little bit bored of the indie scene in the city," says Gabriel López, guitarist and bandleader. "Everybody [was] playing the same music everywhere. We needed a change, a big change. We were looking for a new sound." 
The big change they were looking for was found in the Peruvian cumbia genre that distinguished itself from its Colombian cumbia roots by using instruments that were normally used in rock-and-roll bands—electric bass and guitar and Farfisa organs—and included rock as well as regional components to its sound. The genre wasn't widely known outside of its home base, but the future members of Sonido Gallo Negro found bootleg recordings of some of the music at the tianguis (street markets) of Mexico City. In 2007, the compilation The Roots of Chicha: Psychedelic Cumbias from Peru was released on Barbès Records and bands like Los Destellos, Los Mirlos, and Los Diablos Rojos made their belated mark worldwide. "The cumbia recordings from the '60s from Peru and Ecuador, especially the instrumental stuff, have a very similar instrumentation to psychedelic rock," says López. "And that's why we turned to that style of cumbia. It's like a rebellion for us against rock and roll. It's the opposite. Rock and roll didn't have a lot of new sounds and new philosophy. For us, rock and roll was sold to MTV, and that's why we started playing cumbia. We tried to do a revolution in our instruments." Though it was a conscious decision to turn to cumbia, it was not a surprising choice. Tropical music is a part of the fabric of life in Latin America, as ubiquitous as it was unnoticed by those in different music scenes. "If you asked the guys in the band if we are going to play cumbia, we all would have said, 'No, never!'" says Dr. Jorge Alderete, theremin player and visual artist who hails from Argentina. "Living in Latin America and growing up in Latin America, you listen to tropical music, even if it's not your choice. It's the choice of your parents, the choice of the bus driver, the choice of the radio station of the city. When we started to play tropical music, it was really near to us."
"In our case, it's different because [in Mexico City] we are around the culture of sonideros, the MCs of cumbia. We have those parties all the time," continues López. "We didn't have intentions of playing cumbia, but it was important for us as musicians, as citizens of Mexico, of Latin America. We heard tropical music all the time, that is true, but we didn't listen until now with the band."
Since its inception, Sonido Gallo Negro has released five albums at the time of this writing, with a sixth coming soon. Songs like "Bocanegra"—with its Ace Tone organ–driven, shimmering psych haze over a cumbia beat—solidified the band's sound and identity on the debut, Cumbia Salvaje. Using cumbia as its base, Sonido Gallo Negro isn't afraid to venture from its starting point as proven by a recent listen to some as-of-now unreleased tracks. They hit the world of exotica with their dreamy, lush version of "Bali Ha'i" from South Pacific while "Mambo del Fierro Viejo" combines stellar musicianship with a big dash of humor—the song is based on the singsong recording that accompanies the ever-present junkman's trunk in Mexico City, a facet that is slyly revealed at the end of the track. Sometimes mystical, always danceable, the band conjures up the feeling of a swinging party scene in a '60s Mexican movie. The psychedelic aspect isn't just in the music but in its live shows, which are augmented by Alderete's on-the-spot drawings projected behind the band. "We think of the shows as a ritual, and the music is a part of that ritual," says Alderete. "Like going to church, in a way, without a preacher but with a community. You are not coming to see a band, you are coming to a ritual, a ceremony. I started in the band doing live drawing, so we involve all the senses, not just to listen." Bassist Isra Martinez further elaborates: "The audience doesn't understand what is happening because they see eight guys in dark clothes, but they are tropical instrumentalists and there are visuals. They aren't really sure what is going to happen in the moment, but at the end, it's a big party and so exciting for everyone. Usually, people go into this trance in the middle of the show—happy, disconnected, something like that. And at the end, everything explodes. The energy is really out in that moment, and we usually have that kind of experience in the shows." Sonido Gallo Negro has found success both at home and abroad. "We are lucky guys because we are not a Mexican-curious band that only works outside the country because it's exotic," says Martinez. "It's strange for me. If you have a good project, it should work everywhere. We have had really good experiences in strange countries and really good experiences in our neighborhood."
One of the secrets of Sonido Gallo Negro's success is the harmony between and defined roles of the members—no easy feat in a band of any size, let alone one with eight players. This dynamic was formed in the first years of the band under stressful circumstances. Alderete recalls, "In the beginning of the band, we had an opportunity to play in Serbia. We tried to play around in other countries, in Italy and Spain, and it was totally a headache, a painful trip." "Like a disaster!" Martinez chimes in. Alderete continues, "So, after a few shows there, we had a meeting to decide what we're going to do with this. I think that tour was important for us, because, in that chaos, we found a way to work together." López adds, "After that, we have a relation and respect between us and the work that each of us does. Everyone in the band has a specific job to do, and everyone has respect for that job." The clear roles make for a streamlined approach to the creative process. "My role is to propose and compose," says López. "I make the demo, I send it to the other guys, and in rehearsals, we can play it. That's why we do faster work. Because we have other jobs, every minute we have together in rehearsals is very valued." The one job that no one has in the band is that of lead singer. When asked if that was an intentional choice, López replies, "From the beginning." Martinez adds, "In tropical bands, that is usually the problem guy!" According to López, "In the beginning, people said to us that we only have a few options to play for more people because we don't have a singer, we don't have songs that people can sing to. But it works in another way for us; because we don't have lyrics, we can play around the world without problems because instrumental music is universal."
Despite the dedication and organization that Sonido Gallo Negro puts into craft, the members have a refreshing sense of humor that comes through in both their songs and in talking about the band. When asked if they believe they started the trend of psychedelic cumbia in Mexico City, Alderete answers, "Who knows? We don't care, actually!" And in the current jumbled state of affairs that is live music, a question about future plans elicits a quick retort. "It's funny," says Alderete, "because our last album before the pandemic is named Unknown Future." Luckily, Sonido Gallo Negro's future is currently clear, with a new album, Paganismo, due to be released in June of 2022 complete with a record-release show at Mexico City's Salón Los Ángeles, an art deco dance hall that has been home to tropical bands since the 1930s.
Another band taking copious notes from the musical history of Mexico City is La Redada. A collective led by the noted DJ and musician Carlos Icaza, aka Tropicaza, the band explores and pays homage to genres and artists of the past in a way that present audiences can appreciate. La Redada reinterprets the sounds of Latin funk, boogaloo, cha-cha-cha, danzón, and cumbias in a way that makes experiencing the band's live shows a visceral experience. However, Icaza remembers a time in which audiences were not as receptive to tropical music as they are now: "During the '90s, I was living in the city of Guadalajara, and at the time, you could find records at the flea market for one peso because people were buying CDs and getting rid of their old LPs. I started, I wouldn't say collecting, but buying a lot of records every week because my hunger for music was big. My taste is very wide, and at the time, tropical music, like salsa and cumbia, was very, very underrated, especially for people into rock music or electronic music. I started doing radio shows with the records I was buying in the markets, and I started playing those records at parties. So that's when I got the name Tropicaza. People were trying to make fun of me with that name, because I was dropping all this tropical music unexpectedly at electronic music events. People got really mad at me because those worlds aren't supposed to get together. I just took [the name] because it was funny. Now all kinds of tropical things are accepted by a big part of the society, but in those years it was kind of a joke name for me."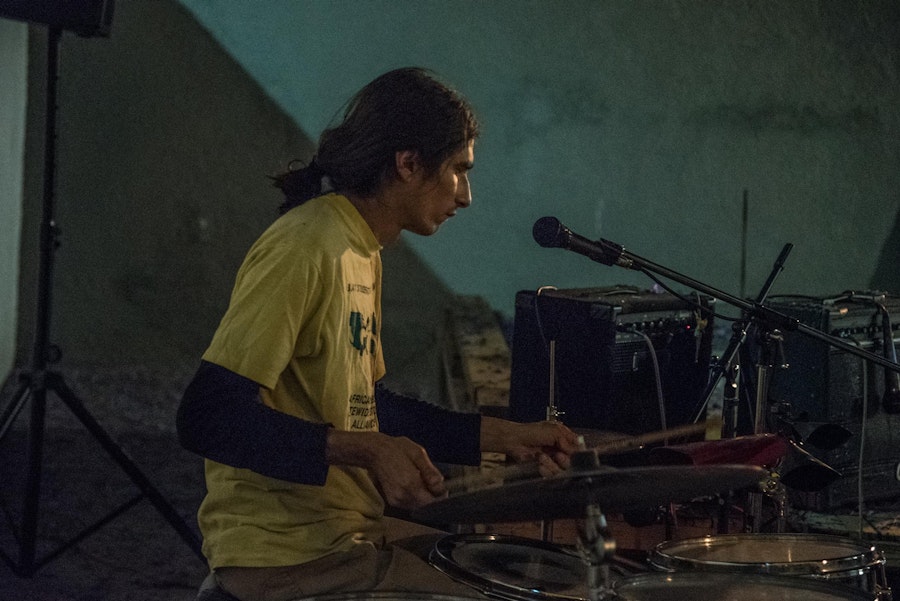 Play two notes and do something Dada with it. –Carlos Icaza of La Redada
Icaza's varied interests in music served him well as he drummed in bands such as Los Esquizitos, Las Comadrejas, and Los Fancy Free, as well as making a name for himself as a DJ of a dizzying variety of Latin music. The idea of La Redada started as a paean to some of that music that he loved. "I guess, in some ways, the band is an extension of my tastes as a DJ," says Icaza. "It started seven years as a collective effort with Daniel Llermaly, Fernando Caridi, Julian Huerta and Feike de Jong. We played at Tlatelolco Museum for the first time together with that name and as we liked the result we started playing around [at other venues].  Then we were joined by Victor Sánchez on percussion for our first European tour. Feike left the band three years ago and was replaced by Roberto Tercero. In the beginning we were trying to play Danzón, a traditional Cuban music dance, but we tried to simplify it in way we could play it. We were trying to start a band with a very simple approach to music. Danzón is something that has been away from the young generations. Music that was very well known and loved by people in the '30s, '40s, and '50s but then started going down in popularity. So we wanted to set up a band that played danzónes in the simplest form possible. Which is how the la and re [in the name of the band] come in; they're musical notes, and Dada is kind of like Marcel Duchamp and the Dadaists. That's what it means to me. Play two notes and do something Dada with it."
What started as a highly focused project dedicated to danzón quickly evolved to be more all-encompassing. "I found for our crowd, it was hard to follow," says Icaza. "So we started playing other types of music that I like and thought would be appropriate for our instruments and the way we play, like funky, some cumbias as well, boogaloos, and other genres of music. We started setting up covers of songs that have been very underground as a way to pay homage to all these musicians that have influenced me, influenced us as a band. La ReDaDa is a collective effort that shows our musical tastes which are reflected in the variety of our repertoire. We want to do things as a group that are unexpected and also fun for us and entertaining for our audience."
Being a voracious music lover has given Icaza not only an impressive and imposing record collection but a breadth of knowledge about the history of the music scenes in Mexico City. "I think it's important to look at the past of the city and know how amazing it was," he explains. "I mean, if you look at the music life in Mexico City in the '40s, '50s, and even the '60s, it was one of the biggest nightlife cities in the whole world. Musicians from all over the Caribbean, from Cuba, from Puerto Rico, from the Dominican Republic, they were coming to Mexico City because it was the capital of Latin America. The radio stations, the film studios, the recording companies were here, so it was a melting pot. It was like New York or Paris, where people were traveling just to make it—to get some sort of recognition, to get a contract, to get a record deal, be in a film, or being invited to on a radio show. So that was Mexico City back in the day, and musicians from all over the continent were dreaming to come here to make success."
That commitment to and love of the city's musical history shows clearly in La Redada's live set. A great deal of the songs played are covers from some of the many artists that have influenced the band. "What I want to do, my interest in tropical music, it comes from playing rhythms and types of dancing that are a long time forgotten. I wanted to challenge and play other types of music that were not in fashion, like cha-cha-cha or mambos," says Icaza. "One of the songs that made it onto our first 45 is by Ramón Márquez, who was a big-band leader in Mexico. The song is 'Ábrete Sésamo.' It's like a cha-cha-cha. Yeah, his recording was really influential. And many danzón composers and performers like Acerina, a Cuban musician that lived in Mexico for a long time. And especially drummers like Leo Acosta. We play a song by him called 'Rencorosa,' and I just wrote the liner notes and did the research for the reissue of one of his records—a big influence on La Redada."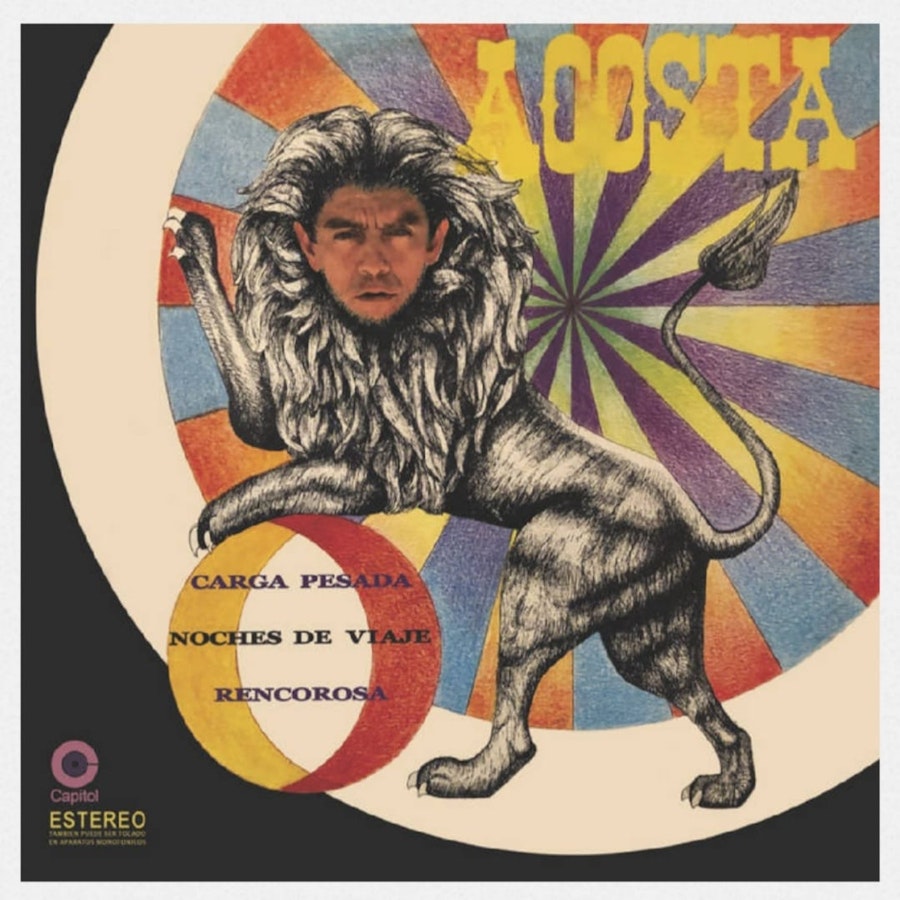 With their sound and philosophy firmly in place, La Redada quickly caught the ears of audiences as well as other musicians and DJs who opened doors for the band. On an early tour, Gilles Peterson happened to see a performance and asked the band to play his Worldwide Festival in France, which led to a two-month European tour. The band's sensibility has endeared them to both Mexican and foreign audiences alike. "We developed a set of songs that would be appealing and good for dancing for everyone," explains Icaza. "What I like for the band is to make something that can be danceable, not that obvious but also very simple…my idea is to make it as simple as possible, as do-it-yourself as possible." La Redada has put out a handful of singles in both North America and Europe and has recently gone into the studio to record some new tracks, with a new single coming out soon.
When asked what he makes of the music scene in Mexico City, Icaza has this to say: "For some years, tropical music has been way, way more accepted than it was some years ago. When I played with Los Fancy Free, the crowds were very narrow, and there was a big division: the people into rock and the people into electronic music and the people from the neighborhoods that liked tropical music. Mexico City has always had a history of tropical music. But, yeah, people like trends, and I think with the death of rock music and electronic music, younger people are embracing more and more tropical music, as a way of expression that has more to do with their interests."