When James Mtume passed away on January 9, 2022, it took a mapmaker to craft an apt obit.
Best known for his self-named ensemble's 1983 smash "Juicy Fruit," his longtime affiliation with Miles Davis during the trumpeter's fusion era, his cowrites on hits from Stephanie Mills ("Never Knew Love Like This Before") and Roberta Flack and Donny Hathaway ("The Closer I Get to You"), and the Notorious B.I.G. sample for "Juicy," the percussionist, composer, and producer Mtume was also a legendarily Black-conscious activist at the top of the 1970s. Furthermore, he created cinematic scores for films such as Native Son in 1986 and for television programs such as New York Undercover in the 1990s.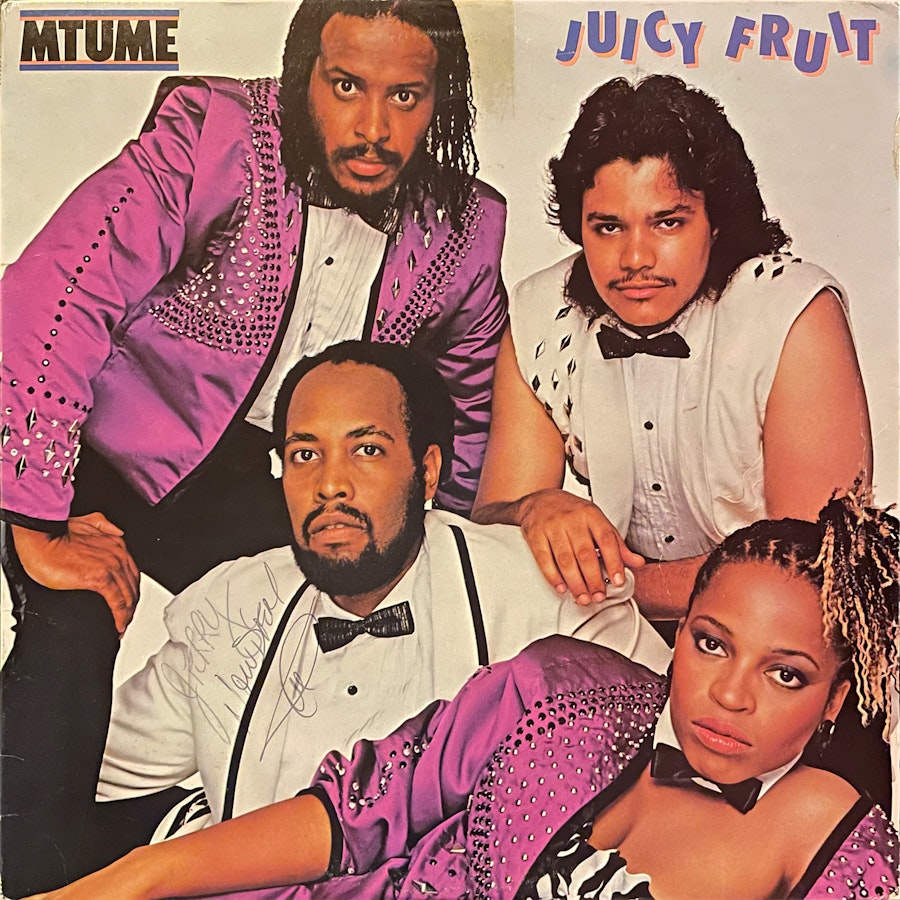 He was born James Forman in Philadelphia on January 3, 1946. Mtume's start, however, though hardly strict, came from his being born into Philadelphia jazz royalty as the son of saxophonist Jimmy Heath, and the stepson of Philly jazz pianist James "Hen Gates" Forman. He was raised by his mother, Bertha Forman, and his stepfather. 
Mtume (a name he adopted in 1966 that translates as "messenger" in Swahili), played with jazz bandleaders, such as pianist McCoy Tyner and trumpeter Freddie Hubbard, as well as recording with his uncle, drummer Albert "Tootie" Heath on his 1970 Kawaida album. He jammed with jazz greats such as trumpeter Art Farmer, keyboardist Lonnie Liston Smith Jr., saxophonists Gato Barbieri and Pharoah Sanders, and even Duke Ellington for a time.
To know or to understand James Mtume is to have a foothold on the diverse jazz scene on both coasts throughout the '70s.
To this end, Wax Poetics spoke with three musicians/composers with whom Mtume played, on their records and his, each with their own funny and frank visions of what their friend, James Mtume, meant to them.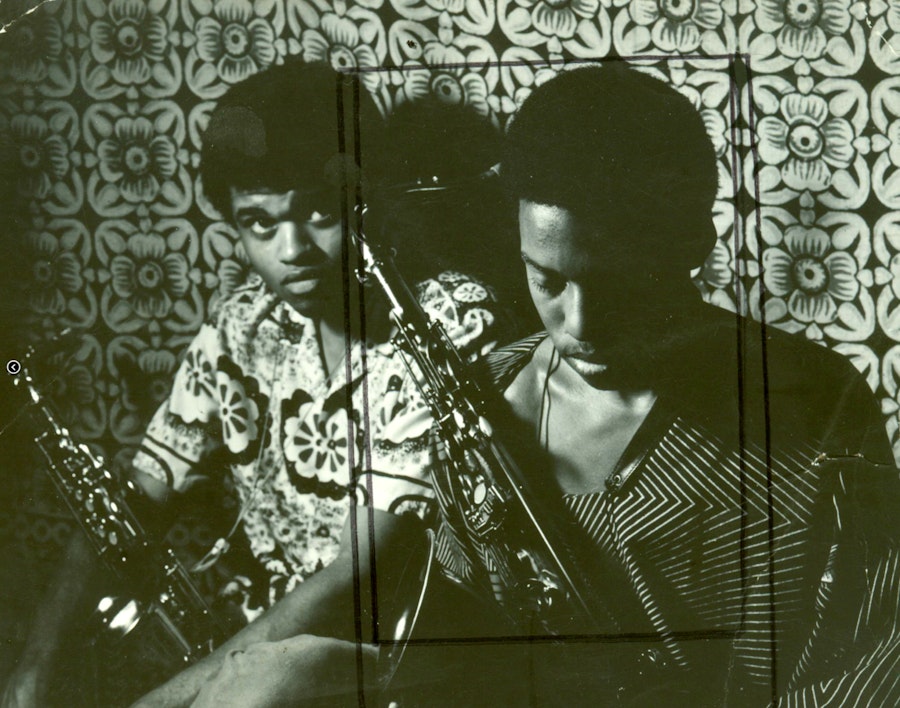 AZAR LAWRENCE
When Los Angeles–born tenor saxophonist Azar Lawrence wasn't busy leading his own groups and fronting his own recordings, such as his 1974 leader debut, Bridge into the New Age, he busied himself gigging with Freddie Hubbard, Woody Shaw, and McCoy Tyner. Lawrence was even the reedsman that pianist Tyner used following John Coltrane's death.
Beyond Tyner, it is Mtume who figured most prominently in Lawrence's life—so much so that the saxophonist's newest album, 2022's New Sky, is dedicated to his percussionist friend, a man who not only recorded as part of Lawrence's leader debut (along with Lawrence's 1976 album People Moving), but also pushed Azar into working with Miles Davis as part of the trumpeter's 1974 live fusion noise ensemble documented on the 1977 release Dark Magus.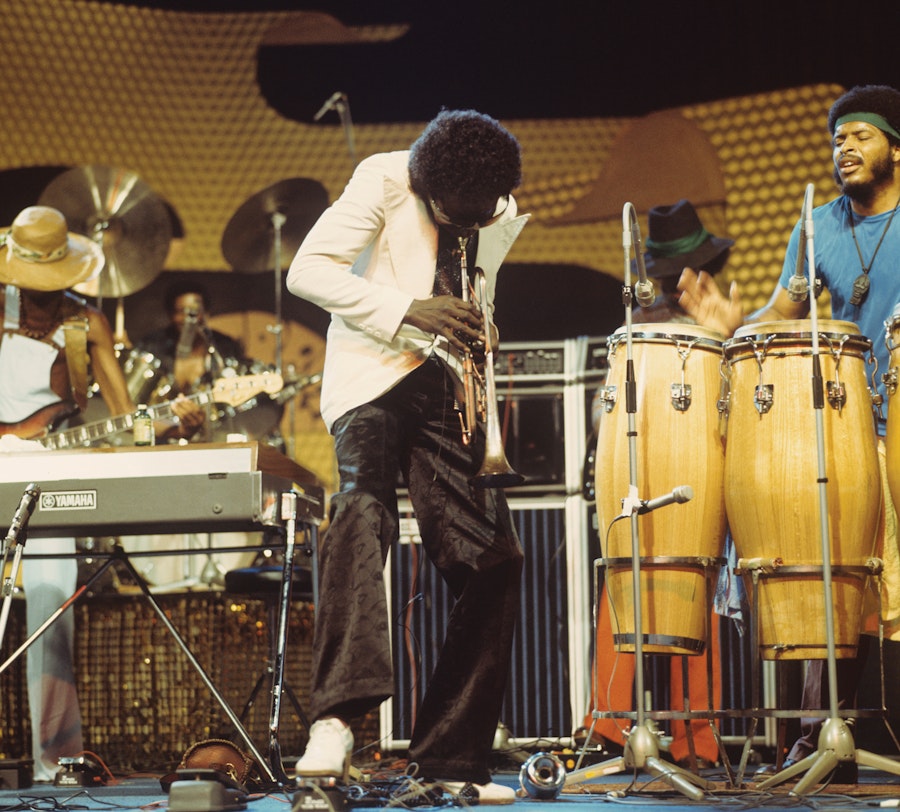 "I met Mtume at the Watts Jazz Festival in 1969 and became instant friends with him," says Lawrence who just happened to be in high school, then playing with the Horace Tapscott Pan Afrikan Peoples Arkestra with fellow sax man Arthur Blythe.
Mtume's outspoken consciousness and thoughtful activism, from his days in the Afrocentric U.S. Organization, impressed Lawrence from the start. Even when the percussionist's actions seemed counterintuitive, his dedication to Black consciousness was clear. "I remember him picking me up at the airport, once, with him driving his Mercedes, apologizing to me all the way," says Lawrence. "He swore he hadn't turned bourgeois, and said he only bought it as its price was a great bargain. His house though was red, black, and green. He was all about the people. It wasn't a topic between us, but you knew it was crucial to him.
"When Mtume moved back to the East Coast and the Oranges in New Jersey from California, I moved to New Jersey," says Lawrence. "We'd run around this lake near his house, come back in, and play in his upstairs room where he had a piano and wrote."
Recalling Mtume's 1977 album, Rebirth Cycle, which featured Lawrence, Todd Cochran (as Bayeté), Dee Dee Bridgewater, Michael Henderson, and more, the saxophonist remembered the White Plains studio sessions as a convivial affair where further friendships were made. "Dee Dee, in particular, and I hung out. Mtume's father [saxophonist Jimmy Heath] was on that record, and he and I hung out," notes Lawrence.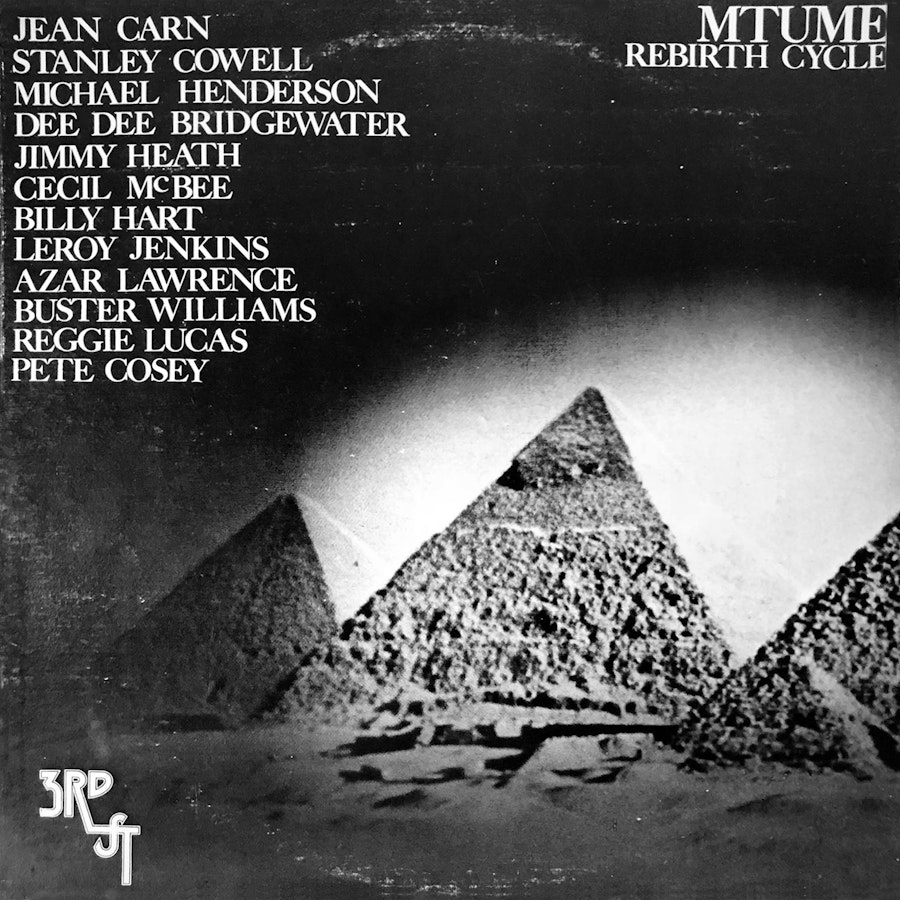 In this regard, Lawrence thinks of Mtume as a conduit for community, the party starter, and connective tissue among other players. "Mtume always came to see me play if we were in the same city... When I was playing with Elvin Jones at the Vanguard, Mtume used to bring Miles around to see us, hanging by the front door just digging the scene. They were close, Mtume and Miles. Miles didn't go out much, but he went out with James. Mtume's the reason I played with Miles. He was the hook-up man."
Thinking back to the Davis Carnegie Hall date where Dark Magus was recorded, and additional jams between them across the decades, Lawrence jokes about the unorthodox fashion in which Mtume played the congas.
"He used all of his fingers, spread out like a web," recalls Lawrence. "James had his hands open all the way, and playing like a tabla-ist, rather than slapping it. His fingers must have been strong."
There's another bit of tale-telling that Lawrence exposes when speaking about his friend, "Tooms." Apparently, the percussionist had a sweet tooth.
"When we were doing Rebirth Cycle, I remember he would come in from wherever we were, head straight for the freezer, and start eating ice cream out of the carton. Every day, we would run for exercise, we'd come in, and he would dig that spoon in."
As for the percussionist working on Lawrence's albums such as Bridge into the New Age and People Moving, the saxophonist states, plainly and simply, that "Tooms was my boy, and I was his... We were just buddies. Musically, I appreciated his concepts. But personally, I appreciated everything about my friend."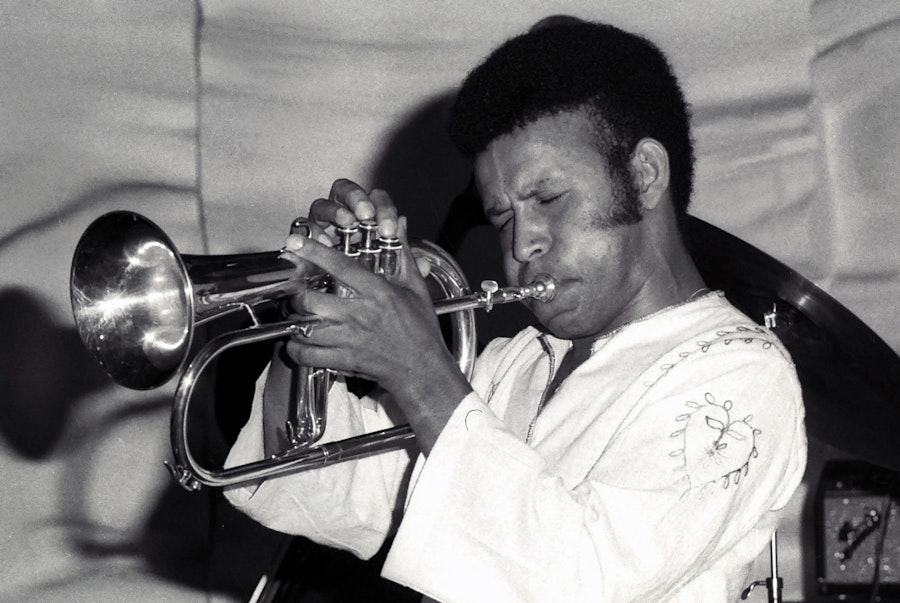 EDDIE HENDERSON
Trumpeter and flügelhorn player Eddie Henderson was part of the Herbie Hancock Sextet (1970–1973) when he made the acquaintance of James Mtume.
Upon this auspicious meeting, Mtume—then part of the Black empowerment–focused U.S. Organization, which created the celebration of Kwanzaa—gave everyone in Hancock's Sextet a Swahili name. "It was that time in American history, the advent of Black culturalism coming to the fore," says Henderson. "He was very opinionated in his dialogue about Black consciousness, a strong force."
Still part of Hancock's outfit when he recorded his leader debut, 1973's Realization, Henderson made Mtume a staple in his studio sessions' diet. The percussionist played on and wrote prominently for some of Henderson's most notable albums of the '70s: Heritage in 1976, Comin' Through in 1977, and Mahal in 1978, the latter LP featuring the saxophonist's biggest hit, the Mtume-penned "Cyclops."
Henderson perks up when calling Mtume "one hell of a composer, and player. I used him too for one of my East Coast tours of the time with Julian Priester and Hubert Eaves III," he says. Eaves eventually followed the percussionist into Mtume's self-named ensemble come 1978 as the disco funk outfit's keyboardist. "James was awesome," Henderson continues. "I highly respected his musical judgment, whether he was playing with me or when I would see him playing with Miles."
Mtume was invaluable to Henderson in his estimation, as the percussionist put the trumpeter "on the map," he says with a laugh. "He already had hits with Roberta Flack by that point. When I did his 'Cyclops,' the game was upped. He had this talent where he could think something or hear something, not write it down, then sing it in my ear while I played. He never notated. He'd sing me the song, and every four bars, and we would piecemeal it all together as he played keyboards. Did he even know how to read music? I don't know. He surely could sing it to you, perfectly. He had a God-given gift to innately conjure up melodies that had real commercial appeal. I loved him, you know, for his musical tastes, his musical takes, and his opinions." Later, when Mtume composed and recorded the theme song for New York Undercover, the percussionist phoned the trumpeter to play as part of those sessions. "I went to his house and asked what the format was, and he said that 'there is no format,'" says Henderson. "'Just look at the video, and play what you see.' We looked at it together and we improvised. No overdubs. Just play. And it was beautiful. That's him in a nutshell."
Henderson offers a funny aside to all this when discussing Mtume's father, the legendary Philadelphia saxophonist Jimmy Heath, and Philly pianist McCoy Tyner. "I remember Mtume talking to his father and Tyner, and telling them to their face that they both had reached 'technical exhaustion,' when it came to music's changing styles," says Henderson, laughing. "James was very opinionated. Telling Heath and Tyner that their music wasn't happening anymore—oh man. My mouth dropped."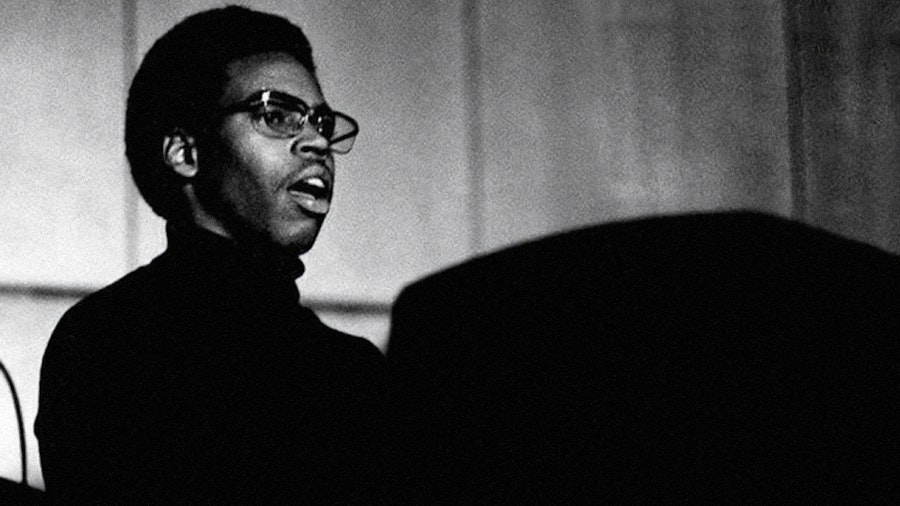 TODD COCHRAN
Todd Cochran, the legendary keyboardist, synthesist, composer, and arranger once alternately known as Bayeté, shared much with Mtume when coming into music, professionally.
After I call Mtume a dynamic player and a dynamic thinker for moving from jazz traditionalism and fusion experimentalism into his own self-titled brand of "sophistifunk," all with his highly instinctual improvisational touch and highly intellectualized Black consciousness, Cochran seconds my emotion. "It had everything to do with the moment of time we were in, surrendering to this great process of becoming great musicians…and that period's expansion of the musical spectrum," says Cochran, the San Franciscan, of meeting then Los Angelino Mtume around the time the keyboardist famously arranged marimba/vibraphonist Bobby Hutcherson's complex, cerebral Head On album in 1971.
"To be young, gifted, and hungry meant embracing all music, all arts, all theater, all politics. It wasn't underground or alternative then—it was life or death," says Cochran, looking into the top of the 1970s and the swerving conceptualism of the avant-garde.
"On Head On, there is a wealth of my compositions, as well as, most famously, Hutcherson having written this song, 'Mtume,' so he was feeling that spirit, and I played on that tune," Cochran continues. "It was a time beyond intimation. And Mtume, during these sessions, was responsible for giving the musicians their Swahili names—like Leon 'Ndugu' Chancler. Mtume knew that Black empowerment wasn't about conflict, but, instead a deeper understanding, a self-realization, of foundational aspects of the [African] diaspora—an assertion of identity. There's a ring around the world. It's been proven. And the way those influences impact each other are phenomenally profound."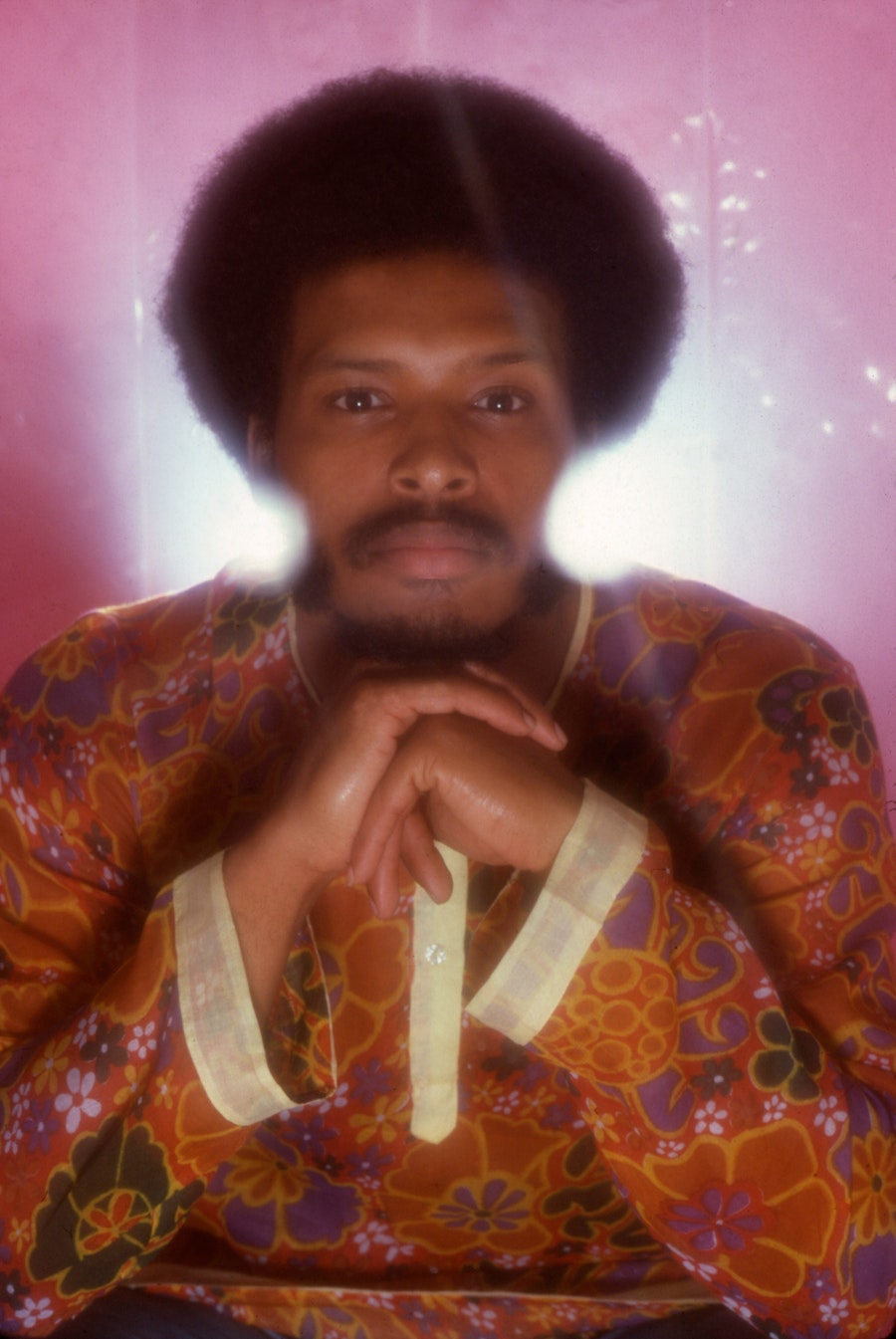 Along with societal revolutions, Mtume was part of a collective musical evolution that started at birth.
An interesting parallel between Mtume and Cochran is that each started playing, prodigiously, as children, and both had formidable mentors in saxophonists John Handy (Cochran) and Jimmy Heath (Mtume's father).
"We shared a wide conceptual reach of music, the mandate of being original—and originating, rather than replicating—narration rather than resuscitation," says Cochran. "Mtume connected, learned the craft, and understood the responsibility to elongate it and stretch, to expand. Composing. Playing. Improvisation. Communication, not only with musicians with whom you are playing but the audience. That will give you enough to work with for a lifetime."
Cochran notes that Hutcherson "brought the blues and the folk, as well as a jazz groove, the sung part of the lyric that Coltrane made famous with A Love Supreme." Hutcherson, Cochran, and Mtume's collaboration on Head On, in spirit, is one that lingers loudly in the keyboardist's memory. Cochran knows exactly where his original score and arrangement for a twenty-piece ensemble is in his office, and remembers how the vibraphonist meant the work to be an homage to the percussionist, and his conceptual presence.
"Mtume moved people," says Cochran. "If the timing was 4/4, he might play a rhythmic pattern that was in 7 or 9 against it. He was looking at structural units from an understanding of African music. He brought that awareness of tone and rhythm everywhere. There was an aesthetic and creative envelope that was being pushed at that point, one which allowed all of these creative influences to be embraced and utilized. And Mtume was at the forefront of this—modeling and blending of sounds and influences in a manner that was prophetic. That's what we see and hear in the society today."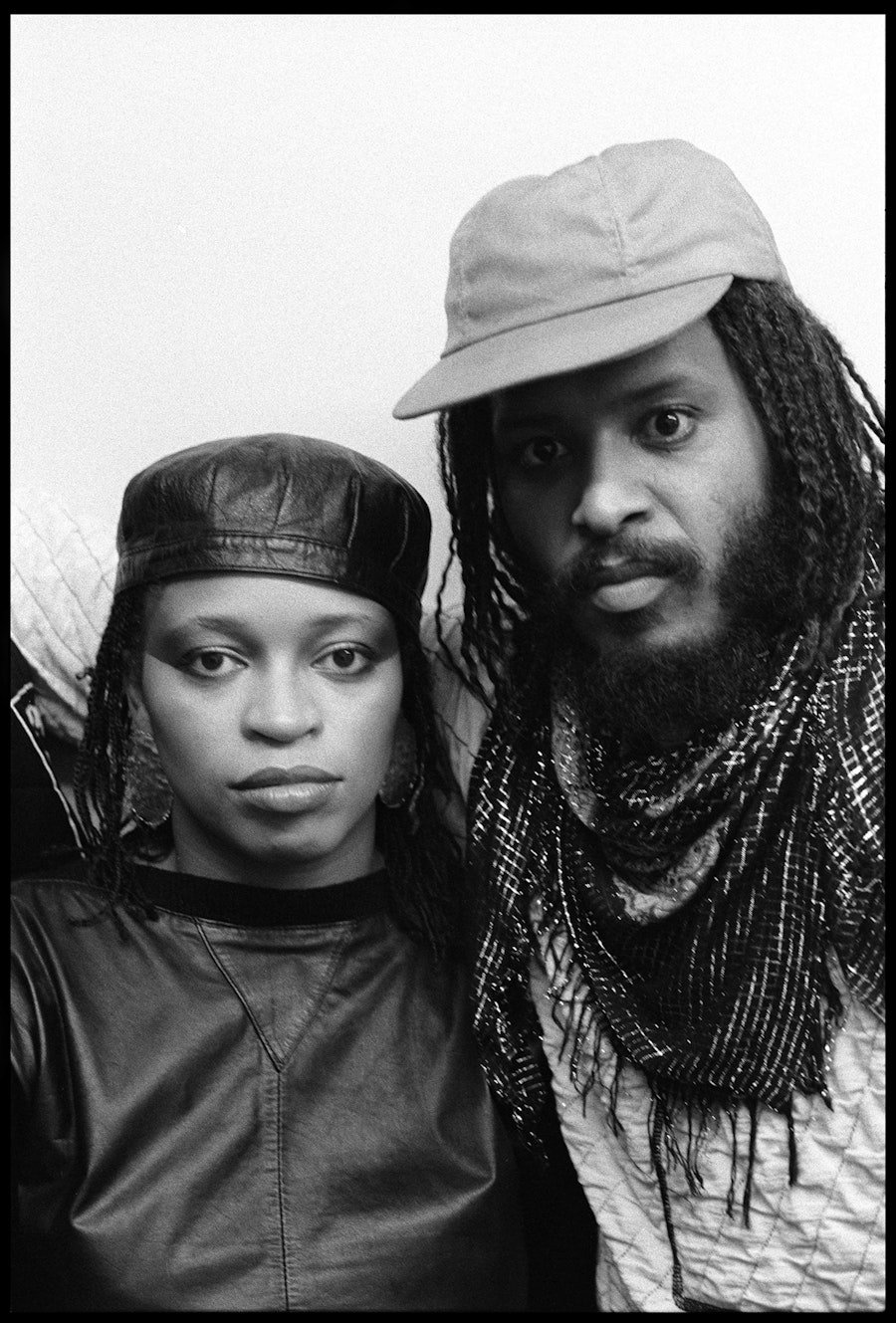 Talking about how Cochran's band at the time opened for Donny Hathaway's band brings us around to Cochran recording with Mtume and his cowriting partner (and Mtume guitarist) Reggie Lucas in 1974 for Rebirth Cycle, which was released in '77 and also featured "Juicy Fruit" singer Tawatha Agee. "This was much of Miles's band of the time—Mtume, Reggie, Michael Henderson, and Buster Williams—with Azar Lawrence, with Jimmy Heath, with John Stubblefield, with Dee Dee Bridgewater, Jean Carn, and me," says Cochran. The jazzy sophistifunk of 1977's Rebirth Cycle is the immediate predecessor to 1978's disco-soulful Kiss This World Goodbye.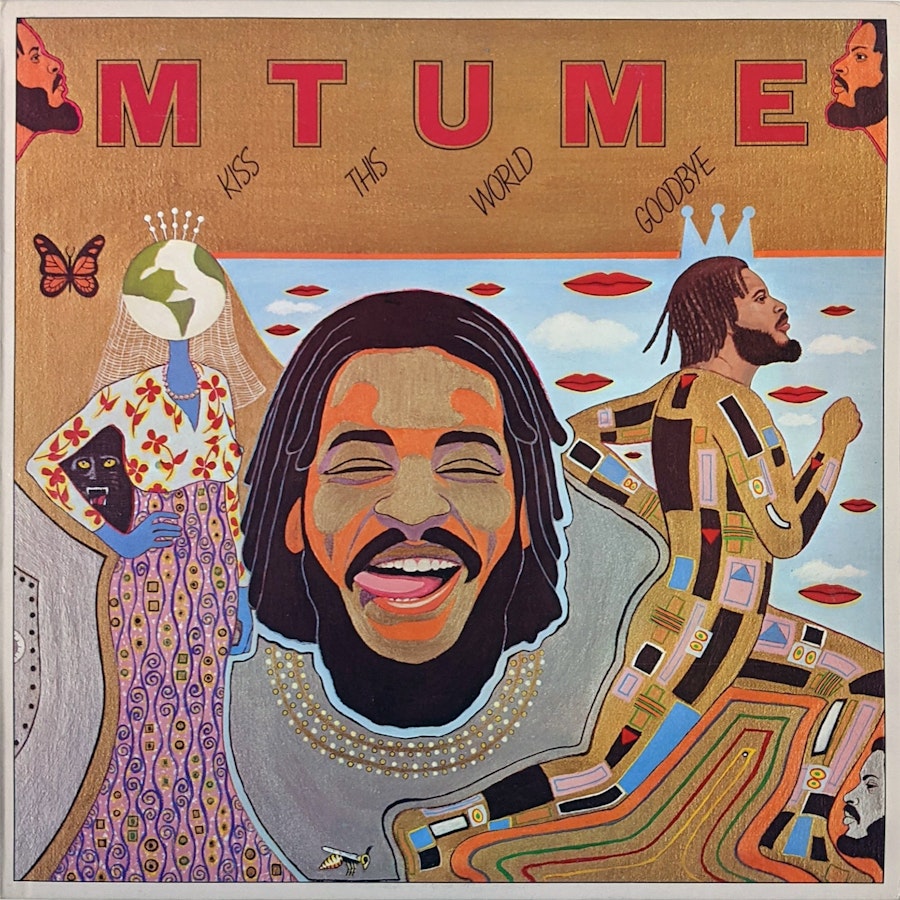 Cochran studied Mtume's reach and appreciation of the other—all the other "distinct idiomatic expressions in an authentic way"—while on the sessions for Rebirth Cycle. "What Mtume got involved in was a postmodern R&B. If you're an artist smitten with curiosity, you can't help but explore. This is much in the manner of which I—an electronic musician at the time who played with the likes of Peter Gabriel—did the same. Like finds like."
Ultimately, what Cochran sees as Mtume's talent is his keys to the universe, his intuition. "Truly accomplished and smart percussionist-drummers are keyed in and intuitive, and Mtume was the most wise and tuned-in presence and player," says the keyboardist. "Miles knew this, felt this about him. The drums are essential to the creative music we call jazz, defines the cadence and connects its melodiousness and different phrasing to occur, and the drummer and percussionist who gives himself over to that is on a spiritual journey. Mtume was a traveler on that journey, as well as the creator of its pathways who made magic at every intersection. Mtume understood intersectionality very well. He made the map."