The energy cleansing powers of palo santo have been exercised by generation upon generation of South American spiritualists. The burning of this sacred "holy wood" is said to bring positive energies to those who imbibe. Much like his namesake, selector Palo Santo Discos uses powerful essences—in this case, the beautiful music of Latin and South America—to uplift listeners, whether it be at a club, party, or streaming mixes via the internet. 
Blending mystic brews of bossa nova and samba to jazz, reggae, and Anatolian funk, Palo Santo Discos seems to be a mysterious purveyor of sounds that instinctively move bodies. Where does one find such a shaman of dancemaking and worldly music expertise? Look no farther than the south of Holland, where Palo Santo Discos spent his formative years. 
Hailing from the same town as Renaissance artist Hieronymus Bosch, Palo Santo Discos, whose given name is Sander, found himself infatuated early on by the sounds of hip-hop and the world of DJing. His ears matured rapidly as he sourced the sounds of his beloved samples to the jazz records of his grandfather.
Palo Santo Discos' adventures in music discovery led him to the diverse sounds of Brazil, investing his time and funds collecting rare discs of bossa nova, samba, and Brazilian jazz. His appetite for new and different music continued to push him into genres farther afield. 
For over a decade, Palo Santo Discos has been presenting his mixes to the public as a DJ and over internet radio shows, leaving enchanted listeners with more than a few earthly delights. 
Wax Poetics sat down with Palo Santo Discos prior to his Amsterdam Dance Event appearance at Feed in Amsterdam. He spoke of his years of music discovery and his ever-increasing range of intriguing projects.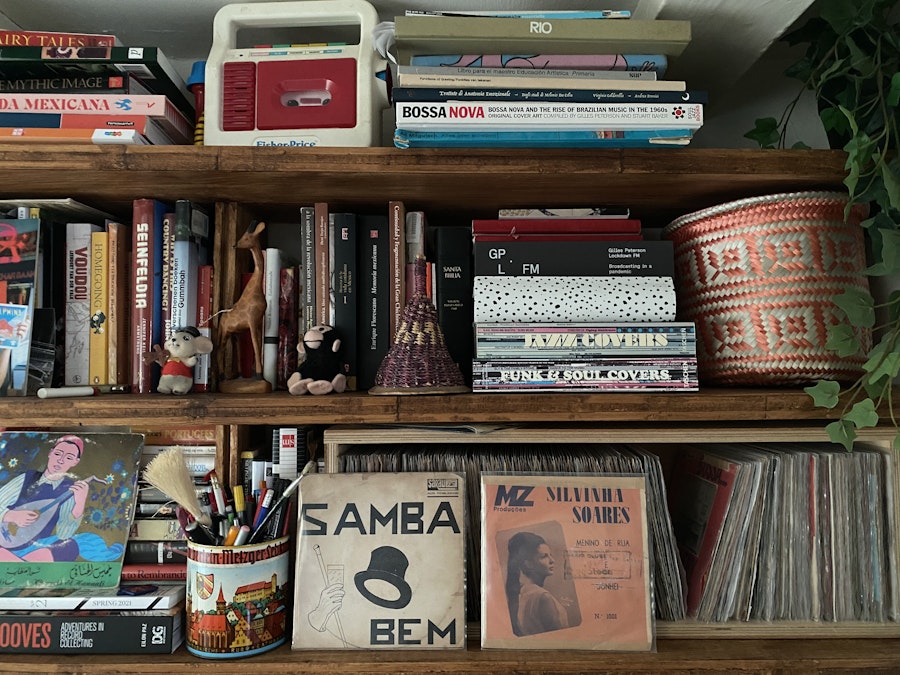 You are from the town of 's-Hertogenbosch (aka Den Bosch). How does a Dutch boy from Den Bosch become so enamored with such eclectic music?
Well, Den Bosch is a very small city in the south. The painter Hieronymus Bosch, a very famous painter, he's from there. Some artistic stuff happened in the past. A lot of the people I knew there were also into "different" music. We all grew up listening to strange music. There was a bar, Café Cordes, where we always played when we were young. There were people playing, like Aardvarck, Cinnaman, and Jerry—all from Den Bosch too. Aardvarck is like a cult legend and a big inspiration. Very talented DJ and musician.
I lived with Jerry. He had such a unique taste and a big record collection. I was already into DJing a bit. Now, he's in his fifties. Then, he was already playing for ten or fifteen years; he started in the mid-'80s. He taught me a lot about music and the art of DJing.
What was his specialty? Did he collect everything?
No. He was into hip-hop stuff. Soul and funk. Disco and house. Chicago and Detroit records from the early days of house music. Like Todd Terry, Kenny Dope, and Theo Parrish. That sound. I think if you heard him play or Theo Parrish, you almost didn't hear the difference. At least in the selection. He only played in Den Bosch. Sometimes in Amsterdam. Eventually, I had the chance to buy part of his collection. It was about three hundred hip-hop 12-inches, lots of disco (Larry Levan kind of sound), acid jazz, and '80s groove like Luther Vandross, Jocelyn Brown, and Patrice Rushen.
Were your parents particularly musical or did you seek it out on your own?
Nah, not really. My grandfather was. He was heavy into jazz. He had a big collection of jazz records. I was not into that when I was young, but when I started to listen to hip-hop, then every time we went…I always dove into the records to check what was there. Then I started listening: "Okay, this is where the hip-hop [samples] come from." That was a good link. I started to listen more and more every time. It was interesting to hear some samples. "Oh shit! How did they do that?"
Then I bought an MPC when I was seventeen. Trying to loop parts and learning how the machine functions. I did that until I was twenty-five. I also bought a few synths and a Tascam Portastudio. It was just playing around, and I had no idea of what I was doing.
When did you start DJing?
I think I was sixteen. A good friend of mine was already doing it for a while, DJ Cinnaman. He lived in Amsterdam already. He introduced me to Madlib and things like that when I was young. He inspired me a lot and took me to really cool parties, like Viral Radio and Club11. I heard Flying Lotus, Samiyam, and Ras G perform at the very beginning of their careers. Amsterdam had a very unique sound at that time.
I took the train to Amsterdam every now and then. Skipping school. Just browse around the city for records. Check Rush Hour and Fat Beats.
Was your ear already attuned to anything special or were you mainly looking for hip-hop?
Yeah. [And] broken beat. There was the period of broken beat, like Dego and Kaidi. It worked fairly well with hip-hop.
Your eclectic tastes have definitely grown. What made you spread out into the more esoteric regions of South America and the Caribbean?
The sound. Because Brazil also has a lot of jazz. But they Brazilianized it, like they do with everything they do, musically. I think when I heard that, the jazz with the influence of Brazil, I was sold.
Do you recall what you first heard that was the guiding light in that genre?
It was Orlann Divo's A Chave Do Sucesso. When I heard that, I thought, "Oh yeah." It has a happy feel and still very jazzy.
There was a record shop in Den Bosch that had all these reissues from Whatmusic. And they had all this; a guy ordered it and never picked it up, so it was in the shop. I bought everything. It was really cool, and I had never heard music like this. I got LPs by Ed Lincoln, Celso Murillo, and Vitor Assis.
From there, I started researching more into Brazilian music, and I found out that they also had a lot of music on 7-inch. There are songs that didn't appear on albums. There's a whole new level of finding music on 7-inch. 
Do you prefer one over the other to perform with?
It doesn't matter. I just like to find things that are rare. I like to play things that you don't hear that often. I don't know if it makes sense, but it is something I enjoy.
Were you able to find this music readily within the confines of Europe, or did you have start ordering directly from Brazil right away?
No. There were dealers in Brazil that I found on eBay. I went there a few times to dig. Online, you can find the information. In Brazil, I went there with a little list. Some sevens or LPs took me like ten, twelve years to find. They are very hard to find in Europe. There are some shops that sell the usual things, but it is super expensive already. It is hard. Even in Brazil, it is hard to find nowadays. 
Do you feel like the audiences in Europe are pretty receptive to this music?
Yeah. They like it a lot. The '60s stuff that I play most is the hardest to play on the dance floor. It works, but you have to mix with more '70s, danceable things. But, yeah, Brazilian music always works on a dance floor. 
You play a wider range of music than just Brazilian, including African and Turkish music. How do you find these different sounds mix together?
Yeah. That goes way back because I'm sort of schooled by Steven de Peven and Aardvarck. Their DJs sets didn't have a line at all. They played Destiny's Child with a batucada song after, then super hard bop Coltrane jazz with Slum Village after. I just named a few. That was always my style of playing. No BPMs. Nothing. Just play whatever. Of course, you have to look on the dance floor a little bit. The genre doesn't matter. I still do that. 
This is how I like it. Sometimes, the people don't get it, but the variety of music can make a party even better. There is a higher surprise. I can play a Turkish song with a rocksteady song after. It works.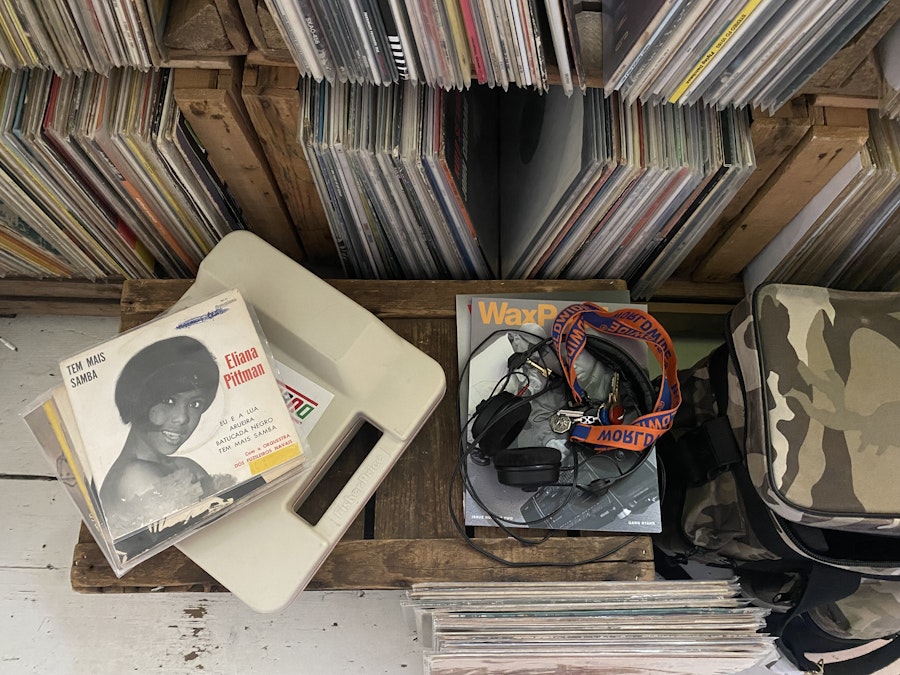 What were some artists that became fundamental to your sound as a DJ?
From a very early stage, I was a huge fan of everything Madlib did. It started with his takeovers on BBC Radio 1. He and J-Rocc did two shows that were amazing. Also, his Mindfusion mixes and, of course, his Brazilian mixes still get played in our home today. Also, I'm a big fan of DJ Nuts from São Paulo—his skills and selection are insane. He used to do these Twitch sessions every Sunday, and they are all amazing. So many new tunes that I've heard in his sets.
Tell me a little bit about your NTS Radio program and your partner Dactylian. 
He bought some things on Discogs and we started chatting. After a year, we met at Brilliant Corners, in London—a sushi bar with a super good sound system. He knows a lot about music. We got along since the first time we met.
We [originally] did a guest show at NTS together. Now we already have thirty-five shows. So thirty-five months already. 
That is really impressive. How do you manage to make these shows together, as there is some physical distance?
First, we did half an hour/half an hour. We always think about a theme. "This time we do '60s, then we do psychedelic, then we do musique concrète, jazz." Now, we do three songs each. So we send it. He opens, three songs, then he sends it to me, and I follow him. And that is how we make an hour of music every month. There are so many records still not played. 
Tell me about some recent musical discoveries that you are excited to share with your audience?
There's a radio show on Worldwide FM called Hello Newman. It's a jazz show every month with a lot of Sesame Street samples and crazy jazz tunes. I would love to get in touch with the selector, since, apparently, he's based in Amsterdam too. Another discovery is Egon taking over on NTS. It's a few years old, but I just recently found out about it. Amazing selections.
What do you have planned in the future?
I am going to Brazil in January. So we'll play some gigs in São Paulo, Belo Horizonte, and Salvador. The radio is still going on. Let's see what the future brings. Going to Brazil again is huge for me. In my head, I'm already there.