In 1971, a group of seven musicians calling themselves the Jungle Rat made the unusual decision to leave behind their musical careers in New York City and instead develop their artistry on the Isthmus of Panama. It was their first time playing outside of the United States and a big gamble for them all. Booked for a set of gigs that were supposed to last a few weeks, they ended up calling Panama their home for close to two years. How and why this happened is inextricably tied up with the story of one Dwight Brewster. 
Brewster grew up in the Bronx and attended DeWitt Clinton High School, a school that had a strong musical pedigree (jazz piano greats Bud Powell and Herbie Nichols, among others, were former students). At school in the mid-'60s, Dwight was surrounded by many of the musicians who would make up the new wave of young salseros from the Bronx. "They brought congas, vibes, and timbales, and we would play after school. I loved it!" The salseros couldn't play jazz, and Dwight had yet to learn the montuno riffs of popular Latin music, so it was in this unclaimed middle ground that the most fruitful meeting of these creative minds would take place, feeding off each other's musical knowledge in a sort of tuneful barter system.
The cross-pollination paid off in a huge way when a few of these teenagers put a band together that caught the ear of a burgeoning local record label by the name of Fania. Readers curious about the band's sound need look no further than the opening number on their first recording for the label, El Malo, released under the sixteen-year-old bandleader Willie Colón's name in 1967. Penned by Brewster and evidently progressive enough to be named "Jazzy," the song is a perfect embodiment of the DeWitt after-school ethos.

But after only a dozen or so gigs with this suddenly en vogue band, Dwight was drafted into the military, and regretfully abdicated his spot in the group (incidentally, recommending Mark "Markolino" Dimond as his replacement). Two long years later, Dwight returned to the city, fully expecting to be reunited with Fania and the Colón band. But it wasn't to be. Fania had exploded in popularity in the intervening years, and he was summarily informed that his services were no longer needed. It was a bitter pill to swallow, but Brewster forged on, forming a group to explore a harder-edged sound, with the suitably funky name the Jungle Rat.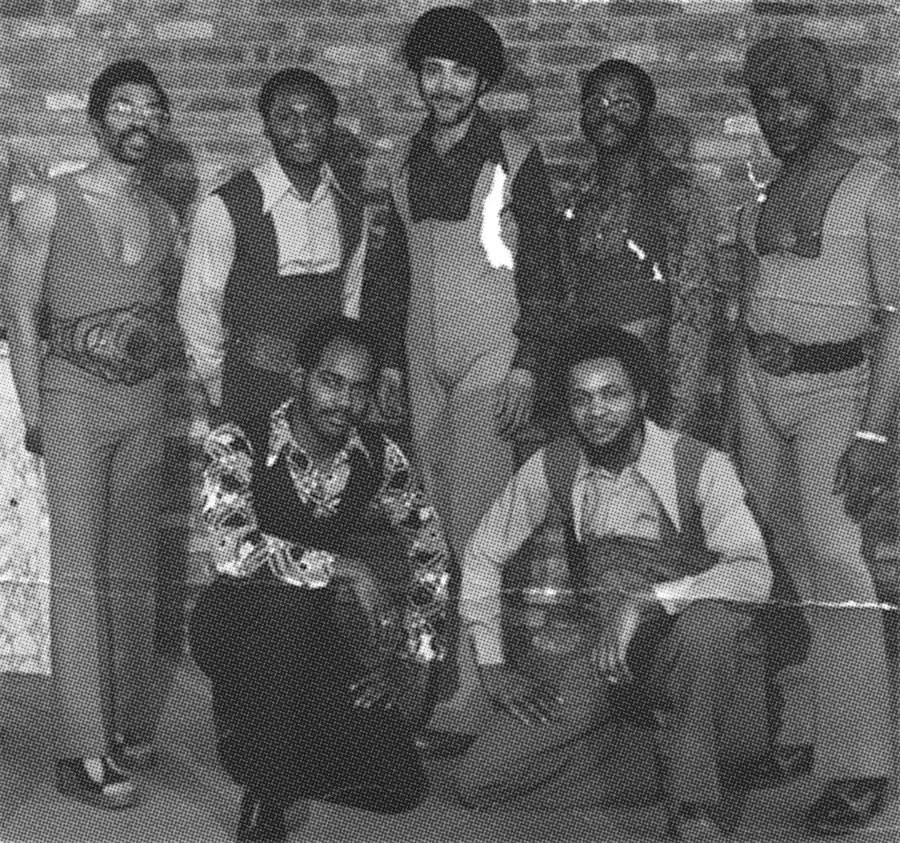 Portents of the Jungle Rat's future began to swirl when Dwight started jamming with the group Dreams, which also included Panamanian American drummer Billy Cobham and first-call salsa trombonist Barry Rogers, a fellow Bronxite (and a huge influence on Willie Colón's playing). "There was a place in [Greenwich] Village, three blocks from the Village Gate, called Baggy's Rehearsal Studio," Dwight says. "All of them were rehearsing there. So I said, 'This is the place Jungle Rat needs to be.' " It soon became apparent that the Jungle Rat's jam sessions at Baggy's were drawing attention. "I would go to the door [of the rehearsal room] and the owner would be there listening. All right, we that good!" Dwight chuckles. Soon the owner's interest took a more practical turn. An impresario from Panama City by the name of Nino Embolla was looking for a funk/jazz band to bring to Panama to play at a high-profile beauty pageant to crown Miss Pana-Africa.
After being rebuffed by Kool & the Gang, his first choice, Embolla asked Baggy's owner if he knew of a suitable replacement. As Dwight puts it, "He was obviously looking for some Black brothers with style!" Listening to the Jungle Rat over an international call from the studio's phone, Embolla was impressed enough to offer the band the gig, which would take place at the newly built Estadio Revolución in Panama City, a huge sports arena. Dwight negotiated the price and Nino sent the contract over, with a wire transfer shortly following. The band purchased airline tickets, unaware that the return portion would not be used for many months to come. 
It was 1971, and the soul-infused combos nacionales movement was in full swing when the Jungle Rat arrived in sweltering Panama City. The homegrown Panamanian combos phenomenon saw local musicians blending African American soul sounds with Panamanian and Latin American elements, thus perfectly catering to a diverse audience of Spanish-speaking locals, Afro-Caribbean immigrants, GIs, and sailors from the U.S. and beyond. It was a perfect atmosphere for the Jungle Rat to flourish, as the Latin soul and nascent salsa movements had taken much the same all-embracing approach back in New York City.
To help promote the band, Embolla secured a recording studio date in which the group cut four tracks set for release on two separate 45 rpm singles to be issued on Embolla's newly formed Discos Nino label, which was conceived solely for this project. The tracks on the first single included a supremely funky original number entitled "Just Love One Another," penned by Dwight with the help of bandmates James Brockington and James Taylor, and the melancholic "Have a Little Faith," a soulful ballad that seems, in hindsight, tailor-made for the lowrider oldies crowd. 
To demonstrate their versatility, the Jungle Rat also recorded two covers at the session: "In the Rain," originally by the Dramatics, and the J.B.'s funk sure shot "Gimme Some More." Both covers had been part of their repertoire for close to a year. After the recording, Dwight wasn't satisfied with the sound the local engineer had gotten on the group's original songs, so he called his cousin up in New York and asked him to send recordings of the same songs that the band had cut earlier at Media Sound Studios in New York, prior to leaving for Panama. His cousin made copies onto half-inch tape and airmailed those to Dwight in Panama City. This meant that the actual 45 rpm releases on the Discos Nino label ended up with two songs recorded in New York and two done in Panama, while the mastering and pressing for all four songs took place in Panama. 
The Discos Nino singles were not intended for commercial use, but rather to assist in promoting Embolla's business ventures and as a promotional tool for the band. As such, they were very successful, and the Jungle Rat worked steadily in the area for a period of almost two years. To the dismay of contemporary collectors, however, the extremely limited quantities of the records manufactured, numbering a mere 150–200 units each, mean that these 7-inch discs are frustratingly difficult, if not nearly impossible, to find today. 
A popular act, the Jungle Rat played shows throughout Panama, Colombia, and Costa Rica. They attracted the attention of a promoter in Honduras who flew them out for a series of gigs including a massive 20,000-seat stadium concert. As amazing as the experience was to perform in front of such a spectacular crowd, it would prove to be the beginning of the end for the Jungle Rat. After they finished the gig, the Honduran military police impounded all of the band's equipment, moving it to an army base where the gear was held hostage, the police threatening to release it only if the band would agree to stay within the country to perform several more shows. The group didn't have much choice but to comply, but they had had enough. Negotiating a conditional return to Panama only with a promise to return shortly after to Honduras, they instead quickly bolted to Miami with all of their equipment and never returned to the isthmus.
This marked the end for the band, but it was only the beginning for Dwight Brewster. Back in New York City, he stayed busy and involved with music, producing and arranging for the esteemed April/Blackwood publishing house and participating in numerous disco and soul studio dates in those roles, including several fruitful pairings with Patrick Adams (coproducing the deep disco killer "Dance Freak" by Chain Reaction), a partnership with Tony Silvester of the Main Ingredient (exemplified by Dwight's "Cosmic Lady"), and a prominent part on the first Aquarian Dream album (including the disco banger "East 6th Street"). To those who know his name only from his time with Willie Colón or from these other relatively high-profile releases, the Jungle Rat is in the deep shadows, an almost forgotten part of Brewster's career. 
But Brewster never forgot. "Back then, I'd say this blend of Afro-Caribbean funk was gonna be big, and they'd all laugh at me. I knew something could happen—but it might not be until after I'm gone." He laughs, saying, "I've been telling my kids, don't sell my publishing company! Don't act like what I'm doing ain't shit!" Brewster regards the interviewer with a satisfied smile. "I never dreamed there would be a wave of interest before I kicked the bucket." Indeed, the Jungle Rat is alive and well.